So it's your first Pride in NYC and your hell-bent on having a good time and celebrating all that is LGBTQ. AMAZING! While you can certainly dive into it headfirst without a clue as to what you're doing (plenty have been there before you), here's a few tips to stay sane and alert, and thrive.
IT'S FREE

As in, no ticket necessary.
THE ROUTE
The official march starts at 36th Street and Fifth Avenue and ends at Greenwich Avenue and Christopher Street.
WHERE TO STAND
Unless you're riding a float, there's no need to start at the top. Instead opt for somewhere closer to Washington Square Park on Fifth Ave—between 14th and 8th Streets is prime. The closer you get to Christopher Street—NYC's unofficial gay central—the more dense the crowd gets and the more maze-like the stanchions. If you truly want to be in the thick of it, rubbing up on your sweaty neighbors and basking in all your gay glory, head right to the corner of Christopher and Hudson.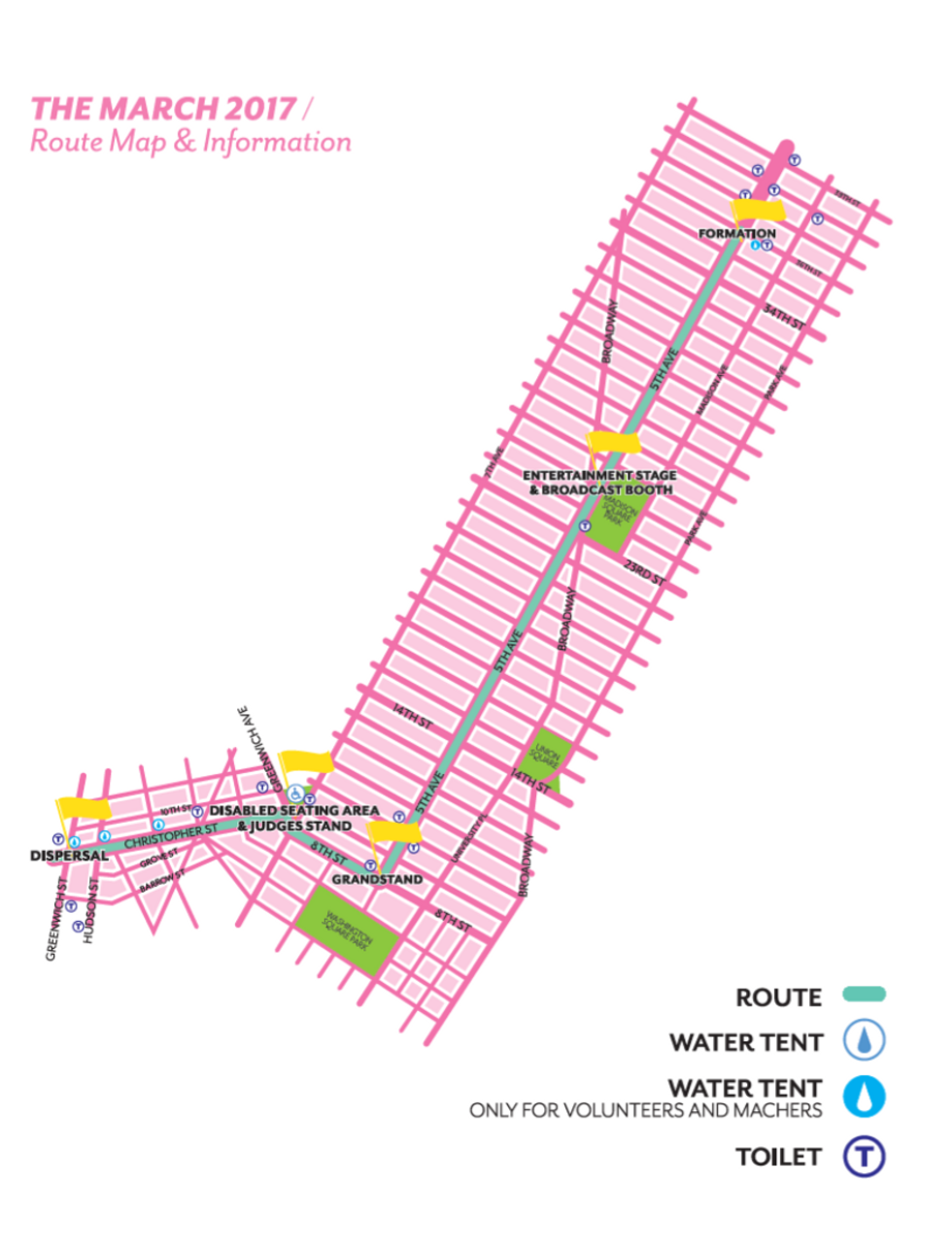 PATIENCE IS A VIRTUE

Like any march in New York City, there is going to be a serious police presence and stanchions lining the streets for miles. Things you take for granted, like simply crossing the street, will take twice the effort and triple the time. Getting from point A to point B will suddenly include looping around C, circling back to D, and, ultimately, never making it to point B. That's just the way it goes. Take a breath and stay close to your friends. Whatever you do, plan to meet them as far from the March as possible and head over together.
PLAN AHEAD
The city does provide water tents, but it would be smart to pack a bottle or two. It's going to be hot; you're going to be dancing; you're going to sweat. Pack some food, too, but know that local restaurants will be open and happily welcoming you in.
BATHROOMS
With drinking lots of fluids (Don't forget: drinking alcohol on the street is still illegal) comes nature's bodily functions. There are portable restrooms set up in various places, but they always seem hard to find. The best advice you can get is go for before you leave home, and pray you find a Starbucks.
WHAT TO WEAR
Whatever you want! For style tips, though: skin is in and rainbows can never be too bright. If there was ever a day to show your true colors, it's Pride day. Don't be surprised if you see a few liberated nipples, too (It's legal in New York!). Also, be sure to wear a liberal amount of sunscreen. You don't want your Sunday rainbow turning into a Monday flame.
ORDER OF APPEARANCE
This year, brands and advertisers are the last to enter the march, allowing local and international groups and organizations to walk first.
THEAWARDS
Few people know that there are actual awards given out to the most creative floats. The awards are:
• Best Use of NYC Pride Theme
• Best Float

• Best Marching Contingent

• Best Music or Performance on a Float

• Best Marching Band or Music Ensemble (No Float/Vehicle)

• Best Dance Performance (No Float/Vehicle)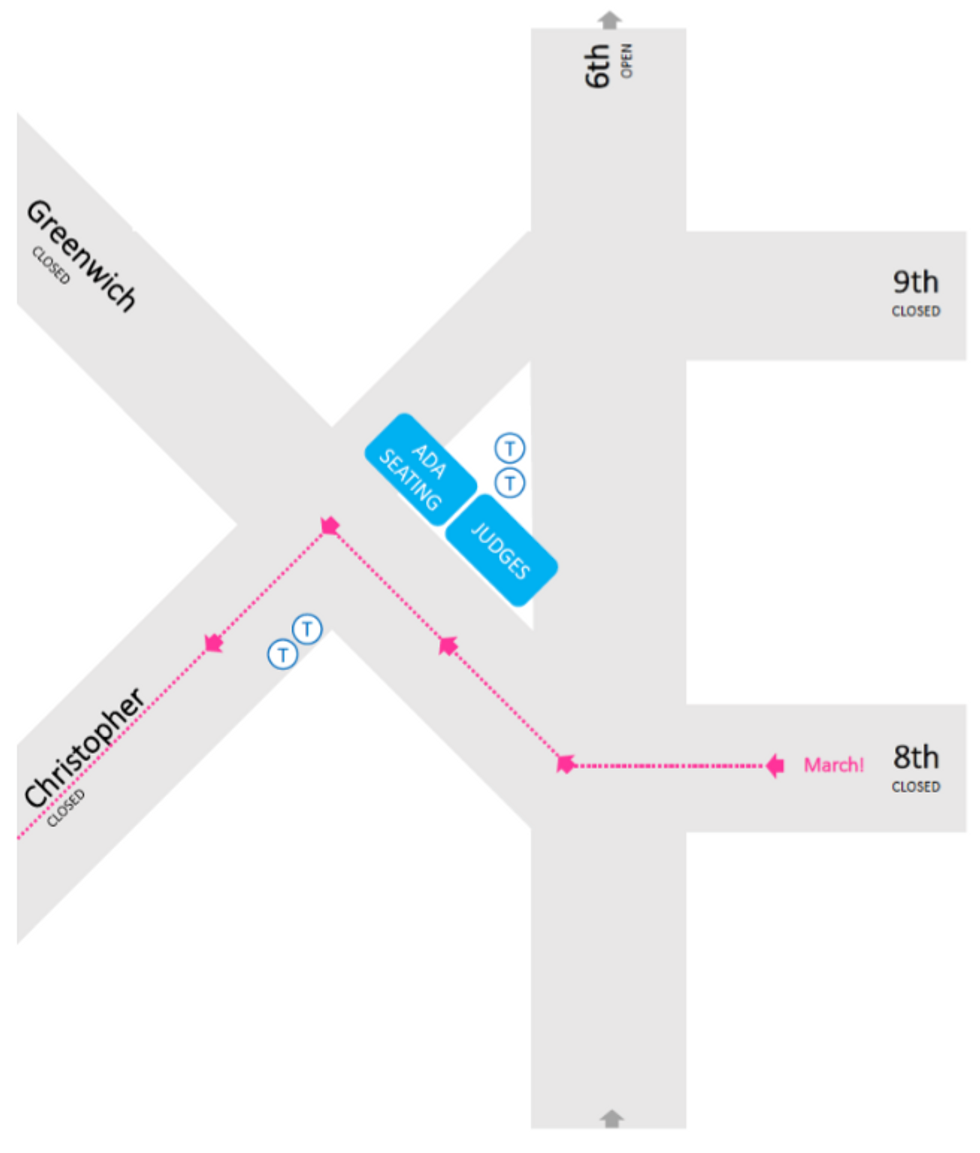 ADA ACCESIBILITY
Seating for those needing it will be available at Ruth E. Wittenberg Triangle (center of Christopher St., 6th Ave. and Greenwich Ave.).
PACK SOME GLITTER
Why not?