As trite as it might be to claim a song is universally understood despite language — in this case, it's Spanish, and while around 43 million people (Latinx or not) are fluent, maybe you aren't one of them — but this new track from Young Tender clearly presents an intense case of the sads. The tristeza on "Lo Que Quieras" is very real — so much that it reflects the relief in beginning to move past the melancholy, too.
The Monterrey band has dubbed their genre "sad disco," and there's truly no more fitting a descriptor. Glistening guitar tones roll in to brighten a shadowy landscape of downcast keys, like the relief of finally letting the tears gush out after getting a stress headache while trying to hold them back. The subject at hand here, it seems, is a toxic relationship; something too many of us can unfortunately relate to. "Lo Que Quieras" is that specific moment when you realize just how harmful it's all been, that you're losing yourself — but in that painful awareness, you find the guts and strength to get out.
Marking the fourth clip from their 2016 EP, Necios, they dropped the corresponding video for this particular slice of sorrow just last week — on Valentine's Day, of course. We talked with Young Tender's Chris (he didn't provide surnames, and there's no evidence of 'em online, either — so mysterious, and we are here for it) about how the brooding bunch of buds got together, when we can expect to be dancing-slash-crying along to their much anticipated full-length collection, and more.

I love the video for "Lo Que Quieras," it's really sleek and stylish, modern but retro — like your sound, in my opinion. Can you tell me a little about the concept? How does it relate to the song lyrics, and how did you end up collaborating with Panamá Studio ?

The guys from Panamá/Linda Vista are good friends of ours, they listened to the song just as we were finishing it and they told us they would love to make a video, so they started working on the concept. They are visual artists more focused on design, and we wanted to see what results could come from working with them; we always trust their good taste.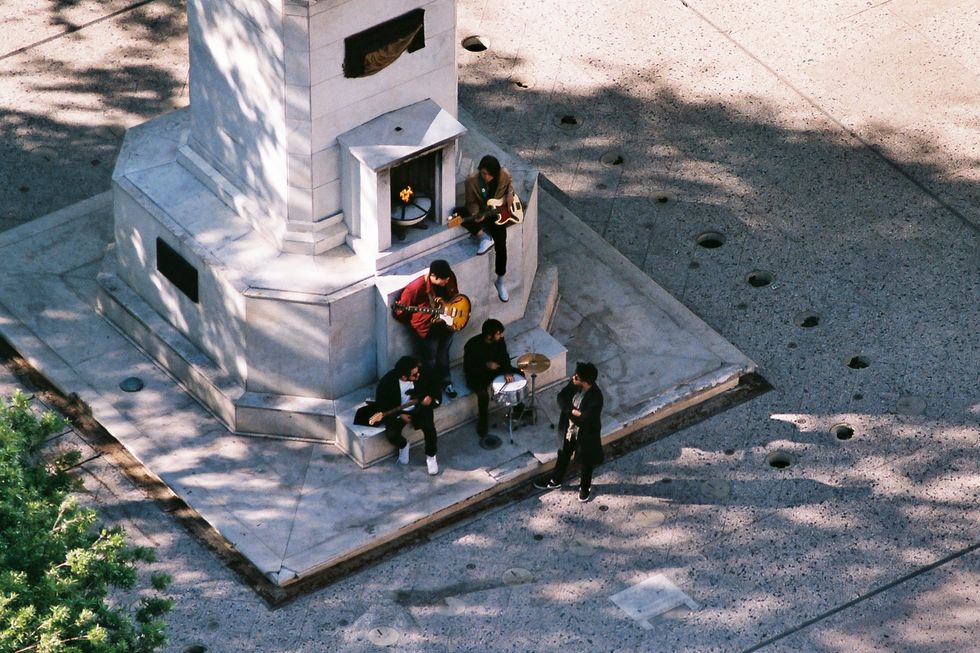 Can you tell me more about the formation of the band, the members, and the inspirations behind the sound?


We are great friends above all else; the band was born out of being together when there was nothing to do in Monterrey. We are Abel on the guitar, Jamaica on the vocals, Sixto on the drums, Dani on the bass and me, Chris, on the keyboards. We always knew the main idea behind the band was to do pop stuff — stuff that made us feel things, whether it was sadness or happiness, songs that made us want to sing and almost always dance, too.

The EP, Necios, is so good, seriously. I can't wait to hear the full-length album you're working on. How is that going?


It's going very well; we've already spent time working on new tracks. We also have a concept already developing. We are polishing off the forthcoming singles that we'll release ahead of the album so that you can get an idea of what it's like.

Can you give us the names of some fellow bands in Monterrey — or in Mexico's booming independent music scene — that we should check out?

There's important things developing in Monterrey, from Juniors del Gueto , DRIMS , Clubz , Era de Oro and Villa Lobos , who are good friends, and even comrades in the national scene like Wet Baes , Policias y Ladrones , all the Finesse [Records] crew, and the Blenders, we think, are the most relevant acts.
This interview has been translated from Spanish to English and lightly edited for clarity.