A decade ago, Yoon Ahn founded Ambush as a unisex jewelry brand. She quickly grew the company from a side-project into a full label that began to dominate Tokyo runways, with its skate and pop culture-informed, minimal style. Over the years, she racked up big-name fans — Kanye West , Rihanna — and collaborations, including Louis Vuitton, Sacai and Off-White.
In March, the upstart made her debut as Dior Homme's head jewelry designer, appointed by reigning artistic director Kim Jones. Along with the likes of Virgil Abloh , Ahn is counted among the young designers of color breaking down the boundaries between streetwear and luxury fashion.
So, particularly as European fashion weeks turn the continent into a frenzy of peacock feathers and racer stripes, the Korean-American, Tokyo-based, French-house employed Ahn as the perfect partner to embody cross-global exchange for luggage powerhouse RIMOWA's 120th anniversary campaign. The campaign, described as "an ode to mastery and the ambitious journeys of those who chase it," is a series of intimate films talking about travel and identity, featuring international icons including tennis star Roger Federer, model and activist Adwoa Aboah, Off-White creative director Virgil Abloh and restaurateur Nobu Matsuhisa.
In her film, directed by I AM HERE and shot in her hometown and home-base of Tokyo, we get a kaleidoscopic glimpse into Ahn's transient, mad-dash life, suspended between worlds, hopping in and out of cabs, airplanes, and trains, accompanied always by a RIMOWA trunk. The whirlwind is interspersed with serene shots of Ahn in nature, hinting at her trick to finding calm while working for an international fashion giant.
PAPER chatted with Ahn about her standom of RIMOWA, travel hacks, and how she finds balance while working for Dior.
How did you get involved with this whole campaign?
I've been traveling with RIMOWA products for over a decade. I got a trunk as a gift a long time ago, and ever since then I have been hooked. That's all I've been using for traveling in terms of suitcases. And RIMOWA knew that I've been a big user. So when they approached me about this campaign they were doing this year, I just felt like it was the right story and I felt like I was the right person to be a part of this.
So your entry point was simply that you just loved the product.
Yeah! I'm a firm believer in... I normally don't star in brand campaigns and things like that unless I actually use it and live it. And I really believe in RIMOWA, and the fact that they even considered me to sign for their world campaign is amazing and I'm really happy to be a part of it.
You're a designer, so from both a designer and a consumer's perspective, what do admire about the RIMOWA?
I definitely love how sturdy they are. It's a very sturdy trunk, so it avoids damage. I also love the way they look. All the trunks I've been using are the same, the silver tone one. And as a consumer, another thing that I really appreciate is that their customer service is really good, depending on where the customer is from — let's say they are from America, if something gets damaged or something missing and I'll call them and they will fix them right away for me. They make it so you don't have to worry when you travel and everything they provide is just perfect.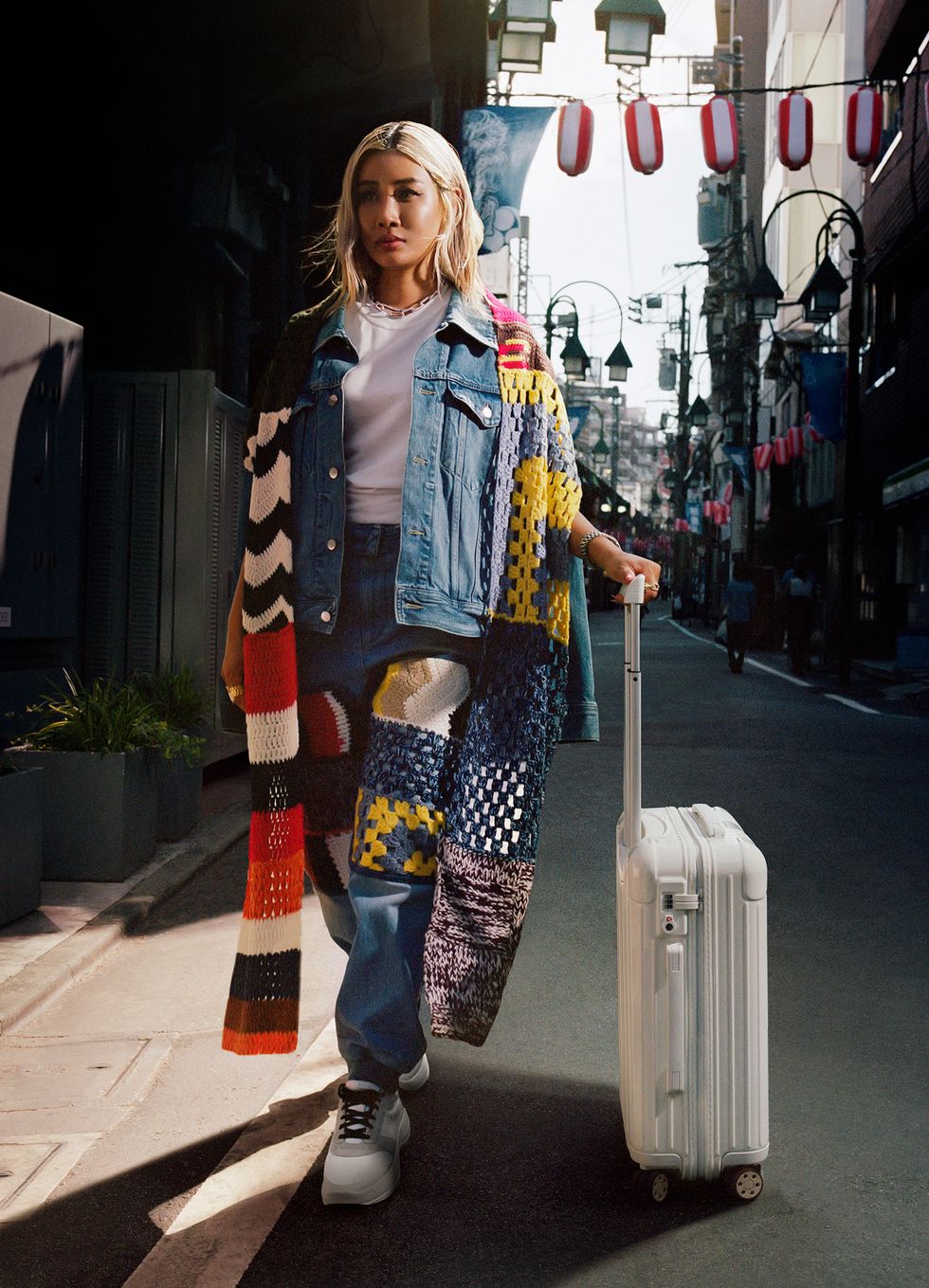 Tell me about making this film. What was it about for you?
When they first approached me, I think they wanted to capture Tokyo and everything about my life and my work in Japan as well as outside the country. People seem to have the idea that everything in Tokyo is crazy, like everyone is just partying. So I wanted to compare what it looks like from the outside. I actually love to spend time on my own, I like going out in nature and that's something a lot of people don't really realize. That's what I want to talk about, showing the side of me that really embodies my life and to tell my story with the trunk. But contrast with the city life that I live, I just need to recharge and gather my thoughts, I wanted to show the world that story, that I don't share with a lot of people.
Does this film really resemble your life? Like you're constantly on the phone, racing between cities across the world? Is that really you?
Yeah, pretty much [Laughs] . Now, I have my company but also I'm doing so many different roles in different places. So I have to find time for me to just go out and find time. And even just within Tokyo there's so much going on, there's the the store and production. So yeah, I am constantly on the run and taking care of things. You can do things by phone or email, but for me I much prefer to actually go places, and meet people and get it done. I have to be there you know. Also, the way the world is, people think like, "Oh, you're in this country or that country," but I think the world feels much smaller than that. For me, with Paris and then going to New York the next day, it just doesn't seem like I'm going to another country. I feel like I'm just working in the city and getting things done and then coming back home. So, I actually don't mind traveling much.
Yeah, it's crazy how collapsed the world gets in our global economy. So what role does travel play in your life?
I personally have the personality where I like to fool around and just kind of like always looking for new things. But also, you know, my mind is one thing and my body is another. My mind goes one way and my body goes another. If I choose to be on the road and if I choose to be on the road, it has to be at the right place at the right time. I have to get enough rest as well. Both are important: work and rest. And I feel like that was a part of this campaign.
The film shows you escaping and sort of isolating yourself into nature, how do you do that in real life?
I personally love being on the beach. Some people are mountain people. And there are different places in nature I feel connected to, but I love the water and the sun, so that's my first choice, to go to a really remote beach and just being really quiet. I like to go to the mountains as well, there's a lot of places in Thailand that are so beautiful, and not far from Tokyo, so I can just get on the train. The beach and the mountains, those are the two types of places I would prefer to go on my own.
You mentioned that people have this image about Tokyo and they have this idea of what it's like — how it's so crazy and everyone's partying all the time. Was getting to show the world your Tokyo something you're excited about?
I wanted to keep it as real as possible. Just like anyone else we work and then go out for a drink with our co-workers and friends and then we go home. It's not always like just because I work in fashion that I'm not thinking about fashion — that's just fashion week, not the normal work day [Laughs] . So I tried to capture that. The city is crazy and there is a lot going on at once, especially because I live in the downtown neighborhood, like the eye of the storm, and that's the part I think they captured well and that's why the speed of the video is pretty quick.
What was it like working with I AM HERE?
It was really cool, they had a lot of great ideas and they were easy to work with. I didn't know how it was going to look, I can't really look at myself in the monitor but I knew they were going to create something great. So, yeah at first I didn't know what to expect. But when I saw the video, I just loved the colorway and I was surprised by it actually. I'm really happy, it's quite hard to imagine because you're around a lot of people, and they turned it out really well.
D o you have any travel hacks?
I don't want to sound cliché, but you have to drink a lot of water! Being on the plane really dehydrates you and your body needs that. Also you need take a lot of vitamin C, because when your environment changes you need to make sure your immune system is strong to withstand all of the — you don't even know what you're touching or if they are cleaning those places or not. I don't think airplanes are the cleanest place. And especially on a long flight, wear comfortable clothes!
So where's the next place you're off to with your RIMOWA case?
I actually just got to Paris this morning, and I'll be here for two weeks because Fashion Week is starting. Right now, I'm finishing off all the Dior Fall and Winter collection, so I'll be here for about two weeks, and then I'm off to Tokyo and then back to New York.
Photos courtesy of RIMOWA