Lady Gaga brought the house down and turned us the hell out last night at Super Bowl LI, with a glittery medley of her hits and a leeetle bit of political subversion.
She kicked things off on top of the damn stadium, singing a few lines from "God Bless America" before transitioning into Woody Guthrie's "This Land Is Your Land," and reciting the "liberty and justice for all" portion of the Pledge of Allegiance. The choice to perform lines from the Guthrie song was gently subversive, as the socialist anthem has become something of an unofficial anti-Trump protest song.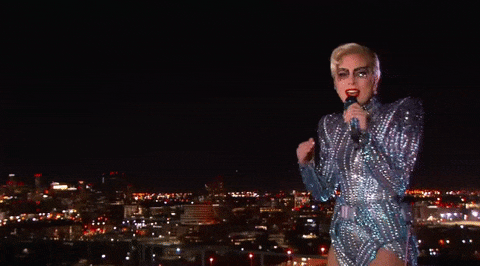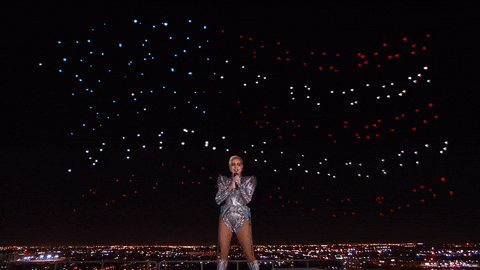 But that's about as political as it got! As a legion of drones swirled behind her to form the image of the American flag, she jumped off the ceiling and was lowered onto a platform, where she ripped into "Poker Face."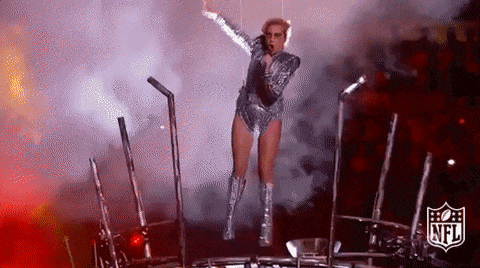 After a couple mid-air flips (why not?) Gaga was lowered onto the floor with her diverse coven of glittery back-up dancers to perform her self-love anthem "Born This Way." This has got to be the first time the word "transgendered" has ever been used at the Super Bowl, no?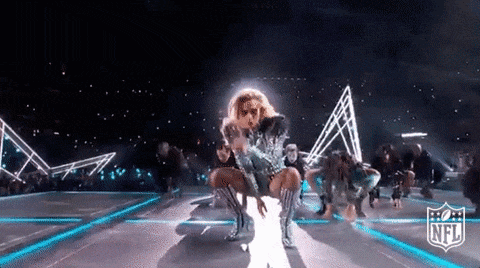 Then she scampered onto a platform to sing "Telephone" while we all held our breath hoping that pregnant Beyoncé would be shot out of the floor to do her verse. Or at the very least appear in drone-portrait form like Mufasa in The Lion King. It didn't happen. : ( But Gaga did get held like a guitar for a minute by one of her backup dancers, and that was cool.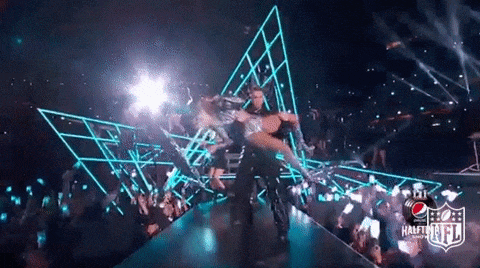 Then she donned a spiky golden jacket and a keytar to sing her very very first hit, "Just Dance." Remember 2008 you guys?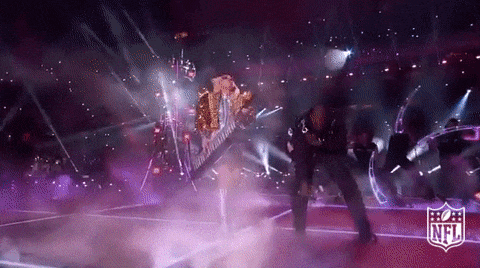 Then it was time to slow things down a bit, as Gaga hopped on that old pianer bench to ask America how they were doing tonight and perform "Million Reasons," the power ballad off her latest album Joanne. No pink cowboy hat though... : (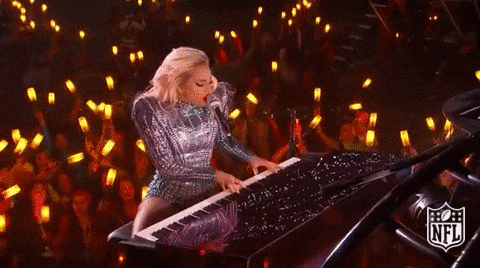 There was one more costume change to go, as Gaga donned glittery football pads to and hot pants to sing her legendary horror pop banger, "Bad Romance," featuring FLAMES. It was... major.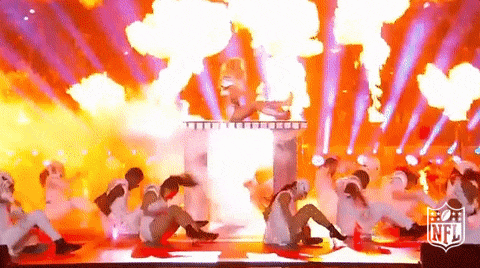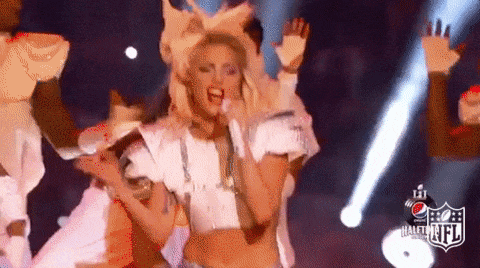 The show ended with Gaga dropping the mic, catching a football, and cannonballing offstage.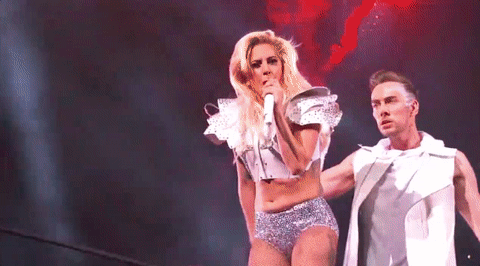 IN CASE YOU WERE WONDERING, IT WAS LIFE. It was also funny because that dude behind her had to hold that pose and that face for juuusst a beat too long.
But Gaga had one more trick up her sleeve! This morning, as the firework smoke cleared, she announced a 2017 Joanne world tour. Dates are here.
Watch the entire Half Time show below...