Your vagina is vegan — and your anus, for that matter. In fact, anywhere close to your genitals would prefer if you avoid animal products, because, as you may already know, veganism is just better for you. Privileging the environment and your sexual health doesn't necessarily mean you have to go full bore, but you can at least be vegan from the waist down.
Choosing lubes (edible or otherwise), liquid stimulants or condoms that don't include animal products, especially if you're already allergic to some derivative, will likely benefit you in the long-term, and opting for satin over silk, and vegan leather over leather leather is just better for our planet.
Jess Wilde, a sex expert at Love Honey, the UK's largest online sex toy retailer, explains that there's a growing desire among millennials to embrace vegan products, and she doesn't see it slowing down anytime soon. Read our chat with Wilde, below, and consider shifting your lifestyle — your genitals might just thank you for it.
Many customers will probably be surprised there's any type of animal connection to sex products. Can they be hazardous to your sexual health, or is it more the case of catering to vegans?
You'd be surprised how many everyday items contain animal ingredients, not just within the sex toy industry, and whilst there is no law that enforces clear labelling of products which contain animal ingredients, it is up to the consumer to research what they buy. Currently there is no evidence to suggest that using sexual pleasure devices which contain animal derivatives is directly harmful to sexual health, however, there is growing evidence to suggest that using animal ingredients in any other part of your lifestyle (whether diet or otherwise) can contribute to general health problems.
Related | 24 Foods To Awaken Your Sexual Appetite
When we talk to our customers about products which are safe to use on their skin or in their genitals, we recommend sticking to the following: if you wouldn't eat it, don't put it in or on your body. Clearly there are some exceptions to this rule (sugars and oils, for example, which are safe to eat but not recommended for your intimate areas) but if we pay attention to the results coming out of research around eating animals, then common sense says, if it's not good to eat, you probably shouldn't put it in your bits either. For some people, animal derivatives can cause a direct problem for health. For example, it's a little known fact that most latex condoms contain casein (a protein found in mammalian milk). This can cause problems for those with dairy allergies.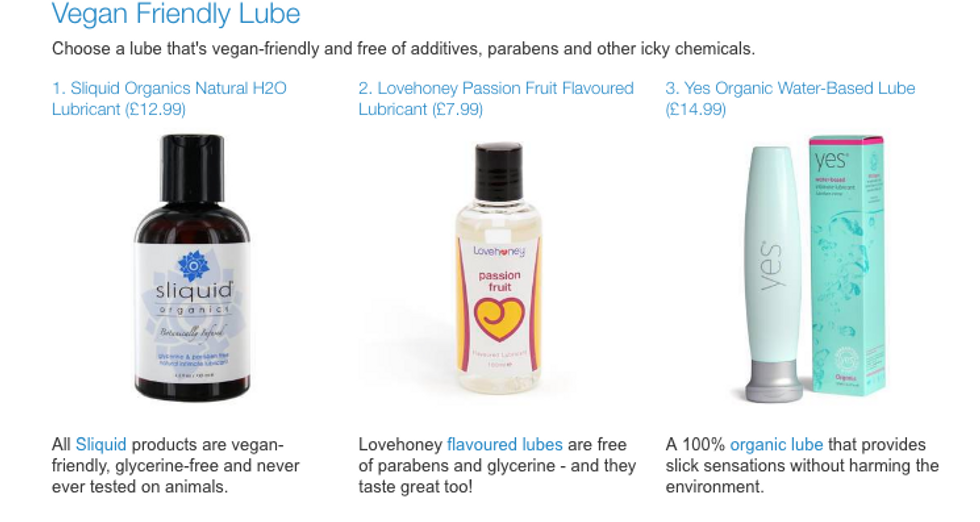 Why was it important to Love Honey to have a "go green" collection?
We don't make our lubes, lingerie and toys from certain materials in order to make them vegan, but we do avoid using animal derivatives wherever possible as this makes our products suitable for a wider audience — it's not just vegans who avoid animal derivatives, but many religions and cultures too. By doing this, we've ended up in a position where a lot of our products are "accidentally" vegan. When it comes to Lovehoney lingerie, for example, we don't use animal-based glues, and opt for satin rather than silk in our garments. We also don't use animal derivatives in our lubricants and we offer a wide range of vegan-friendly materials, such as faux leather, silicone and casein-free latex across our websites.
Unrelated to veganism, what are some of your best-selling toys or major consumer-trends you've noticed?
We-Vibe Unite is popular We-Vibe product for Lovehoney. Possibly because it's a toy couples can use together in and outside of the bedroom. We-Vibe Touch clitoral vibrators appear to be more popular in the US than the UK. This category took more revenue in December than the most popular Rabbit Vibrator category, also we-Vibe toys are also rechargeable & phthalate free so great for the environment. But for major consumer trends, penis extenders are really popular in the US and take more of a share of sales for sex toys than the UK does. Strap ons are same as Penis Extenders. Strap ons take a much bigger share of total sex toy sales than the UK. Our best-selling Strap on is the Advanced Unisex Strap On Kit. As a result of the Fifty Shades Darker film, the silver Inner Goddess Balls are incredibly popular (like Love Eggs & Jiggle Balls).
How have men and women, respectively, responded to the vegan products?
Generally speaking veganism is a more female-dominated culture, however this is changing drastically as the vegan lifestyle is becoming more and more popular. Lovehoney employ a lot of people and, although we have a lot of vegetarians and vegans who work here, it's understandable that for someone who doesn't live the lifestyle, some of the terminology can be a little tricky. The way we get around this is to have our in-house vegans (like me!) take a look at all vegan marketing and messaging to make sure its correct, accurate and grabs the right audience.
Have you found there's still stigma around women purchasing sex stimulants such as toys or lubricant?
Lovehoney's entire goal is to make shopping for sexual enhancement products a comfortable, inviting and easy process for all genders and couples. Before Lovehoney launched in 2002, pretty much all online (and high street) stores who sold sexy products were seedy, overly pornographic, and certainly not traditionally "female friendly." After doing a spot of research around the subject, our founders, Richard Longhurst and Neal Slateford, found that this "in your face porno" branding was contributing to women feeling uncomfortable and unable to explore their sexuality with toys. Beyond the over the top branding, people also just didn't know enough about sex and sex toys to know what to buy or how to use their purchase.
Our website clean and easy-to-navigate, we offer shopping advice and information about sex, and always ensure our Lovehoney branded toys came in packaging you could (technically) give to your Mom. Not to mention we have a customer care team who can be contacted 24/7 to help you out, which, when combined with other perks such as our friendly online forum, generous returns policy and non-intimidating YouTube channel, has helped to dispel the stigma surrounding shopping for sex toys. There are, of course, still pockets of society which believe that sex toys are "wrong" or "sinful." or think they the only serve as a replacement for "real sex." Thankfully, due to companies like Lovehoney changing the way sex products are branded, most people are seeing them for what they really are: a sexual enhancement. A condiment that makes the main meal taste even better, if you will. And don't get me started on all the things that are wrong with the phrase "real sex."
What're your predictions about the sex toy industry?
Based on the growing popularity of veganism, which doesn't seem to be letting up any time soon, I predict that we'll see materials such as leather and silk becoming less and less popular and more cruelty free lubricants being available across the globe.
Photo via Getty