Of the 11 crowned RuPaul's Drag Race queens, only one (Bianca Del Rio) has not released music. But none have done so with as much chart success as Trixie Mattel, winner of the show's third All Stars season in 2018. Both of Trixie's albums — 2017's Two Birds and 2018's One Stone — have charted on Billboard, with the latter ascending to number one on Billboard's Top Heatseekers.
But the new album is why we're here! Trixie Mattel's latest record Barbara comes two years after One Stone, and showcases an entirely new sound for the 30-year-old. Experimenting with genre, the record includes a touching cover of queer country hallmark "I Can't Shake The Stranger Out Of You," as recorded by Patrick Haggerty and Lavender Country in 1971. The song's video premieres with PAPER today.
During a few precious moments of downtime, Mattel speaks about her new album's influences (which include naming a song after Jesse Eisenberg), finding time to be a cosmetics guru and her upcoming book with Katya.
So I just listened to the entire album and I want to start by congratulating you. I love this album. I've loved all of your work, but I love this album.
That's the exact reaction I'm hoping everybody has. That's the feeling I have when I listen to it. I love Two Birds and One Stone, they are a totally different two-part chapter, but when I listen to this record I'm like 'this is the best thing I've ever done.' These songs are fuckin' good. This production is fuckin' good. It's so bright and sweet and sugary. I just see go-go boots and fringe and sunlight and swimsuits. It tells a fun little story without being too up its own ass.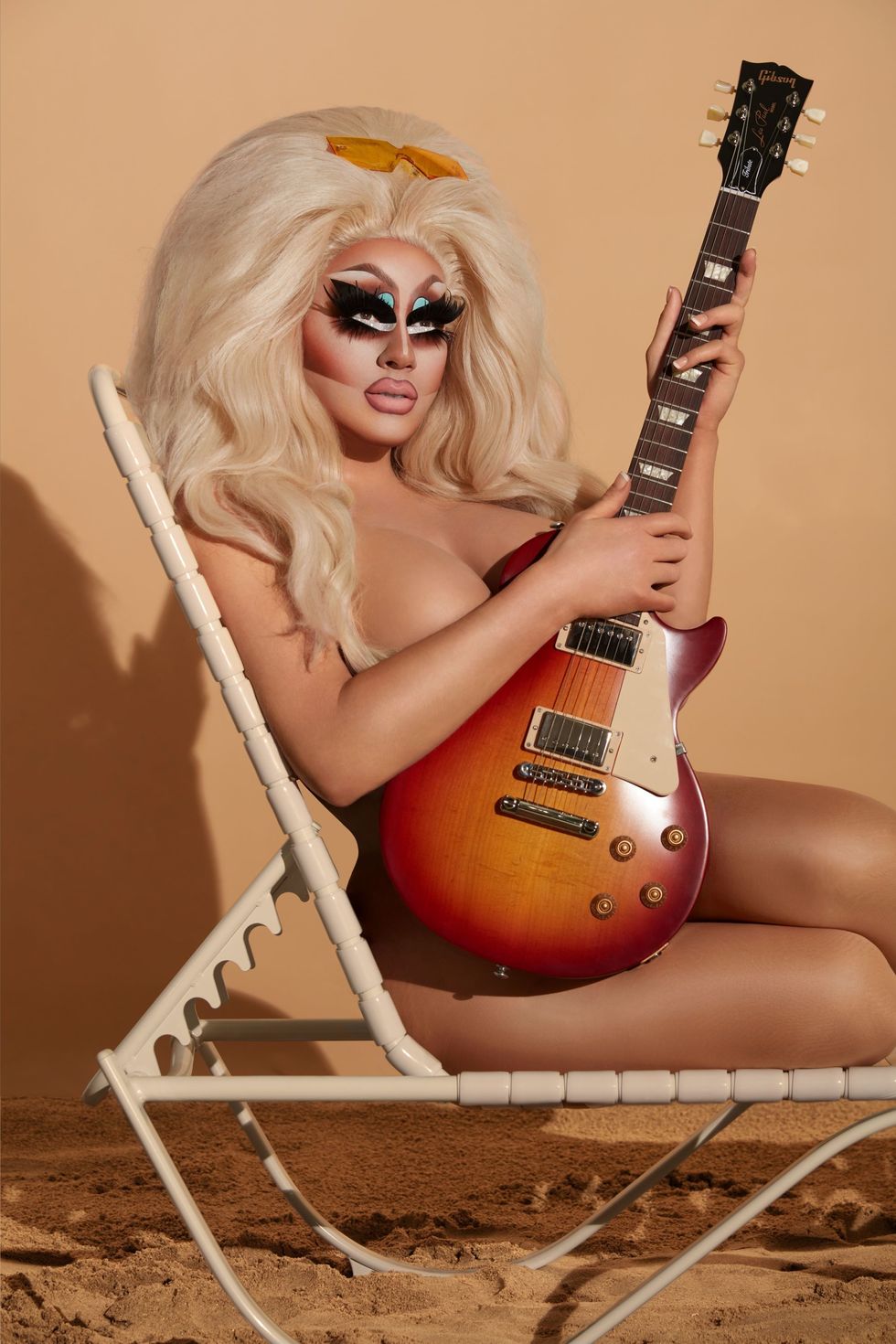 It does. And it balances feeling both pastiche and quite contemporary.
That's really what I want to hear because yes, this has some retro influence but this person clearly grew up playing guitar to Blink-182 and Fountains of Wayne.
I think it's interesting that your first two albums came out within a year of one another, whereas this album had a two year conception. How did having that extra time affect the final product?
I love folk and country music, but by the time I had finished One Stone I had kind of moved on and was looking for new influences. Not looking, but rather naturally gravitating away from it because I'd kind of done it. Drag queens: we change wigs, we change outfits, we get bored. And so I began going down the rabbit hole of stuff I used to listen to including The Donnas, The Go-Go's, The B-52's. And then my visual influences were changing too. I re-watched the first few seasons of The Brady Bunch, I watched a lot of old seasons of American Bandstand and I began really falling in love with the mod 60's vibe because for Trixie, it's a great middle ground because there's a huge sense of humor within the music and fashion of that time. It was okay to write music that was just fun to listen to and didn't have to be curing cancer every time you write a song. And I was attracted to that, especially after living in California for a few years, this sort of hyper-glossy, perpetual summer feel.
There's a few different meanings to that name. The first meaning would be that obviously Barbie's full name is Barbara, and the folklore of Barbie is that she's from a fictional city in Wisconsin and she moved to California to be a star, right? And accidentally that's what I did. And when I was working on this album I began going back to the original sketches of what I thought Trixie was. When I was 20 and first coming up with Trixie, I saw her as this '60s plastic beach bunny with the really dark sense of humor, kind of like Christine Taylor in The Brady Bunch Movie meets Nancy Sinatra. So the Trixie on this record, the look and the sound is much more my original vision for Trixie. You can tell that Avril Lavigne and Katy Perry's One of the Boys were the albums that I was listening to when I started to do drag.
My early favorite song is Jesse, Jesse. I'm curious, who is this alleged Jesse?
It's sort-of a two part story. My boyfriend loves the porn actor Jack Hunter. Do you know who Jack Hunter is?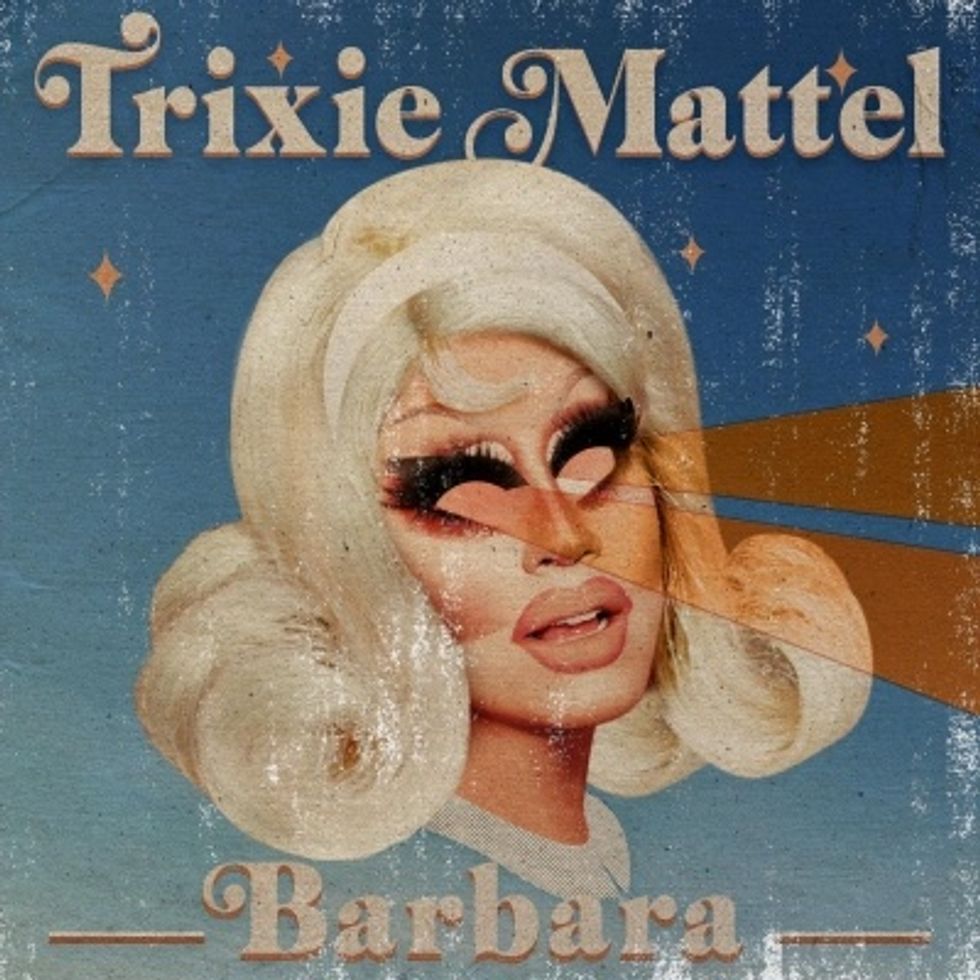 So I started writing this love song about my boyfriend, and how much he loves Jack Hunter. Because after two records I really started to get confident enough that I'm not gonna second guess it. If I think it's fun to write a song about a porn actor then that's the right instinct and I'm going to do it, whereas early Trixie would have worried that people weren't going to take me seriously. So you can tell that verses of that were originally written about a porn actor because it has verses like "pictures on the moving screen; I've got you cumming in crystal clean." That's so obviously about cum. "I can get your pages stuck together," that is so about jerking off. But then I went and saw Zombieland 2 and my boyfriend is always making fun of me because Jesse Eisenberg is so hot to me. And so as soon as we got home from the movie theater that night I decided, 'No, this song is about Jesse Eisenberg now,' which is why it has allusions to his movies like Cursed. And then you have lyrics like 'now you see her; now you don't' basically saying leave your wife for me. I love him and I love the idea of Trixie having this crush on this kind of not heartthrob actor.
Let's talk about the tour. Your tours are known for bringing out a crowd that is heavily comprised of lesbians. What do you think it is about you that attracts the ladies who love ladies?
I've thought a lot about this. I think there's two reasons. One: On one hand I kind-of parody the expectation of women; I parody the ideals of women's bodies, their hair, their look. I sort of make fun of a very outdated version of what a woman should look like. And so on the one hand I'm very empowering because young women are like "You know what, she dresses like that, I feel like I don't have to dress like a woman, 'cause that's a guy." And then two: I think it's a lot of women who enjoy that it's a celebration of femininity, they're also like, "You know what? Being a woman is fun and cool." And it feels good and not pandering. It's pro-woman while also being anti society's view of women.
Who are you listening to? The gays are all talking about Dua Lipa and Kesha and Selena, but I'm curious for what's your playlist?
I just discovered this band that apparently everyone knows about but me called Hole. I'm not kidding, Evan. My lead single is called "Malibu" and I was at a radio station the other day and they were like, "This is in the great tradition of songs called 'Malibu'" and that was my gateway. Of course I'm always listening to The Donnas, to Weezer, and most recently Blondie's album Pollinator. So fucking good.
You are the self-described "Mary Kay of drag," but with everything you have going on from the album to the tour to the multiple series you have in production where do you find the time?
Well, I wish there was two of me because it never stops. On tour I have to conference in every week to talk about new products. But it's also really fun. I do it all with my own money, so it's really rewarding when products actually sell because it's my own financial investment. I wanted to make something that was pro-formula but with really fun packaging, because that to me is the spirit of drag.
Gotta ask about Katya, the Elaine May to your Mike Nichols. How does your professional relationship change this many years in, when you start to know each other's rhythms and nuances as intricately as the two of you now do?
To be honest, the best part about knowing each other this long is really our off-screen compatibility because you start to know what the other person would want or not want to take responsibility for. Katya and I have very different work ethics. We're very yin and yang when it comes down to. I like to be overworked; she doesn't. And she needs her smoke breaks. She has a really fast metabolism and usually needs to eat every couple of hours, whereas I'll power through the whole day without eating. So you start to get really good at anticipating each other's needs off set.
I hear that there might be an upcoming book co-authored by the two of you. Any truth to the rumor?
It's called Trixie and Katya's Guide to Modern Womanhood and it's basically part homoeconomics text book, part woman's etiquette guide. So we cover everything from hair and make up and clothing to how to be broken up with and should I get bangs? Age old questions! Katya has a chapter with haikus about getting your period. You have to read this book. It's psycho. And we wrote it ourselves. No ghostwriter, bitch.
Photos courtesy of Shorefire Media