"Where I'm at now, I really feel like I can do anything," Tove Styrke says, her voice reaching a maniacal high before breaking out in a gracious laugh. There's really no need for that humility — she has good reason to feel this way. The Swedish singer/songwriter released today her third studio album Sway, a tightly packaged collection of sharp and zippy pop songs that burst at the seams with piercing synths and breathtaking melodies, without ever splitting completely open sonically.

With just eight songs to its name, Sway is brimming with a sense of confidence not unlike what its creator is feeling herself at this moment, but it took a long time for Styrke to reach this point. Growing up, she always knew she wanted to sing. "I was obsessed with big voices like Whitney Houston and Mariah Carey, and I wanted to sing like them and be able to sing those big songs," she remembers. "I still can't really, to be honest. It's hard. But I kept practicing and eventually I got pretty good." For many people, "pretty good" just isn't enough, especially when it comes to what you're most passionate about. "I used to not like my voice that much," Styrke says. "I think I was comparing myself to other people and trying to be a certain thing. I really learned that your strongest asset is what you've already got."
Related | Mariah Carey Gets Revealing
Nonetheless, the pull of music was too strong to ignore — Styrke was raised in Sweden after all, where the pop music is just as pristine and innovative as its furniture (Ikea or otherwise). Pop is an art that can be tough to grasp, and even tougher for non-believers to understands its merits, but she was determined to master it. She started with a stint on Swedish Idol when she was just 16 years old — something she admits was special but is now a long lost memory for her, much like high school is for all of us. "I remember that in the same way that people remember going to camp when you were a teenager. You remember the picture, but it's distant in a way."
"Where I'm at now, I really feel like I can do anything."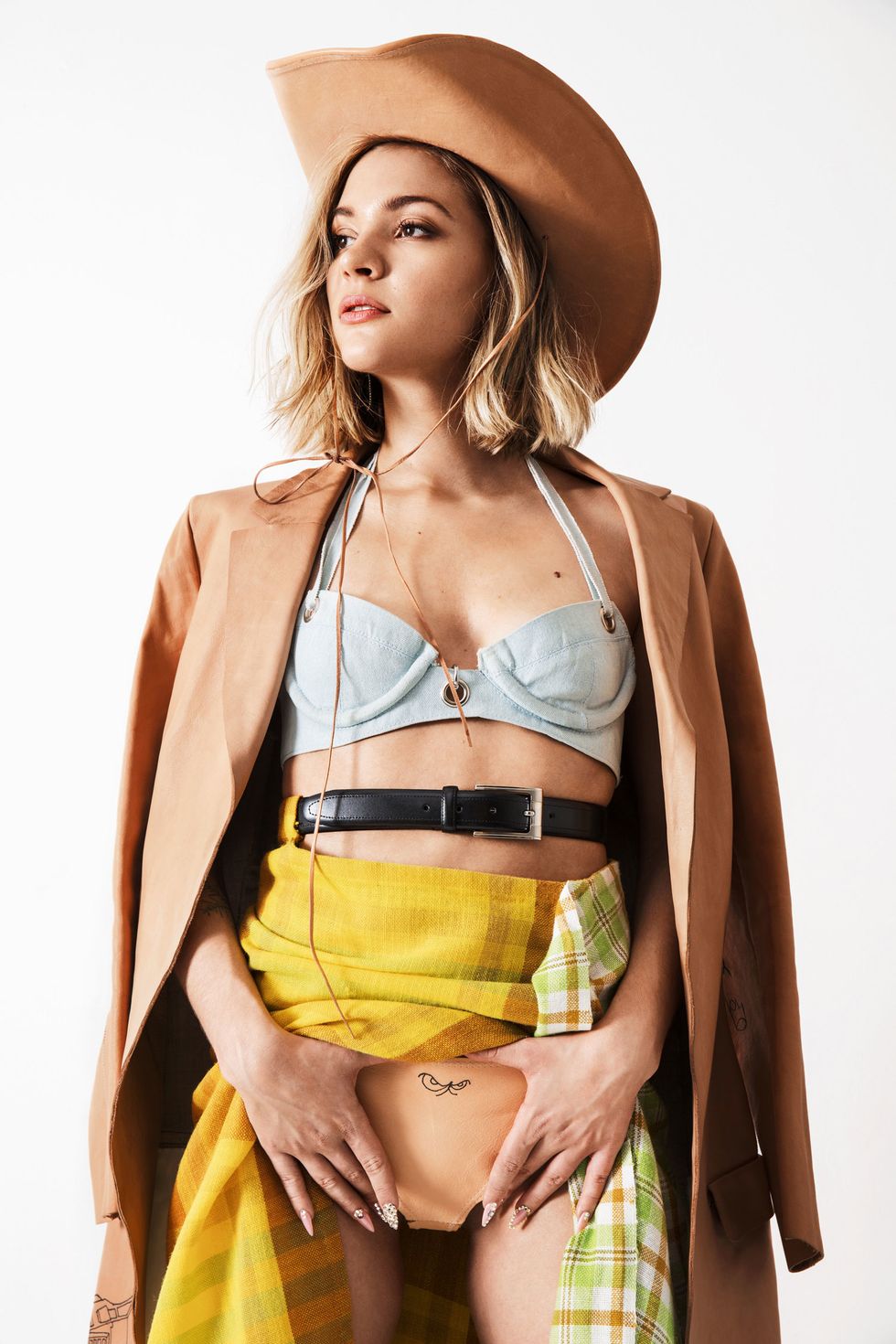 Photography: Emma Svensson
After placing third on the show, Styrke began work on her debut album, where her love for pop music blossomed and her skills in songwriting grew tenfold. "I've grown more and more in love with pop over the years, especially since I started writing," she says. "It's like a love affair that I'm having, and I'm getting more attached and dependent on it as a tool. I love to take a feeling — something that might be quite complicated — and boil it down to its simplest form. I want to find the shortcut to another person's feelings. That's what really good pop songs do." Her sophomore album Kiddowas even more focused in that vein, showcasing the bombastic and dynamic artist that Styrke was capable of being. "Kiddo for me was a receipt that I could make a cohesive album — that I could have ambition and make it become something real. That really gave me a lot of confidence moving into this project."
Related | Alma Is a Legend For Life
On first listen, Sway is a sort of antithesis to Kiddo, relying more on snappy minimalism to get its points across. The switch wasn't intentional, but it turned out to be exactly what she needed. "I started working and writing right away, but it really took some time to get to the point where I knew why I needed to do it. When it finally clicked was when I started working on 'Say My Name,'" referring to the lead single, named one of Rolling Stone's 50 Best Songs of 2017. "I wanted this album to be way more stripped down than anything I'd ever done," she says. "I wanted to be really direct and simple, but still keep the production interesting so they can really say something."
While the album doesn't explode sonically, its emotional impact is undeniable. From the rapid-fire seduction of the title track to the shy vulnerability of "On a Level," Styrke succinctly explores the stages of romance and attempts to grasp why humans act the way we do when it comes to love. "I really wanted to dissect why people connect and why it works when it works, and when it doesn't, why doesn't it?" But what started as an investigation on society turned into a deep soul search. "Quite a bit into the project, I realized I wasn't writing about other people, I was trying to figure myself out," she says. "It's been a journey for me. I've never sounded this much like myself. It's the truest to my voice I've ever sounded, and I love it."
Related | Tove Lo Pushes Pop To Its Climax
A key to this journey was not writing one of her own songs, but embracing another: "Liability" by Lorde, her cover of which closes Sway on a decisively pensive note. "That song embodies so much of what I've been trying to get at," she says. "I want to make songs that feel like the dialogue you have with yourself, the stuff you don't really tell other people, but you feel that they deserve more space because they occupy so much of our being. I think 'Liability' taps into something that's so human where a person has written a song about their own experiences, they put it out, and so many people feel so much for that song. We all feel the same, and it makes me feel less lonely knowing that other people love that song."
In a full circle moment, Styrke most recently opened for Lorde on the Melodrama World Tour, performing her take on "Liability" during her set before the Kiwi sensation played the original version later in the night, two moments where audience and artists were fully connected in all respects. The experience was powerful enough to influence where Stryke is heading next. "That tour changed me," she says. "I've been having this dream since I was young. I got to really connect with so many new people and see close up what you can do on a stage when you have the resources. For the first time in my life, I could connect the dots of where I am and that dream I've always had. That did something for me, it lit a spark. I can't shut it off or lose faith in that, because I know it's real, I know that it's doable."
"I've never sounded this much like myself."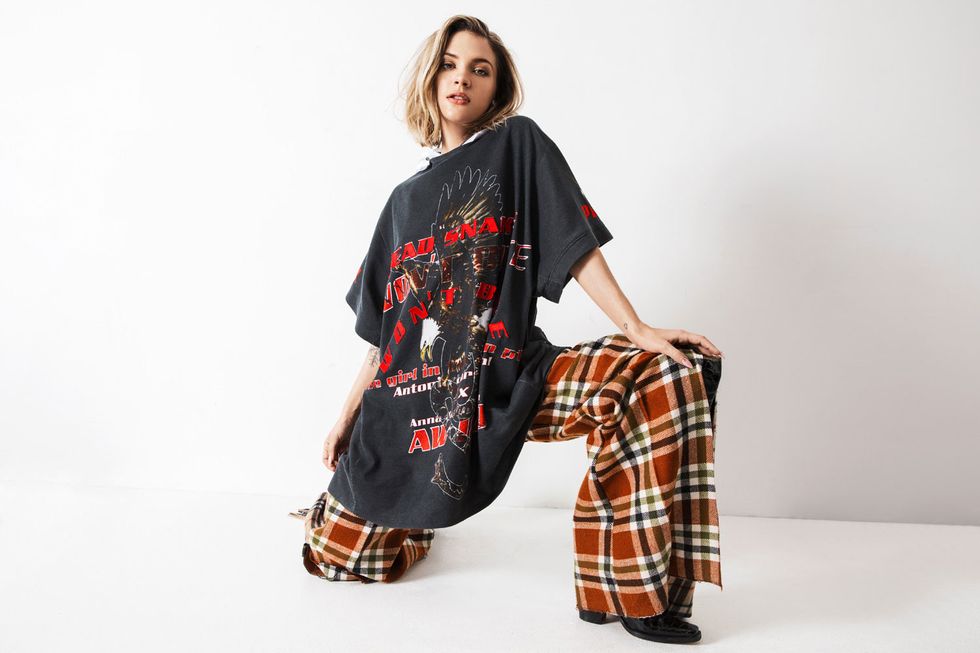 Photography: Emma Svensson
Aside from even more new music to come this year, next up on her rapidly growing to-do list is opening for another pop icon: Katy Perry. "I need to kick ass out there," Styrke says with a laugh. "She's huge, I don't even know if I get to meet her. If I do, how will I react? I was very weird once when I met Pharrell, I don't know how this is going down." It's another surreal moment for Styrke, given how Perry was one of the singers — along with Britney Spears — that sent her into a never-ending spiral of pop. "I hear the first note in 'Teenage Dream' and I get excited. It just does something to me."
Related | Danish Pop Star MØ Talks Her New Single 'Nostalgia'
Thankfully, that spiral is one Styrke has no problem being lost in, music still serving as her therapy and a means of experimentation, for better or worse. "Writing is a way for me to figure things out. I want to find patterns and solutions for things. I want everything to be logical, but things aren't ever," she says, with an exasperated sign. "People are weird. I will never find the perfect formula to why things are the way they are, why people are the way they are. I'll be writing forever."
Stream Tove Styrke's Sway, below.
Photography: Emma Svensson