Tove Lo would rather her music spur a negative reaction than no reaction at all. "As long as they feel something, that makes me happy," she says. "A strong reaction." And with lyrics like, "I'm fully charged, nipples are hard, ready to go," paired with a video of the Swedish pop star pleasuring a puppet, it's hard to have a passive response.
After writing songs for Ellie Goulding and Icona Pop, Tove Lo gained independent recognition with her honest, relatable banger, "Habits (Stay High)" from her 2014 debut, Queen Of The Clouds . Her following album, Lady Wood , boasted the raw sexuality that would carry onto the second Lady Wood installment, her most recent record, Blue Lips .
"The first half of Lady Wood was after going through a breakup — still being hurt, but enjoying that time and freedom," shes says. "The second half was when I was truly in love in the relationship I'm in now." With Blue Lips , Tove Lo confronts sex-positivity in a sex-negative environment, heartbreak, and desire.
These elements come together in her Lady Wood symbol, a simple, semi-ambiguous drawing of a vagina mixed with a cross necklace. Tove Lo has solidified this symbol, literally, by turning it into jewelry. The new collection, Tove Lo x Leontine , comprises four intricately designed gold pieces — an ear cuff, a ring, a nose ring, and a bracelet — that incorporate Lady Wood-inspired shapes.
We caught up with Tove Lo to talk about growing up as a sexual person, and learning to embrace it.
What was the idea behind your Lady Wood series?

It stands for being carefree and doing whatever you want without thinking of consequences. It's kind of powerful, and it's not the way I was raised. A lot of girls have had that feeling. "Be a good girl, don't drink, don't take up too much space" — all of those "make yourself smaller" rules... "adapt to everyone else." It gets to a point where you think whatever you are feeling is wrong.
In a way, it was just about daring to be forward, sexual, and maybe not always right but standing up for whatever is driving you. I love sexual expression and being on stage feeling that I am fully in charge of what I'm doing, how I'm feeling, and how I'm touching myself. In no way is that hurtful to me, except when people decide to judge it. It only has to do with me and it doesn't affect anyone in a bad way.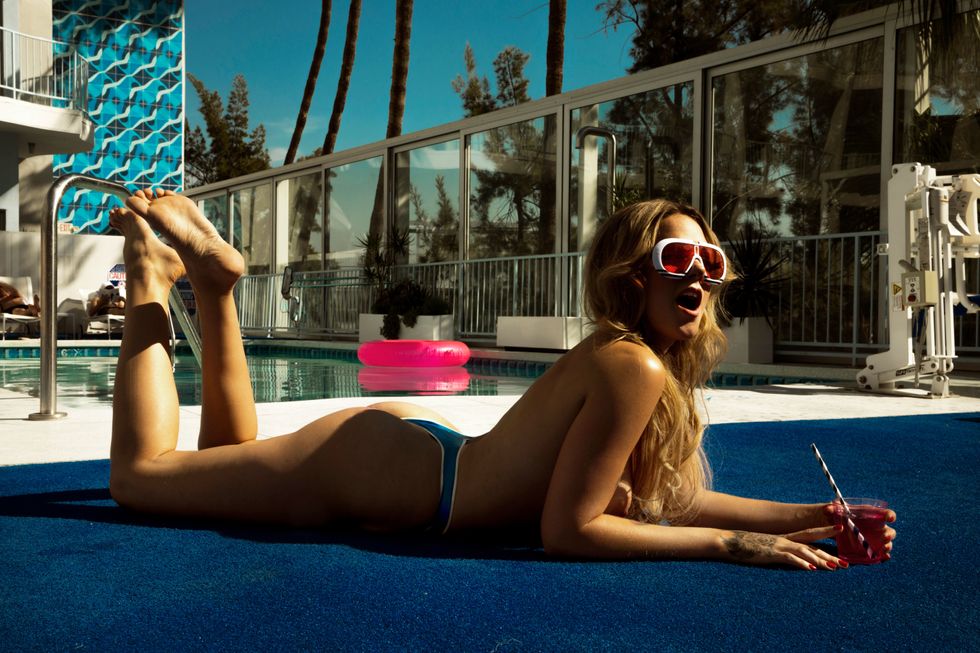 Latex Thong: Vintage, Ring: Tove Lo x Leontine, Sunglasses: Carrera
People are surprised to hear a woman speak bluntly about her sexuality. Why do you think it's important to be upfront about it?

If you're comfortable, in touch with your body, and wanting sex, there's nothing negative in that. There's no harm in it if you enjoy yourself. For me, I feel powerful and happy by being secure and knowing what I like. Knowing what gets me going and that energy and connection with someone is awesome. It doesn't matter if it's the love of my life or the love for the night [Laughs].
Growing up in Sweden, what was the culture around sex like?
It varies. We still have the usual, "If you're a girl that sleeps with too many guys, you're a slut. If you're a guy that sleeps with a lot of girls, it's cool" kind of thing. But if a girl got a slut reputation, they would quickly get over it, and it wouldn't matter in the end. We learned about sex really young, there wasn't much talk of abstinence. I remember never thinking that [sex] was something that was wrong or bad. Conversations with my girlfriends [in Sweden] would be very open about what you like or what you're into, very open about wanting sex. Talking to friends [in America], it's like you don't share too much, there's more shame in it.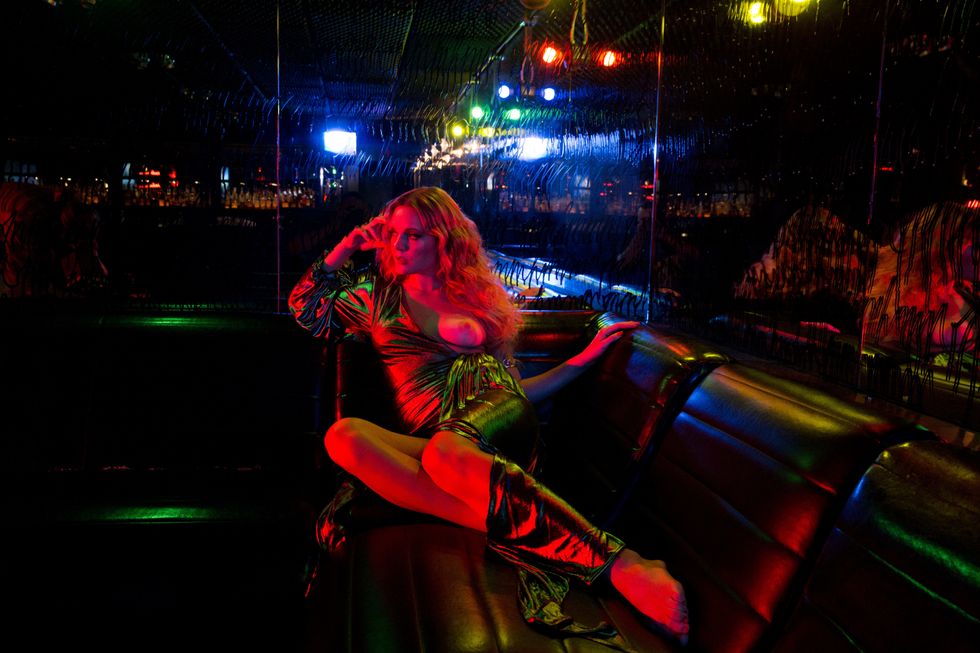 Dress: Alexandre Vauthier, Arm Cuff: Saint Ann (Roseark), Earrings: Gienia Design (Roseark)
Did you have a celebrity crush that spurred your sexual awakening when you were younger? Your first "Lady Wood"?

I think Leonardo DiCaprio was the male one, for sure, in Titanic when I was like 10. Neve Campbell, for female. I think it was because of Wild Things .
Do you think your upbringing influences how you approach sexuality now with your music?
I've always been a very sexual person. I'm just in touch with my body. I noticed that when I wrote the first two songs on my first album, everyone was like, "You're such a rebel, you're a bad girl, it's all about sex and drugs," but I thought, "Hasn't this been done a million times before me?" I'm definitely not the first one, but I realized that maybe it wasn't as blunt by women in pop. There is a lot of women in rock and hip-hop that are explicit, but in pop if you're a girl you hint about it. You don't say it straight up.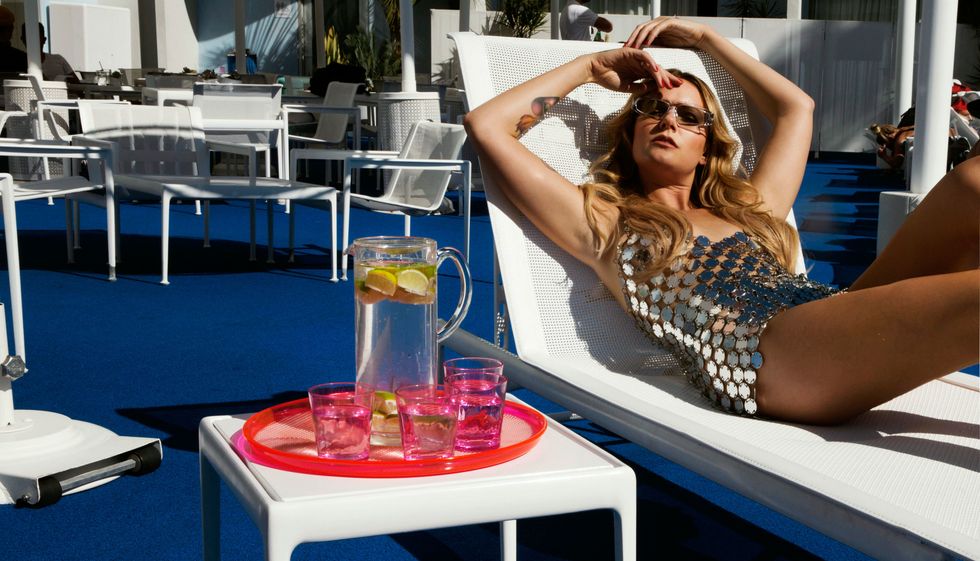 Dress: Paco Rabanne (Archive), Ring: Tove Lo x Leontine, Sunglasses: Marques Almeida
How do you think people can embrace their sexuality?
You can cut off that shame feeling — questioning, "Did I move too fast or I shouldn't have slept with him on the first night?" All the anxiety and energy it takes up too much than to just think I had a good time and I had an orgasm. For me, it's just a good feeling being comfortable and happy with being tune with my body.
What can we expect from you moving forward?

Well, I'm back in the studio starting to slowly write on the next album. I have some fun features coming out. Just doing all of it at the moment, the jewelry and working with other artists. I've got some new Lady Wood lines, clothing pieces coming out and just keeping Lady Wood going.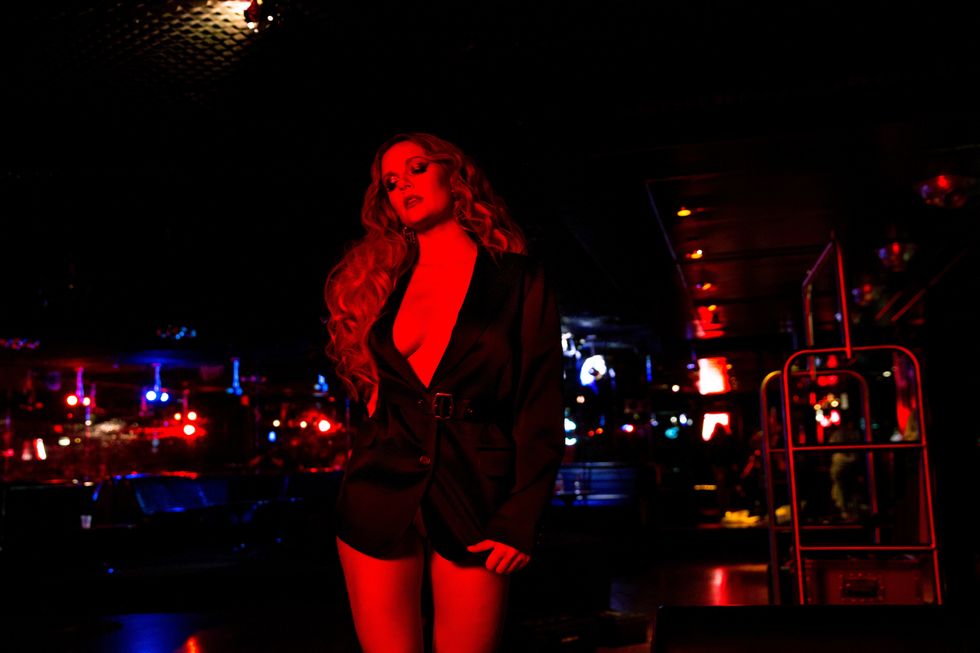 Blazer: Sies Marjan, Earrings: Laura Lobdell (Roseark)
Right, you also have a new jewelry line out now. Have you ever thought about making erotic jewelry?

[Laughs] No but that's a great idea, I might have to do that. [The jewelry line] is a new endeavor. My best friend from high school used to make jewelry by hand and I would always wear her rings on stage. And when I made the Lady Wood symbol, I wanted to make it something that felt feminine, but also like breaking the rules all at once. We were talking about it and she was like, "Why don't we make a line together?" And I was like, "Fuck yeah!" She designed it based off my symbols.
Is the next album going to be Lady Wood 3 ?
It's totally going to be something different. Although, I feel that will always be apart of me now, so it will be there somehow. I'm going to take my time to figure out what I want it to be sonically. I'm in a very happy place and it's kind of weird because I'm so used to using the darker side of me to write, but I'm in a zen zone. I have to learn how to tap into that, so I'm waiting for that to hit me.
Photography: Nikko Lamere
Creative Direction: Nikko Lamere and Loftjet
Styling: Annie and Hannah
Hair: Preston Wada (Opus Beauty Using Kevin Murphy)
Makeup: Loftjet (Using Charlotte Tilbury)
Nails: Merrick Fisher
Videographers: Gus & Lo
Location: The Standard, Hollywood