Sound Off: 10 Songs You Need to Hear Now
By Shaad D'Souza
Nov 17, 2023
It's impossible to be across all the new music out each Friday. Luckily, PAPER is here to help you out: each week, we round up 10 of our favorite new songs from artists — emerging and established — to soundtrack your life. From the surreal to the sublime, these songs cover every corner of the music world. The only criteria: they all have to absolutely rip.

Tate McRae - "Exes"
Tate McRae follows up her huge TikTok hit "Greedy" with this subdued two-step track that shows off her smoky voice as well as the softer side of her songwriting.

Frost Children - "Marigold"
Frost Children have followed up their raucous True Panther debut SPEED RUN with HEARTH ROOM, a lucent folk record indebted to classic 2000s indie bands. "Marigold" is a quiet, gorgeous highlight that incorporates off-kilter electronic sounds while retaining a campfire glow.
Rainy Miller, Space Afrika, Voice Actor - "SummonSummon the Spirit / Demon"
Linking three of the UK's most ghostly and shapeshifting experimental projects, "Summon The Spirit / Demons" is haunting and impossible to pin down, Voice Actor's papery deadpan brushing up against faint, almost Drain Gang-esque, vocal lines.
Bleachers ft. Lana Del Rey - "Alma Mater"
Lana Del Rey crashes into this wistful, hazed-out Bleachers track like a meteor, and her almost startling impact has the lovely effect of reaffirming her sheer star power and enhancing the song's knowing, nostalgic sense of longing.

Water From Your Eyes, The Dare - "Out There"
The Dare's remix of "Out There", from Water From Your Eyes' new remix collection Crushed By Everyone, is the WFYE-meets-The Ian Carey Project thought experiment you didn't know you needed.

André 3000 - "That Night In Hawaii When I Turned Into A Panther And Started Making These Low Register Purring Tones That I Couldn't Control ... ShYt Was Wild"
André 3000's first solo album in 17 years(!) is a rich, meditative instrumental flute record that recalls the work of experimental jazz saxophonist Sam Gendel. As the cover of the vinyl says, there are NO BARS on this record – but it's gorgeous and endlessly explorable all the same.

Basement Jaxx, 100 gecs - "where's my head at _"
A match made in heaven if there ever was one, "where's my head at _" is just as slippery and unpredictable as anything else 100 gecs have ever made, while adding in a sense of drive that makes it a probably weirdo club classic in the making.

Madi Diaz, Kacey Musgraves - "Don't Do Me Good"
Kacey Musgraves' voice, as delicate as tissue paper, floats effortlessly alongside Madi Diaz's on the first single from the latter songwriter's sophomore album. As ever, Diaz's songwriting is heartfelt and heartbreaking, perfectly in Musgraves' wheelhouse.

Thy Slaughter, A.G. Cook, EASYFUN - "Reign"
Two of PC Music's finest take on big-room EDM on "Reign", which quickly builds from flickering embers to an absolute blaze.

Shygirl, Cosha - "thicc"
A sizzling rave throwback from Shygirl and Cosha that's far more traditional than the pair's ordinarily futuristic take on classic British dance music, but just as ingratiating.

Photo courtesy of Beth Saravo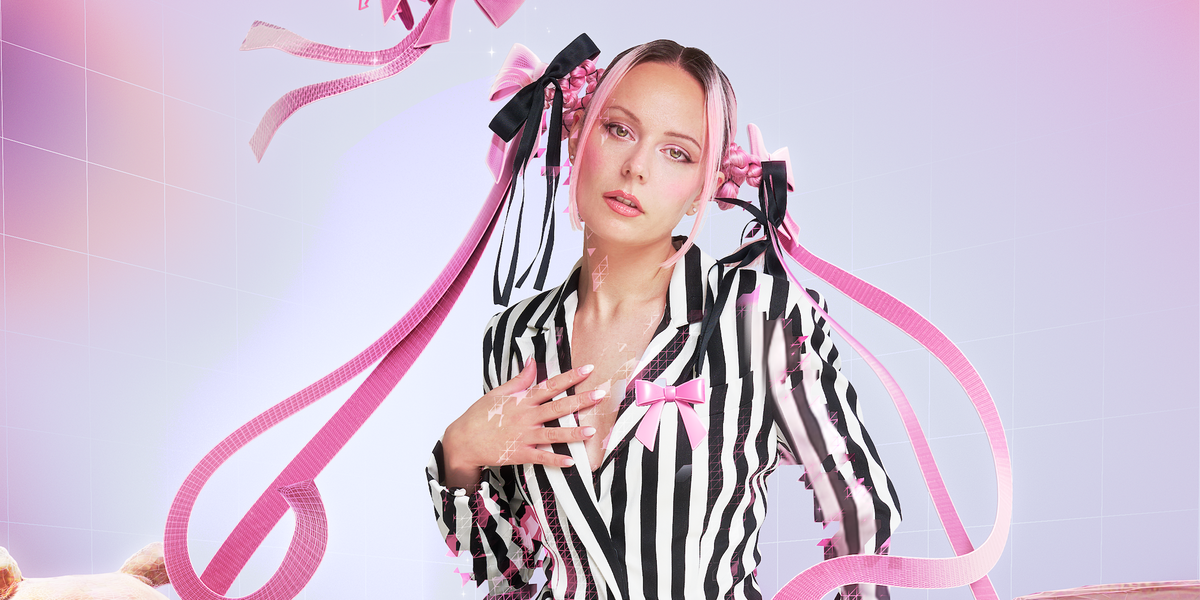 Music
Story by Harry Tafoya / Creative direction & VFX by Andy Rolfes / Photography by Nicholas Needham / Styling by Erik Ziemba / Hair by Davey Matthew / Makeup by Frostie Delite
Story by Harry Tafoya / Creative direction & VFX by Andy Rolfes / Photography by Nicholas Needham / Styling by Erik Ziemba / Hair by Davey Matthew / Makeup by Frostie Delite
07 November