After taking a year off from competition, Olympic gold medal-winning gymnast Simone Biles is back in the gym and ready to remind the world how high she can fly.
Simone. Biles. Is. Back. And she doesn't have time for your expectations. After a self-imposed year away from gymnastics, Biles, a.k.a. The Greatest Gymnast of All Time, is once again in training mode, and she's embracing the next phase of her career as an elite gymnast — the difficult parts, too.
Her well-earned gap year where she welcomed new experiences — long overdue family vacations; Dancing with the Stars; the release of her autobiography, Courage to Soar, and the Lifetimemovie based on it; enrolling in college; turning 21(!); countless red carpet and television appearances; and her first boyfriend, fellow gymnast Stacey Ervin Jr. — has prepared her for what's ahead. As have the recent challenges she's faced, perhaps the biggest of which has been dealing with the revelations, trial and conviction of now-disgraced former USA Gymnastics doctor Larry Nassar. In January, Biles shared her own #MeToo story and offered her continued support to other survivors. "Shout out to all of the survivors for being so brave & speaking like the queens that you are while looking at that monster. He will no longer have the power to steal our happiness or joy. I stand with every one of you," she wrote on Twitter after his sentencing.
Related | Beautiful People: Chloe Kim Is Dominating the Halfpipe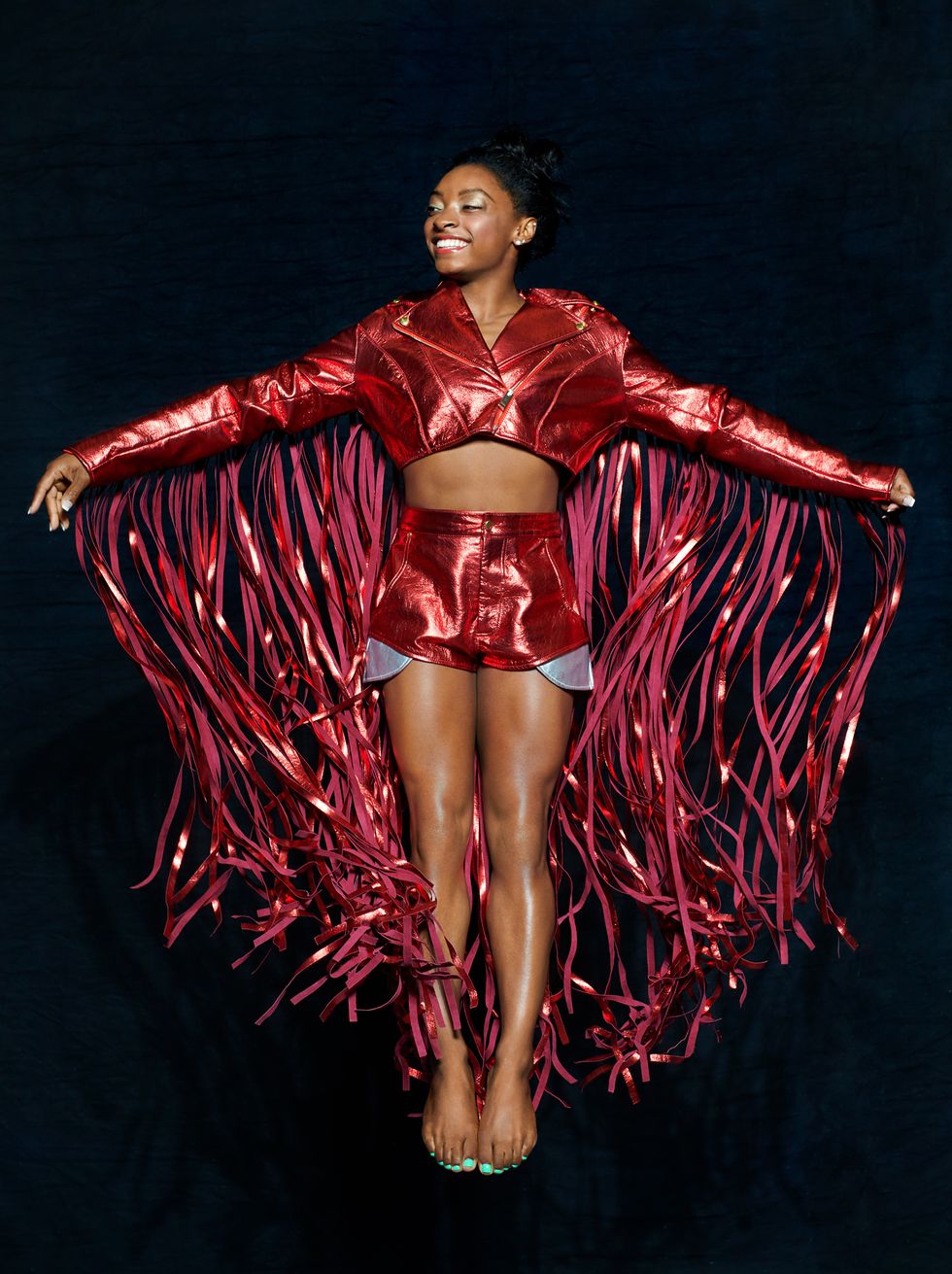 Full Look by Christian Cowan
With everything that's happened in the past year, Biles hasn't thought too much about her unforgettable sweep (five medals, four golds) at the 2016 Rio Olympics. She's been too busy to think about the past. And now that she's in the gym again, she likes to keep looking forward, though it is hard to maintain a "what's next, what's next?" mindset with a packed schedule.
"I almost had a mental breakdown but I had to reschedule it," she wrote in a telling pinned tweet, posted in mid-April, nearly six months after she began training for her return to competition at the U.S. Classic championships at the end of July in her birthplace, Columbus, Ohio. That day in April, she remembers, she was working on her bar routine — the uneven bars were her weakest event in an overall stellar appearance in Rio — for basically the first time. "Bar routines always give me like a mini panic attack," she tells us during her midday break from her every-day-except-Sunday training schedule. "So I was like, "Umm umm — I'm going to pass out."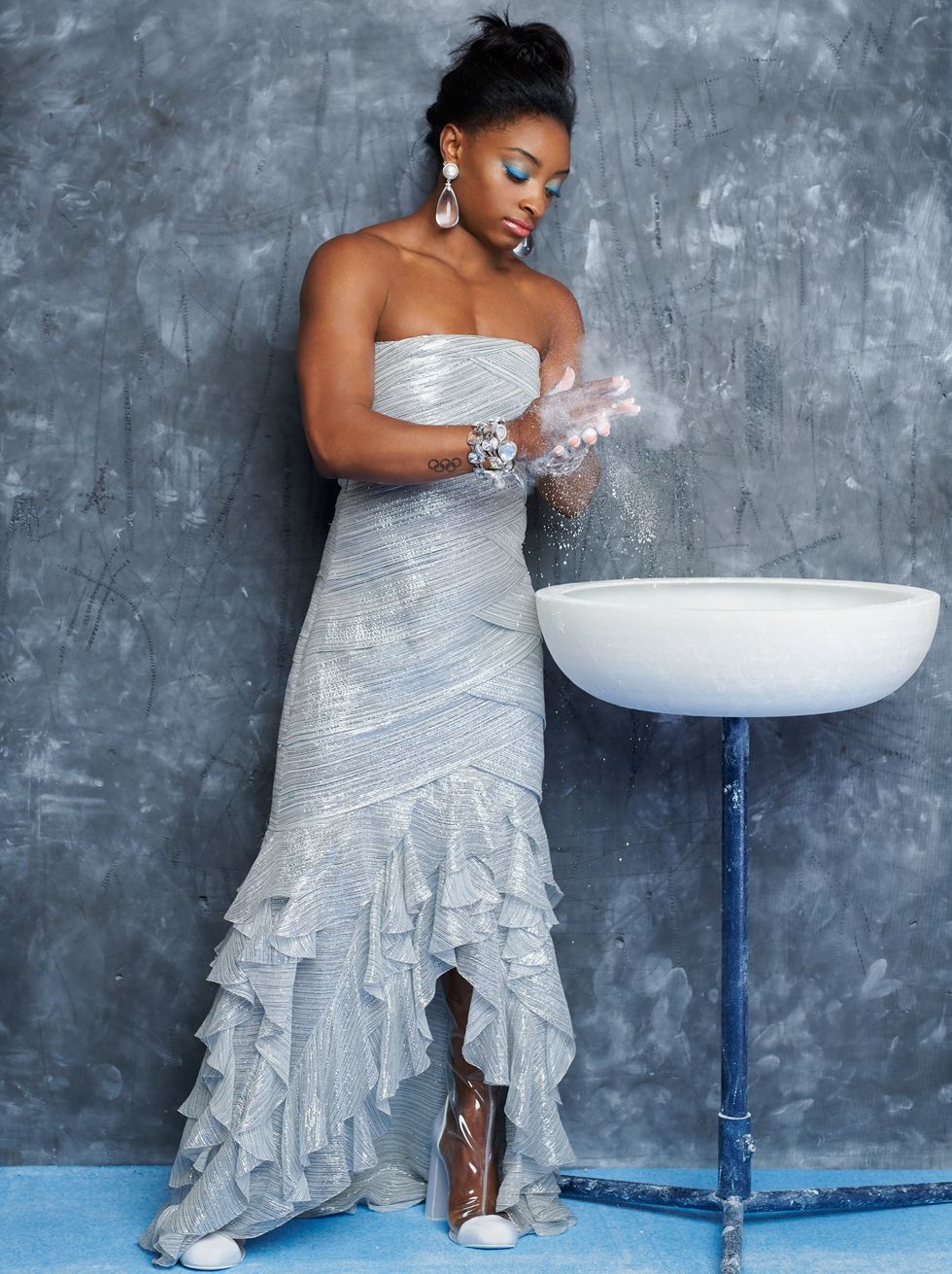 Dress by Chanel
Biles, who first started gymnastics in 2003 after she visited a training center while on a daycare field trip when she was six, has been competing as an elite gymnast since 2011. She's now the most decorated American gymnast. Ever. Period. Since last fall, the champion, along with two new coaches, trains twice a day, six days a week at her home-base gym outside of Houston. To calm her nerves about competing again and the exceptional expectations on her — the 2020 Tokyo Olympics aren't very far off, as everyone reminds her — she's focusing now on her preparation for the U.S. Classic, where she'll compete on the balance beam and uneven bars before she adds floor and vault routines at the U.S. Championships in August in Boston.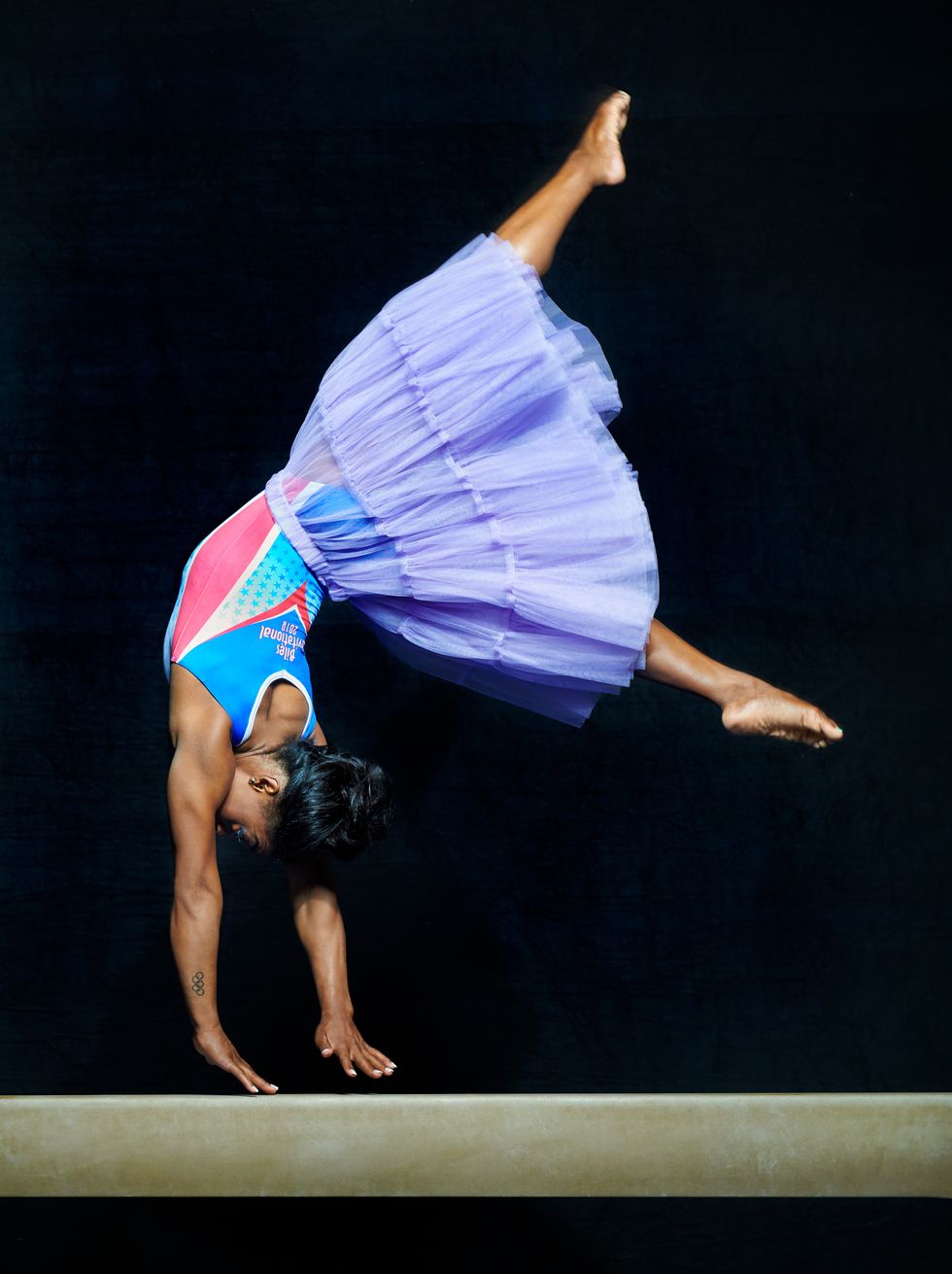 Skirt by Dsquared2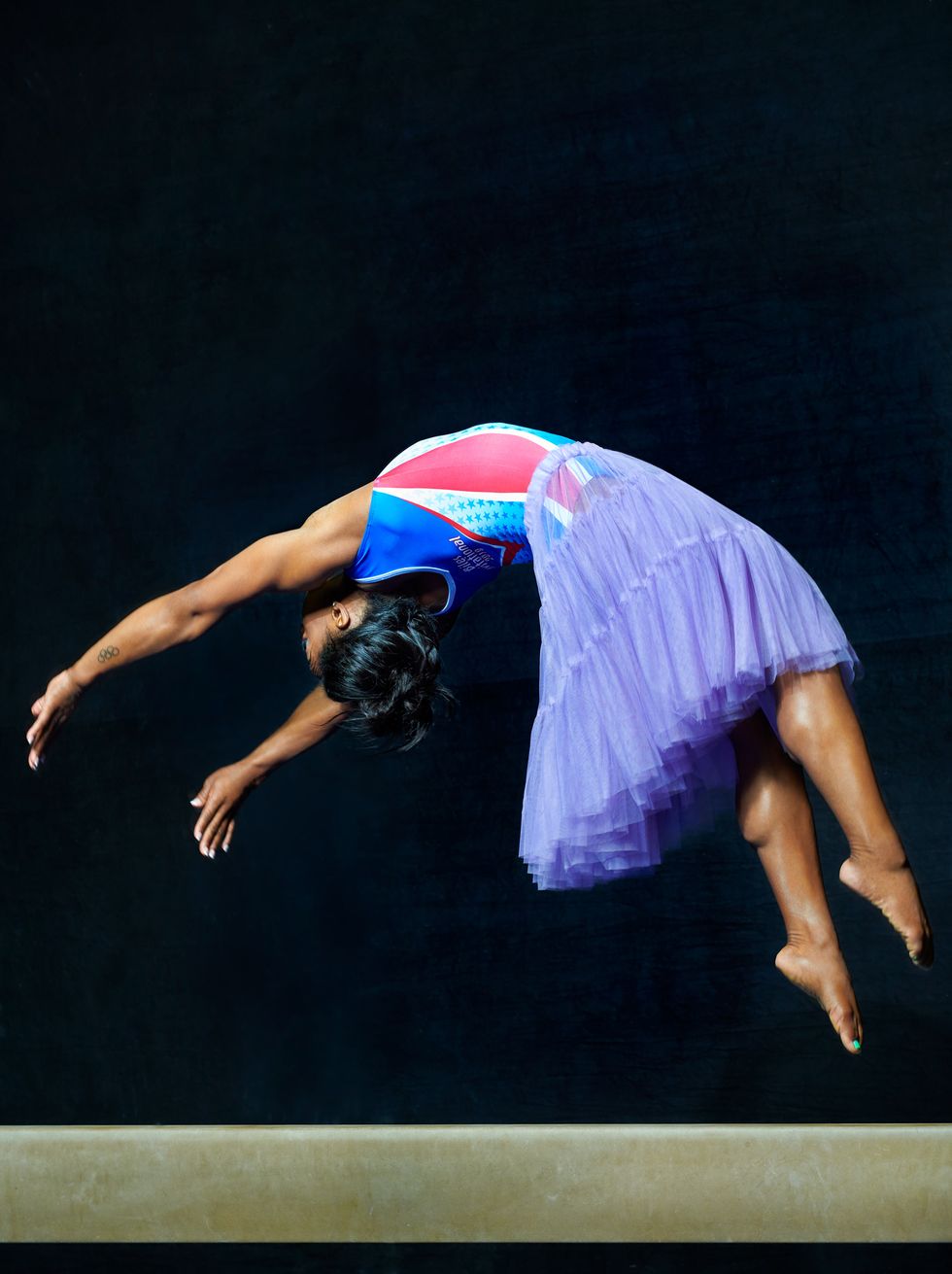 Skirt by Dsquared2
"I have a ways to go on all of my routines, but then again that will come with time," the ever-optimistic Biles says. "I just try to stay calm, stay in the zone, listen to some music, and think of it one day at a time rather than it as a whole." That means listening to Top 40 hits and, naturally as a Gen Zer, Cardi B. "I really like her because she's funny when she does interviews," says Biles. "She seems like a real person."
Related | Beautiful People: Cardi B Is Still Real
Bringing her Instagram-famous puppy, Lilo, a seven-month-old Frenchie whose "pup-rents" are Biles and Ervin Jr., to her afternoon training sessions helps, too. "Everyone at the gym absolutely loves her," says Biles, who recently posted photos of Lilo doing gymnastics moves like jumping into the foam pit.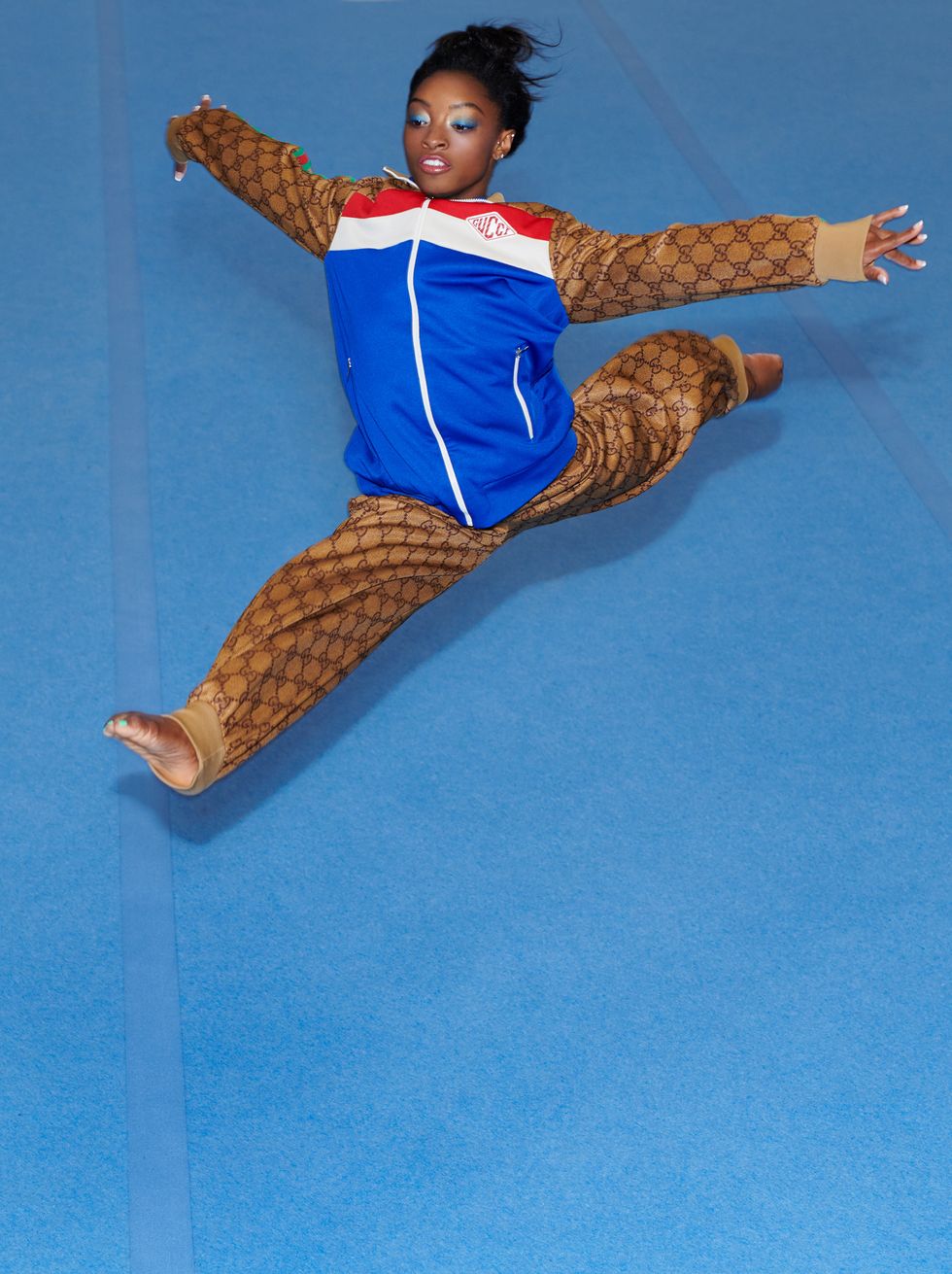 Full Look by Gucci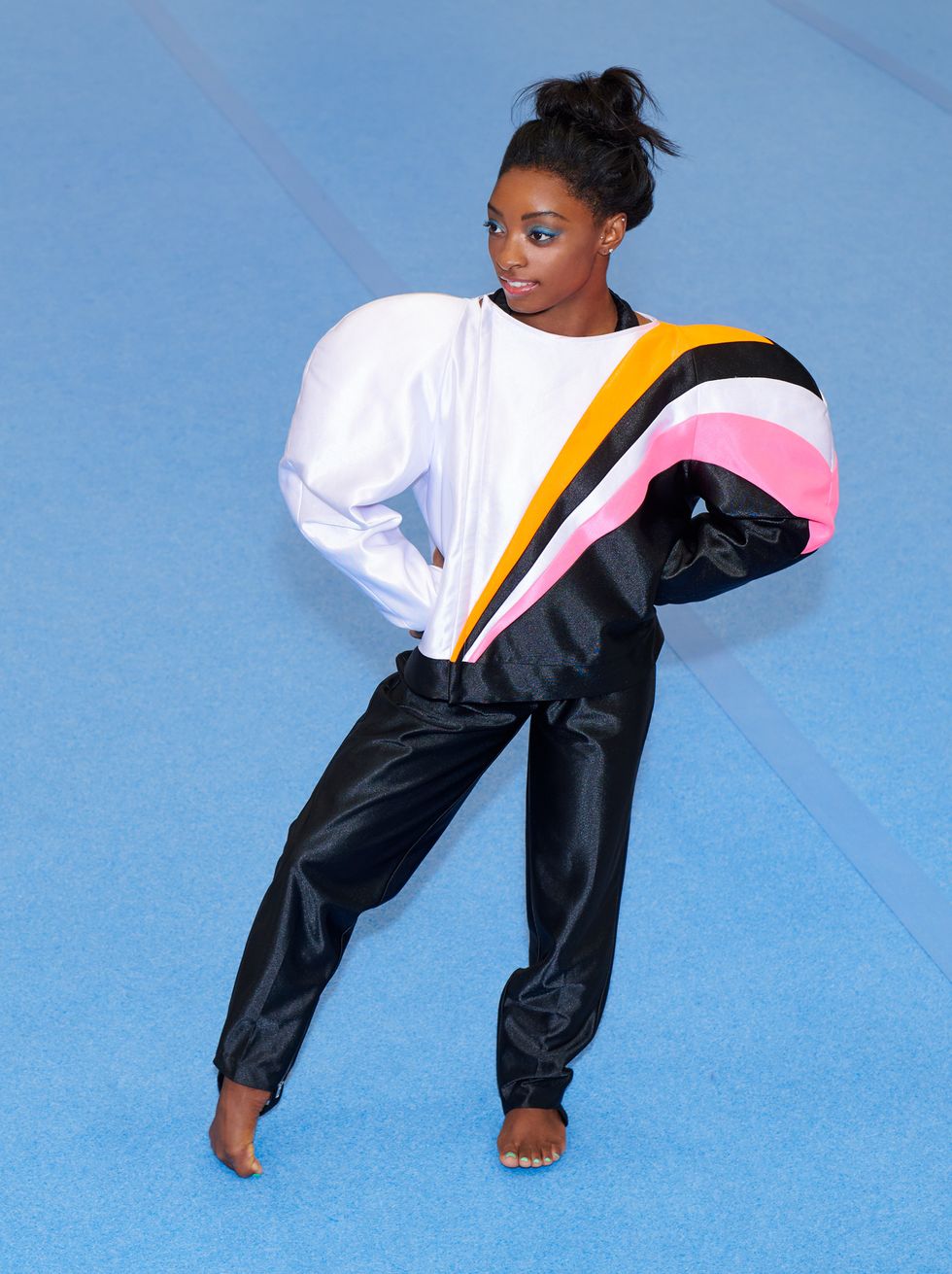 Full Look by Gucci
Her favorite part of training is the atmosphere at the gym because everyone is motivated and working toward a goal. There, she says, she often feels like an older sister and role model to the other gymnasts. "These girls are so young, and they have big goals," she says. "If I see them having a tough day, I remember whenever I was their age, I thought it was the end of the world, but it's not. I have to remind them that. I have to remind them that they'll only be in gymnastics for so long and it won't be for forever, so enjoy the time that you have."
Biles expects to retire after the 2020 Olympics. "I'll be 23, and for a gymnast that's pretty old," she says. "I mean, it's time to move. I've been in this sport. I've accomplished a lot. I think I need to see what else I can accomplish."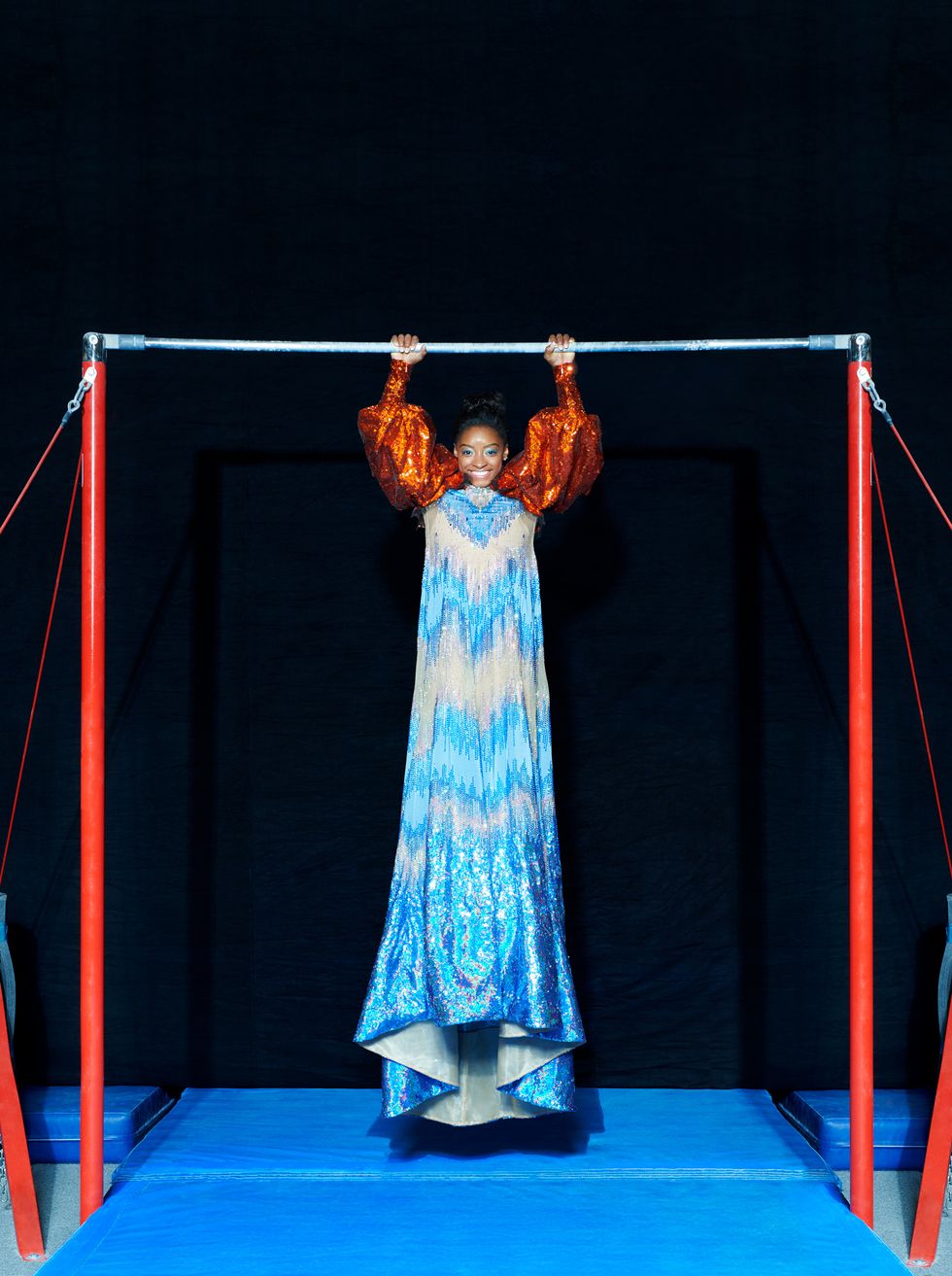 Full Look by Gucci
Photorapher: Gavin Bond
Stylist: Coline Bach & Ella Cepeda
Photo Assistants: Paul Gilmore & Michael Klein
Stylist Assistants: Guvanch Agajumayev & Ashley Coley
Hair and Makeup: Tonya Riner (NARS & Urban Decay)