At only 18, Olympic gold medalist Chloe Kim is proving to be one of the most dominant snowboarders on the halfpipe. And while her daring runs may capture fans' imaginations, it's her unflappable, California girl cool that's winning their hearts.
In February, at the 2018 Winter Olympics in PyeongChang, 17-year-old Chloe Kim had already locked in a gold medal in women's halfpipe snowboarding — and she hadn't even finished competing in the event. After the first two of three runs, she had already qualified for the top spot on the podium, and all she really needed to do was casually amble down the mountain for that third and final shot. But instead of taking a languid victory lap down Mount Gariwang, Kim decided to really go for it. She zoomed through the halfpipe, and then her body turned into a flashing pinwheel, slicing through the air. She proceeded to nail back-to-back 1080s, the kind of pirouette that would do Mikhail Baryshnikov proud. Back in 2016, she was the first woman ever to land the move in competition, and in 2018 she made it look like nothing, her body whirling around like a pint-sized cyclone. She famously won gold. She also, possibly even more famously, tweeted between runs that she should have finished her breakfast sandwich, becoming a chill legend. And while it was a star-making 100 characters, Kim is sick of talking about it. "Everyone's like 'Oh my god, you're that Twitter girl,' and I'm like, 'That's me. I'm the Twitter girl. Okay,'" she says, deadpan. "I don't know. I like tweets."
Related | Leo Messi Is the G.O.A.T.
Kim may be the Twitter girl, but she's also an athletic prodigy who, mellow as she may seem, has been diligently working at her sport for nearly fifteen years. When she was just four, her father Jong Jin, a casual skier (he "doesn't like the boots and carrying the skis and the ski poles"), took her to the hill closest to their Los Angeles home, where she immediately took up snowboarding instead. "I wanted to go back home and play with, I don't know, My Little Ponies or something," quips Kim. "I didn't want to be on the mountain, but it definitely grew on me as I got older." It grew quickly. "I definitely got better than [my dad] after a few years," she laughs.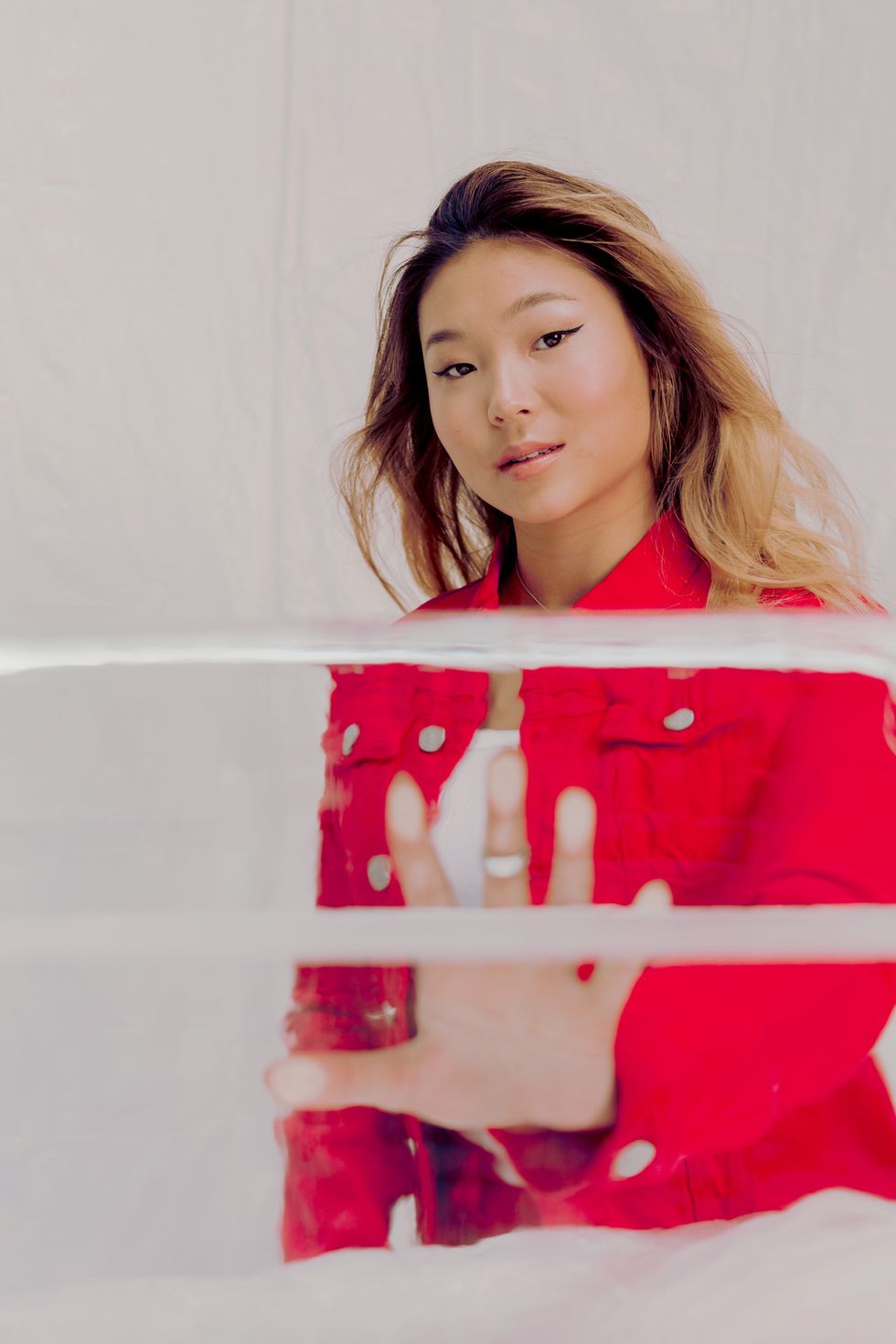 Jacket by Calvin Klein; Ring by Bulgari
Kim moved to Geneva, Switzerland to live with an aunt when she was in the third grade; she says she was "thrown in the deep end" at a French-language Swiss public school, becoming fluent over the course of a semester. During school holidays, she got to head to the Alps and train with her dad. She returned to the States at the end of elementary school, and by the ninth grade, her education was done online, leaving room to shred. And there's been a lot of shredding.
Kim won golds in superpipe at the 2015 and 2016 Winter X Games in Aspen, Colorado. In February of 2016 at the U.S. Snowboarding Grand Prix in Park City, Utah, she landed those history-making 1080s for the first time; later that same month, she won two more gold medals (in slopestyle and halfpipe) at the 2016 Winter Youth Olympics in Lillehammer, Norway. She was considered good enough to compete at the Sochi Olympics at just thirteen, though age restrictions prohibited her from participating for another three years.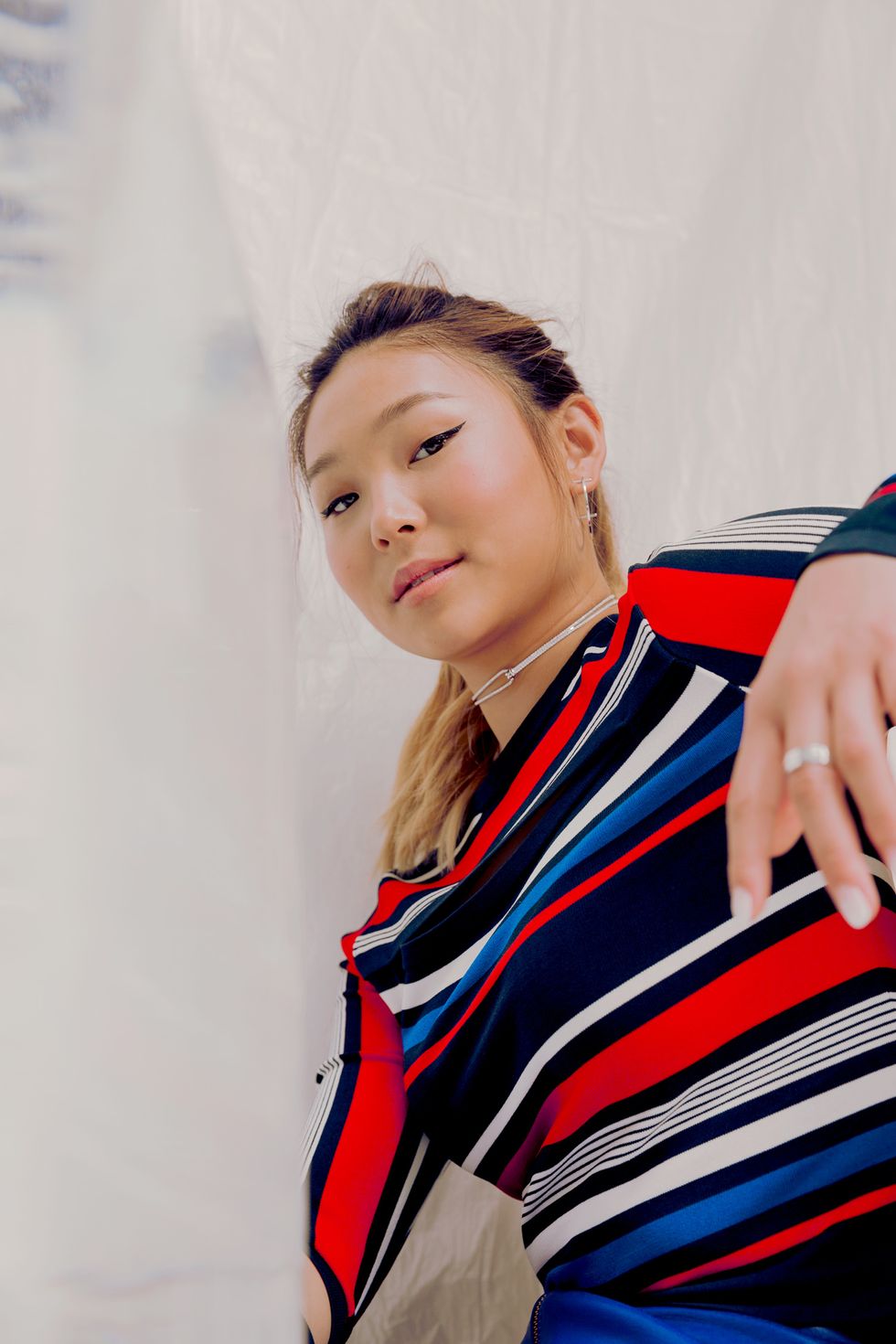 Top by Tommy Hilfiger; Choker by Swarovski; Earring by Tiffany & Co.
But even with such formidable achievements under her belt, she doesn't let up. "I'm pretty harsh on myself, but I think that's the best thing possible," says Kim. "If I do a trick, my coach is like, 'Oh that was so good, that was perfect,' but I still feel like something's wrong and I won't be super happy about myself.
"At the Olympics, I was actually pretty happy with my riding, but it was kind of crazy 'cause I wasn't that nervous," she continues. "I had a contest at the U.S. Open in March afterwards, and I was so nervous at that one, but at the Olympics, I wasn't nervous at all, so I was really confused. It just didn't make sense to me. When I get nervous I have to go to the bathroom constantly, so I was expecting to keep running back and forth to calm myself down, but during finals that day, I was not nervous at all. It was kind of weird, but I loved it."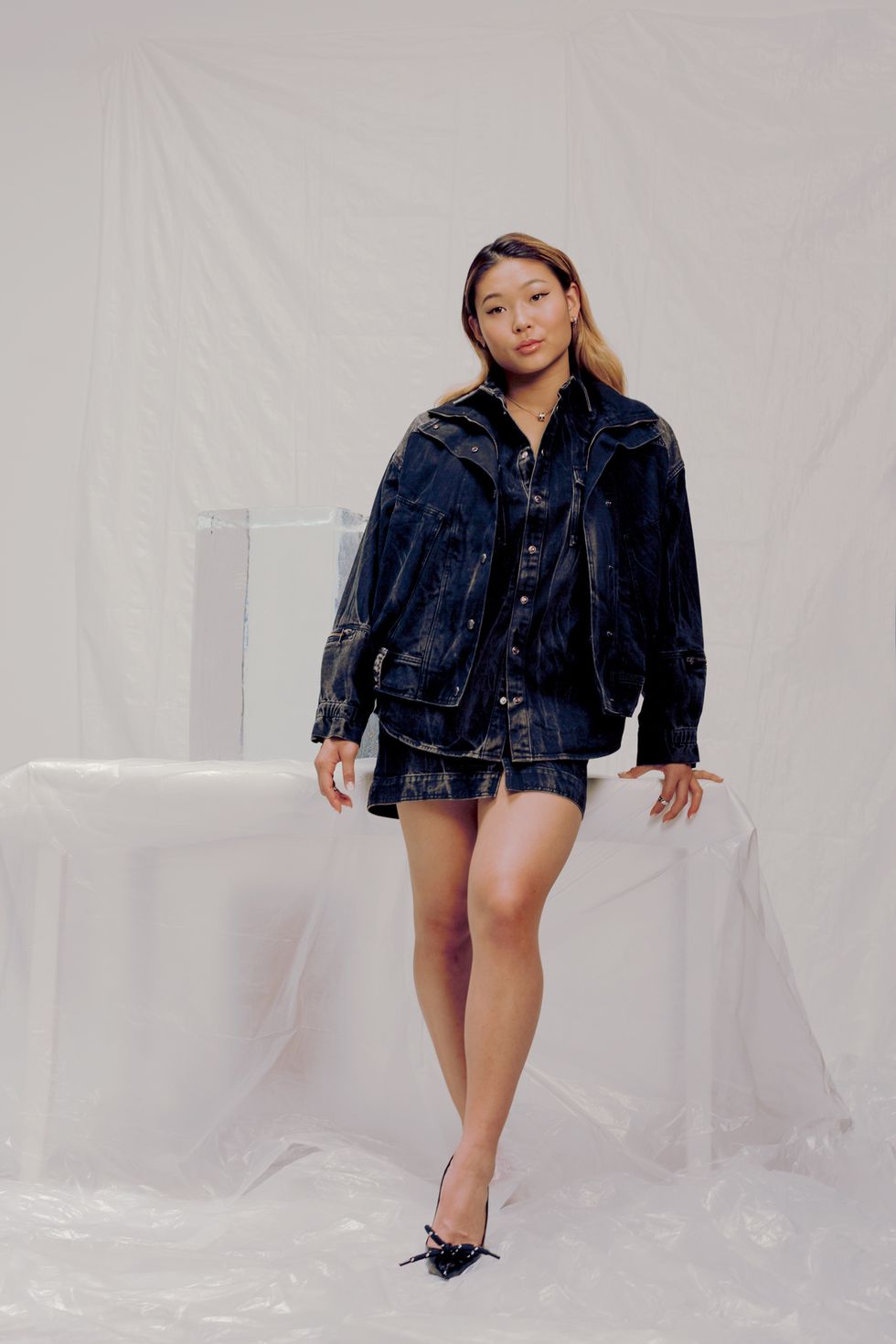 Vest, Jacket and Skirt by Givenchy; Shoes by Burberry; Ring, Necklace and Earrings by Bulgari
In addition to Kim's sugar glider-esque performance and firm bladder control, her family also made headlines at the Olympics (a sample from CNN: "Chloe Kim's cool, but her dad may be even cooler"). Jong Jin held a homemade sign with hearts on it reading "Go Chloe!" and he later got papped drinking a celebratory beer. And, in one particularly touching moment, Jong Jin, a Korean immigrant to the United States who watched his daughter compete in his home country while representing the US, proudly described his daughter as "the American dream."
Related | Lance Armstrong Rides On
For Kim herself, one of the best parts of competing in Korea was getting to show off for her grandma for the first time. "I was on Twitter before [my runs] and I saw a picture of my grandma on Twitter looking so excited, all bundled up in a big jacket that was like three times bigger than she was," laughs Kim. "She was so ready to watch me go, and I was like, 'Alright, this next one is for Grams.'"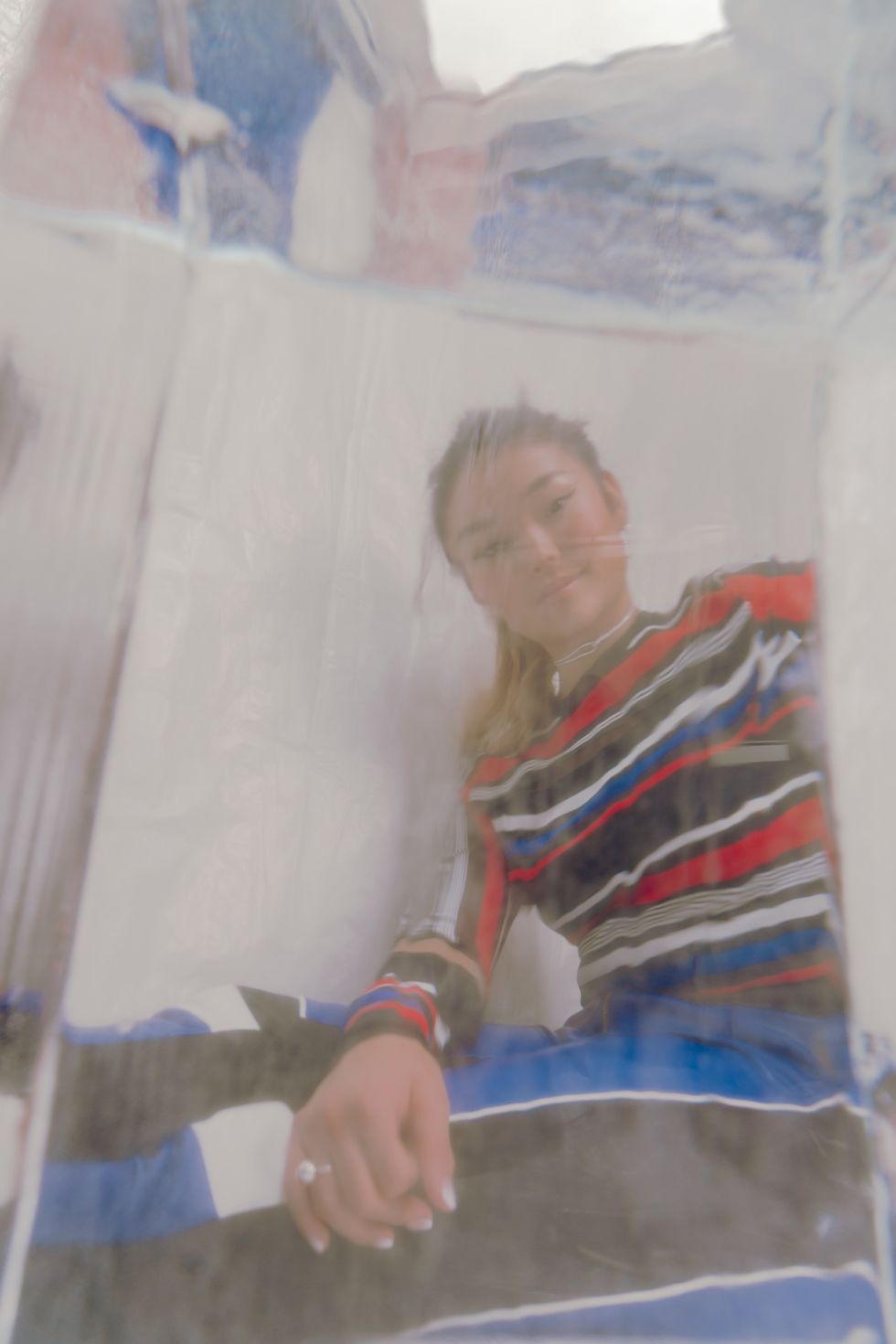 Top by Tommy Hilfiger; Choker by Swarovski; Earring by Tiffany & Co.
There are always rumors about wildness in the Olympic Village — post-event partying and inter-athlete romances and whatnot. While Kim says the experience was "actually pretty rad," she describes a less bacchanalian environment than you'd expect, saying most of the athletes she encountered were doggedly focused on their events — exactly how your parents tell you champions are supposed to be. She says she often hung out at a bowling alley near the Team USA house where they had a little gym and food. "Wherever there's good food, you know I'll be there," she says. Friends were mostly from Team USA; the most memorable new acquaintance she met was a skeleton athlete who would always hit on her.
Kim's life has obviously changed a great deal since PyeongChang. She is indisputably famous — she was named one of Time's 100 Most Influential People and made easygoing appearances on The Tonight Show and The Late Late Show (where she horrified chef Gordon Ramsay with her love of Hawaiian pizza). She threw out the first pitch at a Dodgers game, and her Instagram is littered with sponsored deals — Oreo, Laneige, Toyota, Kellogg's — the true sign of a newly minted celebrity in 2018. Back in April, she made the pilgrimage most sacred to all famous people under the age of 35: a trip to Coachella, complete with cute crop tops. She waited for Beyoncé "up front and center… it was insane."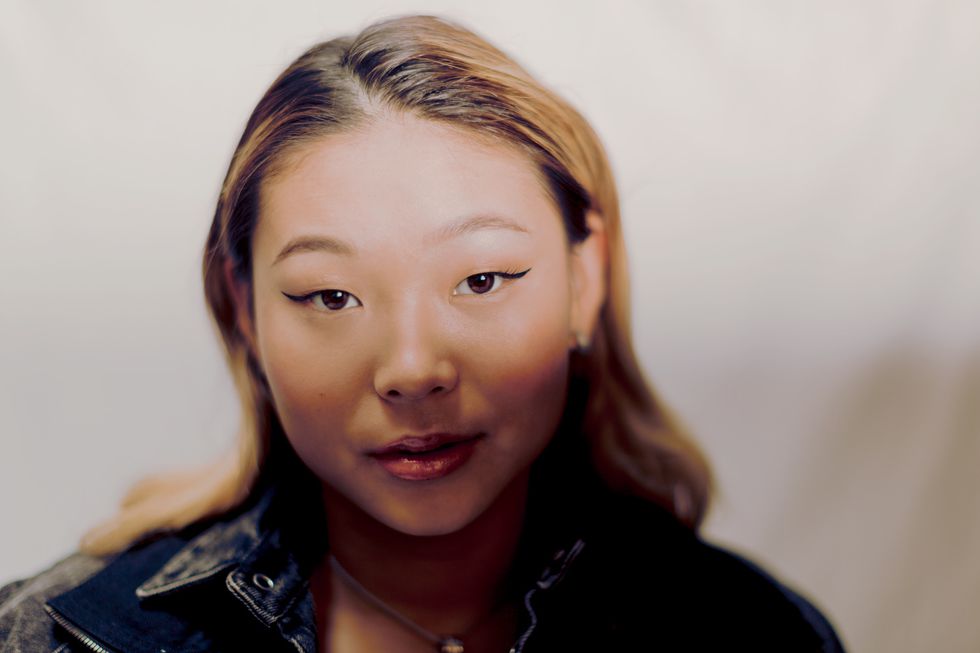 Vest, Jacket and Skirt by Givenchy; Shoes by Burberry; Ring, Necklace and Earrings by Bulgari
All of it — the events, the designer clothing, the talk show appearances — has been fun. But fame can be a little overwhelming. "I don't mind it, but sometimes I just want to chill for once," says Kim. "I just get a little anxious sometimes 'cause I feel like I'm living in a fishbowl in a way."
And selfies can be a pain. "Everyone is just taking pictures of me," she continues. "I also don't like it when I'm not paying attention to a picture being taken, so if someone is taking a picture of me and I'm looking away or picking my nose, I just don't want that to be on the Internet." Fair enough.
But there's a lot to look forward to. Kim turned 18 a week after our interview. She's deciding between multiple Ivy League colleges. She's heading to Australia for vacation, then training camp somewhere else in the Southern Hemisphere. "There's a lot happening," she says. "It'll be nice to just hang out." Rad.
Photography: Micaiah Carter
Styling: Bex Sheers
Hair: Clay Nielsen
Makeup: Dana Rae
Set Design: Rosie Turnbull
Photography Assistant: Jheyda McGarrell
Location: Tribeca Journal