Last Friday, Shannon Shaw, singer and bassist for Shannon and the Clams, released her first-ever solo work, Shannon in Nashville. A deeply heartfelt album which, like her band, is modeled after vintage sounds, drawing heavily on '60s R&B, but now with the glaze of a golden-era Nashville Sound — and, of course, topped off with the magic of Shaw's signature throaty vocals, which are capable of shredding to ribbons even the toughest of heartstrings.
Shaw doesn't like to call it a solo album, though. Collaborating with seasoned session players, some of whom have worked with the likes of Aretha Franklin, Elvis Presley, and Dusty Springfield (the LP title is a nod to Springfield's Dusty in Memphis), was as integral to the album-making process as the contributions of producer Dan Auerbach. She's "so grateful" for the experience, but before she could truly appreciate it, Shaw had to overcome a mountain of self-doubt.
"It was hard for me to pretend to be really confident. It was me getting in my own head and doubting myself, and telling myself I didn't deserve the experience for whatever reason. You know, all [Dan Auerbach] wanted to do was play music with me, and I made it really hard," Shaw laughs.
Shannon and The Clams are beloved by fans for their distinctive blend of throwback soul and rock 'n' roll with raw garage-punk and campy-kooky nuance; a decade-long trajectory during which five albums were delivered can surely do a lot to bolster a musician's confidence. But in the beginning, Shaw struggled to bring rough versions of songs to bandmate Cody Blanchard; she'd record demos in a closet where nobody could hear her, then have him listen alone, removing herself from any potential face-to-face embarrassment. Over time, she grew out of that. As the group bond strengthened, fear of judgment from Blanchard and the rest of the Clams dissipated.
But last year, when Auerbach — famed not only for The Black Keys, but also as a producer on works like Lana Del Rey's Ultraviolence — invited Shaw to join him at his Nashville recording studio, she was suddenly back at square one.
"Dan wanted me to just trust him, and I was like, agh! When I'm out of my comfort zone, that's especially hard for me. I'm not a go-with-the-flow at all times kind of person," Shaw says.
Her songs are incredibly intimate, "like a diary entry," she says — very personal and not yet wholly articulate. But Auerbach and the pro players were easygoing, and not judgmental like she'd feared. To ease the anxiety of collaborating with them — she likens it to taking your shirt off in front of someone for the first time — she reminded herself: "I'm their peer, and we're working together. They're not, like, doing me a favor. We're working together to make something incredible."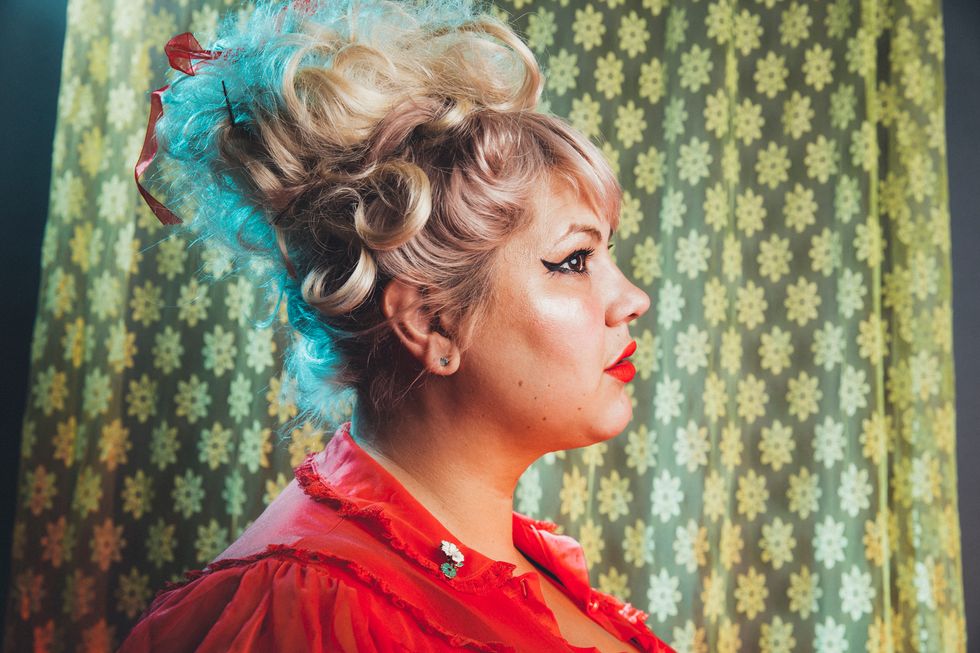 Their good taste and natural ability brought unexpected twists in conveying the emotions of her songs. Shaw's original version of "Cryin' My Eyes Out," written for her father, was soft, and "mimicked the feeling" of its theme. Auerbach liked it, but wanted to speed things up. His influence not only shifted its sound, but also Shaw's perspective on the situation in question.
"At the time I wrote the song, I just sort of felt like I'd given up," she says. "I'm not going to put any more effort or energy into trying to control or change something. And then making the choice to make the song more swingin', it sort of changed my feelings about the whole situation. Like, no — who says I have to give up? No one's in charge. I don't even know what's going to happen. If I want to be a hopeful person that wants to waste my life being positive, and thinking good thoughts and giving someone more and more chances, like, why not?"
Its corresponding video gave the song even more "weird power," she says. Director Ryan Browne, a close friend and frequent Clams collaborator, wanted Shaw to show her comedic side — and that made her uneasy.
"Surprise, surprise, Shannon's nervous about doing something different," she jokes, adding that she worried not everyone would get her humor. "There's this huge part of me that doesn't give a shit about what anyone thinks, and then there's this huge part of me that does. I hate that."
But after laughing together over all the old Behind the Music clips he'd send, Shaw eventually conceded, and found herself in what is essentially drag, playing every part in a mock recording session.
She fell into the process easily — growing up, she'd make funny VHS tapes with her brothers. "I feel like I've put on a mustache several times a year ever since I was a little kid," Shaw says.
Dressing up and taking on characters wasn't really anything new for Shaw, and songwriting certainly wasn't either. But when the context changes, Shaw sometimes hesitates and resists. In making Shannon in Nashville, however, she's learned that it's OK to let go.
"The whole thing was humbling, to put myself through that much stress and realize that I'm an equal," she says. "I can't believe at age 34, and I just turned 35 the other day, to have that weird epiphany, and freak myself out and intimidate myself — it was kind of a wake-up call. It's okay to not always know what you're doing, and it's really good to take chances."
All the worries that had her wound up, fearful of making mistakes or being judged in the recording process — in the end, they actually fortified her confidence.
"Sometimes, for me, it just feels so good to be wrong," she says. "And to learn a lesson. I think learning lessons is so important."
Photography: Alysse Gafkjen