Actor Sean Penn joined Bill Maher, Matt Damon and Liam Neeson in the ranks of famous men to splain' #MeToo when, in an interview with TODAY, he stated: "The spirit of much of what has been the me too movement is to divide men and women."
Penn is currently doing press to promote his new Hulu series The First, which appears to feature a lot of badass women astronauts. On TODAY, anchor Natalie Morales asked Penn and co-star Natascha McElhone if he thought the strong female cast in the show was influenced by the worldwide movement to center, believe and heal survivors of sexual abuse.
"This is a movement that was, you know, largely shouldered by a kind of receptacle of the salacious," Sean Penn say… https://t.co/2wp22d5y35

— TODAY (@TODAY) 1537188540
He answered: "I'd like to think that none of it was influenced by what they call the movement of Me Too. I think it is influenced by things that are developing in terms of the empowerment of women, acknowledging each other and being acknowledged by men. This is a movement that you know, was largely shouldered by a kind of receptacle of the salacious."
Yikes. Like us, Morales wondered what exactly "a receptacle of the salacious" was, and pressed Penn on it.
"Well we don't know what's a fact in many of the cases," he responded. "Salacious is as soon as you call something a movement that is really a series of individual accusers, victims' accusations, some of which are unfounded."
When Morales suggested that many might say the movement has united women, Sean seemed to reference a cohort of secret female dissidents that he has exclusive intel from.
"I'm gonna say that women that I talk to, not in front of a camera, that I listen to, of all walks of life, that there is a common sense that is not represented at all in the discussion," he said. "I don't want it to be a trend, and I'm very suspicious of a movement that gets glommed onto in great stridency and rage and without nuance."
This isn't the first time the Milk-actor has criticized #MeToo. He defended Louis C.K. in his debut novel, Bob Honey Who Just Do Stuff, writing in the epilogue: "Once crucial conversations / kept us on our toes / was it really in our interest to trample Charlie Rose?"
While there are valid reasons to criticize the movement, men who have been accused of assault and find themselves skeptical of the cultural push to address the fact that men harass, assault and rape women without legal or social consequence, should reflect really hard on why it makes this so uncomfortable.
McElhone's face as Penn speaks sums it up.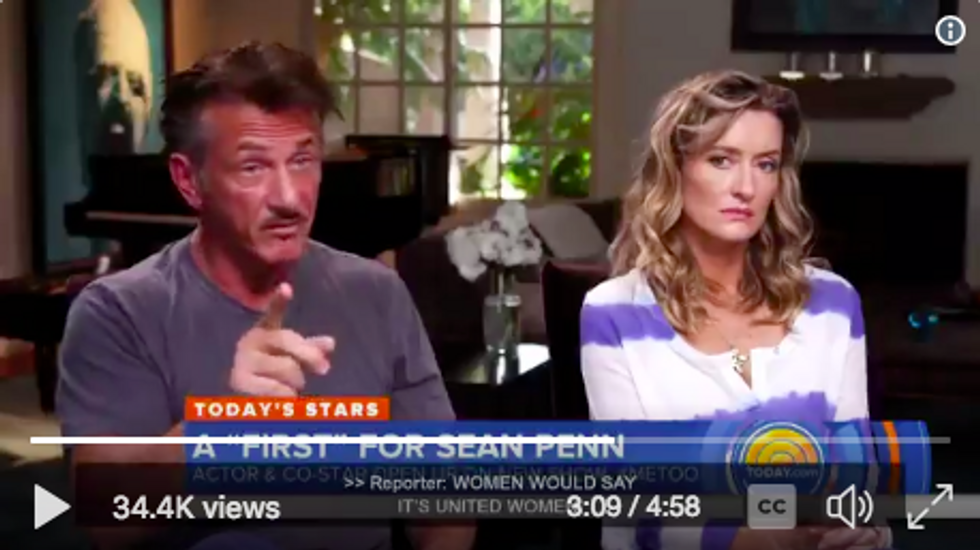 Photo via Getty
Sign Up For The Morning PAPER