When Los Angeles-based independent musician Saro (born: Evan Windom) was last in New York, he suggested we try an activity well outside his comfort zone: a pole class.
The musically adventurous singer-songwriter has had to contort himself into interesting positions, quite literally but most of all mentally, to get to the place he's now in as an artist. And even then, there is no final destination. In New York during World Pride month, Saro performed at several events, including at Ludlow House where he sang and danced to songs from his just-released EP, Die Alone. The music here marks a sonic deepening of the electronic R&B of his second EP, 2017's Boy Afraid. Saro leans into lusher textures, creating richer melodies and adding more poetry to his lyrics.
Rather than focusing solely on his sadness and anxieties, he widens the lens to include more open-hearted takes on queer romantic experiences. But still, he doesn't give it all away, and he doesn't forsake his melancholy inclinations. Instead, Saro makes poetry out of being weak in the knees for love ("Please"); blindsided by its highs ("Snowblind"); devastated by its lows ("Nothing Remains"); then full of regret for what is lost ("Field of Bees"). What he doesn't say in the lyrics he says with his voice, which takes on pleading and euphoric tones. The music is excellent and rigorous, illuminating the strength of his writing — usually done in solitude — and the kind of discipline it takes to steer an independent music career.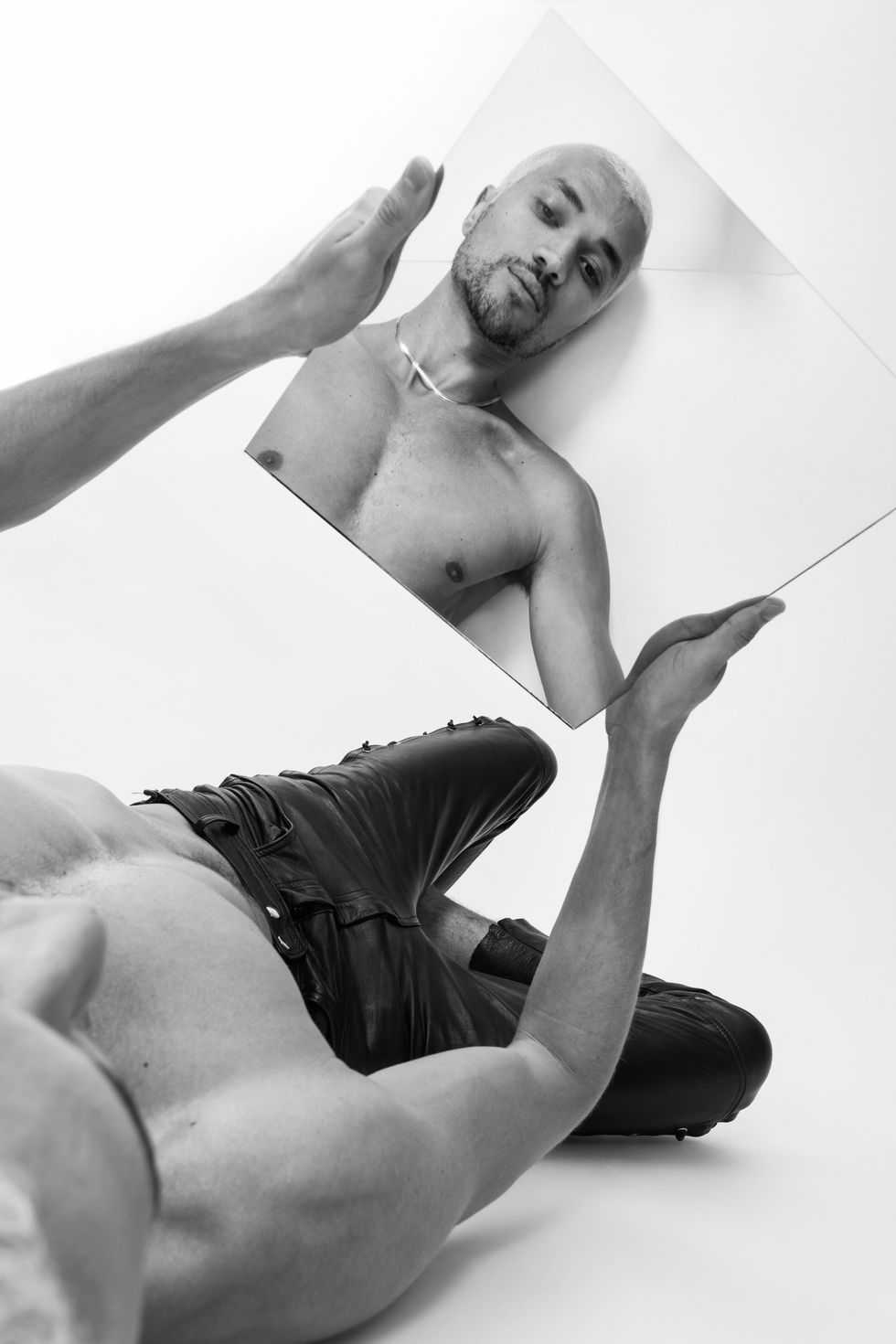 It makes sense then that Saro would choose pole dancing as our go-to activity. Such a choice — demonstrating both a desire to go beyond his comfort level and a willingness to try something new — recalls the recent triumphant return of British phenom, FKA Twigs. The renowned dancer and musician has wowed global audiences since 2012, but following her last EP, 2015's M3LL155X, she took a hiatus due to ongoing health issues. Twigs' return to form was fully realized in this year's "Cellophane," a song and video that drew strength from her vulnerability, and exercising that strength on the pole. She's clearly quite good at pole dance, but she started from a base of knowing very little.
Like Twigs, Saro is also building a new muscle so to speak: practice doing the unfamiliar may not make perfect, but it certainly makes "better." In his music, he's practicing being more open, and in his performances, he's interacting more with audiences than ever. But as he tells me, "There is no final destination, but I notice my progress along the way." Our class was in a hot, cramped room at Foxy Fitness and Pole, located a stone's throw away from midtown Manhattan's Madison Square Garden venue.
It was led by a woman in an all-red catsuit named Natalia, and was made up entirely of womxn across varying skill levels. She guided dancers through simple, then more complex versions of pole routines set to hip-hop songs, flinging her voluminous curls to and fro and yelling instructions in a thick Russian accent, but slowing down for Saro and I, who were clearly amateurs. Nevertheless, Saro's movement and ability to pick up choreography was much more fine-tuned than mine was. In less than half an hour, he was doing splits and floor work like a pro. Natalia seemed genuinely impressed.
A few days later, we catch up as Saro is gearing up to lock himself in Las Vegas' Palms Casino Resort for solo writing sessions for his debut album. He opens up about the themes on Die Alone, trying new things, taking his time, and why he doesn't write "happy" songs.
How are you?
I'm well. I'm kind of in a lull right now where I don't have that much going on. I just started diving into my debut album again — just kind of writing a bunch of ideas. I haven't been in the studio for it yet. But I want it to be that way where I get all my ideas together and then in October, I'm probably going to start going to the studio every day and just starting to record it. So, just been spending as much time alone as possible, with my thoughts, writing, and outlining ideas. So it's been good.
That's good. I love that you're not rushing the process.
Yeah. It's so important. And I've been stockpiling ideas for this album for a long time, because I want it to be way more personal than anything I've ever done. So I'm taking little nuggets from my childhood and from my family and I've set them aside and I'm revisiting them to see what fits into certain songs or what can spark an idea. It's been interesting.
For Die Alone, you sing about love but you're not too specific. Why is that?
I think that was an intention of mine honestly. I wanted to be a little bit vague. I wanted to express that I was having those feelings, but I didn't want to go too deeply into why. Because I kind of like people to—well, I think it's because I still have these walls up that I'm trying to break down, but I also think that I like music that leaves some gray area for you to make your own interpretations. Those are the kind of artists that I love, that you can kind of be like, "Is this what they're talking about?"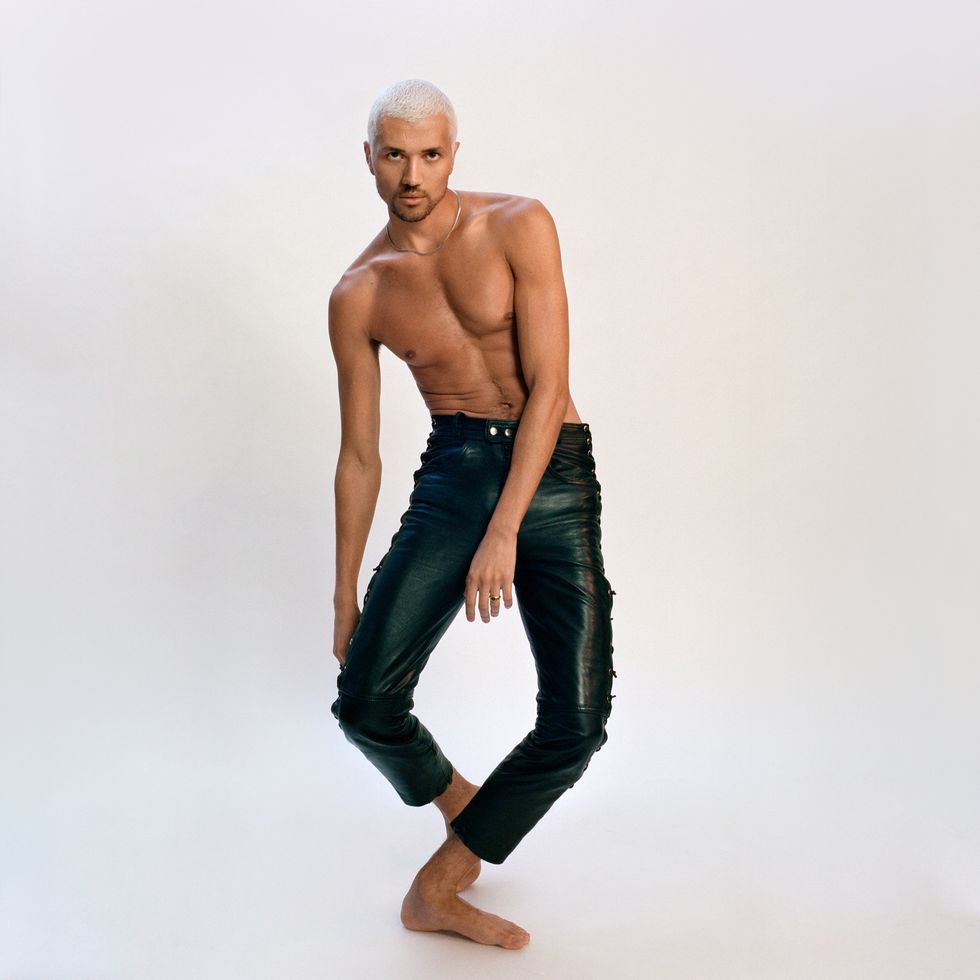 Do you like having an air of mystery?
That's funny. I think I don't want my music to be too on-the-nose. I'm breaking out of that a little bit and getting a little more specific with the new stuff I'm writing. I start out writing poetry, so I can get a little bit more into the nitty-gritty. But who knows? Knowing me, I may strip it all back again once I'm in the studio. I don't know yet. It's such a fun process, I fucking love it. People tell me all the time how mysterious I am, which is funny, because I think that there maybe was a time when I wanted to be seen that way. Looking back, I felt I had to hide hiding certain things from my friends, family, and fans. For a time, people only saw what I wanted them to see. I still do that, but it's not as intentional.
How does that translate to how you behave online?
Posting stuff and sharing yourself as an artist is an action you have to take. That said, I don't do it mindlessly. It's always something that I put a lot of thought into. I don't love doing it because it's not something that comes super naturally to me. That could also be why people think I'm mysterious. I'm learning to be more comfortable in my own skin, and now, I'm being a little bit more open about my sexuality.
Do you feel pressure from the music industry to open yourself up more?
I think there is a certain industry pressure or maybe even a personal pressure based on the time we're in now, where a lot of artists feel like they have to use their platform to kind of make some sort of big statement. I honestly don't think that I am as much as an advocate or political person outright as I should be. I'm always feeling pressure to do it, but it's just not really so much something that I feel comfortable with yet but I want to get there in a way that feels right to me. I'm still figuring out exactly what I want to say. I recently spoke on a panel for the Grammys when I was in New York during Pride, about queerness in the music industry for people of color. That was definitely a huge step for me.
"I have learned to love myself a little bit more. Not fully, not completely yet. But I'm working on it."
What do you think is one of the biggest ways that you've grown from Boy Afraid to now?
I think that I have learned to love myself a little bit more. Not fully, not completely yet. But I'm working on it. I've learned to love other people more as a result. And I've learned to be definitely more unapologetic when being myself around people. Like I said, I still have a long way to go in all of these regards because I still feel like I'm at the beginning of it because like I said, this is the first EP that I've used the male pronoun as a love interest, you know? So I mean, baby steps.
You're independent, so you're pretty much in the driver's seat for this journey that you're on. How much of what you choose to share comes from needing to figure things out on your own?
I feel like both in the business side and the music side of things, I'm still learning, but I'm further along in those endeavors than I am in my personal growth as Evan. And as a confident human. I mean yeah, it's just, there are insecurities and occasional depression and just kind of figuring out love. Like I said, how to love myself, and how to have a balance between work, and life, and love. I actually feel more secure in my ability to make music and my ability to enjoy my work and really bury myself in it, than I am in having a balance and being a functioning member of society, honestly.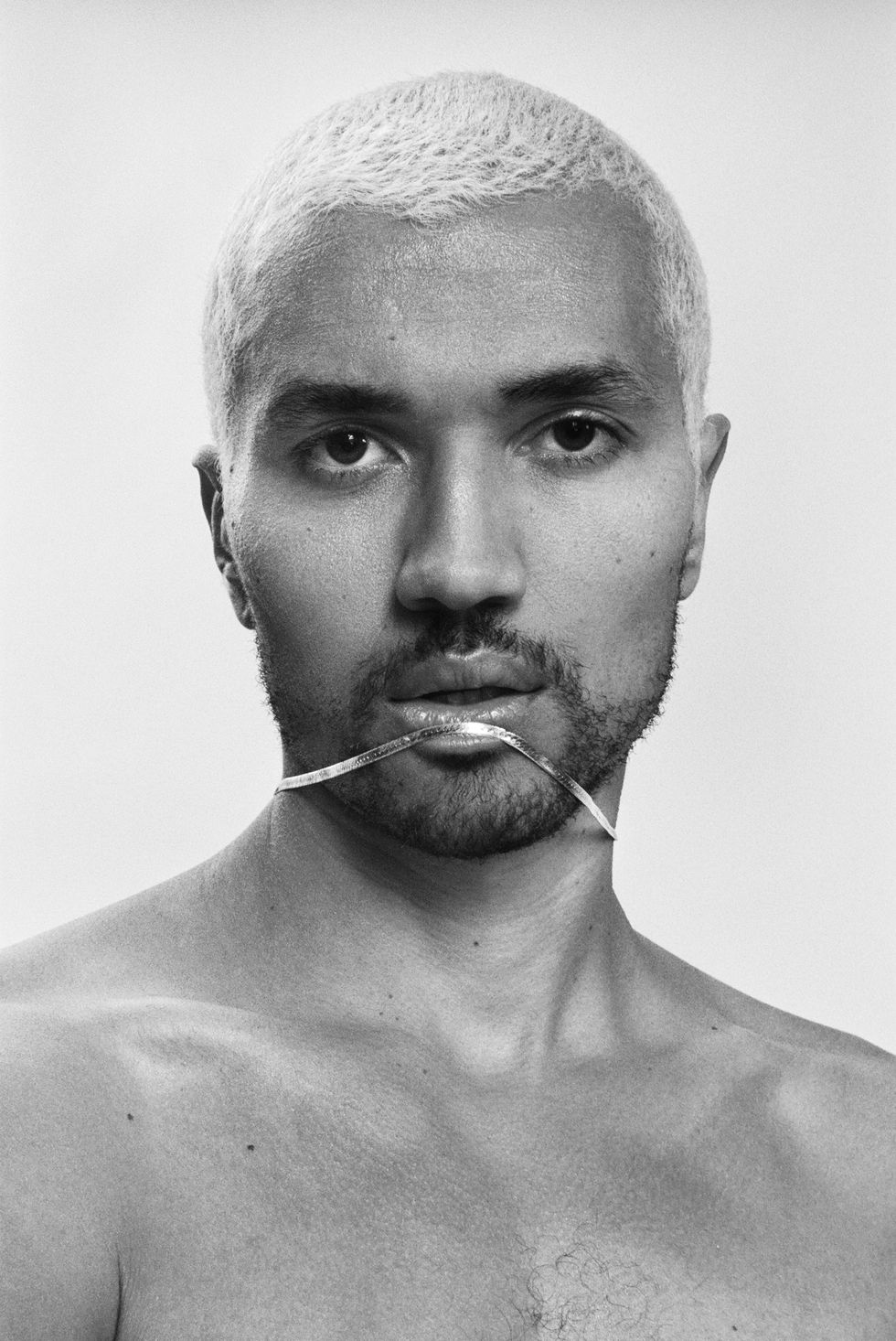 Whenever you're writing songs, do you create lots of alone time for yourself?
I always do. It's funny because I'm always around people. Sometimes it drives me a little mad and then I just have to figure out a way to escape from everybody. I'm literally going to Las Vegas this weekend, getting a hotel room in Vegas, and just locking myself in the room for two days and just writing. And the reason it's Vegas, like on some real shit, I went—Tinashe invited me to a, I think it was a Grammy after party or something, but it was L.A. Reid's label, it's called Hitco, it's a huge label, and he had a party and the gift bags had a hotel stay at the Palms for two nights for free. So I was like, you know what? I'ma go use this and get some writing done and have some alone time. For free.
We love to see a cabin-in-the-woods fantasy, but on the Vegas Strip.
Listen, I'm going to try so hard to just hide my phone and disconnect. It's so tough. But I've done it before, where I go to Big Bear or something, and you don't have service up there, so you get so deep into what you're doing and you can just stew in it, it's amazing. But I do always write my lyrics alone in the dark, whether or not I'm just in my room, as much as I can, if I'm ever stuck on lyrics, I just go under the covers and just listen to the melody on repeat until stuff comes to me.
"I actually feel more secure in my ability to make music than I am in being a functioning member of society."
You mention having a background writing poetry. What's the hardest thing about converting poems into songs that you actually enjoy singing?
That's a good question. I like to write poems, though the poems don't always become good songs. But sometimes they do! When I wrote "Die Alone," [the EP title track], it started as a poem in Paris. I was at the Musée d'Orsay, in town for a Fashion Week performance. And I went to the Musée d'Orsay, and I went with a friend but we split up, and I think we were there for between six and eight hours. And I was just wandering around, writing poems inspired by some of the artwork.
My favorite track is "Field of Bees." To me, it summarizes the sense of longing throughout the project. It makes me sad, too.
Ugh, I love that. "Field of Bees" definitely is like a reminiscent, "Fuck, I lost you." I'm also sorry it makes you sad! But yeah, for sure... there's this constant longing I have for something more. I'm coming to terms with the fact that I may always want something more. That's kind of what Die Alone is.
I like sad songs, though. Sometimes you need a good cry.
Maybe I've told you this before, and I say this in every fuckin' interview I've done, but I don't write about happy things, because that's not what I need to write about. It doesn't help me in any way. It's not therapy for me to write something happy. It's therapy for me to get the demons out.
Do people challenge you on that?
People do sometimes meet me and they say I seem like a happy, jovial young man. And I'm just like, "Yeah, well I am, because I'm able to get all this bullshit out." Can't get to that without going through the pain first. But maybe I'll write something happy for the album on purpose. We'll see how it all goes.
Follow Saro on Instagram (@saro).
Sign Up For The Morning PAPER