You frequently hear fashion designers talk about their backgrounds and being able to pinpoint the exact moment they wanted to work as designers. This is then followed by a conventional way into the industry by applying to fashion schools; doing a foundation year; securing your internship placement; and potentially exploring a fashion design MA at your alma mater once you've graduated. In Riac Oseph's case, the opposite seems to be true.
While Oseph is a recent BA (Hons) Regent's University menswear graduate whose collection was awarded the Fashion Industry Award — judged by the legendary fashion buyer Angela Quaintrell — and whose work has appeared in GQ India and SHOWstudio, everything about him seems unconventional.
Born to an Indian family while growing up in Kuwait, he initially thought of following in his father's footsteps by becoming a software engineer and studying computer science, maths, physics and chemistry in his late teens. In fact, he admits that "everyone at school was a bit surprised when I decided to switch to fashion."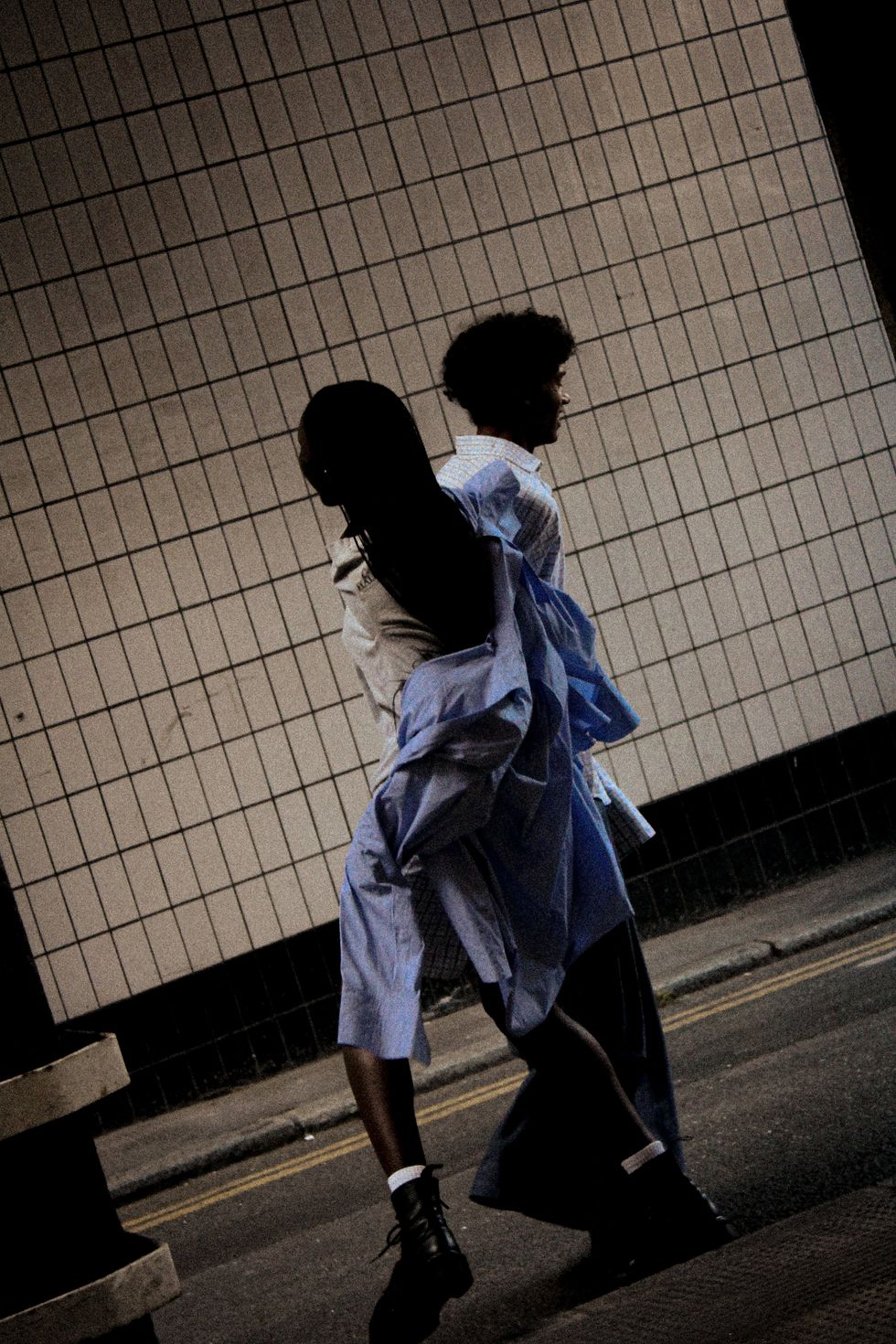 Unlike other creatives who took to Instagram in the late 2010s, Oseph found his community on Twitter. "I started off as a Rihanna stan account" he laughs. "And then a couple of months in I found Polyvore and [the] people that would make Polyvore sets and share them on Twitter; Polyvore was the first time this world that felt so distant to me felt within reach."
He acknowledges the role Twitter played in his career. "It would have been a lot harder to connect with stylists and press if I did not have Twitter," he says. "For someone like me, coming from Kuwait and not going to the premier institutions like Central Saint Martins or Royal College of Arts, you don't really have a lot of entryways into the industry."
The London-based designer is living proof of this. His deconstructed, anti-pattern graduate collection, titled Hugs (I Miss You) was heavily influenced by his struggles with a sudden illness a few years ago which forced him to rethink his approach to menswear in its entirety.
Oseph explains that he had a skin condition called erythroderma that forced him to spend long periods lying down in solitude which made him long for a hug like never before. The fact that this occurred during the COVID-19 pandemic when social distancing was at its height made it even harder. However, the experience gave him a new perspective on design.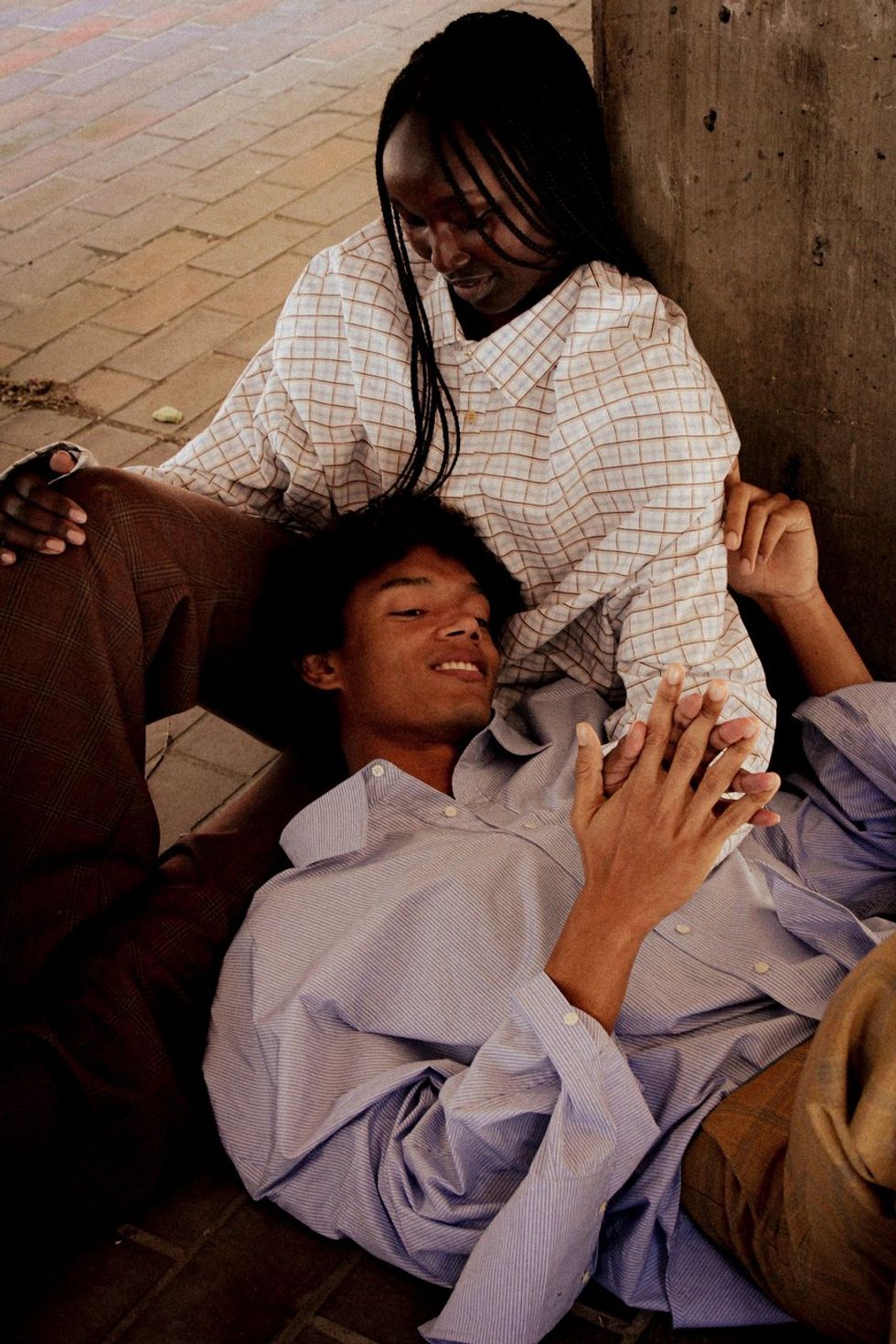 "I was able to channel a lot of that into the work at the time," he says. "And I understood that I felt more of a connection to my work than I did ever [before] because now I could see myself in it; it felt so much more authentic."
Dissecting these emotions and weaving them into his design process came to Oseph through therapy, which he started during his final year at university. Through deep self-reflection and a visual gallery of images, he experimented with several pattern-cutting techniques and allowed his intuition to guide him.
It translates directly into Oseph's design practice, which is heavily influenced by a detail-oriented approach, such as the placement of straps inside the shirts to adjust the shoulders or the asymmetrical pattern found around the sleeves of his shirts, allowing for distortion and playing around with the fit. And instead of diverting our attention to gimmicks, a theme increasingly employed on runways these days, Oseph draws that attention to the functionality of his clothes, which allows them to be seen for what they are — well-made, thoughtful garments that can be had fun with.
There is a deeper longing for the felt experience, namely the way clothes make us feel, especially when it can influence our outward projection; be it through gestures, an attitude, or a spectrum of emotions.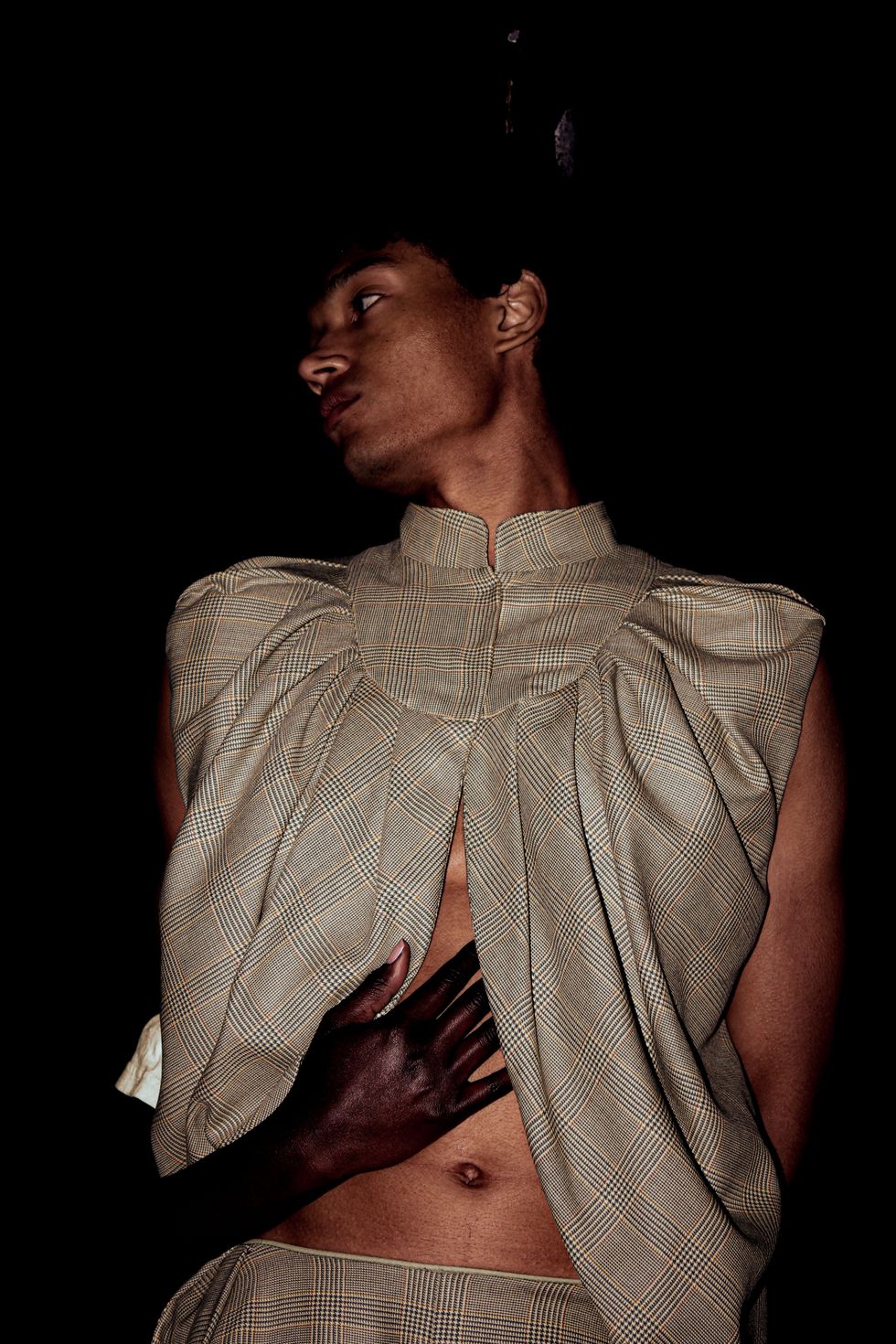 As such, Oseph wants to emphasize that idea. "I always know when it feels right. And that's not just [about the] physical fit; it [should reflect that on] an emotional and intellectual level."
Indeed, despite the design process being intuitive, there seems to be a method to the madness that guides his ideas and allows them to form into fun, multifunctional garments.
"I'm also at a moment where I finally have a feel for what I want to exist as and how I would exist within the fashion framework, and it's definitely as a studio practice anchored in clothing," he says. "I would also like to explore other mediums, such as film, photography and sound. And I've been discussing doing ceramics and jewelry."
Riac Oseph stands out as an anomaly in the fashion world. His background is unusual, he doesn't come from one of the main fashion universities in London, and his design practice isn't based on internet-breaking imagery. Nonetheless, his stellar technical abilities and strong silhouettes, powered by authenticity and a pensive Twitter persona, make up for all of the above. Perhaps most importantly, Oseph is taking his time to establish a framework around his brand instead of rushing it while continuing to design great and well-fitting clothes.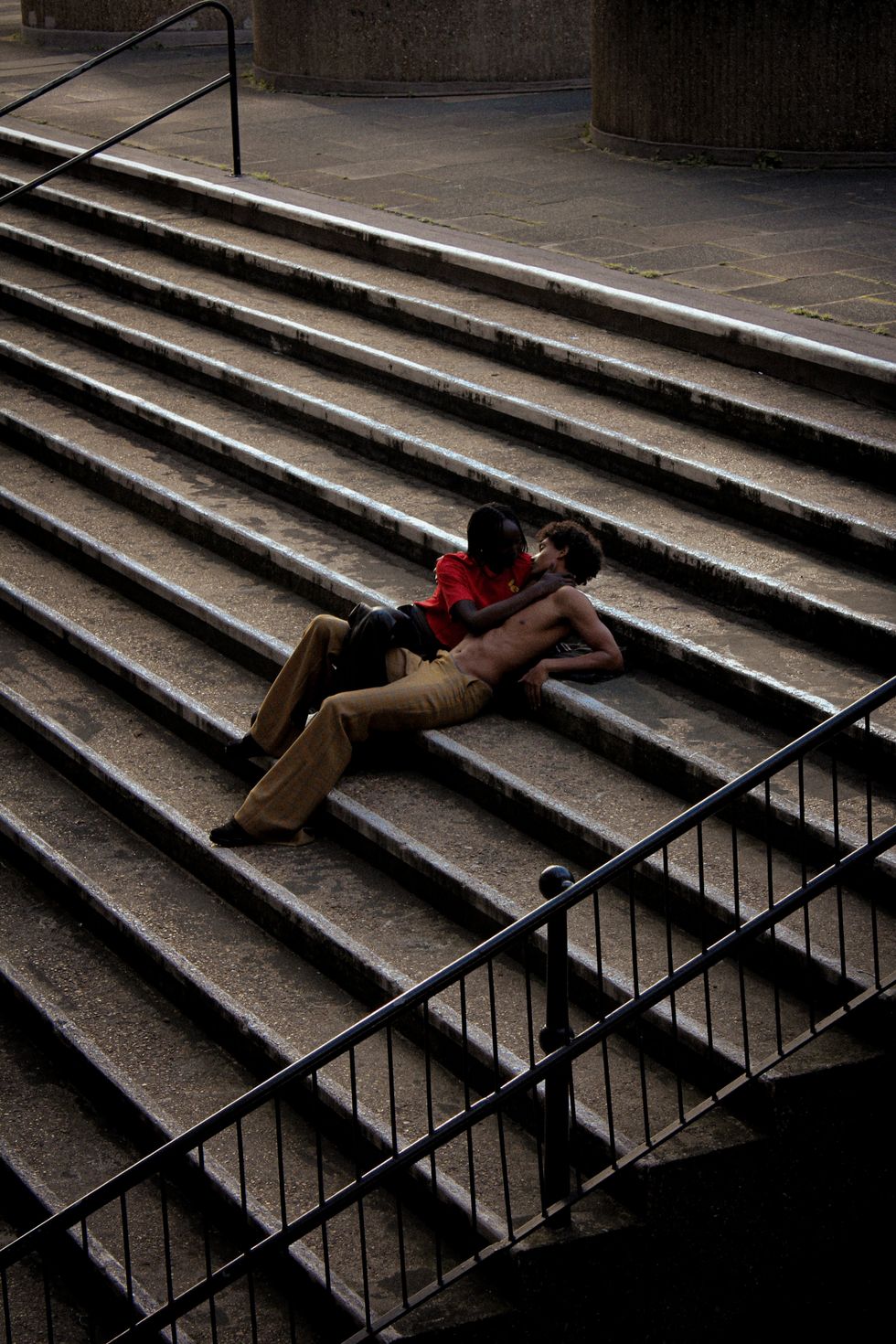 Photography: Riac Oseph
Styling: Jahnavi Sharma
Movement Direction: Aisosa Edokpayi
Casting: Jordane Wheatley
Models: Appiok & Nigel c/o models1
Production Assistant: Natalie Krauter
All clothing by Riac Oseph
Related Articles Around the Web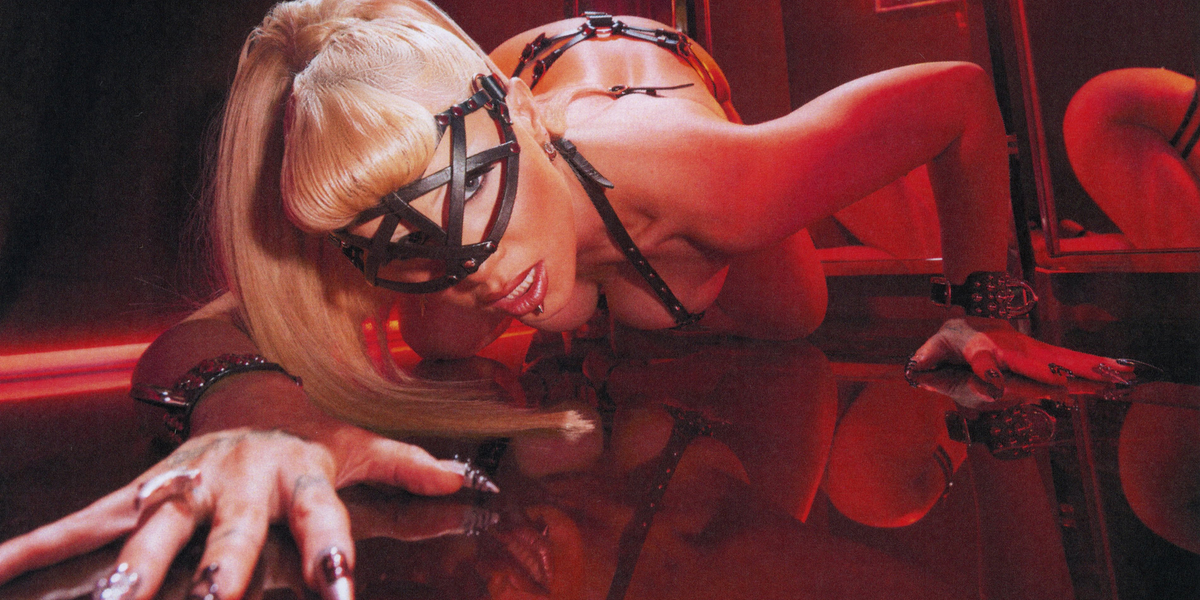 Music
Story by Ivan Guzman / Photgraphy by Breakfast For Dinner / Styling by Malcolm Baron Smith
Story by Ivan Guzman / Photgraphy by Breakfast For Dinner / Styling by Malcolm Baron Smith
10 November