For decades, basketball and hip-hop have shared powerful links, from friendships between players and artists to meaningful connections with many of the same communities that nurtured young talent. But for all of the success these industries can bring to a gifted few, each must contend with complicated legacies and societal challenges to the platforms they provide.
"Keep the political commentary to yourself... shut up and dribble," said Fox News host Laura Ingraham to LeBron James. The headline-grabbing soundbite took the Internet by storm — and with reason — but it's the full quote that's most incendiary. In response to the Cleveland Cavaliers star telling ESPN personality Cari Champion that "The No. 1 job in America, the appointed person, is someone who doesn't understand the people," before calling the current President of the United States "laughable and scary," Ingraham called his comments "barely intelligible" and "ungrammatical," neither of which were true. While this half-baked "shut up and dribble" ideology rubbed many athletes the wrong way, including James himself, it's a sentiment that has quietly penetrated into the minds of many inner-city youths for most of their lives. Is that all I'm good for? Do people only care about me because I can run and jump? Is my brain not as valuable as my brawn? And though Ingraham tried to pass off her remarks as "just my schtick because that's the name of my book [Shut Up & Sing]," it's not that simple. We've been dealing with 400 years of this shit.
Comments like Ingraham's are "a stereotypical thing for us to hear way too often when somebody in our position decides to speak up and say something about doing anything other than basketball," says the Memphis Grizzlies' star point guard, Mike Conley. "People don't seem to respect us or take us serious[ly] in that matter."
For those who call on young athletes to just shut up and dribble, shut up and tackle or shut up and run, that's an acceptable and comfortable position for many to see strong black men in. It's familiar. It's entertaining. It doesn't take much thought. And even for some gifted athletes themselves, this attitude can become a convenient crutch: Entertain the masses and keep anything else to yourself. But shutting up isn't — and for damn sure shouldn't — be an option. The success some manage to achieve through basketball — or other professional sports — gives them a platform to speak out against injustice and speak up for those who can't.
While some athletes, like Conley, whose father was an Olympic gold medalist in track and field, come from nurturing environments ("I had a good support system. My father was huge in my life and my mom was the same. They were really good role models for me"), others who make their way to the NBA are not as fortunate. The same could also be said for many in entertainment. For those who grow up in the inner city, "rap or go to the league" isn't just a clever name for 2 Chainz' next album — it's desperation. Because a more complete and accurate title for many in our community would be "Rap, go to the league or become a statistic."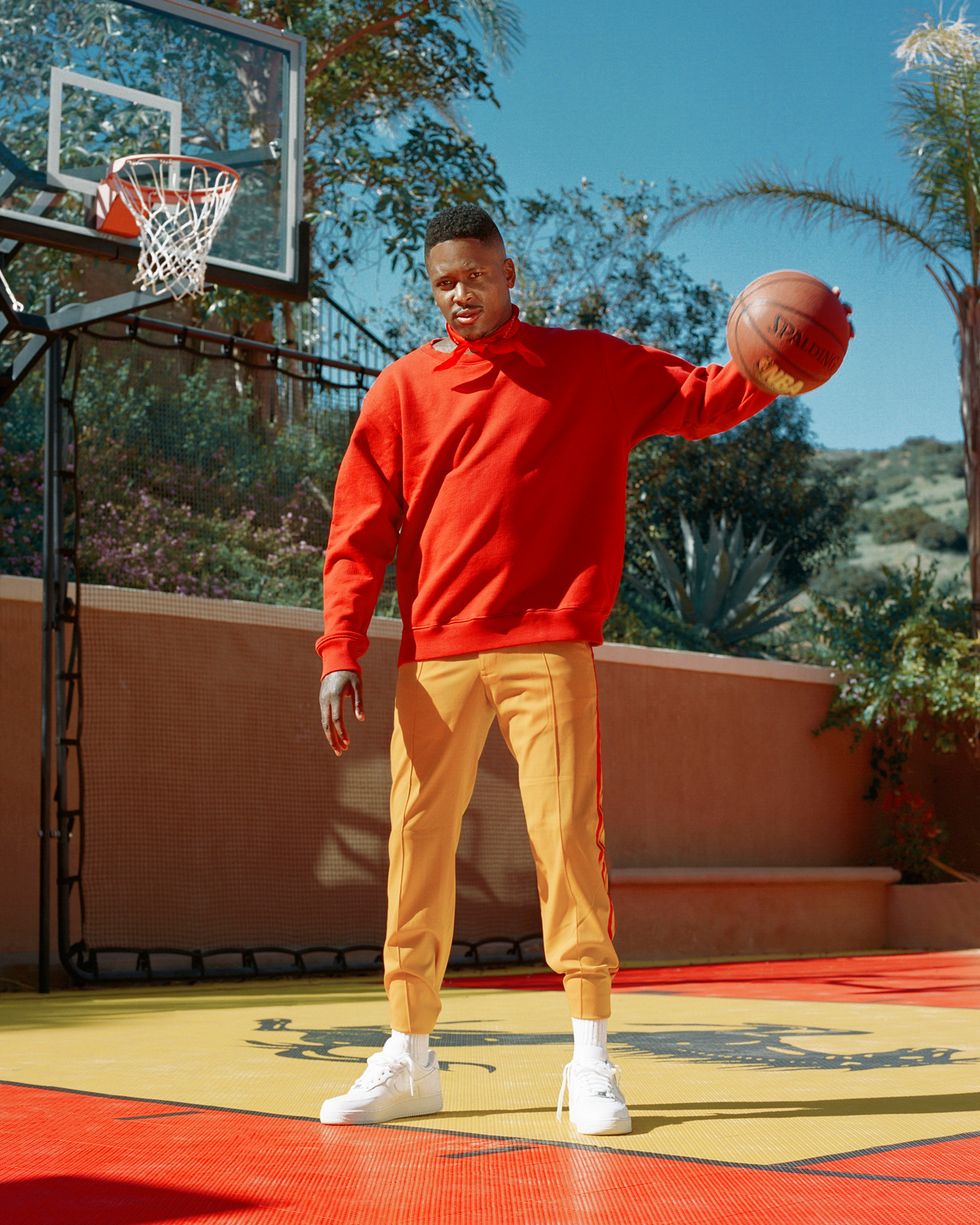 YG wears a sweatshirt by 424, pants by Ovadia and Sons, and sneakers by Nike
And, of course, rappers, too, feel an urgency, perhaps now more than ever, to do more than "shut up and rhyme." History is told by the victors, but there are no winners in the wars going on in America's inner cities; the reason hip-hop puts such strong emphasis on authenticity is because rappers have become the veterans called upon to tell these histories.
Related | Leo Messi Is the G.O.A.T.
Hip-hop and basketball have had an undeniable intertwined history over the past several decades. Many of the same inner-city neighborhoods nurtured both types of talent. Near those same parts of Brooklyn where Jay Z was learning to write his first rhyme, Michael Jordan was born in a hospital around the way. In that same Queens project where Prodigy and Havoc were finding their chemistry, Ron Artest was practicing his jumpshot. In that same Compton high school where Kendrick Lamar was battling anybody who wanted a smoke, Orlando Magic shooting guard Arron Afflalo was becoming a McDonald's All-American.
It is within these communities where a good portion of our brightest diamonds are coming from the rough. Born into situations where they are almost destined to fail, they reach peaks that don't even seem imaginable when you look at it on paper. The intricacies don't stop there. Along with deep friendships forged by many NBA champs and hip-hop stars over the years, there's often a shared sense of city pride and an unspoken understanding of exactly what it took to get to where they are now that flows through the souls of the ones fortunate to make their own happy endings. In some cases, having a wicked jumpshot or the ability to think up a clever rhyme literally becomes a life changing (and saving) skill.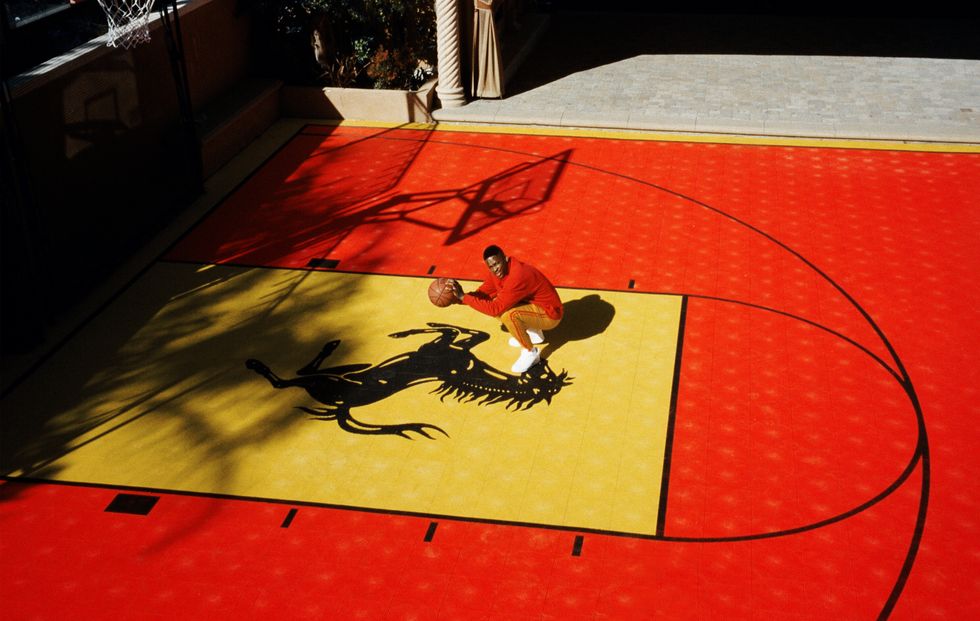 YG wears a sweatshirt by 424, pants by Ovadia and Sons, and sneakers by Nike
"My pops went to jail when I was 15," rapper YG says. Growing up in Compton, the rapper says he "started being in the streets all crazy," but then he "just started rapping and I fell in love with the shit. It was about becoming my own person. It was about doing something that I wanted to do. It was the best way for me to get out of my own situation." The MC's visceral storytelling about his upbringing was celebrated in his major label debut, My Krazy Life, and the follow up, Still Brazy; fans are eagerly awaiting the chance to hear more of his story in his latest album, Stay Dangerous, out August 3.
Related | Simone Biles Is Back
While YG was able to take advantage of his talent, many others he grew up with were not able to resist the temptations of street life. "My young homie, who had real potential, chose the gang life instead and ended up getting 15 years [in prison]," YG says. Looking back, the rapper acknowledges that at the time, there wasn't a ton of difference between what his friend was getting into and himself — just different outcomes. "It wasn't like I was telling people 'Don't do this. Don't do that.' Nah, man. We all bang," YG states. Being a role model is something that is still pretty new to him. He says he never tried to help younger kids around him in the neighborhood do better because, in all honesty, he didn't know better either. But since becoming one of the most successful rappers to come out of Compton, YG has started reaching back out to his community and creating charitable endeavors through a foundation overseen by his mother. He's also keenly aware of the responsibility he has to get in true face time with the youth. As the old adage goes, he could show you better than he could tell you.
Much as YG ultimately found an escape through hip-hop, his friend, LA Lakers star Kyle Kuzma, talks about the importance basketball played in the community he grew up in, Flint, Michigan. "A lot of these bigger cities that have crime and gangs, for kids who live in that environment, they try to do the right thing like hoops to stay safe," he says.
Kuzma's rookie season this year has included putting up numbers for one of the most iconic sports franchises in the league, but it's been Kuzma's willingness to not just "shut up and dribble" that has endeared him to fanbases outside of Hollywood. He tweets freely about the hypocrisy of the NBA system. He lets people know that Flint still doesn't have clean water, and that he has dreams of changing that one day. "I think it's my obligation to help fill that void [in conversations]," Kuzma says, adding that he also feels an obligation to use his platform to speak out for people from his community whose voices won't be heard.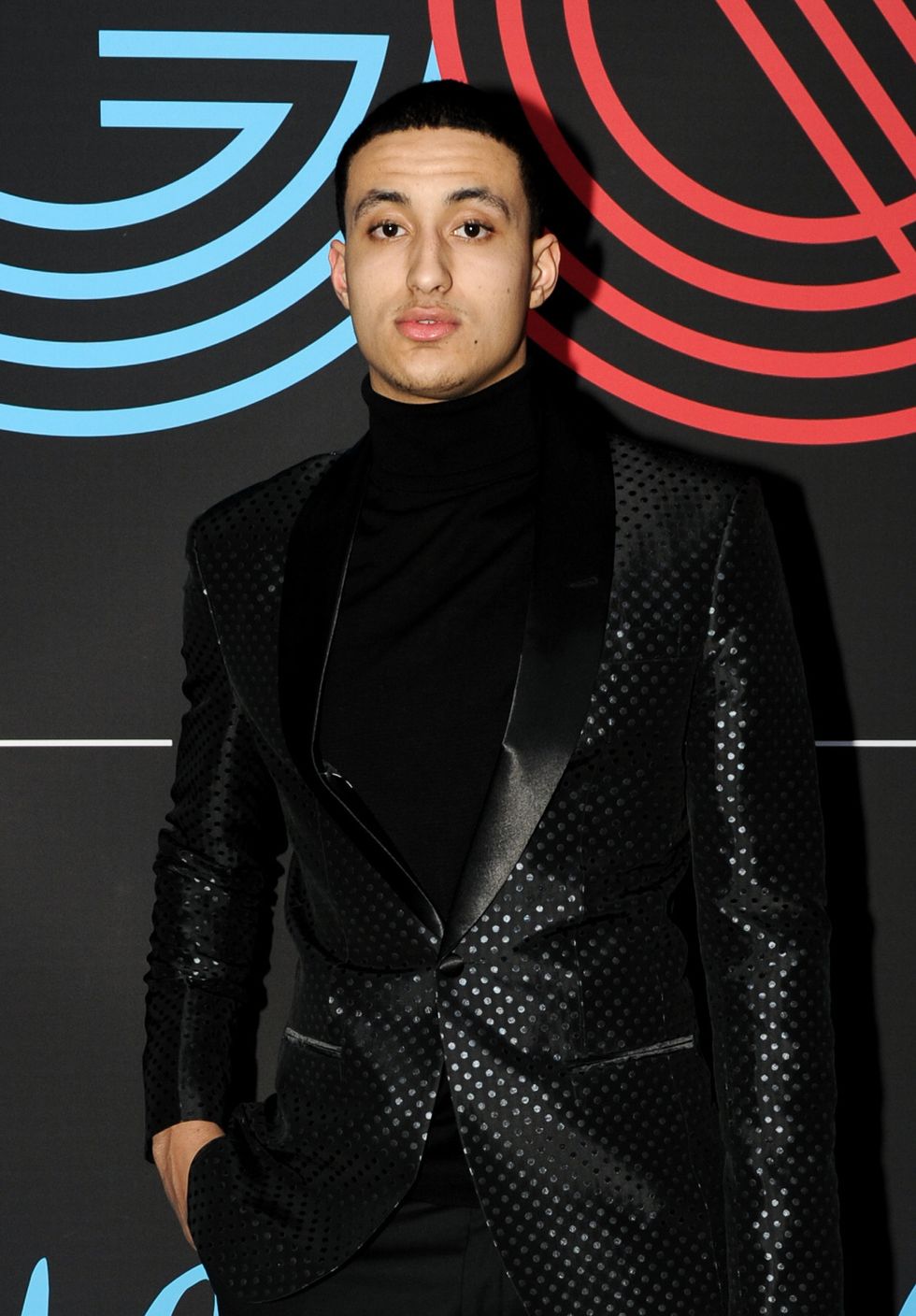 Kyle Kuzma (Photo via BFA)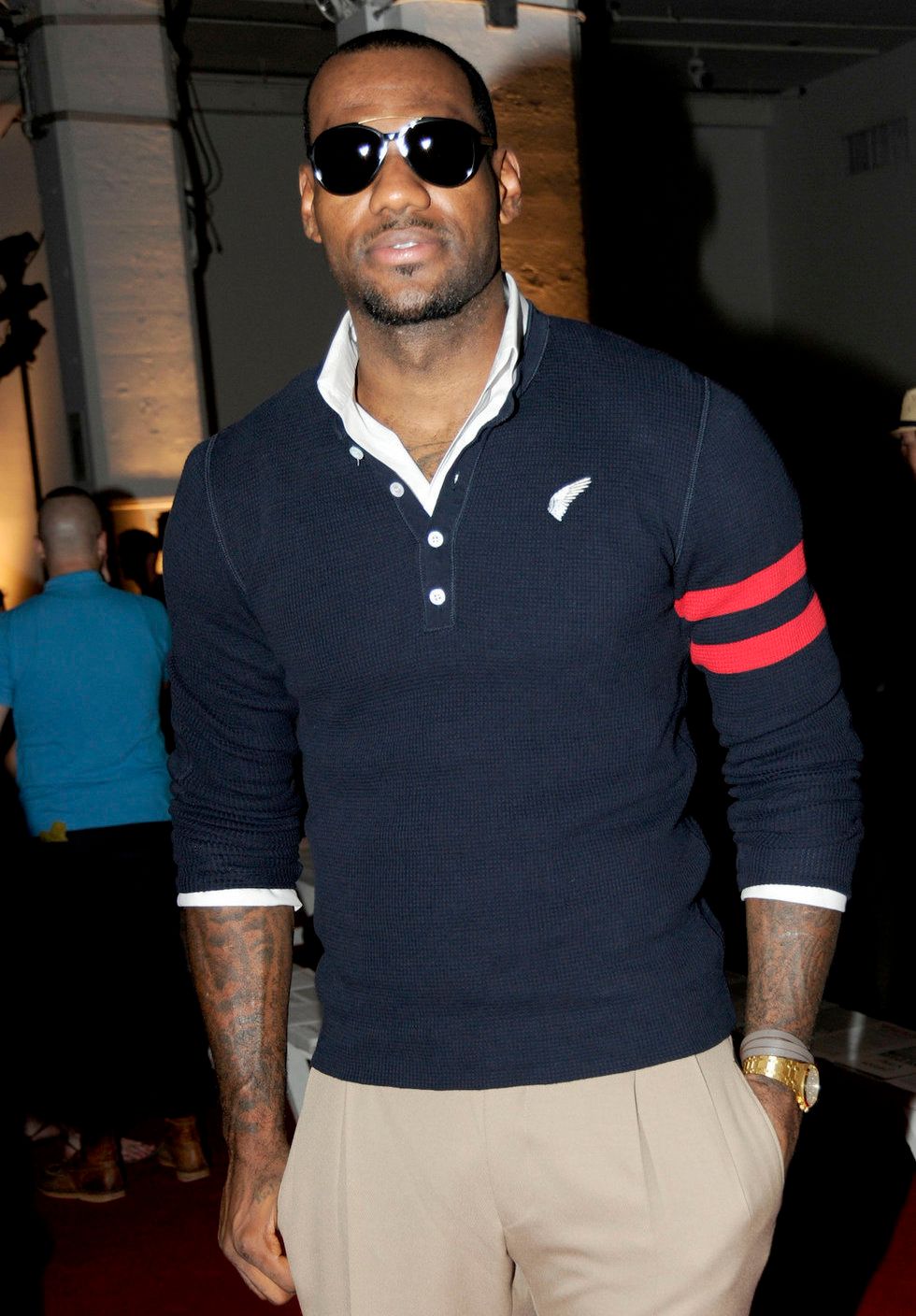 LeBron James (Photo via BFA)
But what happens when other voices that could be heard aren't? When, whether ignored by the media or drowned out on Twitter by those with bigger followings, voices of people who have found other routes of getting out of the inner city and other routes to success — say, business, art, science — are overshadowed? What happens when we tell these communities that the path to success is, to paraphrase 2 Chainz, by rapping or going to the league?
Though the chances of anyone becoming a professional athlete or famous rapper are slim, there's still a perception held by many that finding success via the pathway of education can be even harder. "I wrote a verse that says, 'I know some Magna Cum Laudes that have nothing but debt right now,'" Wale says. "What was the point?" The rapper says, "I do think God gives his toughest soldiers the most bullshit to deal with, and I'm not saying you can only rap or go to the league to be successful." But, he continues, "Statistics show that it is harder [for people of color]."
While a bigger spotlight should be shown on a wider variety of role models and a megaphone should be given to a greater number of voices, in the meantime, stars on the court and in the studio know they have a responsibility to keep talking. "We gotta continue to do what we do and push the barrier and go past what motherfuckers expect us to go through," explains YG. "All the motherfuckers watching us and coming up under us that are younger, they are going to see that the impossible is really possible."
Styling: Morgan Pinney
Barber: Lil B
Grooming: Vix McGrath

Internet Culture
Story by Tobias Hess / Photography by Benjamin Taylor / Styling by Dax Reedy