Building a viable business in 2018 as a young designer is becoming increasingly difficult. Not only does the fashion industry uphold a lineage of gatekeepers in top positions, but it often fails to support rising talent. Burgeoning designers are then forced to sacrifice taking creative risks in exchange for selling affordable, digestible product — and this typically comes in the form of a branded tee, which fans can purchase without investing too much.

Independent Texas-based designer Preston Douglas took aim at this unfortunate reality through his newest collection, titled DISINTEGRATION. He's created a top with seven t-shirts layered on top of one another as commentary on the way luxury fashion brands like his own operate in today's tumultuous landscape. "We are weighted down by having to sell t-shirts to make any money," Douglas says, speaking to the t-shirt top's structure and physical weight.
Related | Will Diet Prada Save Fashion From Itself?
To create the piece, which is available online in both blue and green, Douglas attached each tee, incrementally decreasing in size from 4XL to XS. Theoretically, he says the design can fit seven different people, but it can also be worn by one. On its own, the design dramatically falls to the floor, hanging off the body lifeless and heavy — a grim, powerful silhouette that also looks really cool.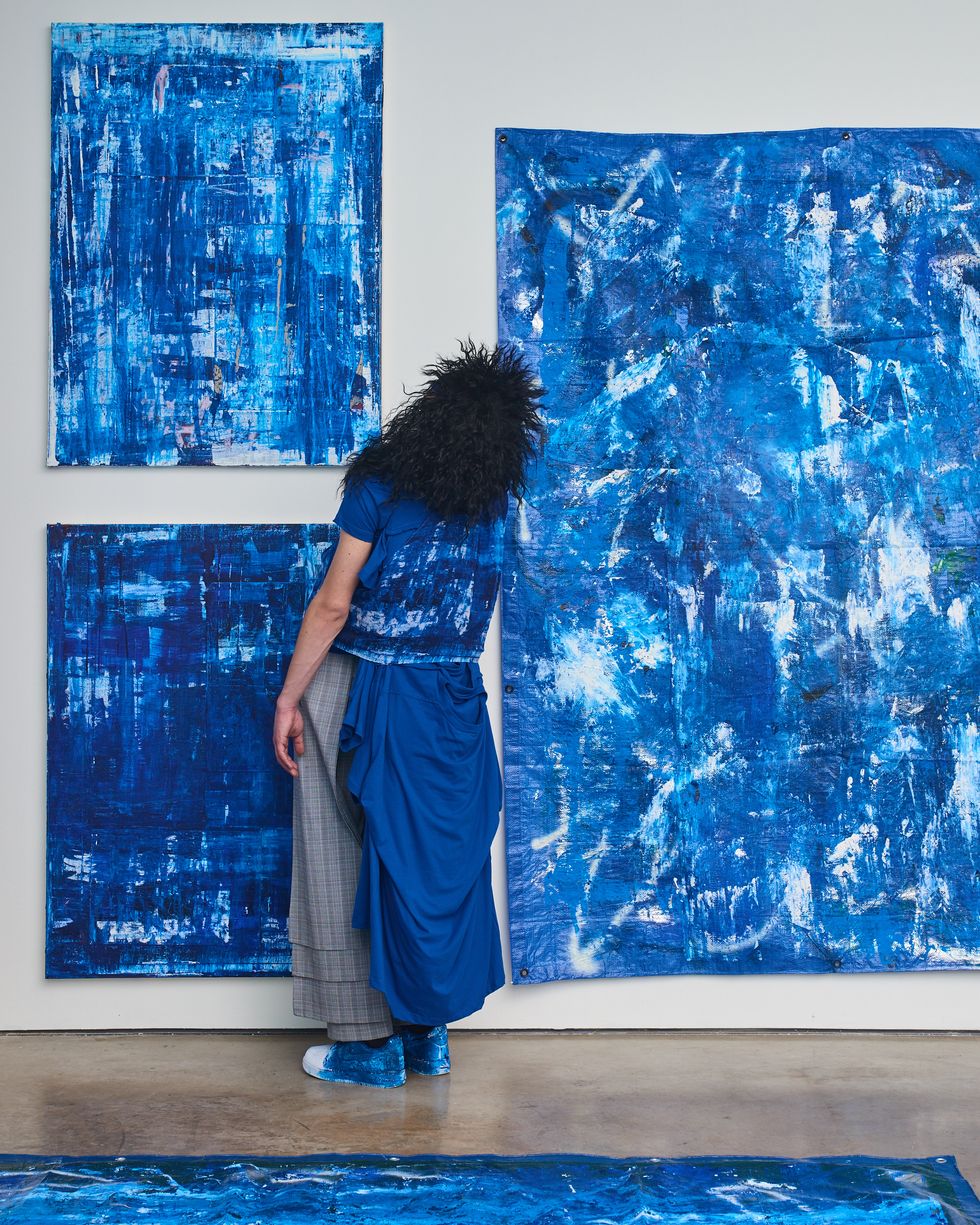 "A lot of people want to feel as if they are part of a brand, but cannot afford the piece they may truly want, and they settle for a t-shirt," Douglas says. "I do the same exact thing with designers I like, since I'm a college student with a business, putting all of my money I make from a collection back into the brand for the next collection."

Douglas' feelings are echoed by Instagram's fashion whistleblower Diet Prada, who told PAPERthat "the industry needs to figure out how to support better new talent [...] The powers that be with the money to help make these new designers viable sometimes look too hard at whether they think the merch would sell."
Rather than be discouraged, Douglas has used this realization to redirect his career in fashion. He says he's more of an artist than a designer, and his "medium mainly happens to be fashion. My entry level pieces — t-shirts, hoodies — are similar to how artists sell prints of their work, whereas my higher end pieces are usually one of one's, just like an original painting that the prints are made of."
Photo Courtesy of Preston Douglas