Whether using her platform as a model to advocate for greater diversity in the industry or assisting women in war-torn countries through her work with Women for Women International, Philomena Kwao hopes to empower women of all types and all backgrounds to succeed and feel good about themselves. Next month, you can see Kwao appear in a new documentary, Straight/Curve, that looks at the models and fashion industry insiders working to promote diversity in the field. Kwao talks more about this topic and how it relates to women's mental and physical health and well-being below.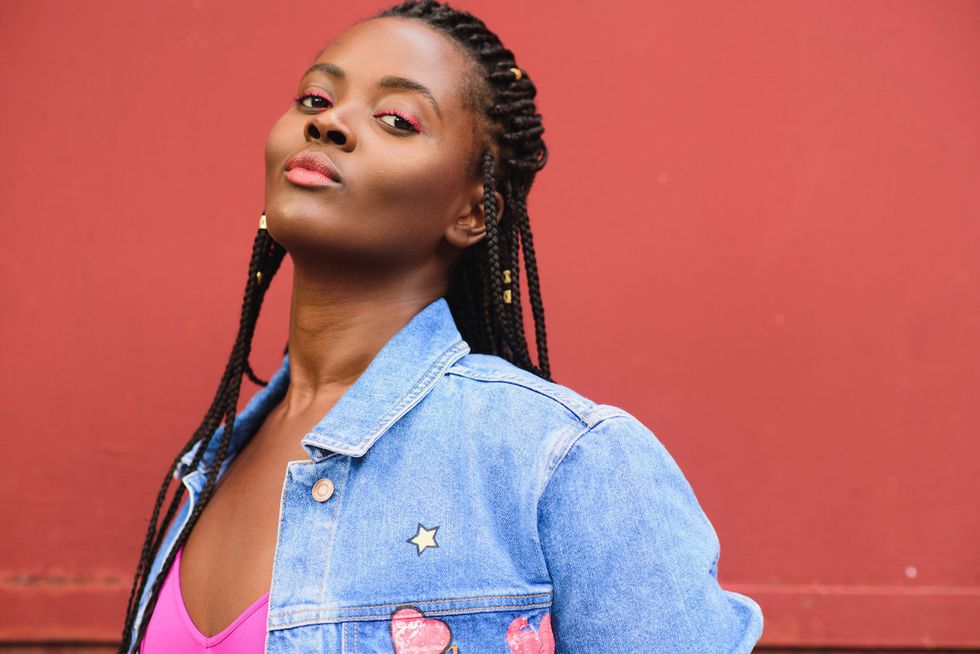 I think the fashion industry has done a lot in the past couple of years, but I think at every level there needs to be accountability, whether at the agency level, at the booking level, at the designer level or the creative director level. Everyone needs to understand the role that they play in inclusivity and diversity, and then we'll get real change that isn't tokenism and isn't an 'all-black issue' or an 'all-plus issue.' It's the assimilation into the mainstream where it doesn't make so much noise anymore and it's not a selling point or a marketing gimmick. It's organic and it's real. Because if things aren't shuffled at every level, you might find more agencies signing black models, but then they also have their businesses to run as well, and why would you have a lot of diverse models if the models aren't booking any jobs?
The fashion and beauty industries have wider repercussions than just clothes and makeup. My Master's was in Health Economics, and I didn't really pay attention to the way that fashion influenced things like healthcare or politics and mental health, but as I've been modeling I realized it has a wide reach. The things that we see and the subliminal messages we see and the things we internalize have an effect on how we see ourselves. Self-care and mental health are really important. If you don't value yourself or you don't see value in yourself because you've been conditioned not to see it, you don't look after yourself. You don't take the time to eat well or exercise because already you've been told the notion that you can't achieve anything or you're not worth anything. And, yes, fashion does have a role to play in this. I would never have thought about that link between fashion, self-esteem and the way one responds to the world if I hadn't been in this industry, so I'm really grateful I became a model. It wasn't on my life course, but I'm grateful because I'm able to talk and share it.
I don't think inoculation [from images] is necessary, but what is necessary is education. And I know that social media is a double-edged sword, but I'm actually quite grateful for it because what it does is allow people to find their community and see other people like them. You see different types of beauty, you hear different opinions and you find your community. Once you've found your community and find people who share the same values as you, it's easier to build, because you can't build on your own. You need voices together. At the same time, it's bridged the gap between the creative director role and the actual consumer. Because now you can tweet, you can Facebook, you can Instagram and voice your opinion directly to the manufacturer or even stylists or creative directors, and they're able to see the real-life implications of the decisions they're making and are being held accountable to it. If you're doing something like cultural appropriation or you don't have a size range, people will call you out. People are understanding that they have a voice, and these voices are very powerful. I think as women, to help build ourselves up and to help repair, restore and recover our self-esteem, we need to find our communities and use our voices, because we all have them. I guarantee if you're feeling frustrated about something, you're not the only one. Someone else is feeling frustrated about the exact same thing, too.
Photo by Jide Alakija
More from the issue:
Bella Hadid Like You've Never Seen Her Before (cover story)
Fran Lebowitz On Donald Trump, Protests and Moving to Canada
Remy Ma On the Importance of Women Working Together
Hayley Kiyoko On Understanding Her Sexuality and Finding Her Voice
Young Thug On the Fight Against Poverty