The nine-day Paris Fashion Week that just wrapped capped off another round of women's ready-to-wear shows for Fall 2023. This time last year the industry was grappling with Russia's initial invasion of Ukraine, but this season the shows carried on as usual with a few big storylines, including Balenciaga's make-it-or-break it show since last fall's scandal.
Of all the cities, Paris solidified itself as the place for fashion stunts, with several happening on the runway at brands like Coperni and Heliot Emil. There were also some more solemn moments like tributes to deceased designers. Below, the biggest moments that had people talking from Paris Fashion Week.
Two fashion greats passed away in recent months: Paco Rabanne and Vivienne Westwood. The former, currently designed by Julien Dossena (who's never met Rabanne), offered a small tribute to the Spanish designer with a series of metal chainmail dresses for the finale, Rabanne's signatures. Andreas Kronthaler, who was Westwood's husband, presented his collection that featured several of the late designer's codes and even featured her image in a shirt for the opening look. Westwood's granddaughter Cora closed the show.
No Major Celebrities at Balenciaga's First Show Since Campaign Scandal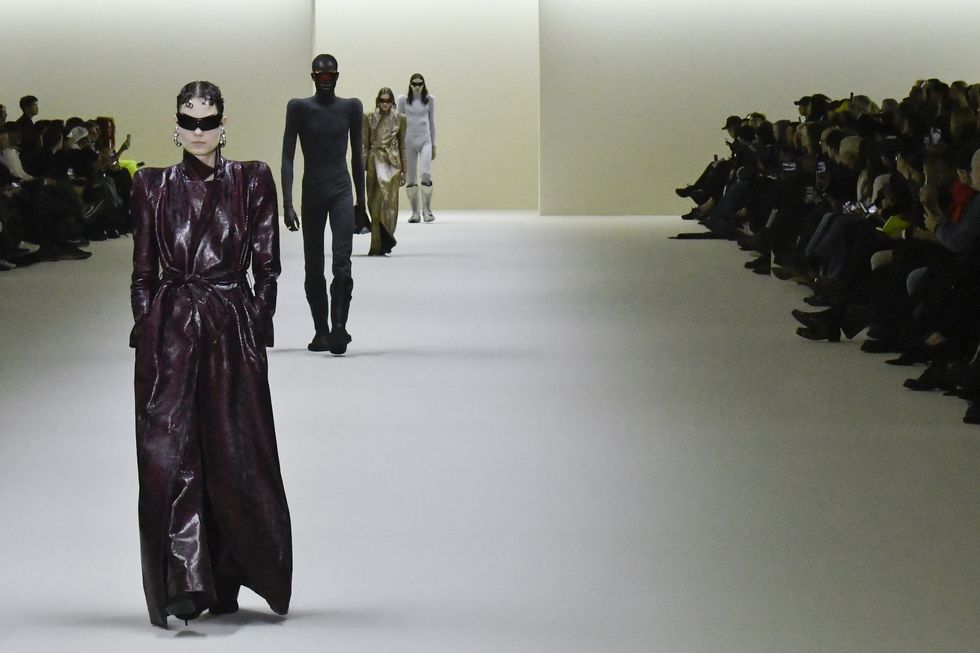 Photo via Getty
Balenciaga's shows under creative director Demna have been celebrity entertainment magnets, with Kim Kardashian and Kanye West often the star attractions on the front row. But since the campaign scandal that rocked the brand last fall, Demna made clear that the brand's next show would be about the clothes. Vogue Business reported that Korean-American rapper Big Matthew, Taiwanese singer Rainie Yang and Chinese actress Song were among the few VIPs in attendance (that 700 guests were mostly industry people).
Avril Lavigne and Tyga: The Most Surprising Couple at PFW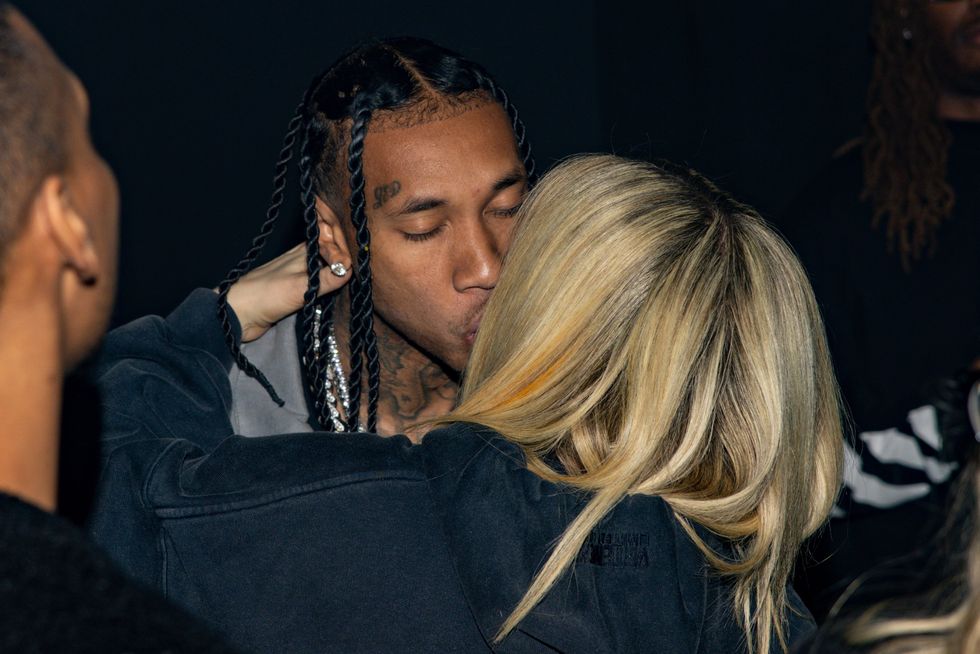 Photo via Getty
The first question one everyone's minds was: What is Avril Lavigne doing at Paris Fashion Week? The next one was: Why is she always around Tyga, her frequent front row seat buddy? With dating rumors circling the pair (Lavigne and her ex-fiancé Mod Sun recently called it quits), they seemed to signal a budding romance at the Mugler fragrance party for Hunter Shafer, where the duo was spotted kissing in out in the open. I guess Paris can do that to someone!
A Model Was Set on Fire at the Heliot Emil Show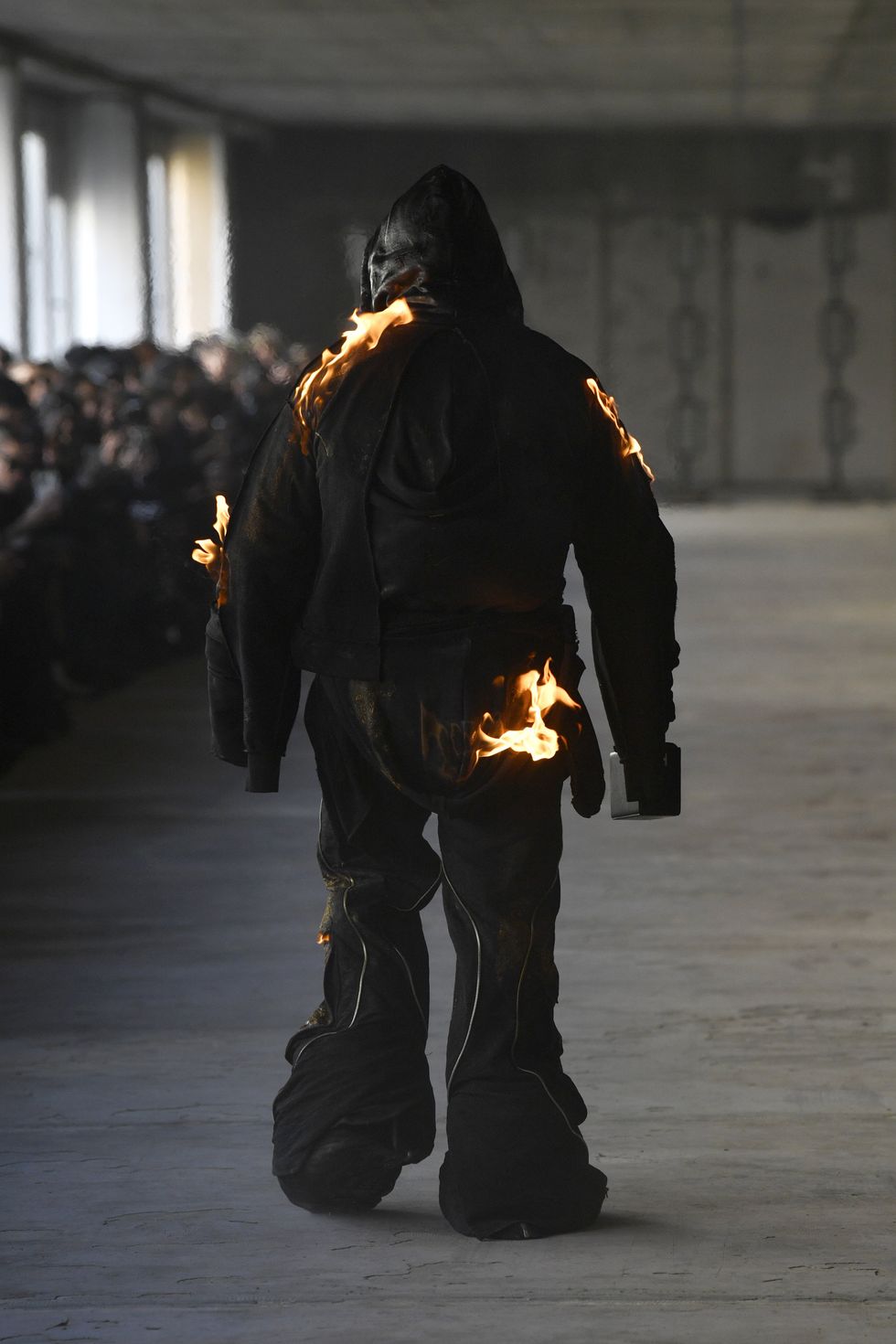 Photo via Getty
*Insert Alicia Keys voice* This (model) is on fire! Literally. On the second day of PFW, Danish label Heliot Emil had a model strutting the runway covered in fire. Well, the model was wearing a protective ensemble but, still — flames followed behind him. Heliot Emil, started by brothers Julius and Victor Juul was founded in 2016 and aims to rewrite predisposed expectations. The "Collected Forms" collection was presented to front row attendees like Avril Lavigne, Tyga and Mia Khalifa.
Zendaya's Only Show Fashion Month Show Was Louis Vuitton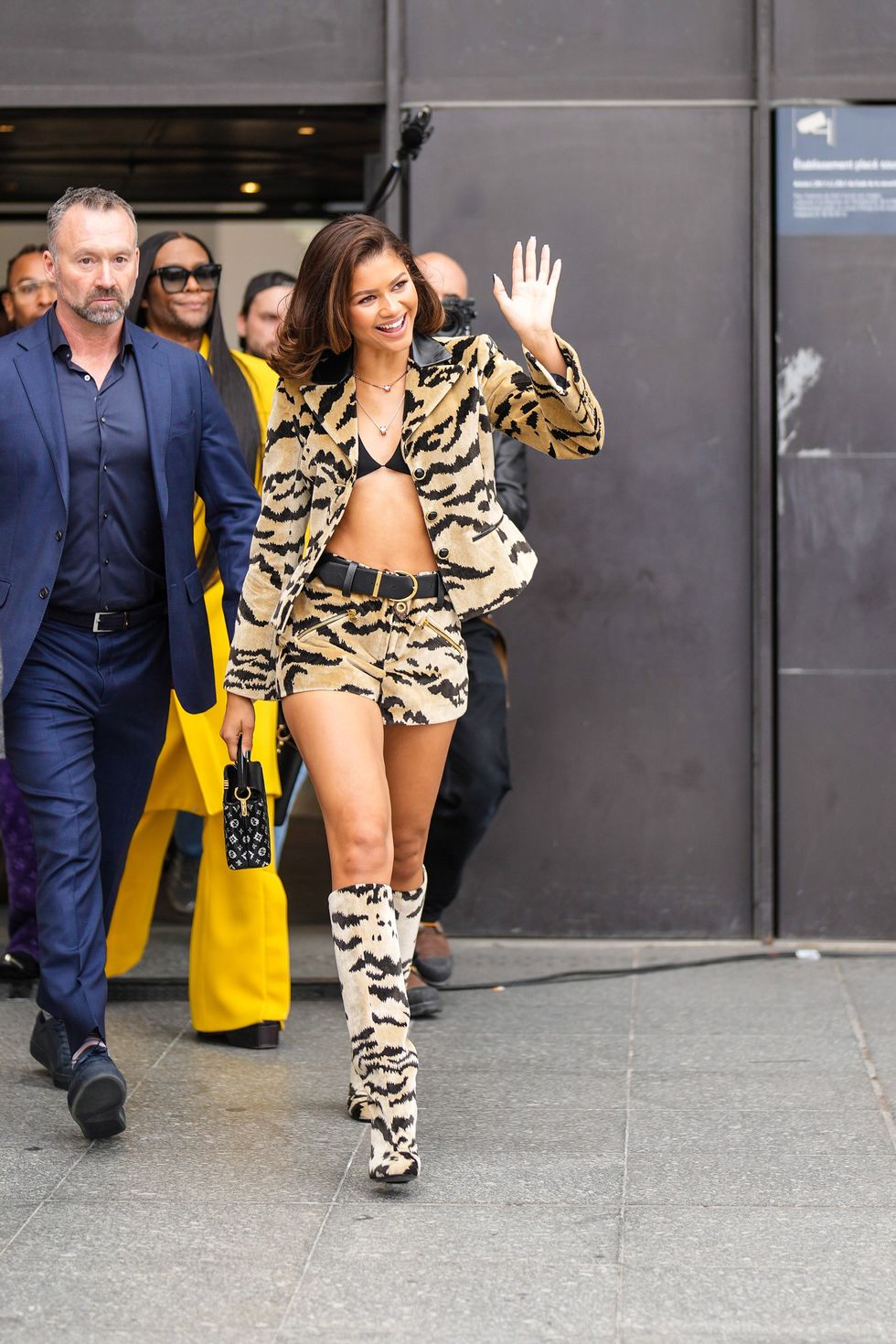 Photo via Getty
It wasn't until the penultimate day of Fashion Month that fans finally caught a glimpse of Zendaya, the surprise front row guest Louis Vuitton's show. While she's been an LV girl many times over the years, she's recently become more associated with the house of Valentino, where she was named an ambassador in 2020 and has only been to their fashion shows since. (She didn't attend their show this season.) Is this the start of something new with Louis Vuitton? For the grand outing, she was accompanied by her stylist Law Roach and sat next to actress Emma Stone (a longtime Louis Vuitton face).
Horses Everywhere at the Stella McCartney Show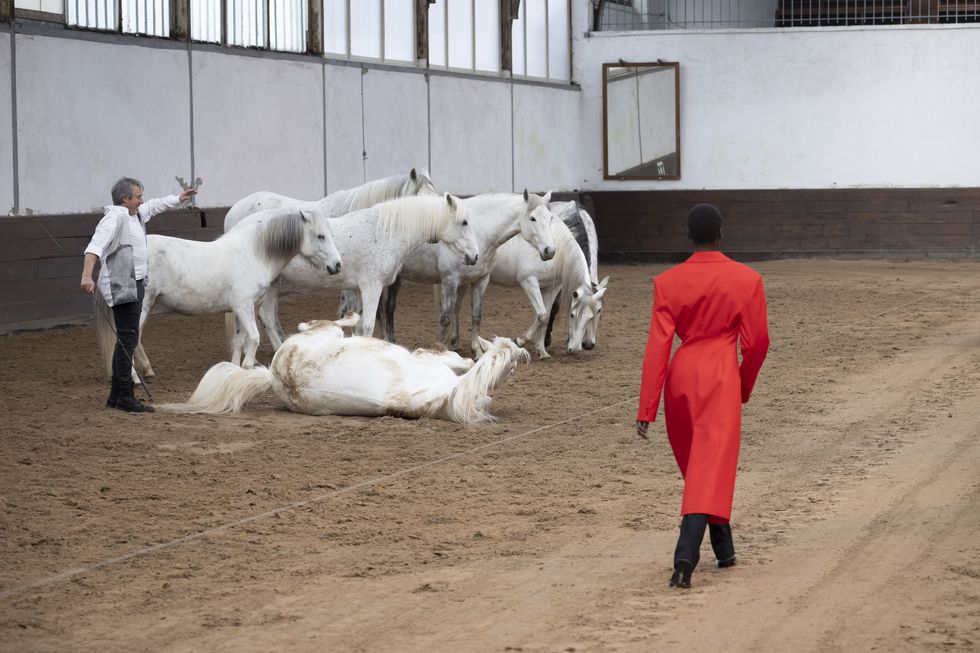 Photo via Getty
Fashion sure loves a horse moment (see: that one Chanel couture show, also that time Casablanca had a full herd of them). And it was Stella McCartney's turn for her Fall 2023 show, which featured live horses on the runway provided by the horse whisperer and rescuer Jean-Francois Pigno.
According to the show notes, the inclusion of horses was a celebration of McCartney's "lifelong love of horses and animals." Remember when she featured them in a collection for Chloé? (Which Olivia Rodrigo recently wore to a red carpet.) The brand pointed out that the horses have been trained in a cruelty-free way to acknowledge body movements and respond in certain manners, without using physical touch or stimulation.
Valentino Gives a New Meaning to Black Tie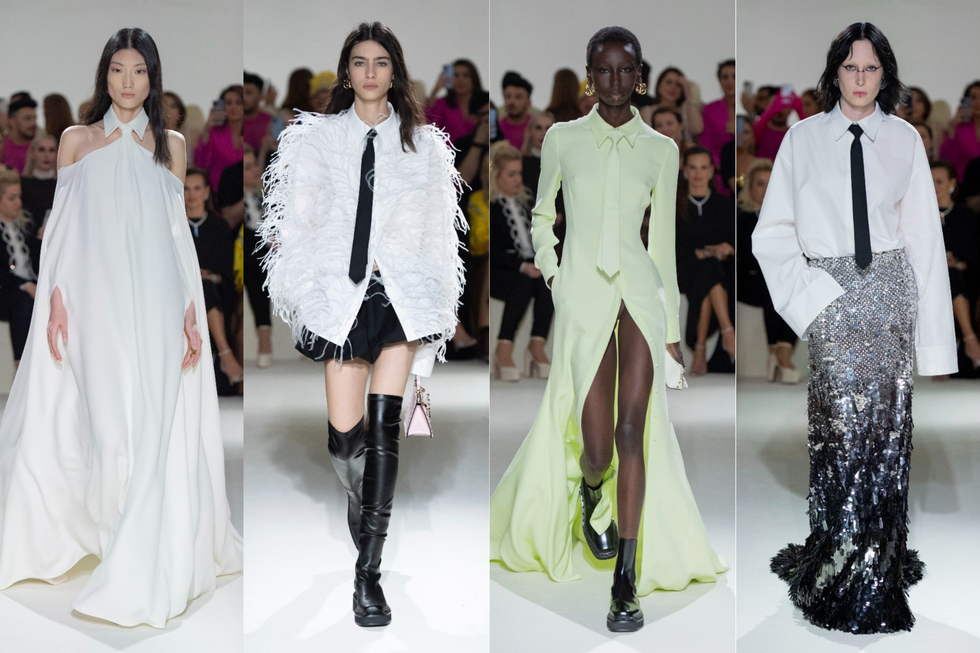 Photos via Getty
The invitation to the Valentino show said "black tie" (Pierpaolo Piccioli loves a theme, last season it was "Club Couture" and don't forget "Pink PP.") But it was anything but traditional, as the runway show demonstrated. Sure, there were ball gowns and eveningwear, but most of them literally had black neckties incorporated in some way. Piccioli said he got inspired by his daughter who would raid his closet and picked out a white shirt and black tie of his for a night out with friends. The standout version was a white gown with a collar and tie that blended into the dress.
Anrealage's Color-Changing Light Technology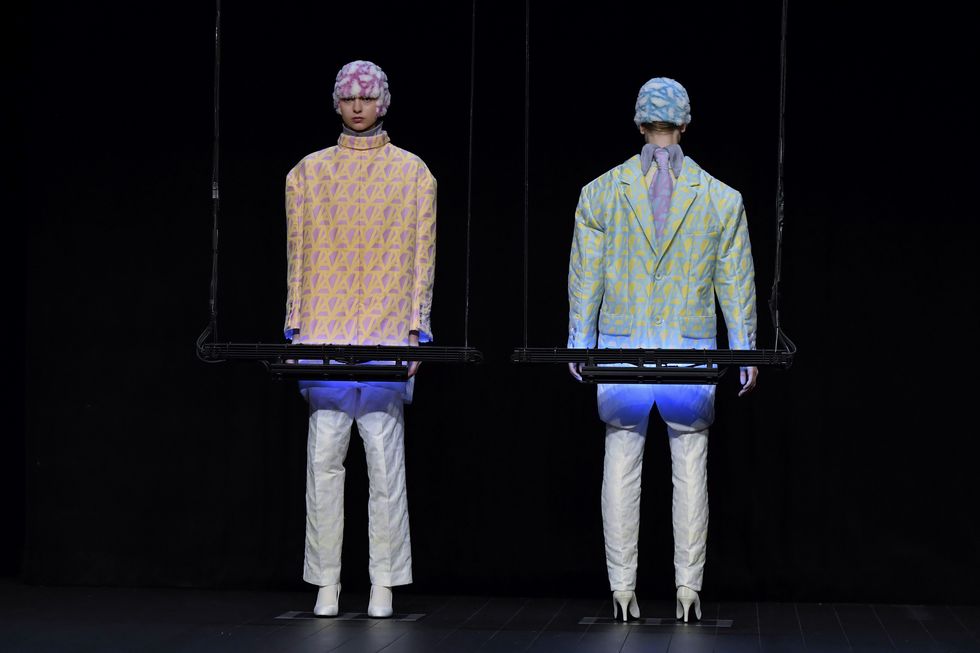 Photo via Getty
Technology is advancing but the future of fashion is also ever-changing. And the two worlds came together at the Anrealage show held at the Thėâtre de la Madeleine. Audiences thought the silhouettes they were looking at were part of the show. Little did they know when UV lights were brought on stage, it exposed the true colors of the designs.
Tokyo-based designer and founder Kunihiko Morinaga has long been known intertwining fashion and technology. He started working with light dependent properties nearly a decade ago and has been experimenting with them in his designs since such as a Fendi collab in 2021.

The big debuts this Fashion Month were saved for Paris, where British-American designer Harris Reed unveiled his first collection for Nina Ricci and the French designer Ludovic de Saint Sernin took on the venerable legacy of Belgian pioneer Ann Demeulemeester. Reed teased his first collection for Nina Ricci with a trio of red carpet looks in the months leading up the show: on Harry Styles, Adele and Florence Pugh. De Saint Sernin, meanwhile, leaned big into the brand's archives and featured topless models cupping their breasts, an homage to past collections where models did the same gesture.
Coperni's Robot Dogs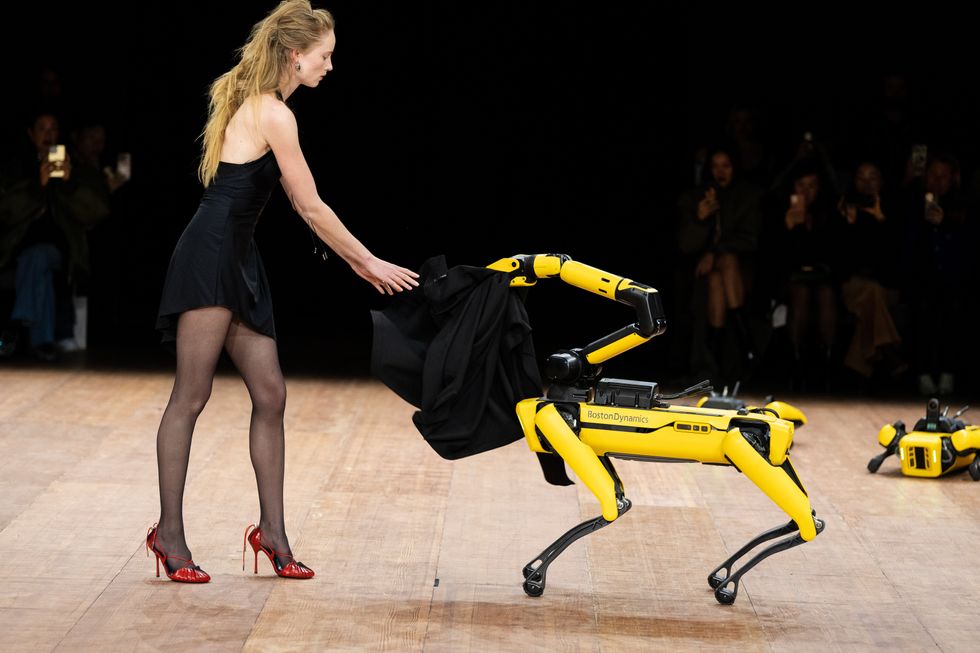 Photo via Getty
Coperni, who went viral last season after spray painting a dress on Bella Hadid, gave showgoers another fashion-tech moment this season with Black Mirror-esque robot dogs appeared on the runway. The canine robots helped the model Rianne Van Rompaey undress and gave her a lucky smooch before heading off to walk.
Sign Up For The Morning PAPER