As 2017 comes to a close, we've predicted 11 names you'll undoubtedly know in the New Year. Between art and fashion, music and film, discover who'll be on fire in 2018.
When Cheng-Huai Chuang was little, his parents owned a department store in Taiwan, where he spent a majority of his childhood. "I was always drawn to the beautiful things women were wearing," the rising designer says, recalling years of dressing his parents' mannequins, admiring the stylish customers who'd frequent their store and setting a strong foundation to later study at Parsons in New York City.
Now with a finished degree and newly opened shop of his own in East Village, Chuang is keeping his parents' fashionable legacy alive — just with a much more flamboyant, femme flair. His designs lean heavily into camp, with feathers and sequins layered generously onto sexy, powerful silhouettes (jumpsuits, leotards, suits and cocktail dresses are among staple pieces).
Related | PAPER Predictions: 11 Names You'll Know in 2018
He's become pop music's go-to designer in 2017, with everyone from Lady Gaga to Zara Larsson and Kali Uchis wearing his over-the-top looks on stage and during appearances. "Bodak Yellow" breakout star Cardi B was among Chuang's early adopters, notably donning a shimmery magenta set for Jimmy Kimmel Live and, before that, choosing Cheng for her on-stage appearance at the 2017 BET Hip-Hop Awards.
With a successful, career-defining year behind him, Chuang's certainly bound to continue climbing higher in 2018.
Why do you think fashion is important?
Fashion is even more important than art. People go to museums and admire art, but they choose and then wear fashion. Fashion has a very visceral, emotional component — something that reaches into the core of our souls and taps into human desires. Fashion is the highest expression of free will. Fashion is horny, and gives you pleasure. It's a visual illusion, it's a fantasy, and it makes you feel more satisfied than sex. You can have it every day, and you don't ever need to take a break.
What attracts you to over-the-top luxe glamour?
I love drag queens, big hair, big eyelashes, big jewelry — it's almost like Thierry Mugler's shows from the '80s and '90s. But I don't want all my designs to be over the top. I still want to create clothing that people will wear. I still want them to feel young and fresh, and at the same time feel the glamour and fantasy. I try to keep a balance. You don't always need to go all the way to experience the fantasy.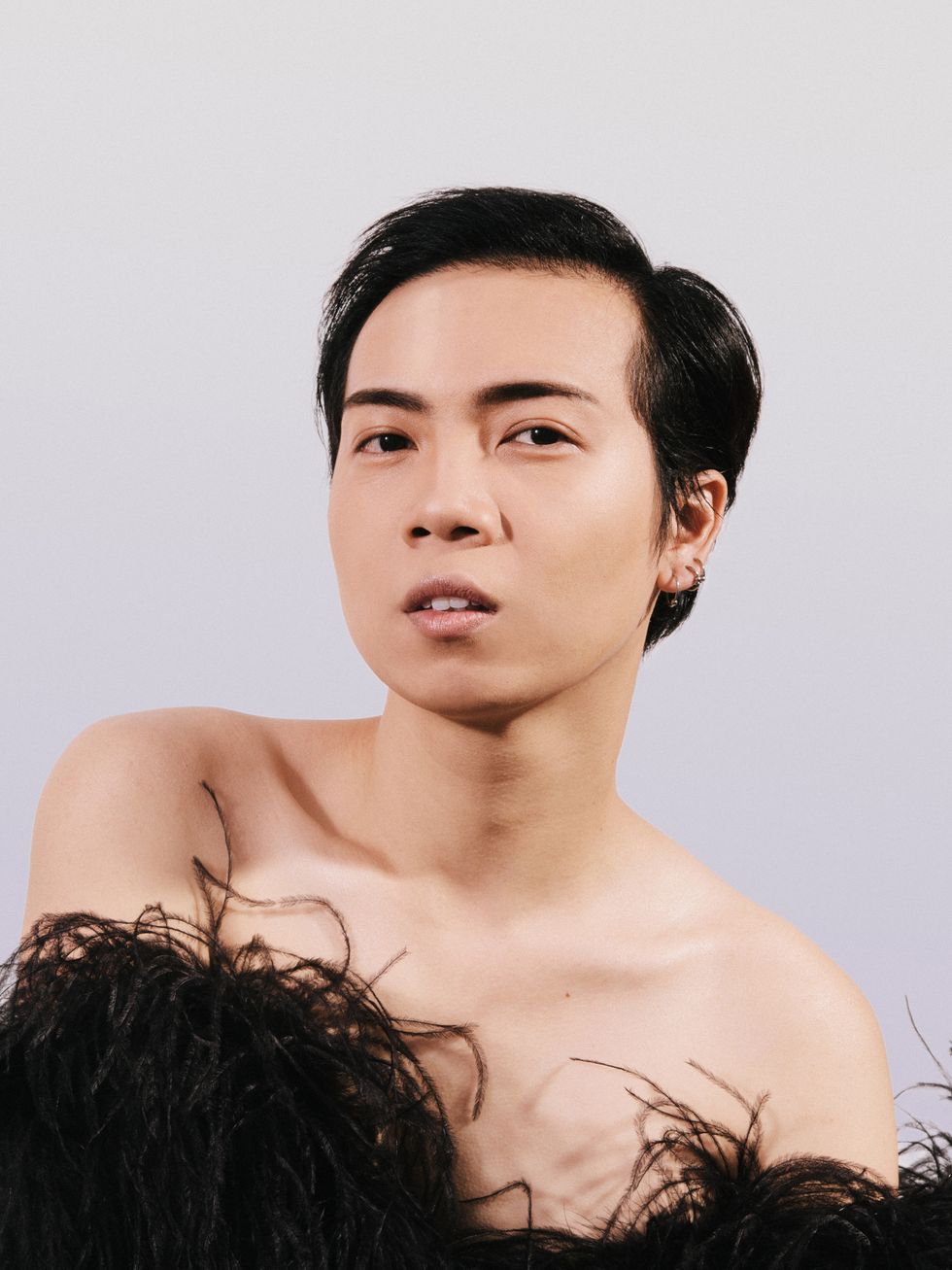 Would you ever consider designing something minimal?

That depends on what you mean by "minimal." I have done a simple turtleneck long-sleeve shirt in all black sequins, and to me, that's a minimal piece. But if you mean a plain t-shirt with some logo on it, then probably not.
You've become a celebrity favorite in 2017. How did this happen?
It wasn't until my third collection that big names like Brandy, Kat Graham, Kelly Osbourne, and Eve started wearing my designs. It was a huge honor to be recognized and worn by people like them. It takes time for editors, stylists, and shoppers to starting to see consistency in your collections, but perseverance definitely pays off.
Who did you enjoy dressing the most this year?
Cardi B, hands down. She wore my clothes multiple times in 2017. When she showed up for the fitting, she wasn't afraid to speak her mind or joke around. She's just having a good time and doesn't care what people think about her, pretty much like when you see her on TV or social media.
Related | Beautiful People: Cardi B Is Still Real
Who's your dream celebrity to dress?
Madonna. I'm a huge fan, and she's pretty much everything the "Cheng Woman" stands for: strong, powerful, smart, and sexy. She's an icon.
What perspective are you bringing to fashion as a queer POC?
As a person of color and an immigrant, I bring my personal history and understanding of Chinese design into my work. It's not a purely Western perspective, so you'll see small details in my work that are influenced by traditional Chinese garments. And as a part of the queer community, I used to make costumes for club kids, and I loved that they were all about characters. They have the freedom to be anything they want, and that's inspiring for everyone.
Click here to discover 10 more PAPER predictions.
Photography: Ryan Duffin
Beauty: Ashleigh Ciucci (Utopia)
Dress: Cheng-Huai Chuang
Sign Up For The Morning PAPER