A trusted source for downtown New York culture from 1989-1990, East Village-based Pansy Beatwas a quarterly fanzine focused on spotlighting queer artists in the midst of the AIDS epidemic. LGBTQ culture at the time was thriving with underground parties and nightlife characters, and the zine (published by Michael Economy and co-edited by Donald Corken) closely documented it all.
Now, Economy has released a new book celebrating his zine's brief, but impactful life, chronicling all five issues in their original format with never-before-seen photography. Read an exclusive excerpt, below, featuring Economy in conversation with Pansy Beat spokesmodel Billy Erb, and purchase a copy of Pansy Beathere.
—
Billy Erb is a true Renaissance man; a multi-talented artist, DJ and celebrated party luminary whose fabled antics sparkle in the annals of NYC nightlife. In his youth, Erb's porcelain skin, high cheekbones, wide set eyes and bowed lips evoked a young Vivien Leigh. In the mid-80s, one may have crossed his path in the dead of night, half-dressed in a child's Halloween costume cape, thigh-high Body Map leggings and brothel creepers, with a third eye painted on his forehead. His exuberance, as well as his pretty face, eventually led to his promenading the early 90s runway, among the greatest beauties of the day. In Tom Rubnitz's video short "Strawberry Shortcut" he infamously played a baker-elf contentedly blinking at his supermarket concoction. The recipe was Billy's own. Join us now, as we take the shortcut to an Erb-a-licious interview...
Your mug graced the cover of Pansy Beat back in 1990 and I want to talk to you now about beauty and talent in relation to Pansy Beat, because it meant a lot to me that you contributed to it in the way you did. Looking back, it seems like a magical thing that happened during a time that was actually surrounded by extreme trauma and loss. Does that sound about right to you?
When I look back at that period as far as night life being really vibrant and exciting, the opposite of what was happening during the day time. I think that's the totally natural reaction, right? Because in my case, witnessing friends and colleagues dying of AIDS, seeing it, feeling it, just made me want to party even harder. Not because of denying it or ignoring it but in fact for having seen what life is, by witnessing death and if this is the way it's gonna go down, then let's party tonight. That's how I felt.
When you were young did you understand you were beautiful?
Everyone told me that my whole life. But I associated it with a traumatic experience from my childhood. Because when I was a kid my mother dressed me as an angel to enter our small town's Halloween parade in order that I could win the category of prettiest. So she put blue eye shadow, lipstick, rouge on me and put me in a little angel costume, sent me off alone to be in the parade. She said "Just keep smiling and you're gonna win." So that's what I did and sure enough under the category of prettiest, it was Billy ERB! So as I went to the stage, I had to accept the award from my father, who was in charge of handing them out. He was completely embarrassed and horrified that his son had won in drag, at age seven for the category of prettiest. And I didn't really understand when I was up there why people were laughing or what was going on. Because I just thought I did what I was supposed to do. Then later when I got home there was a huge explosion between my parents. It was only many years later with the help of my therapist that I could look at that situation and see what that was and how that affected everything later. There was always something negative about using my natural beauty or displaying it. That was a huge breakthrough for me when I realized that's where that fear came from.
Where were you coming from in 1985 when you moved to NYC? What were you planning to do?
I was coming from Kent State in Ohio where I was going to art school. I had no specific goal. I just wanted to be a working artist. I was carrying around a portfolio of sketches. It was January. I was walking thru the slush on Prince Street and I saw FRED SHNEIDER come out of Dean & Delucca. I started basically chasing him till we got to the bus stop on 6th avenue where he was terrified and turned around and was like "WHY ARE YOU FOLLOWING ME!?" And I said "No I'm your biggest fan, you don't understand. Please can I have your autograph?" And he said "Who are you? What are you doing?" I was like "I just got here from art school. Look here are my sketches." I opened up the big portfolio and showed him. He said, "What's your phone number. I might have a job for you," and the next day I met and went to work for Robert Molnar doing some sketches and I believe it was the same day after lunch, that his company shut down. But he shared a showroom with Eric Beamon Design and he said why don't you go over there and work for them designing jewelry. I did and that's where I met Josh Jordan and Michael Schmidt and a lot of other people who are still friends of mine. So they said "Yeah go for it. Show us what you have!" I designed three pieces and they sold more than any other piece they ever had up to that point; they used it in a national ad. It was a big hit and I stayed there for about a year.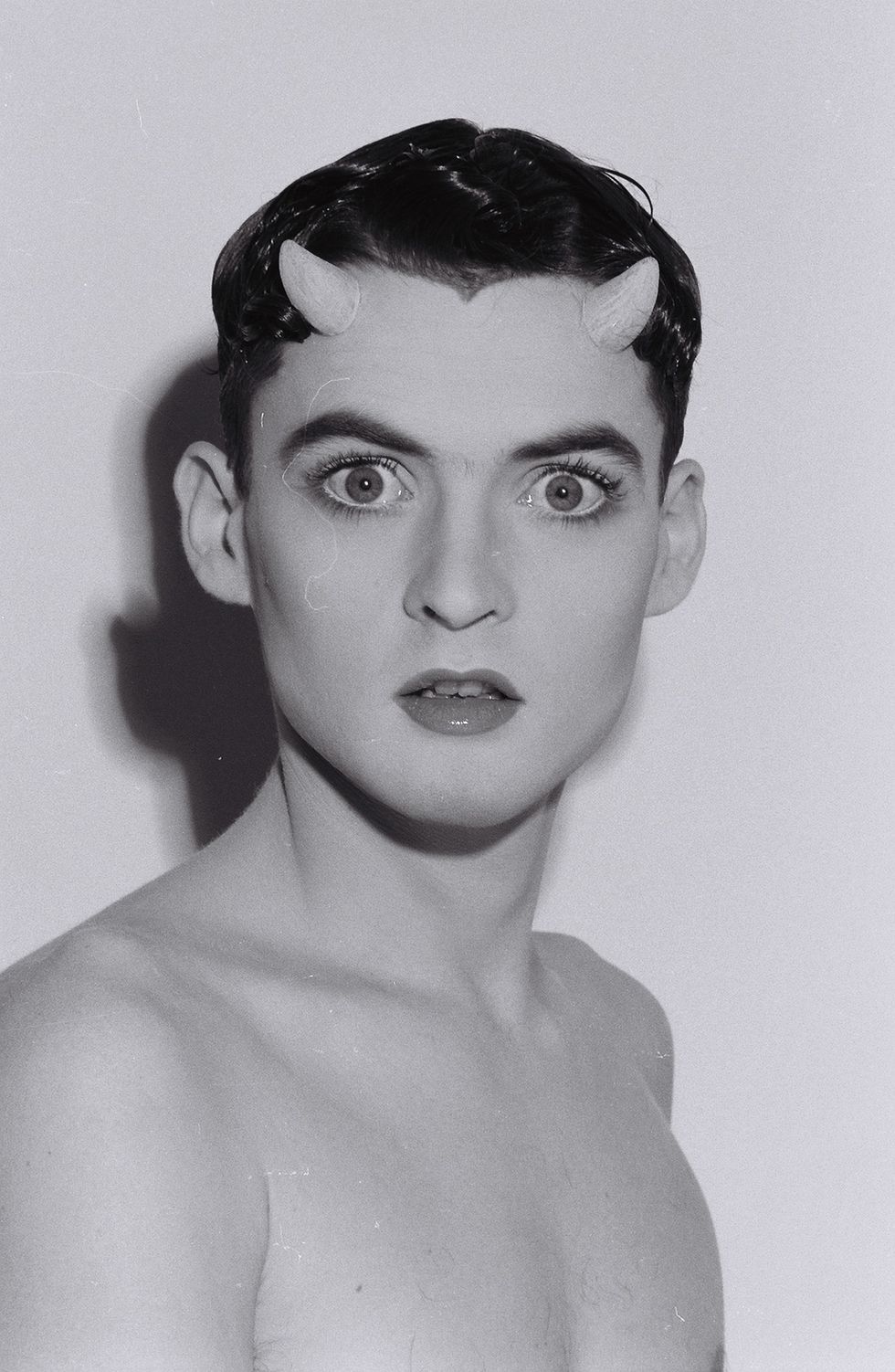 Ha! All roads lead back to The B-52's for people of our ilk.

Yeah! They were everything to me. I used to listen to them all the time. They changed everything. They changed my mind. Completely.
YES! Me too! Who else inspired you back then?
When I was in college Antonio Lopez came to do a presentation. Later that summer I came to visit New York and hung out with him — strictly for the purpose of seeing what went on in his studio. Because I was so sort of naive. I didn't really know how an artist could work or even what that was. So that was exciting and that gave me an entree into nightlife, to be associated with him and we went to this Click model party at Visage. That was the first night club I ever went to and that pretty much blew my mind.
At that time you were most identified with being a make-up artist, right?
Yeah to be a make-up artist was for a long time what I wanted. I thought it would be enough for me. I supported myself doing it for quiet a while. But I tried to use it as a medium for my creative expression which it isn't really. Things became very political about working with certain photographers and then not others, so I became frustrated.
Can you name some of the faces you enjoyed painting?
Well Lady Kier was a close friend of mine. I ended up doing her make-up around the world a few times when she hit her jack pot. I did her so often that it was almost like I couldn't see how beautiful she was any more. Now I see it in many ways.
How about before Deee-lite? Were you doing make-up for photo shoots or fashion shows?
Both. Thierry Mugler in Paris, around 1990. Andre Walker's fashion shows in Paris. Those were both exciting and fun. I worked on a lot of shows as an assistant to my close friend Lesley Chilkes, still one of the greatest make-up artists. Also I worked quiet a bit with Josef Astor in his Carnegie Hall studio. There were a lot of great faces. Ah, Nina Hagen. That was very exciting and she was very interesting and respectful. One face that I loved was the super model with this squished up face, Scandinavian, Helena Christensen. Susanne Bartsch I did quiet a bit. To me she's like a Hedy Lamar. I did a lot of great faces. Debi Mazar, one of the great beauties of our time, for Thierry Mugler's show.
YES! I adore Debi Mazar! That is really exciting!

Because of my experiences, starting with meeting Fred Schneider on the street, I honestly thought that's what happened in New York to everyone. I thought everyone came here with a dream and the dream came true. That night you went to the club and you were ushered thru the crowd into the VIP for the rest of your life. Everyone naturally became friends with whatever celebrities they liked. That was my experience so I thought that was normal. I mean it was normal for me but it's not. There were a lot of hard lessons in there too, for sure. Plus I was a total brat. Somewhat spoiled. Jealous. As pretty as my face was, my personality was possibly as ugly when I first came to New York, as a kid. But hopefully I've worked on that. Now that may face is gone, I'm a nice guy! (Both laughing)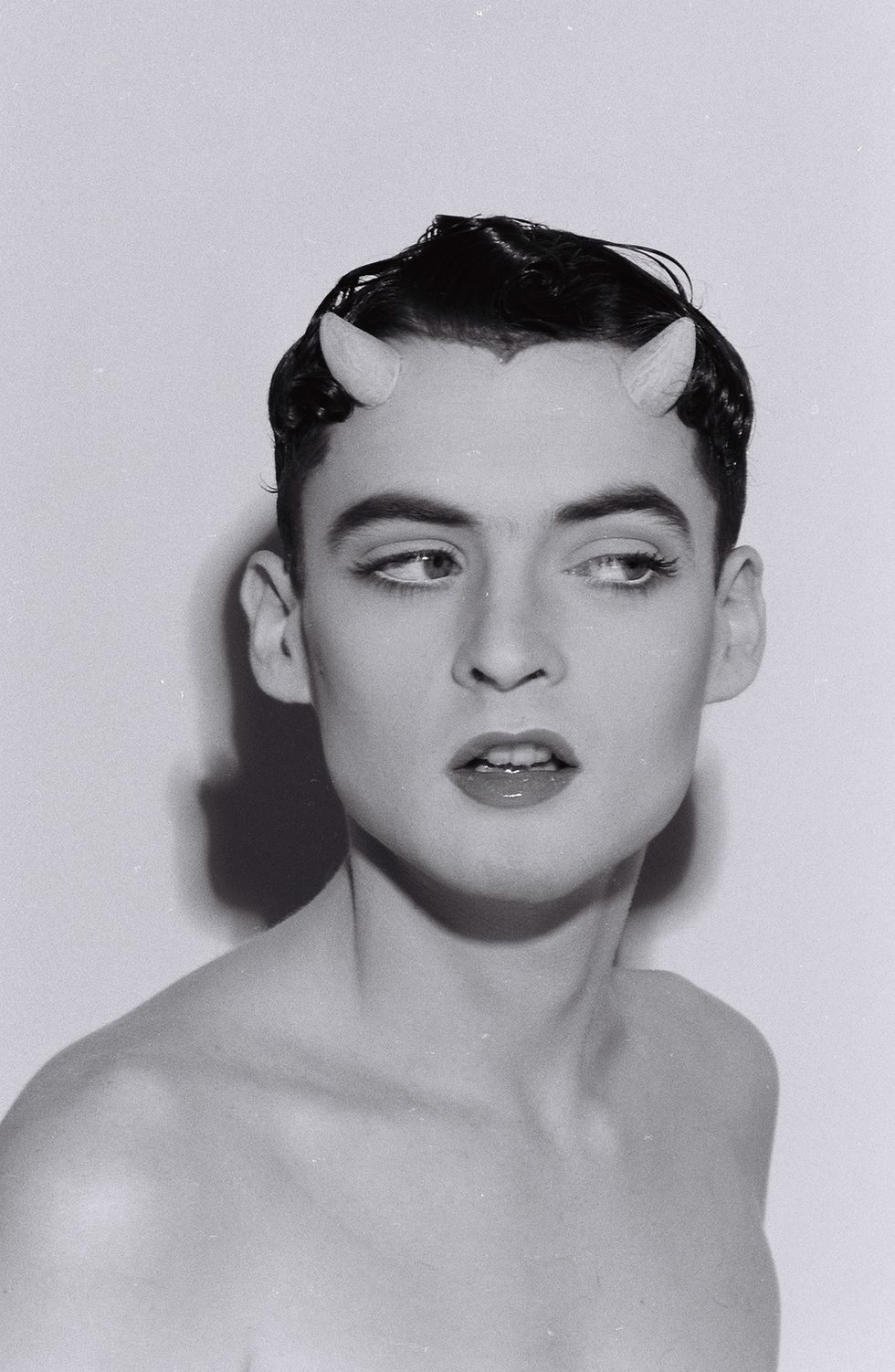 You were a muse to super photographer David LaChapelle fairly early in his career. How did that come about?

Well I became roommates with Josh and Josh was a good friend of David's. He took one look at me and said "I'm gonna take your picture" and he put me in drag immediately. Which really meant put a wig on it and some lip gloss. I didn't even have a beard! Next thing I knew it was two full pages in Interview magazine in drag in Diane Pernet suits. Which led to Todd Oldham seeing them while still living in Texas to say "That's my model! Whoever that is."
Related | David LaChapelle Gets Candid
Sweet serendipity! Was that the first time you were in drag?
No. The very first time I was ever in drag was when Edwige made me the cigarette girl in her club the Beat Cocktail Lounge at Carmelita's on 14th Street. I called myself Anna Von Star. I had a black bobbed wig. She insisted on this, and it made me very nervous. I remember going into the women's room because I just wanted to be out of the public eye for a second and that freaked me out even more because they all thought that I was a woman. (laughing) That was pretty wild. I would wear a turtleneck as a skirt. I would use the neck as my waistband and then tie a little bustle with the sleeves in the back and that was my skirt. That was the very first time I ever cross-dressed.
I remember that! Sounds like Edwige may have had a thing for you in drag?
Well she did propose to me one night in Paris...
NO!?
I was there for work, assisting Leslie Chilkes mid-1980s on the dance floor of Le Palace, Grace Jones' La Vie En Rose playing, ecstasy kicking in. Edwige proposes marriage to me. Quelle romance! Unfortunately mon père forbid it later. Quelle domage!
I bet you're the only man who can claim that Edwige Belmore proposed marriage to him! Moving on, kids today would know you best on YouTube from "Strawberry Shortcut," the amazing Tom Rubnitz's video. How did you meet Tom? Do you recall how "Strawberry Shortcut" came to be?
I met Tom through Sister Dimension at the Pyramid. Sister was a good friend of Tom's, and we would hang out at Tom's house and watch videos as often as we could. There was no other place to see them really and he had an amazing collection. Also we'd watch his own little shorts which were hilarious, like Ann Magnuson's "Made for TV" and "Chicken Elaine," the classics. We were on our way home from Tom's house. It was in the summer. I don't know what was in that joint, but it came into my mind quite vividly: I started describing the "Strawberry Shortcut" elves and what they were. The actual dish of a donut sweetened with jelly marinated in diet Cherry 7-Up, was something that I made for Sister one night after the Pyramid at her house. We went across the street to S.Y.P. (Say Your Prayers, as coined by Hapi Phace) Grocery where I picked up the items. I said, "I'm going to make you a strawberry shortcake but they don't have what we need — so I'm going to take the shortcut." And we laughed, and we ate it. But then later, this little short film short came to mind. We called Tom from a payphone and described the whole thing. He said, "Great, let's shoot it next week." Or something like that.
And he had already made "Pickle Surprise" right?
No, "Pickle Surprise" came next.
WHAT? "Strawberry Shortcut's" first!?
Yeah because it was such fun — so fun — and such a big hit. Sister and I even appeared at Nell's once on roller skates and at La MaMa as the "Strawberry Shortcut" elves. Anyway, we wanted to do another one but that's when I took off to live in Berlin for a romance and while I was away, "Pickle Surprise" happened. I wish there were more. That wasn't Tom Rubnitz's first recipe-based short; the format was Chicken Elaine with Marlene Menard, "It's easy and fancy." But I had a pickle personality also.
Oh Really?
My pickle personality was named Fabris Cornichon and Fabris Cornichon was an art historian, with a very thick lisp. My assistant was named Dildre, played by Armen Ra. Princess Dildre and I performed once at the Limelight and once at Club USA as Fabris Cornichon, art historian. I would relate the history of pickles through great art and slides. Sister and I both had a pickle personality.
What was the DISCO MODELING SCHOOL and who were the founding members?
DMS started as a Saturday afternoon stroll through Central Park. We were John Badum, David Lachapelle, David Holah, Lesley Chilkes, Joshua Jordan, Layla D'Angelo and a stranger with a huge hat and even bigger smile who adopted the name Gina. We had a boom box and our latest Jeffrey Hinton mix blasting. Of course we were in our best Bodymap uniforms and, en masse, quite a sight. Our love of dancing and attention-seeking peaked at Columbus Circle where we started carrying on and actually started collecting tips from the amused crowd of gawkers we attracted. Just another weekend outing with the gang, really. Not long after that, we were at the opening night of Palladium, when a reporter inquired, "What are you?" and David Lachapelle said "We are the Disco Modeling School". The next day we were a full page photo across Page Two of The Daily News. For the record we never officially dis-banded and from time to time some of our senior instructors may be caught serving master classes on the dance floor.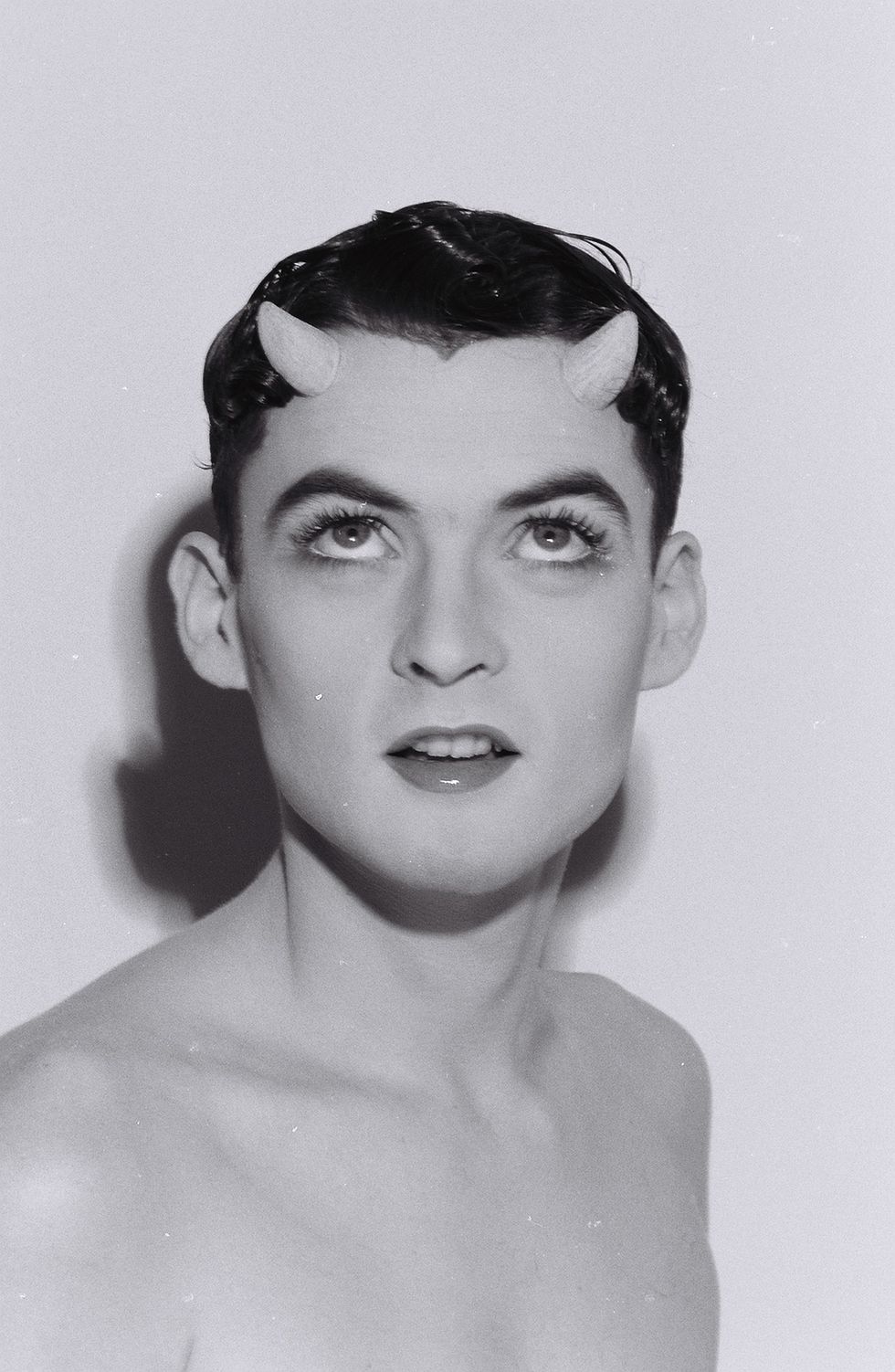 But then in the 90s, your modeling career actually took off! You walked fashion designer Todd Oldham's runway for eleven seasons during the peek of the supermodel era alongside Linda Evangelista, Christy Turlington, Naomi Campbell and Cindy Crawford! This prompted the New York Times to describe you as "plausibly a woman". In retrospective, that is AMAZING!

That was one of my proudest moments. Because that was at the root of what I was trying to do as a model. First you believe that's a woman. Secondly, that woman has a lot of talent as a model — okay!? Vanity Fair had a picture of Christy next to a picture of me in an article called, "Uptown Versus Downtown." Underneath the two pictures it said Christy Turlington equals Billy Beyond. That was also a super thrill. The other models liked me because I was every bit as good as they were — and they were excellent models. We practiced and researched knew about walks and showing the garment. All those girls — except probably Naomi, because her walk was in no way retro — studied and looked at old modeling styles and would practice and talk back stage. "Oh hey we have double." "Okay do you want to split it?" "Split double, done." I knew what that was, they were so impressed with that...
Related | Naomi Campbell Remains On Top After 30 Years
For the reader, please explain what a split double is.
A split double is when you come out together, both walk halfway down then both turn, one goes back to the front and one goes to the end. And you come back in the middle, turn again, same thing. Then you both meet in the middle, turn and back to the beginning and out the sides. So when they saw and knew what time it was with my technique, there was respect. There was this one moment when my ultimate favorite runway model, Helena Barquilla was in front of me waiting to go on, on the steps. They called her name. She stood up on the top step, turned around to me — so now she's like a foot above me — looked down in my face and said, "You'll never be as good as me." She turned right around, walked out onto the runway and hit the pose, looked at me over her shoulder and took off. So then I pulled a little trick I learned from Teri Toye, which was: wait. The most important thing you can do is wait. You come out, you stand and you take a minute, right? And the guy on the headset is screaming at you, "Go, go, go," but you wait. You let that one on the runway do her thing, so that you're out there by yourself. It's a pretty good way to hijack a show.
Ha! That's rich. But before you gained notoriety as a runway model for Todd you had already walked the runway for the pioneering and then very young designer Andre Walker. Was it Andre then who put you on the runway first?
Well there was Body Map, but yes, yes! It would be Andre Walker.
You were in that legendary show Andre put on at the Palladium in 1989? Do you remember that?
Of course! It was incredible with the windmill and Tangella as mistress of ceremonies and (simultaneously shouting) ROBIN NEWLAND! I remember Andre's Mom was in the show too. Bitch stole my wig!
You also posed in Andre Walker creations for Paper Magazine when it was still a fold out poster.
That was good. I don't remember who took that picture, but it's a great picture.
It is a great picture and it was Richard Pandiscio, 1986. I still have it. So who else did you model for?
I modeled for Albert Watson, Arthur Elgort — did something fall, right? The cover of German Vogue honey! In drag! Okay? Learn it! And you know they're the greatest. I was in advertising campaigns and I modeled for Steven Klein and he decided to present me to Christian Dior as the face of Poison around 1986. "Here, hold this apple with the lace glove." Full blown makeup, right? Poison, the campaign. Well, I was excited because it meant a lot of money, and I was broke. I remember we were on the dance floor at Area, and Steven told me, "They found out that you're a man and they're not going to do it." And Steven's said "What am I going to do? I need someone with the Poison green eye?" So I said, "You've got to get Susie Bick." British model, very beautiful face, green eyes like mine, black hair. And they found her and she did it. There were a lot of things that would almost happen and that was frustrating — only because I needed the money. I certainly didn't care about the exposure. I was a good model, and I knew what time it was.
Now, as a DJ in the 90s, you co-curated the legendary party Beige, NYC's longest running gay weekly event, and on a Tuesday night no less! How did Beige start?
"Beige" was the concept of Eric Conrad, who came to me and said, "Let's do this party together." He came up with the name "Beige" because we were aiming for the middle. He had just had a couple of successes with "Club Soda," which I named for him after opening his refrigerator. And also the big stink he caused in midtown with "Poop". At one time it was possible to make a big "Splash" in the "Men's Room" and then go to "Poop," those were the clubs. Anyway, so "Beige" was Eric's concept, all we had was a photo of Kim Novak and we wanted to start something without a dance floor that wasn't playing house music and could I play the music? "Yes, I would love to!" The only records I had were an old box that belonged to my dad. I used my dad's Air Force headphones. Now the good news was that my dad had very great musical taste, super swanky. Enoch Light, Sergio Mendez, Martin Denny, classic upbeat happy lounge music. And so that's what I played.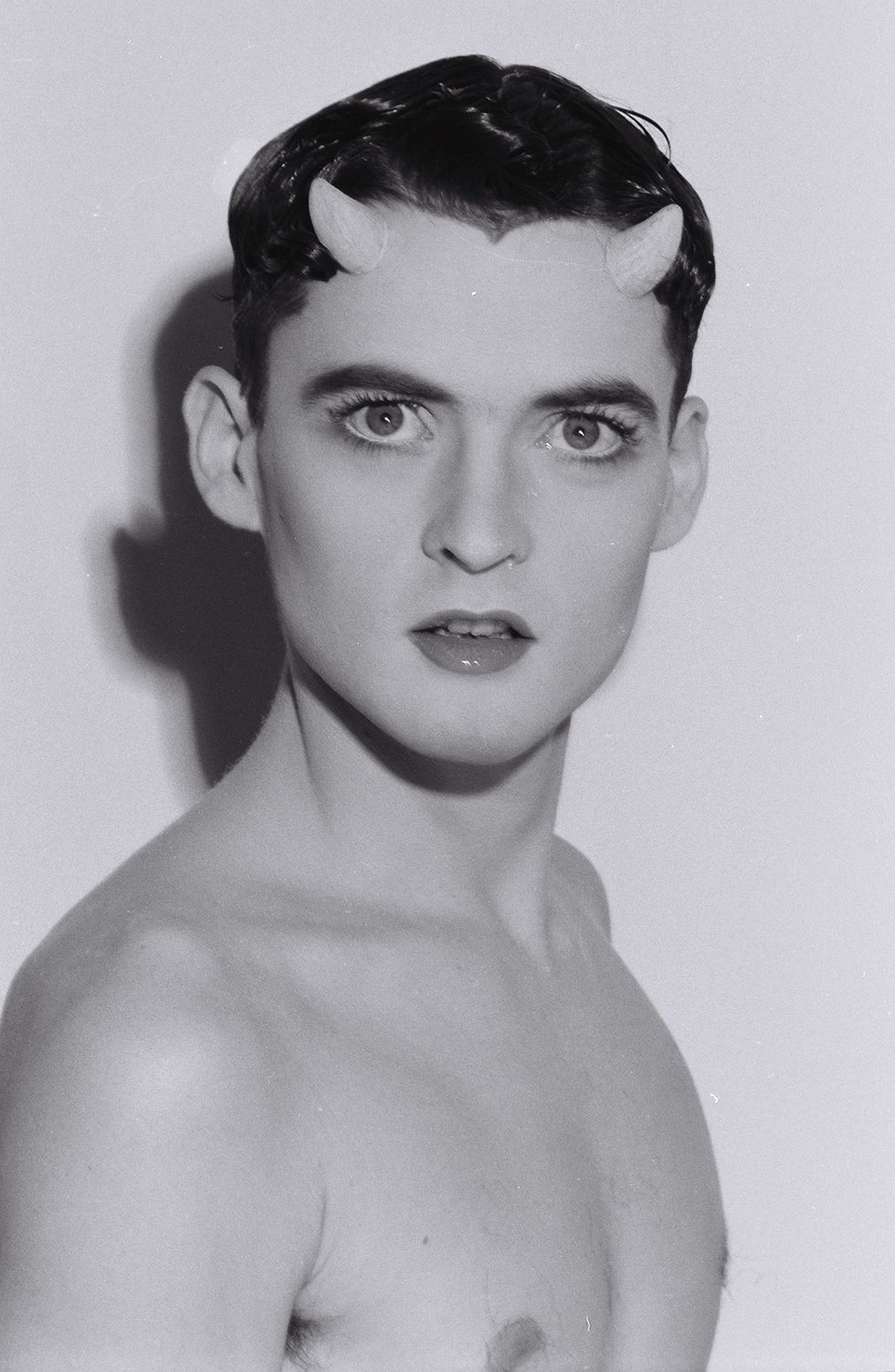 Uh-huh, Basa Nova?

Yeah.
Cha, Cha, Cha?
Yes, somewhat borderline kooky. The Harmonacats. Fifty Guitars, Tommy Garret, the Three Sons, of course Chris Montez. Claudine Longet. It was very A&M playlist. There wasn't anything like that happening at the time. The first week, lots of celebrities showed up and no one else, like Tim Burton, Parker Posey, the New York celebs of the minute. There was no dance floor, so it was more about listening, and appreciation and cocktails and that whole thing, which was just starting out as a big trend. And so we moved quickly to the Bowery Bar and it lasted there 17 years. And that was my first DJ gig!
Then there was Beige L.A. Is that what took you to Hollywood in 1996?
No, I left New York because I wanted to see if I could stand on my own. I had been not entirely supporting myself, for a few years, not paying rent for quite a while, thanks to the generosity and love of my friends. I needed to get away from that and see if I could support myself. So I went to L.A. and started Beige Hollywood with a friend there, Victor Rodriguez, who's an established L.A. deejay. We had a dance floor, it was on the top floor of a tower in Hollywood, which alone is quite unique.
It was a 60s high rise office building right?
Yeah, It's featured in the opening scene of the movie, "Earthquake."
Wasn't it going to be demolished? I visited you there once and remember it had yellow police tape up, like "Do Not Enter." And Parker Posey was there then too!
It was full of asbestos, and it had no sprinklers. It has since been redone, and it's swanky condos now. The restaurant was called 360, it was run by Vernon Rusty. Upton Grafton helped with promotions and it was a big hit. We also had occasional performances, as I was coming out of the Pyramid Club, so a lot of those ideas got rehashed, celebration of Secretary's Day was huge. We celebrated with a show. Also at one point I attempted to implement "Ballet" parking. Where we'd have ballet dancers park your car...
What were some of your most memorable DJ gigs?
One of the most thrilling moments was for Tim Burton's birthday and it was at a Frank Lloyd Wright's house in Los Feliz. The house is just stunning. Lisa Marie decorated this house with hundreds of thousands of long stem red roses. Armloads of them dumped along the walls on the floor, everywhere, of every hallway. It was wild and it was really beautiful excess to do that with so many flowers. So I'm deejaying in the garden, and I'm playing my classic lounge look and suddenly coming towards me from across the garden, is Tim Burton with Ann Margaret. She was wearing all beige, she had beige nails, and her hair was a shade of beige. She came right over to me with that smile, holding a Champagne glass and nods and it's sunset. She grabs my arm, and all the hair on my body stood up. She had an electrical charge around her body. I have actually read that about her after this meeting. It terrified me because I had never experienced that. She grabbed my arm and she said, "I could tell you're an entertainer too". Okay, besides shooting myself, I said, "I was just about to play Ces't Si Bon." She said, "You have that record? Well if you think they'll like it." She still has her claws embedded in my arm, and the minute the song starts to play, she had a full personality flip and became completely like a scared kitten: huge eyes and looking out over the lawn, going, "Do they like it?" At that moment Cherry Vanilla comes running across the yard, screaming, "I love this track, oh my God it's you." As soon as Ann saw that, she flipped right back into the tesla-coil-zapping-electric-superstar, let go of my arm and put her hand out to shake Cherry Vanilla's hand, "Thank you. Thank you." And I just thought, what just happened?
Who is Billy Erb and who is Billy Beyond?
Billy Beyond is a name that was given to me by Body Map designer, David Holah in 1985. Josh introduced me and David came over and looked at me and said, "Beyond, Billy Beyond," and that was it, done.
It's so funny because Erb seems like such a unique name anyway.
Nobody believes that Billy Erb is my real name. Most people think it's made up but that's my family name.
HA! Tell ME about it!
Photos Courtesy of Pansy Beat (Photography: Michael Fazakerley)