HBO's Insecure, Issa Rae's baby and a cult favorite among audiences, is a spectacular showcase for actors like co-lead Yvonne Orji and (formerly) Jay Ellis. But it also has a secret weapon: raunchy Kelli, played by brilliant comedian Natasha Rothwell, who gets all the best lines and most outrageous, gifable scenes (growth). Just look at the season three trailer; Jennifer Hudson herself was truly honored.
At 37, Rothwell has worked as a writer and actress for years, but Insecure, which blessedly returned last night, is her true breakout. After a stint writing on Saturday Night Live (she's most proud of scripting Taraji P. Henson's musical monologue), she was first hired to join the writers' room on Rae's hit show. But over the course of writing the first few episodes, Rothwell was officially cast as Kelli — and she was told the news in the middle of an on-set Nerf war.
Over the past few years, Rothwell has made a mark on Hollywood, appearing in Netflix's The Characters, movies like Love, Simon, and putting her own show in development at HBO. Shortly before our interview, news broke that she had been cast in Patty Jenkins' Wonder Woman sequel. She had to stay tight-lipped on the superhero stuff, but she spoke to PAPER about Insecure's role in the battle for minority representation in Hollywood, on-set Nerf wars, and the joy of playing someone so uninhibited.
Can you tell me anything about what's going on with Kelli in season three?
In the trailer you see Kelli at work, and that's indicative of how we will see a little bit more about her life and who she is this season. I'm really excited about where the journey takes us this season. The tagline, "glowing up ain't easy," is really appropriate.
Do you ever use the growth GIF in your own life? It's so important to so many people.
[Laughs] I don't send it, but I get it all the time. I'll get tagged in it on Twitter. I didn't even know it was a thing, but crazy famous people will use it on Twitter and I'm just like, "This is wild, but I'm here for the ride."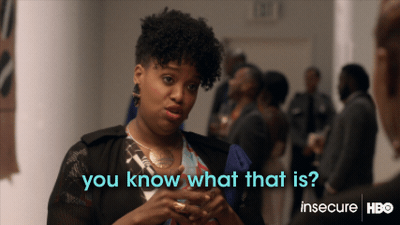 Okay, big news—no Lawrence this season. How is the #LawrenceHive going to take it?
The #LawrenceHive is upset. I see petitions! But the thing that I think is really cool about this season is that in real life, oftentimes when you have closure after a breakup, you don't see the dude for a while. It's often when you least expect it. So this is a real look at what it's like when you lose a presence in your life. The question that we ask ourselves when it happens is what do you do to fill that space. I think what we did as far as his absence this season is really cool.
There's so much engagement around the show, and the writers and cast members are so good about interacting with the audience. When it airs on Sundays are you checking Twitter obsessively?
We tend to watch every episode as a writers' room. We go to someone's house, we order in food and wine, and we watch the show with our audience. We are all on our phones reacting to the episode with the audience, and I love it. I love engaging with the audience because they have such strong opinions. I feel like some of the most Twitter trending topics that we cover, we hit those topics in the writers' room because they interest us.
One of the things I love about the writers' room is that it's sort of a safe sanctuary that protects its space, where we're not trying to perform to meet audiences' expectations and we're not trying to hit a ratings mark. We are trying to tell honest stories about these characters that we have created. And given the fact that our fans are rabid and they love the show—we love that.
There are no shows on right now that look like ours, so we have the opportunity to tell stories that other shows can't. It's a real sort of exercise in truthful storytellings about the Venn diagram about what stories can we tell, what stories are we interested in telling and what stories do our girls deserve as far as their narrative.
There's a depressing lack of diversity in Hollywood. As writers on the rare show with an all-black cast, do you feel pressure when it comes to representation?
Some critique the show, that it represents black people but that's not my story. That's sort of the framework of that critique, that I can appreciate that story you're telling but that's not true to my life. And to that, my answer will always be make that story, make your own story. I encourage people from marginalized communities who don't see themselves reflected to go make the story you want to see. I think now we should strike while the iron is hot.
Right now Hollywood, in what seems like for the first time in a long time, is hungry for diverse storytelling and of the truth of that word—it's not just about adding one black person to a cast. They are trying to figure out how you tell diverse stories from behind the camera, in front of the camera, in the writers' room. Insecure is met with critique, I hear that critique, but my answer is that we're telling Issa and Mollie's story, and if that isn't your story and you don't see yourself reflected in our show, you can create your own work. My hope is that this is the siren call for artists out there to continue to create new things.
Just from social media, Insecure seems like such a fun place to work. Do you have any fun crazy stories from the set?
I feel embarrassed that our show actually lives up to the Instagram hype. It's embarrassing because usually Instagram is the trailer for the movie, and the actual movie for people's lives is a lot less fun. But the Insecure trailer that all of us post about is so so real. We have such a fun time.
One of my favorite stories to tell is that when we were first writing the show, we were in a full-on war with Nerf guns. We had different sides, and everyone was on edge because at any time we could start shooting Nerf guns. Issa and [Prentice Penny, Insecure showrunner] invited me into their office and I was like, "I am for sure going to be taken hostage." And then they said, "It's not a Nerf-related request. We want you to play Kelli on Insecure." It was the most insane moment.
I remember weeping when I left the office, and I remember thinking people were probably like "What did they do to her? Did they take her Nerf gun? Is she fired?" [Laughs] But it just speaks to the spirit of the show. It's just incredible to work on.
How was the transition from being in the writer's room to acting in the show?
Part of our process is that when we write scripts internally, we group write everything. For every episode, every writer works on it and we read the final script at the table with just the writers, just to hear it out loud. When Kelli was created, I kept reading her at the table reads. After the fourth episode where there was a Kelli, that's when they were like "How does this interest you?" And I was like, "I want it so bad."
[Issa and Prentice] have been so great. They're huge supporters, and they knew when they hired me that I was a writer-slash-actor. I had no sort of motive or hustle to get a part on the show, but it was my first television writing job where it was scripted TV, so I was like "I really want to do this well." I was out of my depth. I wanted to take what I learned at SNL and see how I could apply it to this writers' room. I was a focused writer like I said, it really caught me off guard, I thought it was a Nerf war.
I'm ready for Kelli to get a boyfriend. Can we expect that?
I can't confirm or deny, but here is what I'll say about Kelli and her love life. Kelli is a complete and whole person, but her men have been recreational. It's so fun and so nice to play someone who is not seeking someone romantically and is completely full-filled, a thrillseeker who is just like, "You know what, I want to go out and I want to have fun, it's not about men, it's great that they're there, but I don't need them". Molly and Issa are such relationship women, and they're trying to figure out their relationship as people to each other and as friends and in connection to men, so I feel like Kelli is such a nice balance to that. I don't know if she will ever be locked down, but that's the fun of playing someone who is sexually free and uninhibited and is in it for fun.
Oh, I completely agree. Watching her devour men is the best. I just want her to have more screen time.
[Laughs] You and me both, girl. All of the characters are extensions of Issa. We tell her story. When I get my own show, then that's when we will go full Kelli.
Kelli would be so much better at keeping a hotation.
She really, really would.
Is there anything you can tell me about your own deal with HBO?
I am very excited about it. I am working on the pilot presentation, and I'm excited for you guys to see it. The development process is important and they are so helpful at HBO, making sure that the show I am creating is the story that I want to tell. I feel like there is nothing else like it on TV, and not to circle back, but this isn't what Insecure is doing at all. It's something new and something different, and I'm excited to bring it in. It's for sure a comedy, and I think it's going to satisfy people.
Photo via Getty
Sign Up For The Morning PAPER