You may not recognize her name, but you definitely know her designs.
Getting her start in Jean Paul Gaultier's atelier as his first assistant and later working with Balenciaga under Nicholas Ghesquière's reign, Parisian handbag designer Myriam Schaefer has been the driving force behind some of fashion's most famous "It" bags for decades. Most notably, she created Balenciaga's "City" bag, which debuted in 2000.
Proudly toted around by everyone from Kate Moss to Beyoncé, the moto-style top-handled bag epitomized "effortless cool" in the early-aughts. Its defining characteristic? The soft, supple Italian leather that was sensibly selected by the tastemaker herself. "I'm not a psychic so I couldn't tell you exactly, but... as soon as I did it, I was sure that [the City] would be a big success," Schaefer says. The distressed, lived-in look of the City was a far cry from its structured leather counterparts — the luxury handbag standard of the era — and due in large part to the material itself, the City transcended trend and solidified its place as a classic.
Almost 20 years later, Schaefer continues to charge forward in a league of her own, now bringing the same careful attention to detail and signature craftsmanship to both her namesake line, established in 2011, and her exclusive Tibi collections. She's so careful, in fact, that from farm to factory, it takes upwards of 6 months to get exactly the product she's looking for.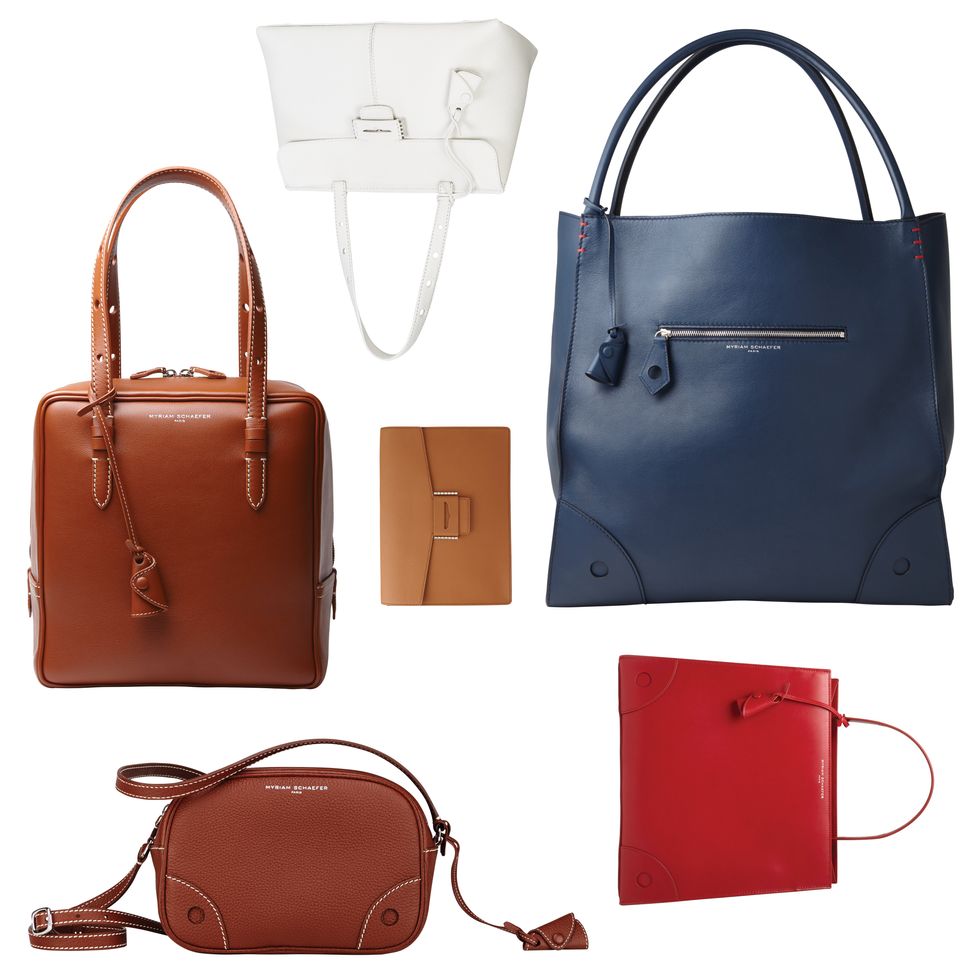 A selection of Schaefer's luxury handbags, expertly crafted for both form and function
But she can't say the same for her contemporaries. Pointing to the current saturated market and the need to keep up with foreign consumer demands, Schaefer notes that larger, well-known labels have begun to forsake quality for quantity. "People are watching me as if I'm crazy [because] I don't have this volume," she says. "[But] I don't want it, because as soon as I get it, I am not going to do the quality that I want. I need to choose my leather and to know where it's coming from."
Another change impacting the industry along with the emphasis on high volume is the demand for lightning-speed production times — and not just for fast-fashion retailers. Instead of respecting the age-old handcrafted process, Schaefer laments, designer labels nowadays "work exactly like Zara, but they put 'luxury' on it."
"The problem is there is no difference between Zara and [designer labels] because they work exactly the same."
Schaefer's creations, which can be found in international boutiques, provide a much-needed antidote to the industry's murky standards. Her classic collection offers a wide variety of styles, from a poppy-red bowling bag to a denim and leather front-flap satchel, and showcases Schaefer's trademarks: premium materials, clean lines, minimal hardware, meticulous stitching and a barely-there logo. In Schaefer's world, the quality of her work will always speak louder than the label itself.