Mia Carucci surrenders to no one but themself. Premiering the music video for "Surrender" the LA-based DJ, musician and multi-disciplinary artist submits to themself, pushing viewers to their knees alongside them.
An offering to the double-headed god of synth-pop and sound art, Carucci's single, released February 6, laces together the drones, synths and ambient textures explored in their debut EP As Above So Below, cinching them into a latex corset that leaves listeners gasping.
In the single's visual we see Carucci, as if from our knees, as they strut down an undisclosed city street in a latex catsuit. In stark cuts, Carucci transports from city to forest, where we find them scrambling through lush foliage and falling to their knees in prayer. Swapping their dominatrix leash for a black prayer veil, Carucci juxtaposes power in each space, effacing the individual in the presence of the universe.
"No matter my (your, our) dreams, plans, desires in this life we are at God's mercy," Carucci says of the visual's imagery. "Fight it and live in constant friction with the universe, surrender to this truth and find harmony surrounding you."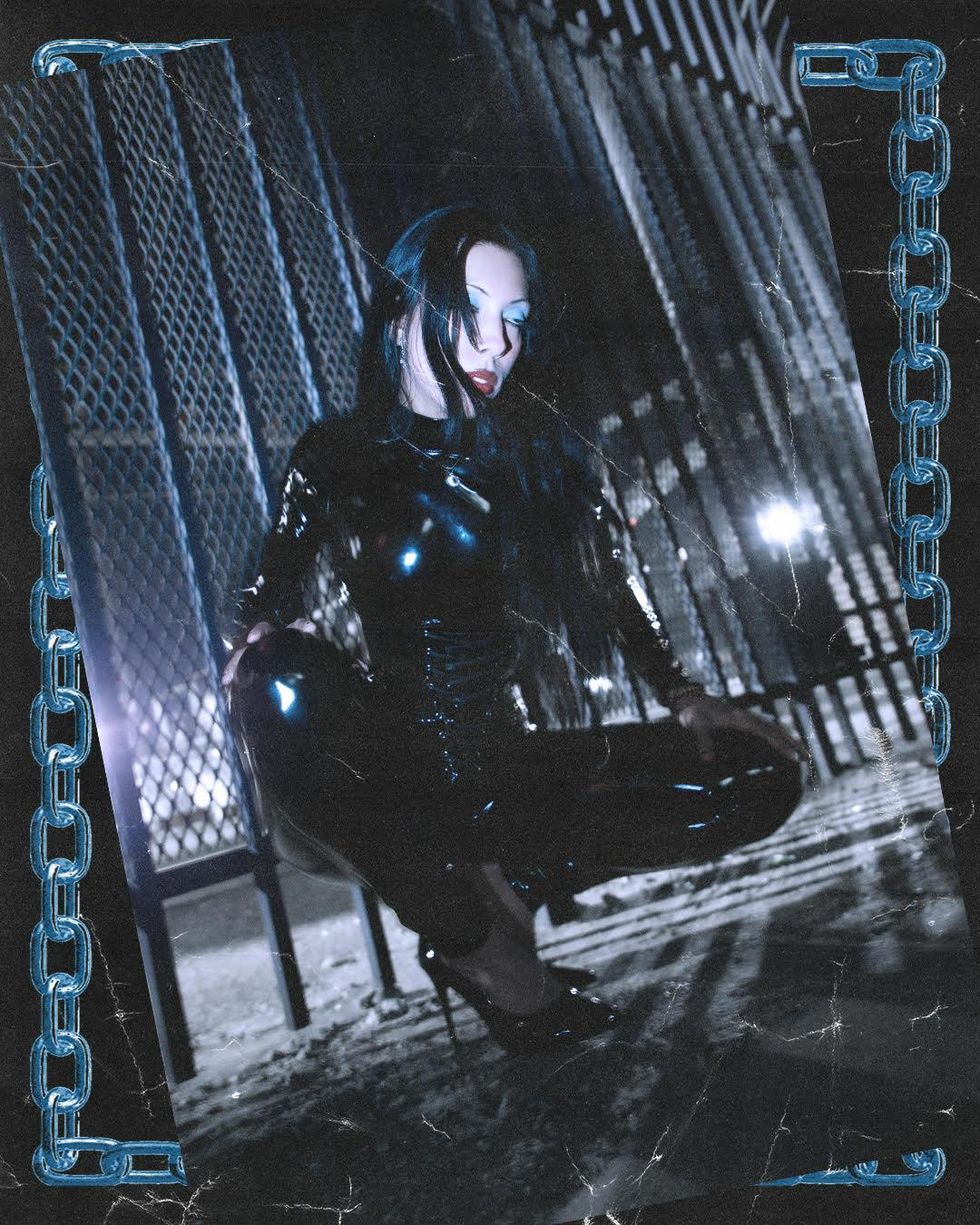 Sonically, "Surrender" holds friction, departing from the light and eerie melodies of As Above So Below and coming into a more assertive lyrical style. Where they once wove whispers through heavy trip-hop, dub and Latin-inspired drums, on "Surrender" Carucci cuts gothy synth-pop with straightforward, seductive vocals.
"Surrender" leans into traditional song structures, recalling in listeners Carucci's Spanglish R&B reimagining of shoegaze classic "Kinky Love," cementing Carucci as a sonic shapeshifter and embracing the paradox of power play.
"The 'Surrender' short film honors the domineering mommy and fae angel dichotomy that lives within me," says Carucci.
Carucci contains multitudes, announced as the face of the Nike x Ambush drop alongside the release of "Surrender." Their face plastered across billboards, their voice ringing in your ears: Carucci's artistry is ubiquitous.
Watch the "Surrender" visual below to enter the Mia-verse.
Creative direction by Miwah Lee and Mia Carucci
Photography by Miwah Lee
Editing by Paul Flores
Additional VHS footage by Celina Rodriguez
From Your Site Articles
Related Articles Around the Web
Sign Up For The Morning PAPER