Last week, Melania Trump embarked on her first solo travels as First Lady, a four-nation trip in Africa. She visited Ghana, Malawi, Kenya, and Egypt, touring hospitals and schools, attending teas, and playing with baby elephants. But the trip didn't go as smoothly as intended.
In Malawi, Melania was reportedly met with a few protesters bearing signs regarding President Trump's "shithole countries" comments. She was also questioned about the Trump administration's budget cuts to the United States Agency for International Development, and its elimination of funds for education in Malawi. But the true controversy of the trip came from her outfits. Melania roamed around Africa in safari garb: khaki dresses, shirts with utilitarian pockets, jodhpurs, fedoras and ties. It was all very Out of Africa. In other words, Melania dressed like a 19th-century colonist (and the Nazi archaeologist from Indiana Jones).
i'm sorry for tweeting about melania trump again but "pay attention to what i do, not what i wear" is a wild thing… https://t.co/SRvS39jsw9

— g a b y (@g a b y) 1539009283.0
Melania was especially criticized for wearing a white pith helmet while on safari in Kenya. Pith helmets are a potent symbol of white supremacy and colonialism. Nineteenth-century colonists believed that the strong sun in "the tropics" would attack white people's nervous systems, leading to infertility, depression, memory loss, and "outbursts of excessive passion." They wore pith helmets, red vests, and quilted spine pads to protect themselves from a so-called "actinic ray." And Melania wore one to look chic!
In an article for Vox's The Goods, writer Gaby del Valle spoke to Charlene Lau, a fashion historian, about Melania's "Wildest Dreams"-esque looks. "It is possible that inspiration for such dress is gleaned from mass stereotyping and superficial ideas of [African] nationhood," said Lau. "While this may be the case, these notions do have roots in colonialism, spread through the cultural imagination via literature, film, music and the visual arts."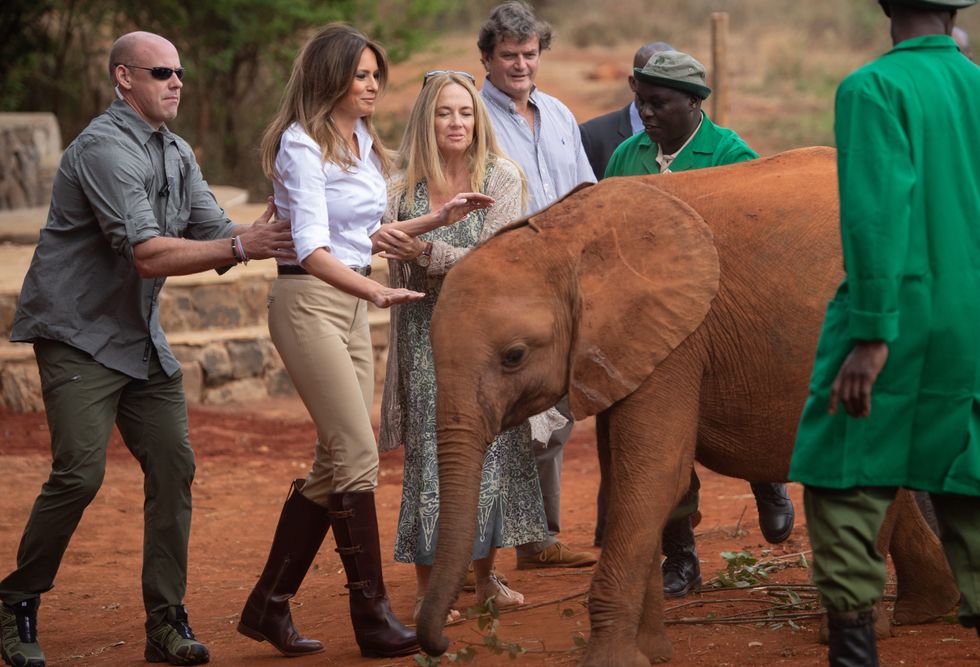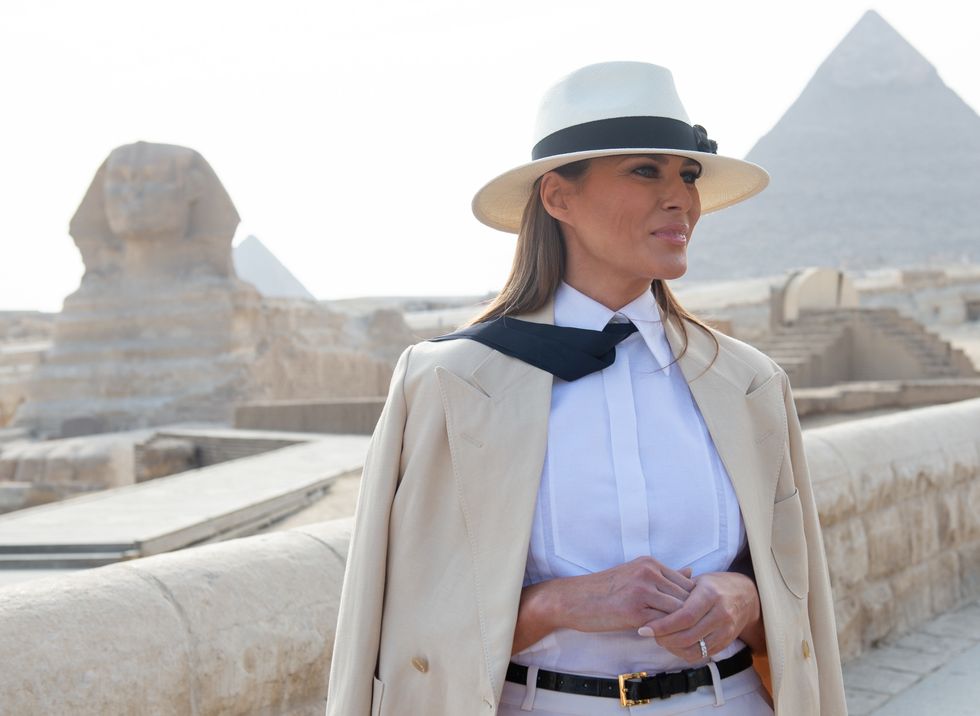 Melania did not respond well to questions about her attire. "I want to talk about my trip and not what I wear," she reportedly said. But considering her husband's policies regarding "shitholes," and the fact that white supremacists like Stephen Miller serve prominently in his administration, her outfits said a lot more than any baby elephant interaction ever could.
Thank you Kenya 🇰🇪 🇺🇸 https://t.co/JrHncob8Qp

— Melania Trump (@Melania Trump) 1538931950.0
This summer, when visiting children that the Trump administration placed in immigration detention centers, Melania wore a Zara jacket with a slogan that read "I really don't care, do u?" Despite her protests, her clothes speak quite loudly for themselves.
Photos via Getty
Sign Up for the Morning PAPER