Mae Whitman is known for playing quirky characters over the years, from Arrested Development's Ann Veal to Parenthood's Amber Holt. Now, she's taking on a different kind of role in Good Girls as a mom who robs a supermarket with her sister (Christina Hendricks) and friend (Retta) to make ends meet. While her witty personality shines in her new character, it's a more dramatic plot line than her roles in The Duff, Arrested Development and Parenthood — but it's a good move for the 29-year-old actress who has been working since she was six. She initially got her start on State of Grace with Alia Shawkat, and years later they'd work together on Arrested Development. When she's not acting, you can see her modeling friend Rachel Antonoff's clothing or hanging out with former co-star and roommate Miles Heizer on Instagram.
With Good Girls' first season underway, we caught up with Whitman about her new show, the #MeToo movement and her friendship with Lauren Graham.
How is your role as Annie on Good Girls different than your previous ones?
It's pretty different. That's what really attracted me to it. I feel like I usually play the "wise beyond her years" teenager or the "pragmatic mature young person that you can't believe is 17." So it's been fun for me to follow my heart more and leap before I look and tune into the part of me that's a little less responsible and pragmatic, flies by the seat of my pants and is a bit more wild and kind of deals with my consequences later. Annie injects a sense of wry sarcasm into the more intense situations, so that's been really fun for me. On top of that, playing this wacky, wild girl, I get to play a mother, which is really amazing for me especially because I was a child actor. It feels really sacred and special to have a TV child and sit in that seat and be on the other side of things.
You haven't played a mom yet.
I had a baby [on Parenthood], but I haven't had an actual child, so it's pretty dope. I adore Izzy — he's the most special child on the planet. I've always had a maternal instinct, so be able to play that out with a kid where there's so much true love between us has been a gift.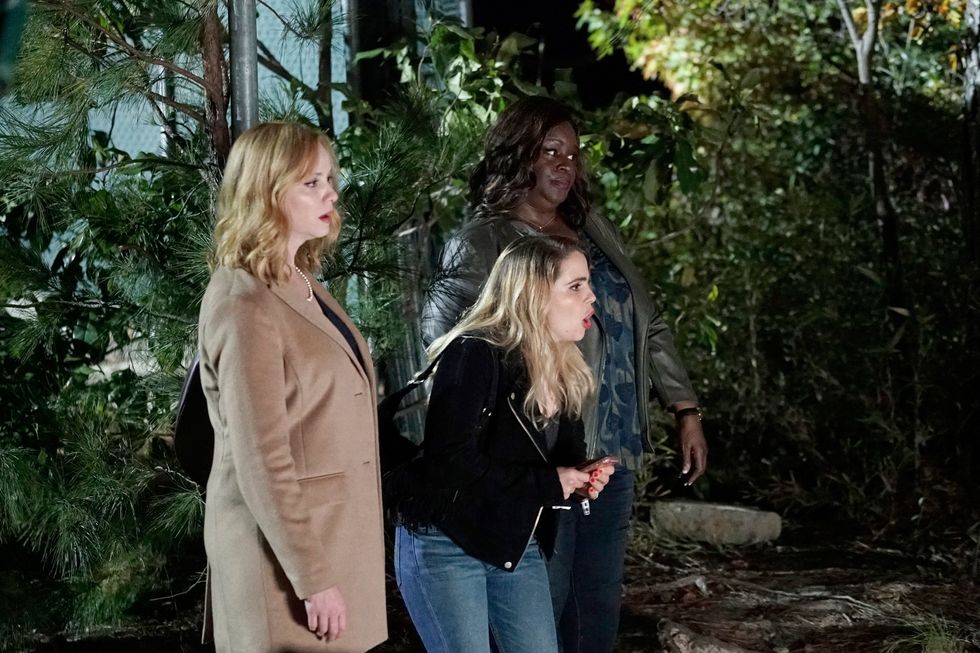 What's it like having Zach Gilford once again be your romantic partner?

Can you believe it? For years the big joke has been that I've been hunting down all the Friday Night Lights guys. I'm very close to having my entire collection except for the slippery number 33, Tim Riggins, who continues to elude my grasp. They all know I'm a huge Friday Night Lights fan. On top of that, I've always thought Zach was such a great actor. I think he provides such a different perspective to this relationship. It's this classic thing of two opposites attracting in high school and going through this situation, but when real life kicks in they don't have the skills to handle each other and the responsibilities they have. I love how much he balances me out. It's really fun to see what their relationship used to be like. We always have a lot of fun together.
There was some interview where you said you've made out with three of the Friday Night Lights stars.
I've made out with Jesse Plemons, Matt Lauria, of course, and Scott Porter was my husband. I'm killing the game. I just literally can't seem to get the Riggins connection going. Now I'm sure he's probably terrified of me because everyone and their mom is like, "You know she's coming for you, right?" I'm assuming he probably has a restraining order. But I'm sure he knows I'll get him eventually.
Related | Ariel Winter on 'The Last Movie Star' and Burt Reynolds
This is your first network TV show since Parenthood. How does it feel to be back on the small screen?
It's awesome. I love working at NBC. It feels like home for me — there are so many great people there. The studio is so supportive of us. They've always encouraged my quirkiness and weirdness. On Parenthood they were like, "You change whatever you want. Change your hair however you want. Wear whatever you want," which is so unheard of for a network. They're really interested in having this stuff be honest, different, progressive and true. There are amazing female executives we work with who are so excited about the show. Good Girls is not like anything I've ever seen on network TV before, so it's pushing boundaries they haven't really pushed before.
I think it's time for you, Christina and Retta to be center-stage.
I never think about stuff too much — I kind of move through. To me, one of the things I love about the show is that we're three women and three interesting people: weird, flawed, imperfect and unapologetic. We just are who we are and we learn and grow together. There's a lot of love between us. They're really strong, funny and different. I just want that to be a fact of life on all television all the time. There are just really funny, smart interesting women at the helm. You just come up with something really different when the leads of the show aren't men. Coming to work every day was just hanging out with your best friends and getting to create something you really believe in, so I felt very, very lucky from day one, and I still do.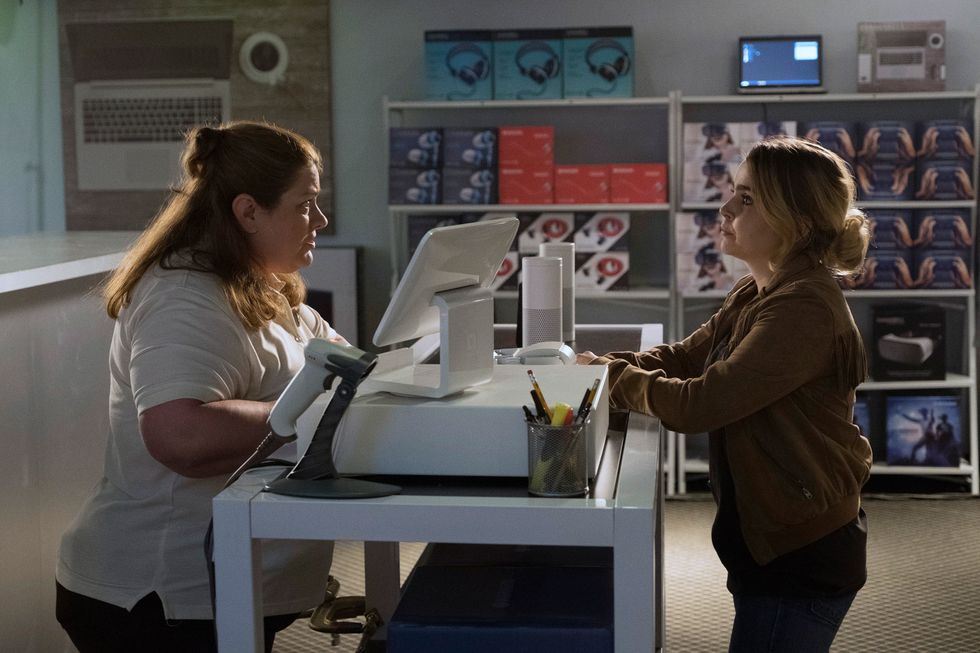 I want to live inside your friendship with Miles and Lauren Graham.

Correct. As do I and then I'm like, "Oh my God it's me I don't have to fangirl about this from the outside I somehow am involved in this relationship." It's the best thing in the world. That was pretty immediate. I remember Lauren and I had only been working together for a month or so, and I had mentioned I loved cooking but I never could never afford a nice pan, so I had all these really bad pans that kept burning. For Christmas a month later she gave me the most beautiful LaCruze pan that I still have today. I was so impressed by how she had listened to me in this passing conversation and been so considerate. We're pretty much inseparable. We talk on the phone all the time, and Miles, as well.
I was only able to go home for two days, but Miles still lives with me, so it's the best. We have matching tattoos. I only had two days and basically the only two people I saw were Miles and Lauren. They're my every day friends. We tell each other everything. We do banal stuff like going to the DMV together. I thrive off their presence, and they fill me back up with life when I'm down. I feel beyond lucky to have them as a family. I feel the same way about Retta and Christina. When a show ends you're scared you're not going to see the other actors anymore, but there are those rare occasions where you bond with people so closely you know you'll see them more in real life as opposed to on the show. Luckily I've been able to have that with them. I mean, to have your best friend live with you is a total gift.
Related | 'Gemini' Is the Noir Film Critiquing Our Obsession with Fame and Social Media
What do you look for when you're selecting projects?
It's hard to put into words, but I grew up where my parents would choose the roles and they were so considerate and always tried to talk to the people involved and see what the experience was and what the vibe was. It's all about the intentions and where people's hearts are. I'm a big lover — I always follow my heart and put that first. I like to do roles that help communicate something positive, like Parenthood. If you do it in an honest way, you really help people.
You were a child actress and you said your parents really protect you throughout the business. How are you handling seeing former child actors come out and discuss the harassment they endured in the #MeToo movement?
I don't have any words. It makes me just want to burst into tears. We've got a lot of stuff that's making me want to burst into tears, especially anything where childhood innocence is concerned. I feel extremely protective. Anytime I'm on a set I immediately feel very protective of the kids, make sure their parents are around and that they're cool, make sure they're feeling respected and heard. Even not in light of those huge situations that are horrific, it's a tricky environment for a kid because it's mostly adults, things move really fast and it's not really filtered. You're toying with kids' emotions. So you want to make sure you're going through it in a considerate and present way.
Photos Courtesy of NBC