This is What You Missed Last Month (According To Linux), in which nightlife it-girl Linux takes us behind the velvet rope and into the VIP section of Scene-City. Through her extreme (sometimes exaggerated) lens, Linux gives us the tea on what really happened at every party-of-the-century that floods our Instagram feeds. (A note from the author: don't take what she says too seriously — she's just a club kid after all).

How lavish a lifestyle would you lead if you were the most cunt socialite on earth? Did you know models off-duty only party in places photography is prohibited? The irony! Are you aware that the richest kids you follow are referencing the less fortunate when they're snorting lines of mephedrone in abandoned Bushwick warehouses? The juxtaposition! In this world-exclusive edition of Lifestyles of the Bitch & Famous, we'll explore the fabulous and private domains of New York's exclusive scenesters.
Keeping your diamond-studded finger on the city's pulse is a lot like the crashing of a subway train: No matter how triggering it is, we just can't look away. And to that I say: Don't!

I'm no Robin Leach; in fact, my enemies would claim "Leech" more fitting. My name is Linux, and I am the New York Downtown It-Girl. Each and every month I fill you, my loyal and wise-beyond-their-years readers, in on What You Missed in our vibrant city's nightlife circuit. So drink up, besties, we've got a lot to get through. And yes, I'll hold your hair if you're feeling sick, but I only ask that you throw up inside the Uber Black... I just love watching the driver clean it up!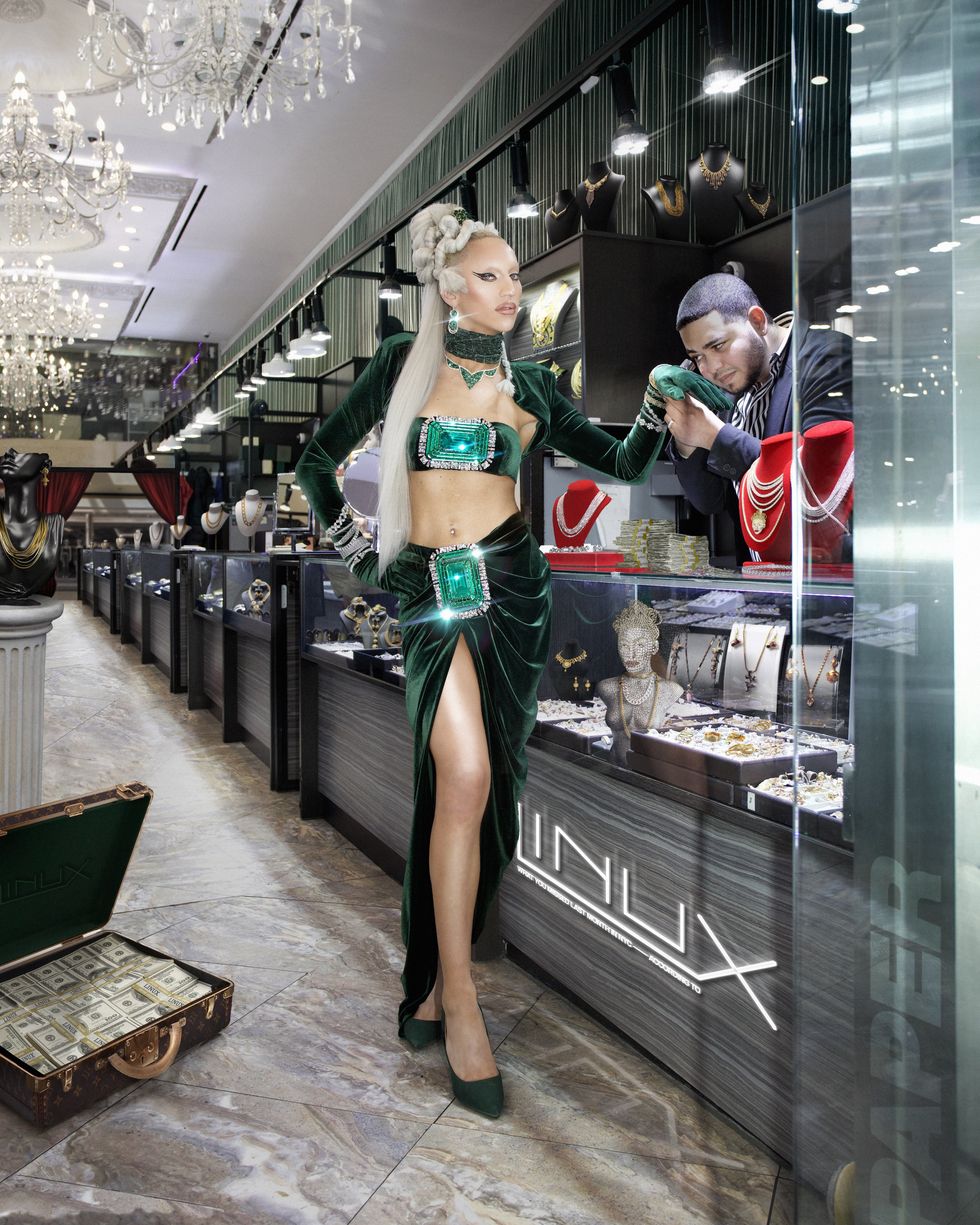 Clothing: The Blonds, Jewelry: TraxNYC
March 16: Mock's Magazines
So there I was, bored out of my mind on a Thursday in Manhattan. It was already halfway through the month and not a single stunt had been stunted! Can you imagine writing a column about how major NYC nightlife is and in two damn weeks no bangers had been banged? Thankfully, that was all about to change off the back of New York's premiere partyboi, Evan Mock. HBO's former pansexual-for-pay king invited all the model-slash-actors to downtown's iconic Iconic Magazines to ring in his newest gig with canned cocktail brand JuneShine. Nothing is funnier to me than a celebrity throwing a party to celebrate them receiving a fat paycheck. As a capitalist, I'll drink to someone rich getting richer any day! Hours prior to the event, the gang transformed Mulberry Street's last standing bodega into a Mock-Centric nightclub with a disco ball and DJ booth to match. By 7 PM, people I did not know but did recognize began filling up the space as DJs Juju & Booker took control of the music. (Are they a duo or two entities? The world will never know!) By the end of the night, I was sitting on the curb outside, drinking a JuneShine with a random girl waiting for her Uber to take us all to her apartment for afters. All roads in New York somehow lead to being cracked out in a car crossing the bridge at 7 AM!
March 21: H&M Isla Hennes
If there's one thing about me... I love an H&M party. And no, that's not me kissing ass to get into their Mugler collab next month... *wink*! Part Spring 2023 presentation, part dinner party, the Swedish fashion brand sent cutesie little invites to all our agents to stop by their Williamsburg boutique and experience their latest "Isla Hennes" collection. The whole vibe was Mediterranean Vacation, very White Lotus season two tease. This was much-needed schooling on what to wear to such a trip for me, as for the last one I took to the Mediterranean my only fashion reference was Snooki when the Jersey Shore cast went to Italy. Upon entering I was immediately greeted with a mezcal on the rocks (my fav!) and shown the newest H&M looks that'll be hitting the stores this season. After taking out my daddy's credit card and buying the entire line, I was ushered to the dining room with all the other cool people for a multi-course dinner by renowned chef Camille Becerra. Other notable attendees included superstar Richie Shazam and celebrity stylist Beverly Nguyen. On my way out, a tarot card reader told me a life of fame and excess was on the way for me... I slipped her a twenty. I love you H&M, but next time let's go to the real Mediterranean! Until then, Williamsburg will have to do. Now about that Mugler invite...
March 24: HOE Five-Year Anniversary
When I first moved to NYC, there was only one cool party in the city where the DJs played pop music. The name was Heaven on Earth, a monthly by Ty Sunderland thrown at downtown's China Chalet. The spot was a Chinese restaurant by day that Sunderland turned into a pop rave by night. Sunderland would bring in two stripper poles for the crowd to dance on, and, when pop hits like "Bad Romance" played, the gays jumped so hard in unison you could feel the entire building shake. (I'm still shocked the floor never caved in!) When you were exhausted from dancing you could smoke a cigarette inside over by the bar. Unfortunately, like all good venues in New York, China Chalet closed its doors for good during the pandemic. Five years later, Sunderland took a chance and brought Heaven on Earth back for one night only at Brooklyn's Sugar Hill Restaurant and Supper Club. To put it lightly: the night was a complete success! There's just something about turning a restaurant into a rave that makes these kids go crazy! Gays, dolls and celebs filled out the multi-room supper club and raged to pop hits until the early morning. Ty brought in the same stripper poles from the China Chalet days, where nobodies felt like somebodies, dancing like J.Lo in Hustlers in the thick fog. In a side room, fashion gays gabbed and talked shit with stars like Adam Lambert and Christian Siriano. I know I speak for the whole scene when I say: please Ty, bring Heaven on Earth back full time and make her permanent home Sugar Hill!
March 29: Sulwhasoo at the Metropolitan Museum of Art
They say having an unexplainable feeling of being famous is an early sign of schizophrenia. If that's the case, run me my diagnosis, baby, because tonight I feel like a star! At the last moment of March, Korean skincare brand Sulwhasoo spent the dollars to celebrate their newest partnership with the Metropolitan Museum of Art. Rules of New York society: when you're invited to wear a gown to the Met... you wear a gown to the Met. The evening began with a cunty step-and-repeat on the iconic Met steps. My turn for photos was after Rosé from Blackpink and before Charli XCX. Post-red carpet and on the way to the bar, the three of us talked about how excited we are for the upcoming Coachella season (which I am also covering right here for PAPER... stay tuned!). After picking up our cocktails, we spoke about how much we miss carbs before the three of us posed for even more pictures that the BFA guy chose to not tag me in. (You'll regret this, Mr. BFA!) I later shared a bathroom lip-gloss moment with Song Jia and Duckie Thot. Bored of the girls' bathroom, I took a chance at the men's, where I ran into friends Diego Villarreal and jewelry designer Austin Smith. The three of us also shared a lip-gloss moment. The thick of the party took place in the Met's Temple of Dendur. I've lived through many major nights, but there's absolutely nothing more iconic than drinking with a bunch of A-Listers around millions of dollars' worth of ancient Egyptian artifacts! Of course, the night wouldn't have been complete without a giant goodie bag of Sulwhasoo skincare. If you notice me getting hotter in the next few weeks... it's not Sulwhasoo, it's the baby blood we all drank at the Illuminati meeting afterward!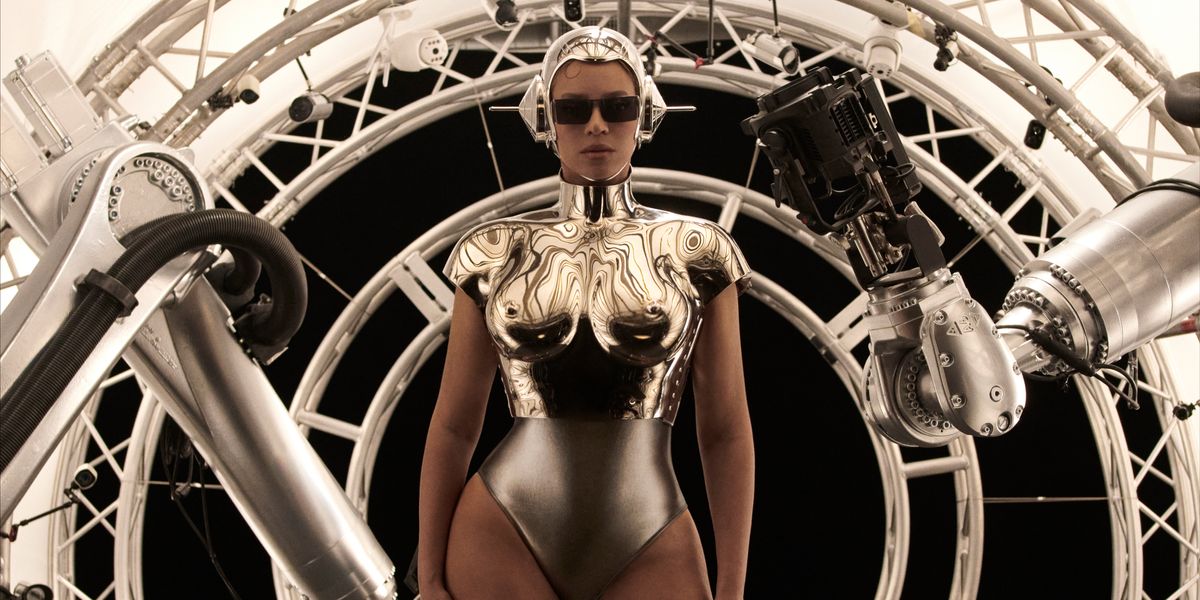 Music
Story by George M. Johnson / Photography by Mason Poole / Styling by Shiona Turini / Hair by Nakia Rachon / Make-up by Rokael Lizama / Creative direction by Andrew Makadsi
Story by George M. Johnson / Photography by Mason Poole / Styling by Shiona Turini / Hair by Nakia Rachon / Make-up by Rokael Lizama / Creative direction by Andrew Makadsi
01 December