In the wake of the Manchester bombings many celebrities have taken to social media to express their solidarity, including Kim Kardashian who yesterday published a series of tweets reacting to the attack that killed 22 and injured many. Her first post included a photo of Ariana Grande, herself and friends enjoying a party with the caption, "Concerts are a place to let loose & have fun. So scary not to feel safe in this world. Ariana Grande I love you".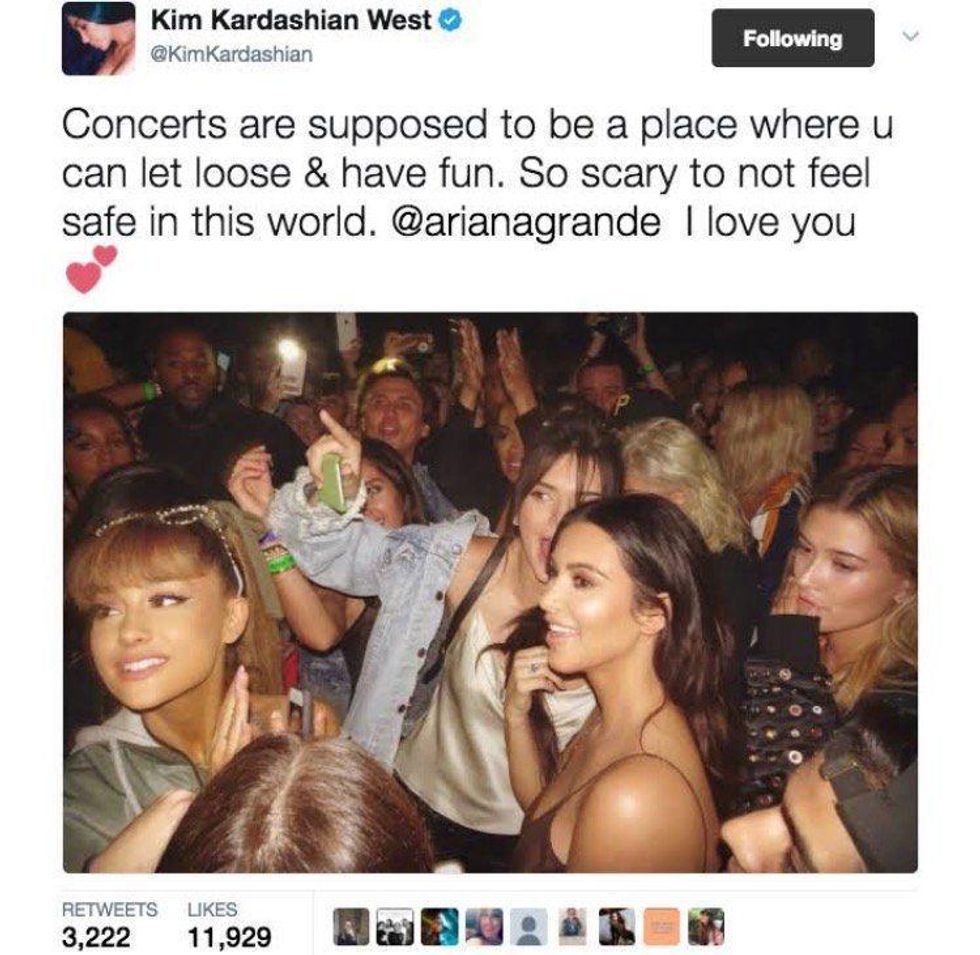 While it's easy to see where Kim was going with this, the backlash was swift and severe. Later, Kim followed up with two separate tweets sending her condolences to the families involved, but not before much of the Internet called her out for the "inappropriate" photo accompanying her tweet. Kim deleted the post after an hour, but the screenshots live on.
@KimKardashian We're never going to forget when you posted an inappropriate pic and made the #Manchesterbombing all… https://t.co/Mus8hPSdpk

— Stephanie Sidley (@Stephanie Sidley) 1495569956.0
@colIarbone @WilliamBill2013 @jennyclairefox @KimKardashian @ArianaGrande Ariana is obviously traumatised by this,… https://t.co/JBhHAMqGd6

— Jing min (@Jing min) 1495561963.0
@KimKardashian @ArianaGrande Children died, and you are posting a picture of a party, parents are crying for their… https://t.co/F39VoxX6jS

— NonoLe (@NonoLe) 1495560045.0
Kim Kardashian really posted a pic of herself at a party with Ariana Grande as a tribute to what happened in Manchester

— WhoElz Rothschild (@WhoElz Rothschild) 1495559795.0
Many of Kim's fans also came to her defense after the tweet, but the post's deletion proves that the reality star had become aware the tweet was offensive. Nonetheless, the intentions were there and anyone reaching out with love in such a time should not expect to be torn down.
Twitter, hey? A slippery slope.
[h/t Harper's Bazaar]
Image via Getty
Sign Up For The Morning PAPER