This weekend saw a wave of nationwide marches and actions in over 700 cities. The demonstrations were held in support of immigrant families and in opposition to the zero-tolerance family separation policies set forth by the administration, and against the recent reinstatement of the U.S. travel ban affecting Muslims stateside and abroad.
Related | At Families Belong Together Day of Action, Leaders and Protestors Ask, How Did We Get Here?
Last week, President Trump issued an executive order to end his own administration's policy of separating families at the southern border, however there have been no plans offered as of yet that will effectively and permanently reunite loved ones.
This Saturday in New York, thousands of marchers convened in the morning to cross the Brooklyn Bridge from downtown Manhattan and assembled for an afternoon-long rally in Cadman Plaza. The hashtag #ProtectFamilies was used to promote the gatherings, which were organized by the New York Immigration Coalition (NYIC), a social justice initiative aiming to unite immigrants, families, and allies. The proceedings were co-sponsored by over 50 New York-based but nationally influential activism and human rights-centered organizations, including the American Civil Liberties Union (ACLU), Callen-Lorde Community Health Center, Children's Defense Fund of New York, and Refuse Fascism NYC, to name a few.
Speakers included members of the NYIC; Steven Choi, the group's executive director said, "By forcibly ripping families apart at the border, the Trump administration showed the world how morally bankrupt it truly is...We urge everyone to demand action from their elected officials to end family separation and incarceration. What is happening defies all moral decency, and we will not stand idly by."
Perla Lopez, a youth organizer for Make the Road NYC said, "It is heartbreaking to see children being separated from their families. I know first hand how traumatic it feels to be separated from your mother; at age 10, I did not know when would be the next time I will be reunited with my family. These detention facilities are no place for children or for families. We must work together to make sure that all immigrants are safe and free and put an end to the xenophobic and racist policies that are being led by this administration."
Rama Issa, the executive director of Arab American Association of New York, shared a powerful story about grieving for her father, a Syrian refugee who died several weeks ago in Damascus.

Rally attendees also heard from actress Kerry Washington and the Reverend Al Sharpton. Below are full transcriptions from their powerful speeches: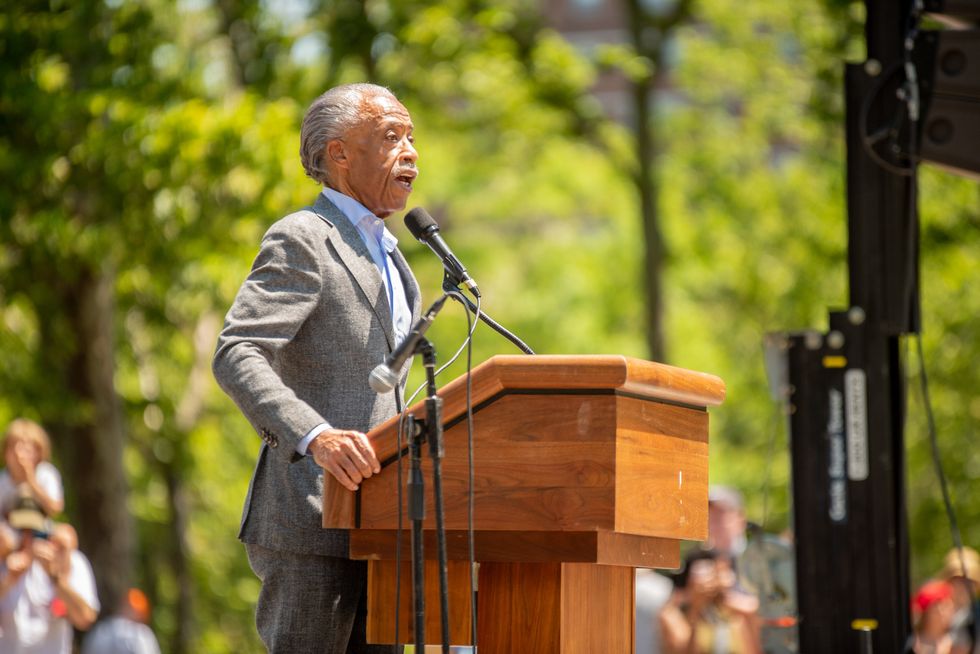 Al Sharpton:
We went as a gathering of Muslim, Jewish and Christian ministers. I told them that first of all, for the evangelicals to be supporting Trump is a walking oxymoron. If you read the Bible, whether you believe it or not, the story said that an angel told Joseph to take the baby and flee, and he took Mary and the baby Jesus and fled into Egypt, where they sought refuge. So therefore, evangelicals, if you are real Christians, if you are like me, you serve a refugee from Bethlehem. Suppose if the king of Egypt had snatched the baby Jesus from the arms of Mary, then how can you today snatch babies from their mothers' arms and sanctify the one that snatched them? Donald Trump is wrong, he's sinful, he's blatant, and we will not be quiet. So it is important in his hometown [New York], this is where Trump came from. This is where he built buildings, this is where he discriminated with housing. But we send a message to you, Trump: This is what will make America great: Blacks and whites and Muslims and Jews and young and old, they are all here in your hometown to say don't deport, don't break up families. We stand together, and we are not going to let you take these children. I know it's hot out here, but it's hotter in these camps they're putting these children. It's hotter when a mother doesn't know where her baby is. It's hotter when three-year-old children have to go in front of judges. It's hotter when we see separation. And we that come from a history of family separation: Jews who had families separated in Germany, Blacks who had families separated on slave blocks, any family separation may not be the same, but it brings the same reaction. My name is Sharpton, not because that was my name, but because of family separation, and I'm not going to be quiet, while you take a baby's name; a baby's history; a baby's dignity. Let us stand together; let us fight together; let us march together. This is our time.
Kerry Washington:

I matter! We matter! I am the people! We are the people! Cheer for yourselves! I'm so grateful to be here. I love this country, but let me tell you something: I love this country, not because it's perfect. Nobody I love is perfect. Nobody who loves me thinks that I'm perfect. I love this country because it has the potential to be a more perfect union. But do you know what it needs to be more perfect union? It needs you. It needs us. It needs to believe in the idea that we matter, every single one of us. I will not stand for what's happening at our border; it is a gross violation of human rights. We cannot stand for the violence that administration is perpetuating day after day, but the gift of what they are doing. They gift of what they are doing is that "intersectionality" used to be a fancy term talked about by intellectuals. They are coming for so many of us that we have no choice but to know that we are stronger together. We have no choice but to know that every single one of us matters. When we say "I matter," when we say "we matter," we know that everybody is in that umbrella. This country comes from immigration. Slavery is a part of my legacy. I understand the legacy of family separation because slavery is a part of my story. And so is immigration. My grandparents on my mother's side came to this country through Ellis Island in the '30s from the Caribbean, and they came here like every immigrant, seeking better opportunities because of a lack of opportunity in their land. Running from poverty, running from racism, running from a place where they couldn't fulfill a dream. I am the fulfillment of their dreams. And I will not stand for somebody else turning this country further down the road of racism and disenfranchisement. Enough is enough! But I'm going to warn you: as you stand out here today in this heat, I'm going to warn you that this is a marathon. I need you to be strong. I need you not just today to stay hydrated, I need you to stay hydrated every day. I need you to get enough sleep. I need you to eat right. I need you to look out for your neighbor, because this fight is going to be a long one, but it's going to be worth it. Because if we do our jobs in a representational democracy, and we show up, and we say we want to fulfill those first three words of our Constitution, we can transform the legacy of this nation. So one more time, hold hands, up in the air. You say: I matter! We matter! I am the people! We are the people! If you will bear with me for ten more seconds, I am here as a lot of things today: I am here as an American, I am here as a woman who is concerned about my ability to control my body. I am here as a granddaughter of immigrants. I am here as a member of a union. I am also here as a mother. As a mother, I am outraged. So I wanted to do what I do in my day job, which is to read other people's words. I want to read the words of another mother whose son was held in a detention center. The names have been changed, but the words are hers; they are taken from an affidavit: "My name is Margarita. I am the mother of Carlos, who is currently being held by the office of refugee settlement in a detention center in Portland, Oregon. The first time I realized that Carlos had arrived in the United States was when I received a voicemail from him. He told me he was being held in Kansas City. When I spoke with Carlos, I felt like my soul had returned to my body. I had spent nights without sleep searching and searching for my son without knowing where he was; a torture, day by day. The case manager explained to me that he was going to send me some forms to apply to be my son's sponsor and he asked me for many documents. I was also given a home check. The investigator assured me that in a week they would have results, and in the new year, they would surely give me my son. I got so excited, I even brought some Christmas presents for my son. I have them, still wrapped with Christmas wrapping paper. They give me deep sorrow every time I see them. First, they tell you that in a few weeks you will have your child, then in a month, then in another month, but they never fulfill their promises. With such delay, I ask myself what am I doing wrong? Have I not sent everything they asked from me? I want them to at least allow me to see him, one day, if for a while. What mother wouldn't want to have her son in her arms, if only for a moment?" I want you to keep this mother, and all of these families in your heart. This is about politics, but this is about people. So you keep this struggle close in your heart, and you stay strong for her, and you stay strong for you, and you stay strong for each other. God bless you, I love you.

There are still numerous ways to get involved. You can check out a few suggestions here, donate to NYIC here, and find out about what's next for the Families Belong Together initiatives here.
Kerry Washington Photography: Steven Rengifo/New York Immigration Coalition
Al Sharpton Photography: Jano Tantongco/New York Immigration Coalition