Every so often, country music is blessed with someone who enters the fold and shakes up the genre in an exciting, overdue way. Kelsea Ballerini is the latest to do so, following a recent lineage of seminal artists like Lil Nas X (who redefined what constitutes a country hit with "Old Town Road") and Kacey Musgraves (who ushered in a rainbow-colored era with her album, Golden Hour).
At the 2023 Country Music Awards, Ballerini recruited a cast of drag queens to perform "If You Go Down (I'm Goin' Down Too)," off Subject to Change, as a proud response to the Tennessee drag ban. Kennedy Davenport, Manila Luzon, Jan Sport and Oliva Lux all took a stand against hate, as Ballerini's lyrics offered the ultimate alliance before a crowd of country fans. ("If you go down, I'm goin' down too...")
As of late, she's been touring this important message and will kick off a third leg of the HEARTFIRST Tour this summer with special guest Georgia Webster. The first show is on June 16 in Santa Barbara and will visit cities through Western United States, before closing on July 1 in Phoenix. Before she heads back out, PAPER caught up with country's newest breakout star to learn more about life on the road.
In what ways do you hope you're getting inside the country music machine and shaking things up through your work?
I'm an enneagram nine, which is a peacemaker, so it takes a lot for me to be disruptive but what I'm realizing is being disruptive is sometimes necessary to allow old patterns to come into question, hold people/ourselves accountable, create conversation, and hopefully eventually, real growth. I'm making honest music, working my ass off, showing my happiness, speaking my truth. Isn't that what county music is built on to begin with?
Why do you think your music is resonating, right now? Your star has really risen exponentially in the past year.
I've finally gotten my sea legs when it comes to standing up for myself and what I believe in. I've timidly inched towards it for years, but I took fear of failure or being disliked out of the driver's seat over this last little season, and I attribute this new wave of connection to that. There's a deeper level of honesty that it has allowed me to tap into. It's been nice.
"Being disruptive is sometimes necessary to allow old patterns to come into question."

Where are you most excited to play on tour that you haven't yet been able to?

We have a show in wine country on this next leg of tour. Northern California is heaven on earth and I really romanticize the idea of getting offstage and spending the next day frolicking through vineyards. Doesn't that sound like the best of both worlds?
Is there a tour stop that's been particularly memorable thus far? What happened?

Playing [NYC's] Radio City Music Hall in September was a core memory. It was the day after my album came out, an iconic venue, my friends and family and team were there, and I was also in the middle of a personal shit storm. Showing up that night and being able to be present and put on that show made me feel like everything was going to be better than okay. I've always thought of myself as an emotionally tough person, but I think that's when I learned I'm resilient.
How do you prepare for each show? Any wild pre-show rituals we should know about?
I laugh because I used to just take a big shot of Casamigos with my band and roll right on, but now I have a 10-minute warm up and herbal tea with honey. Maybe it's age, maybe I just care differently now... but don't worry, the tequila still makes an appearance. It's just after the show these days.
Is there a song that you've found resonates the most with fans on tour? Why do you think that's the case?

"Penthouse," it really reminds me of when I first started playing one of my first singles, "Peter Pan," years ago. There's a different magic that the room shifts into. I just hear other women gutturally screaming it and for a song about divorce it feels ironically healing and unifying.
"I've always thought of myself as an emotionally tough person."
Does touring impact the way you approach writing music moving forward, seeing fans' relationship with the songs?

While making my last few albums, it did. I would think, How will this fit in the live show, and consider the overall performance puzzle. However, then I made "Rolling Up the Welcome Mat" and didn't consider anything other than writing my experience as it was happening, and that has been by far the most connective body of work I've ever put out... even live. So I'm hoping that as I venture into making whatever's next, I lose that filter and just zoom back into the music. The rest is glitter.
What do you love most about being on the road? What's the biggest challenge?

As cliché as it is, the 90 minutes onstage is what I love. There's an element of adventure around the whole thing, but at the end of the day it's a lot of sitting on a bus in the belly of a venue, and wondering if it's sunny or rainy outside and sometimes never finding out. So other than maybe finding a good cup of local coffee, I get my fix from 9-10:30.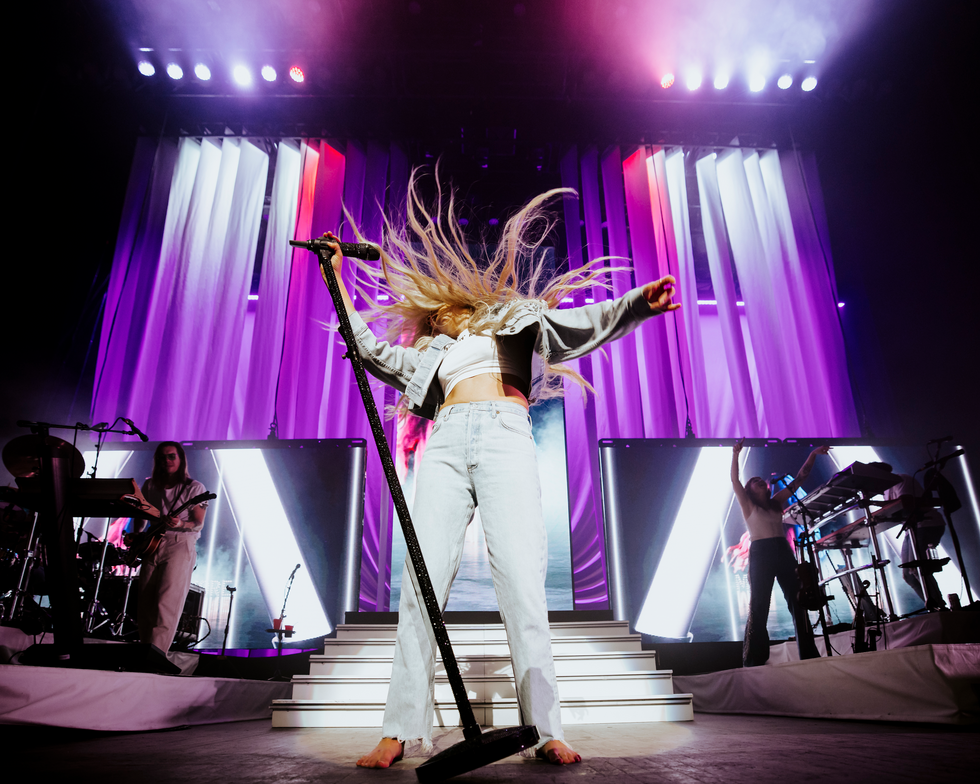 Photography: Jacob Mulka