Artist John Edmonds, who dedicates his practice to documenting the richness of blackness in journalistic, artistic, and inherently spiritual ways, is set to launch his new book, Higher.
Higher is a retrospective 100-plus page, beautifully assembled, full-color monograph covering the first 10 years of his work as a photographer. It will launch at the New York Art Book Fair hosted by Printed Matter tomorrow, September 20; Edmonds will appear at the fair during a signing hosted by Capricious, the book's publisher, the following day at 4pm.Additionally, Edmonds will host a talk and book signing at the National Gallery of Art in Washington D.C. on September 23.
Included among the photos are texts by Dr. Aaron Rosen and Durga Chew-Bose, and a conversation with renowned fellow artist, contemporary painter Mickalene Thomas. The duo candidly discusses everything from taking the time to illuminate the varying facets of blackness through art, to how Edmonds finds his subjects and his use of light to capture their inner glow, to curation of the self in the digital age.
What is also apparent in that conversation is — despite their generational gap — how much Edmonds and Thomas admire one another as peers. On the other hand, their shared moment is representative of a lineage of Black artists sharing truth and mentorship among each other — of seeing each other. In these interactions and reflections of each other's work, the continuation of their art-making practice is ensured, which enriches the legacy of Black artists upholding Black art and the Black experiences captured therein.
Read on for an exclusive excerpt of their chat, and get a first look at a selection of Edmonds' recent work featured in Higher.
The Angel, 2018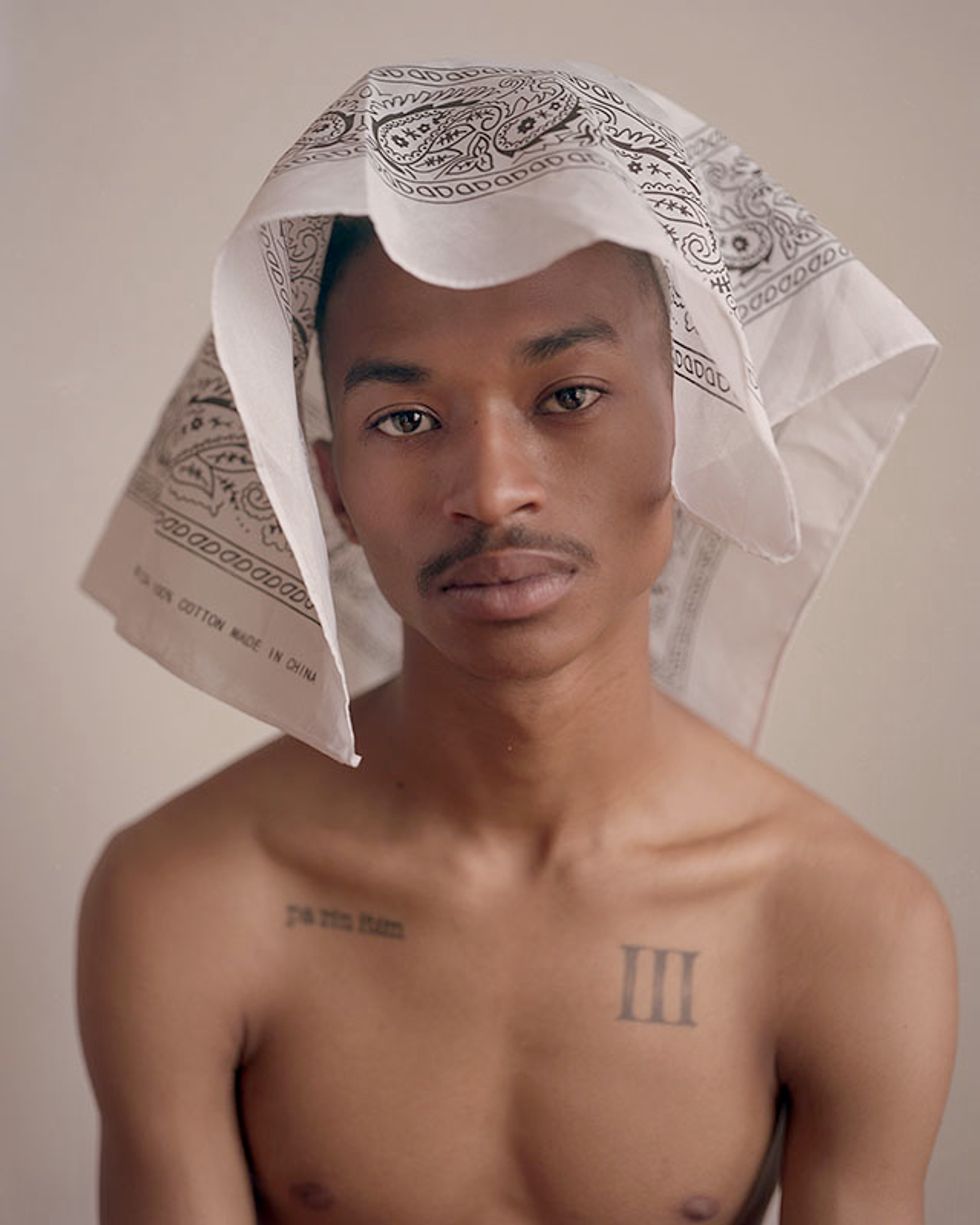 Courtesy of John Edmonds/Capricious
Mickalene Thomas: Thinking about light as a construct, as color, light as a tool, and light as almost a spirit — what I'm attracted to while looking at your work is not necessarily the black bodies you're presenting, but the situation that is introduced through your light source, because you're mainly working with natural light in all of your work. That's a very precise, very calculated decision on your part: not to bring in anything superficial/artificial to influence the space or body. It's as if you're saying to the viewer "black skin is as it is, here we are, there are no false layers, there is no mask." I think that your light source is your power.
John Edmonds: Absolutely. When you mention light, I also think about time. When I had my show at Deli Gallery, you came and did a walk through, and one thing we ended up talking about was the way in which I use natural light, because there is something so laconic about the moment of using light that is available. And because it's light that can't be recreated ever again, there's this very unique thing that happens in each image with the way the figure is illuminated.
Untitled (Du-Rag 6), 2017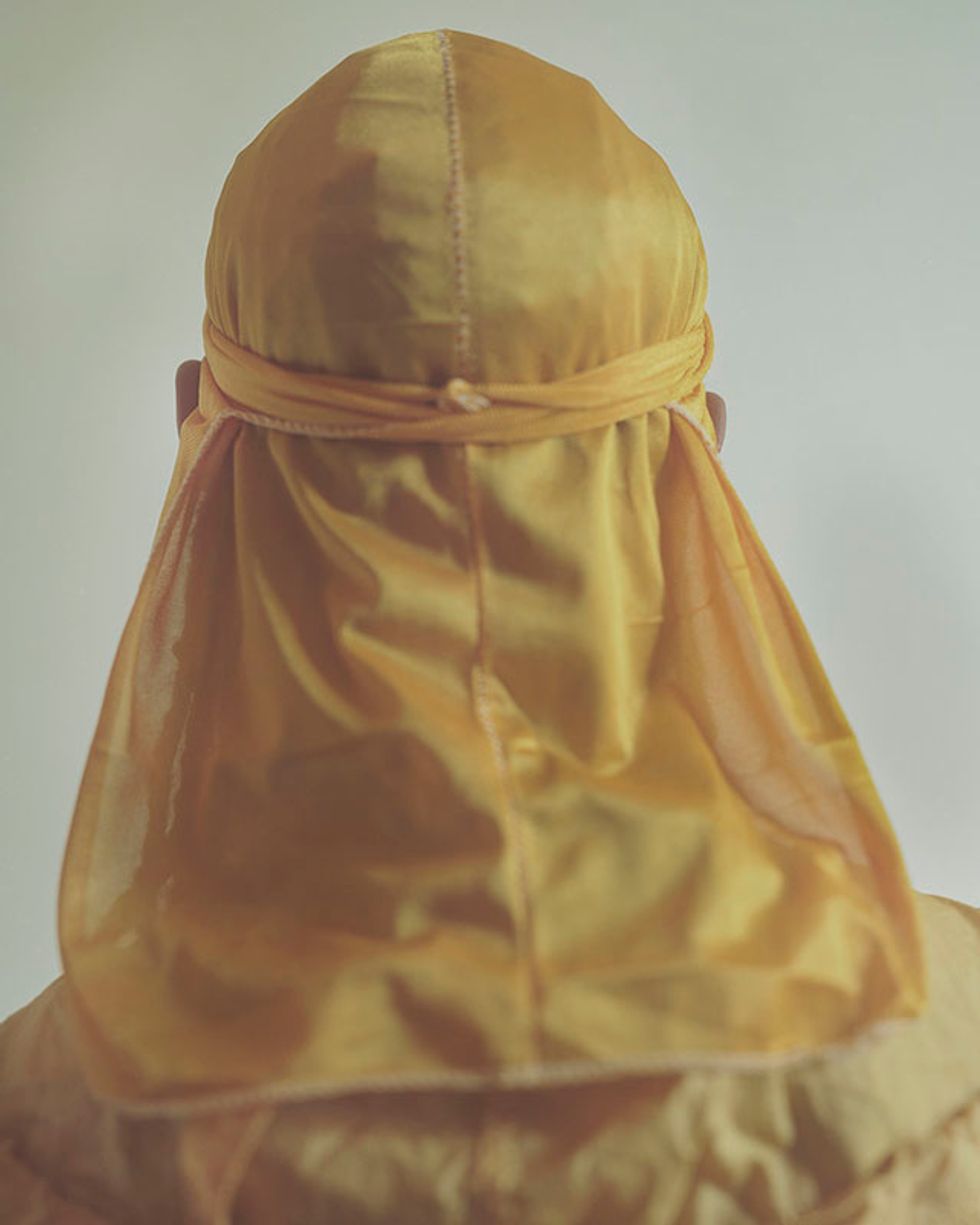 Courtesy of John Edmonds/Capricious
MT: And it's having the instinct to capture an exact moment, there's so much beauty in allowing the viewer to be placed in a particular space and time. When it comes to photography, we're always trying to portray or tell the narrative of a particular or precise moment. When we think about time, we're often considering it in terms of its speed. But it is the slowing down part, allowing the space of time, like in your work, that operates as a poetic license: it conjures a particular ephemeral feeling and invites viewers to be with you in that very moment.
JE: The idea of presence.
MT: Yes, and that makes the work capable of presenting the black body in its entirety, right? And then you present other aspects of blackness that maybe people haven't experienced. The idea of softening the du-rag, making it sensual and angelic. It becomes a symbol, and with it all of its connotations and stereotypes. Its signifiers are shifted and flipped. It's now looked at in a completely different way, as to personify or illuminate blackness as a religious icon or a religious painting would — the way you utilize the light, the color, the form of the head and your method of shooting it. To me, that elegance and that precise and strategic creative eye is phenomenal.
JE: Oh thank you, thank you. For me the images have a glow, almost, coming from within, it's as if the light on the subject is coming from an internal source.
tête de femme (Head of a Woman), 2018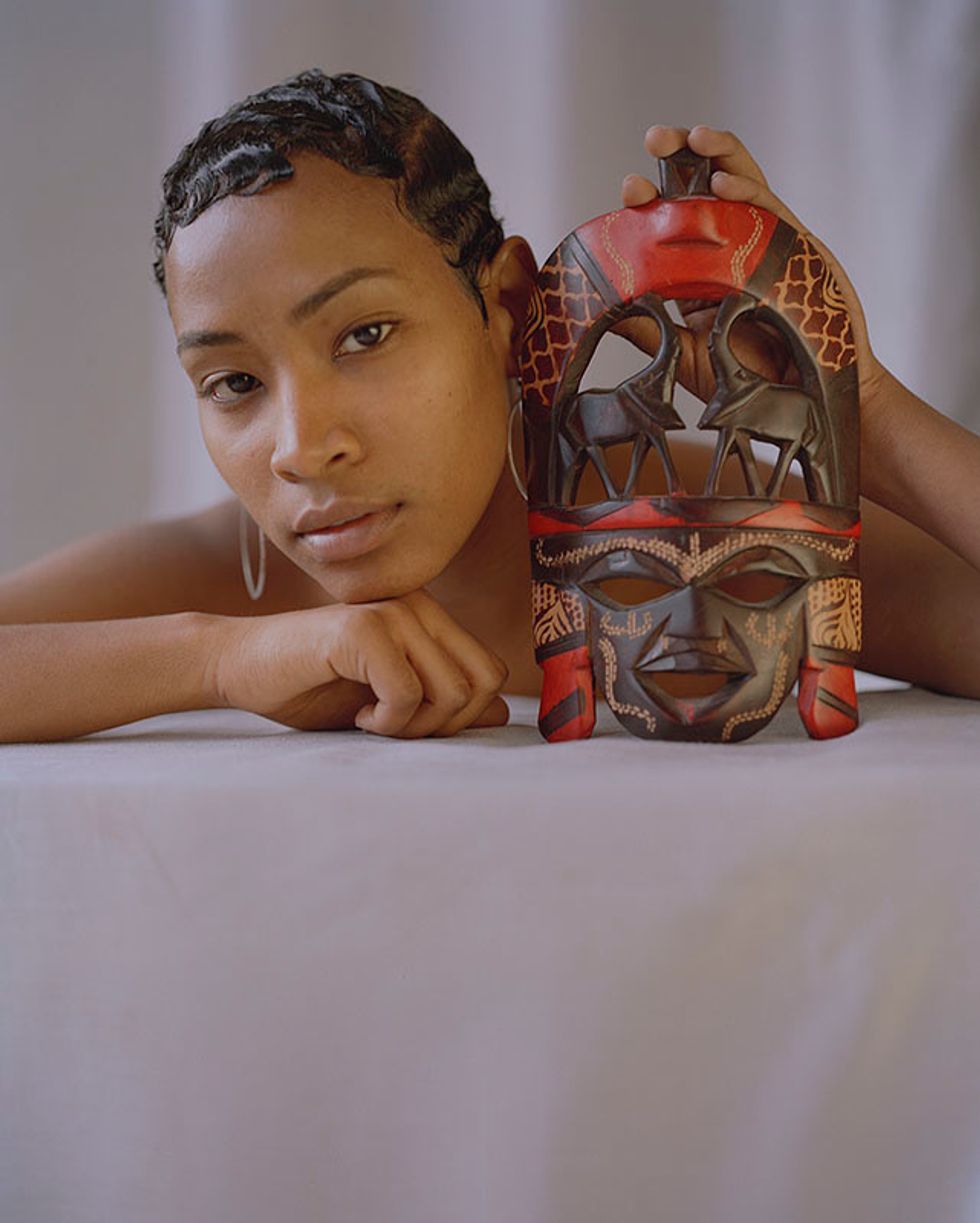 Courtesy of John Edmonds/Capricious
MT: It's internal, absolutely. They're Renaissance paintings when you think of that glow that is in renaissance art where they portray some figures as almost godly beings.
JE: Absolutely. I love the idea of the divine. Scouting and finding models is a very big part of my process. When I see someone on the street or train that I'm really interested in, there's an x-factor, there's something ineffable, that this person is also bringing to me. It's a converging of the spirits in this really beautiful way.
JE: Within the idea of truth I straddle journalistic and fine art image making. For me the truth is in the subjectivity, and it's in what the viewer brings to the image…and that's all indicative of one's experience. In my photographs, my subjects become icons, and they're like our mirrors. Again, this idea of the meeting or converging of spirits: the model is bringing something to me and I'm bringing something to them and in that, there's this real synergizing that becomes really beautiful in this moment. I also like the idea of synergy because it's established through the act of picture making — guess that's where the artifice comes in. Even when I'm photographing a stranger, there is this idea of fantasy that becomes — even if we have no relationship — a civil contract of photography.
MT: Yeah, that's exciting. It will be great to see the evolution of how you're seeing or working with your subjects. How do you approach people that you don't know?
JE: Well often if I'm in public, there's usually a little hesitancy, but I try to make eye contact and I'll nod or I'll smile. If it's reciprocated, then I feel invited to be able to say hello, to introduce myself, talk about who I am as an artist and to ask them if they'd be interested in sitting for me at some point. I like to think that when it really works, that it's very organic…
Untitled (New Haven), 2015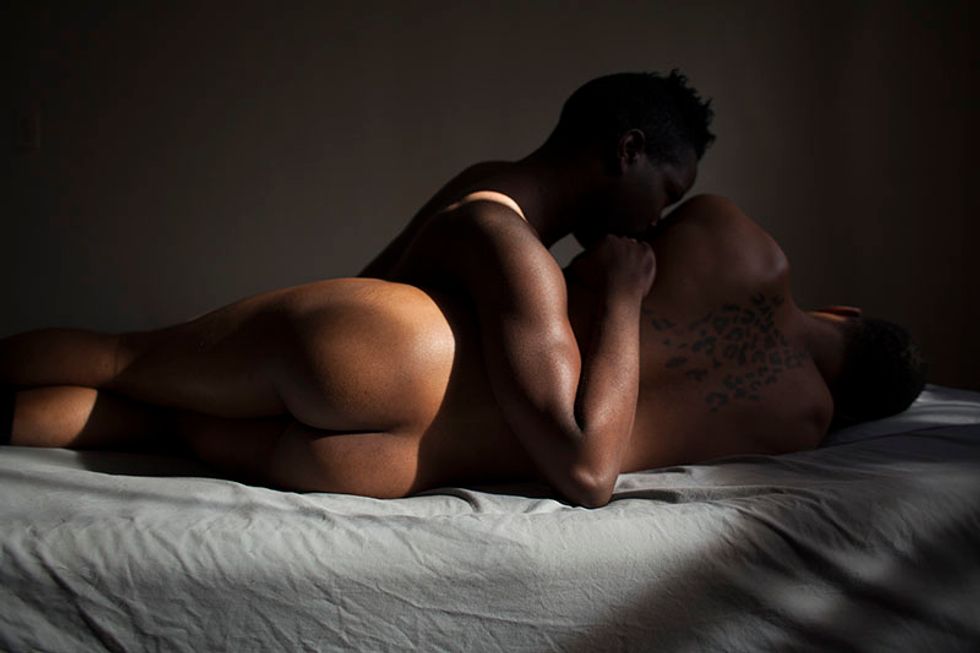 Courtesy of John Edmonds/Capricious
MT: …and it's natural — if it's meant to happen then it will definitely happen. I'm always curious about the photographer's position today, of your generation — there's a generation between us — with everyone feeling like they're a photographer taking tons of photos using multiple devices, the selfies, social media, posting photos on Instagram. It's a new day with new models, methodologies, modes of construct with individuals constructing and reconstructing themselves...
JE: ...curating this idea of themselves as well.
Modernity, 2018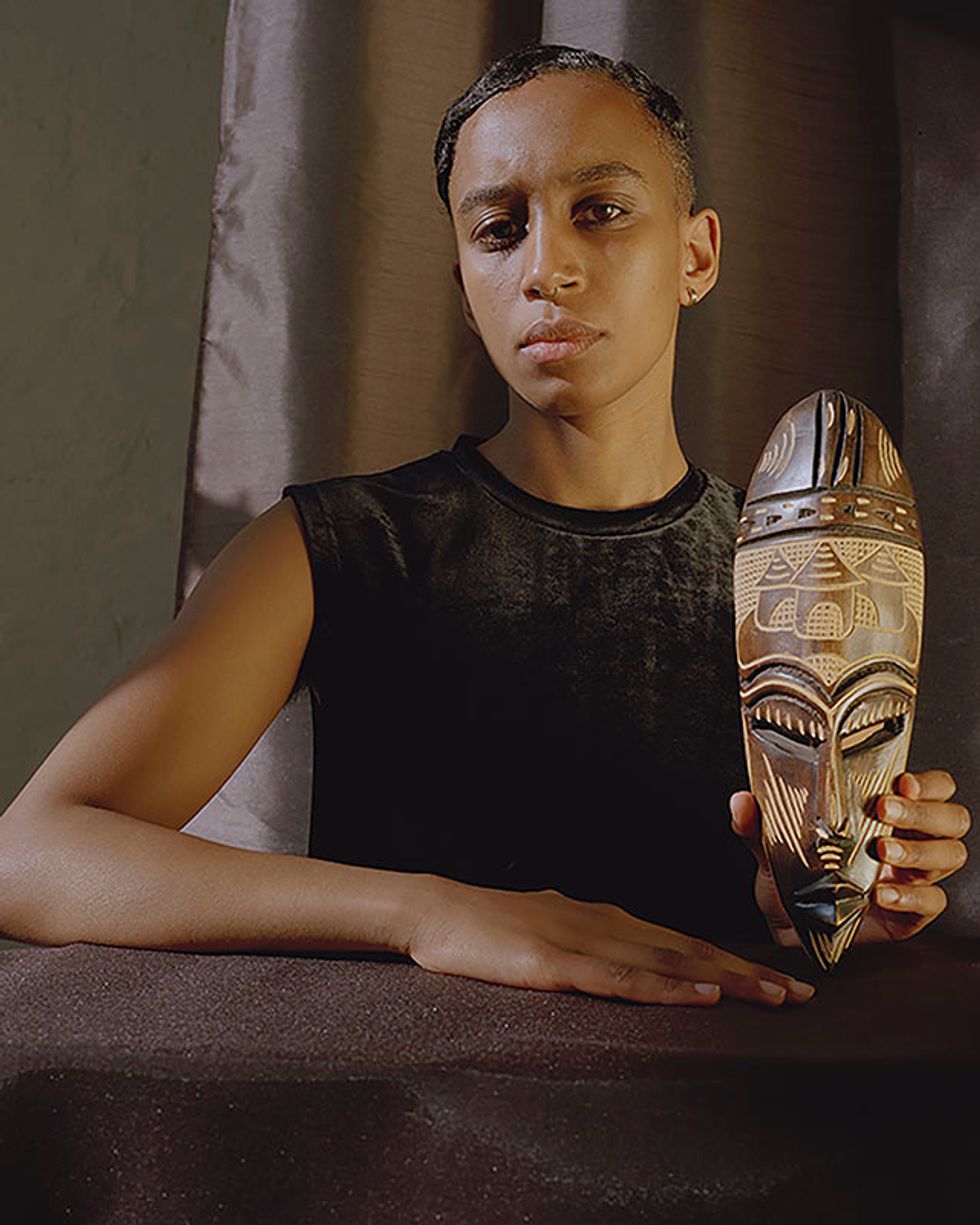 Courtesy of John Edmonds/Capricious
MT: Yes — how does that sit with you? How do you feel about the direction of photography? You're still analog versus the immediacy of digital in an age where everything is right now. What I admire and appreciate about your practice and process is the sense of slowing down, of being in a very quiet space within the chaos, a breath of fresh air…I'm not sure if I'm asking a question or trying to find my own answers…
JE: I think that there has to be this embracing of the advancement of technology and the way things change. However, what I believe is very poignant about a lot of the work is that, as you said, it does ask you to really slow down and to be present. I've always felt the power of my work is the dialogue it provokes, and when I was making Du-Rags (2017) or Hoods (2016), or even the earlier pictures from the Immaculate series in DC, the desire was, as the maker, to want these young men to be there with me. My favorite thing about art is that the work doesn't lie. These men are there because they want to be and I'm there because I want to be. Again, there's this converging of spirits, it's almost like we know each other in the universe, you know? [laughs] And I think that's really beautiful...
Pre-order Higher by John Edmonds, here, via Capricious.
Photos courtesy of John Edmonds/Capricious