First came the Lemonade, and then over a year later we finally have the tea. Jay-Z's 13th studio album 4:44 was released last night, and it's a dark night of the soul for the rapper as he reflects on his troubled childhood, his wealth, being a black man in America, and the mess he has made of his personal life. Specifically, his infidelities to The Beyoncé, the Solange elevator fight, and his troubled relationship with one-time bestie Kanye West. Before we sip on this arnold palmer together, it's worth mentioning that musically this album is one of the most interesting things Jay-Z has done in years. It's got this gorgeous J Dilla-style production, and lyrically this high stakes personal shit has really given him something to sink his teeth into as opposed to just listing off watch and car brands we're too poor to recognize. Magna Carta it is not.
OK, let's jump in! Unless you're a time traveler using this website to orient yourself to the present day, I barely need to tell you about the seismic pop cultural event that was Lemonade. (For the time travelers, it's Beyoncé's 2016 visual album that details the difficulties in her marriage to Jay-Z, from her heartbreak and rage at his infidelities to her eventual forgiveness and their reconciliation. Also, Trump is president now, you should probably bail.) Jay-Z kept silent about the entire Lemonade affair, leading us to wonder if he'd ever respond, but he dives right in on the album's very first track, "Kill Jay Z."
This vulnerable track is all about Jay looking in the mirror, not liking what he sees, and killing his ego. First he goes into his beef with Kanye, which Kanye dragged into the spotlight in 2016 in his notorious "call me, bruh" Saint Pablo tour rant:
"I know people backstab you, I felt bad too / But this 'fuck everybody' attitude ain't natural / But you ain't a Saint, this ain't KumbaYe / But you got hurt because you did cool by 'Ye / You gave him 20 million without blinkin' / He gave you 20 minutes on stage, fuck was he thinkin'? / "Fuck wrong with everybody?" is what you sayin' / But if everybody's crazy, you're the one that's insane"
In the final verse of "Kill Jay Z," he alludes to the infamous Met Gala incident where Solange kicked his ass in an elevator, taking himself to task for almost letting Bey get away:
"You egged Solange on / knowin' all along all you had to say you was wrong / You almost went Eric Benét / let the baddest girl in the world get away / I didn't even know what else to say / Ni**a, never go Eric Benét! / I don't even know what you woulda done / in the future, other (expletive) playing football with your son"
FYI, Eric Benét was Halle Berry's first husband, who she divorced in 2005 over his infidelities, and the football reference is most definitely about Future's ex Ciara remarrying the Seahawks' Russell Wilson. Yikes! But this is only the beginning of the apology tour, which begins in earnest on the album's title track, "4:44."
The lyrics speak for themselves:
"Look, I apologize, often womanize
Took for my child to be born
See through a woman's eyes
Took for these natural twins to believe in miracles
Took me too long for this song
I don't deserve you, I harass you out in Paris
"Please come back to Rome"
You make it home
We talked for hours when you were on tour
"Please pick up the phone, pick up the phone"
Said: "Don't embarrass me," instead of "Be mine"
That was my proposal for us to go steady
That was your 21st birthday, you mature faster than me
I wasn't ready, so I apologize
I've seen the innocence leave your eyes
I still mourn this death, I apologize for all the stillborns
'Cause I wasn't present, your body wouldn't accept it
I apologize to all the woman whom I
Toyed with you emotions because I was emotionless
I apologize 'cause at your best you are love
And because I fall short of what I say I'm all about
Your eyes leave with the soul that your body once housed
And you stare blankly into space
Thinkin' of all the time you wasted in on all this basic shit
So I apologize

I apologize, our love was one for the ages and I contained us And all this ratchet shit and we more expansive Not meant to cry and die alone in these mansions
Or sleep with our back turned
We're supposed to vacay 'til our backs burn
We're supposed to laugh 'til our hearts stops
And then we in a space where the dark stops
And lets love light the way
Like the men before me, I cut off my nose to spite my face
I never wanted another woman to know
Something about me that you didn't know
I promised, I cried, I couldn't hold
I suck at love, I think I need a do-over
I will be emotionally available if I invited you over
I stew over
What if?
You over
My shit?"

Ok, going to say it's pretty shitty that it took Blue Ivy for him to be able to empathize with his wife, and not cool at all for him to make Beyoncé's miscarriages all about him, but hey, it's progress I guess! The following track, "Family Feud" smash cuts to the forgiveness side of the equation, featuring Queen Bey herself on backing vocals. In the second verse of the song, you can hear her singing "Amen" when Jay makes reference to one of the most notorious characters in Lemonade, BECKY, in the midst of an extended Godfather analogy.

"Yeah, I'll fuck up a good thing if you let me
Let me alone, Becky
A man that don't take care his family can't be rich
I'll watch Godfather, I miss that whole shit
My consciousness was Michael's common sense
I missed the karma and that came as a consequence
Niggas bustin' off through the curtains 'cause she hurtin'
Kay losin' the babies 'cause their future's uncertain
Nobody wins when the family feuds"

In case you haven't watched The Godfather 2 in a minute, Michael Corleone's wife Kay (Diane Keaton), ended up aborting their child because she wanted a way out of their family.

So there you have it! The long-awaited Lemonade response! Was it everything you hoped it would be, Twitter?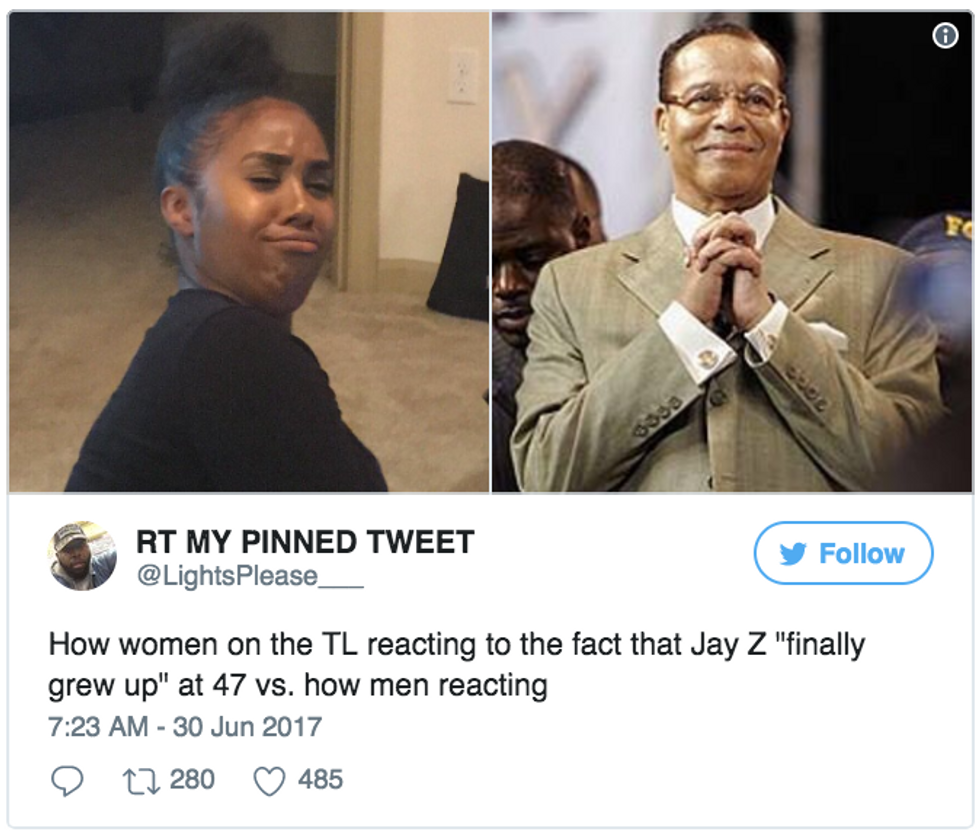 Header image via Beyoncé's Instagram
Sign Up for the Morning PAPER