As trans and queer communities of color continue to fight for access to equality and justice, it should be remembered that they have been the originators of so many aspects of culture that we take for granted. From Pride itself to so much slang that has become part of the mainstream lexicon, these creatives have been key innovators of culture.
Related | PAPER Pride
The ballroom culture of 1980s New York City was home to many of these inventions, as well as a tight knit community represented in Ryan Murphy's new FX series, Pose. We caught up with activist, author and speaker Janet Mock, who co-produced the series in addition to writing and directing episodes—to discuss the impact of the show, being the first trans woman of color in a writer's room (yes, really) and why ball culture is having such a moment right now: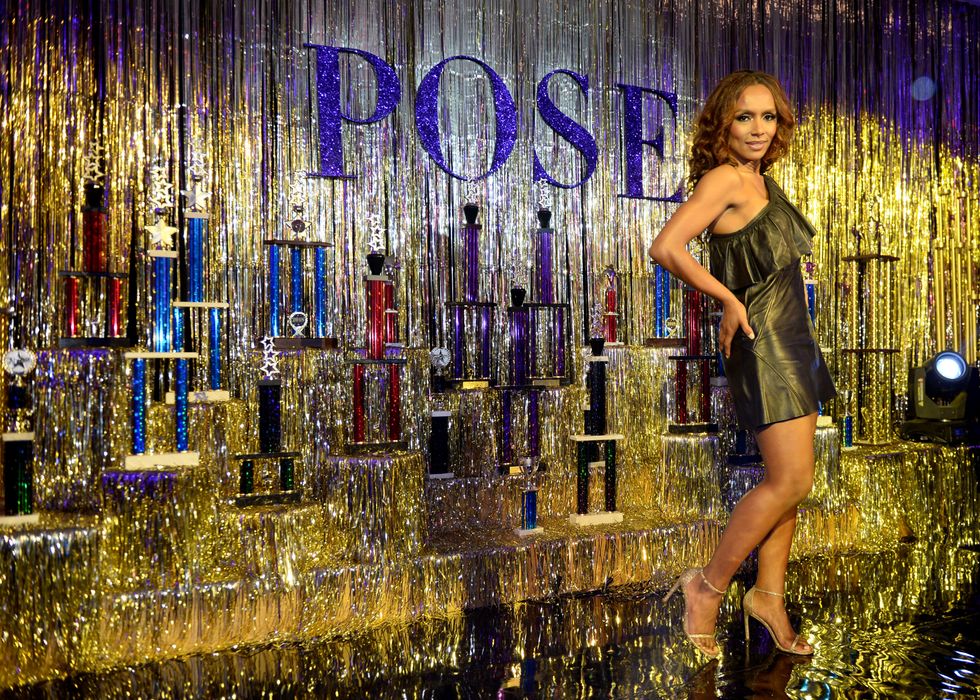 Photo via Getty
What piqued your interest in this story?
It really centered the lives of queer people of color in New York City in the 1980s. I loved the fact that it was a period piece, and I think that we can learn so much about our current state by looking at the past and seeing how people resisted, survived, and thrived despite the many hurdles. I loved the fact that it was about a vibrant scene and the culture was created by people who were given nothing and created their own safe space. Of course, I also loved it because of the platform and the potential of television. I believe that is one of the most intimate ways that people can tell stories. People invite you into their homes and then fall in love with these characters during the season. So, that excited me.
You wrote three episodes and directed one. What were those experiences like for you?

I wrote episode three with Our Lady J, I wrote episode four on my own and then wrote and directed episode six with [series creator] Ryan Murphy. It was great. Being a part of the writer's room was a new experience for me. I've never had to write so collaboratively before from the start before like that.
One of the episodes I had a hand in writing was our Christmas episode. Ryan had the idea of having Christmas in June to give trans, queer people and anyone who is marginalized or not apart of their birth family a piece of media that they can return to every year. We knew that it had the potential to become a classic if it resonated with the audience, and I believe that it did.
Related | Janet Mock on Telling Her Trans Story

Episode four is called "The Fever," and it really is about the body. It's about how we feel about our own body, the harm that can be done to our bodies and the ways in which sometimes our partners or those who desire us try to take control of our bodies. So we talk about straight men who are attracted to trans women. We also talk about HIV/AIDS, which is, of course, a huge epidemic and still is worldwide. A lot of people believe that it's over for communities of color, specifically for Black queer and trans people. So we wanted to tell that story. It's so exciting because episode four was our highest rated overnight show. I think that means that the show is building an audience and people are telling their friends. Episode six is the one that I directed, and that one I can't talk too much about, but it's really about celebrating life despite all of the adversities that we face.
How much are you guys working and consulting with people who were originally in the scene?
It's a huge part of the show. Our consultants and the choreographers are vital to everything that we do, especially when we are centered in the ballroom space. We have Danielle Polanco who deals with choreography when we are on the ballroom floor. We also have legendary ballroom figures like Hector Xtravaganza and Sol Williams who are there to help us every step of the way. It's really great that we have this amazing group of people who hold us together and make us better.
Related | Do Not Erase Black Femmes in Your History of Gay Slang

The show is of course set in New York in the '80s, so some things about the rise of the Trump era come up. Why was that important to include?

I think that Ryan wanted to ensure that we show the ways in which the ballroom people may be literally posing and performing categories and ideals of what we believe and celebrate as our culture, but the actual people who are actually posing in their everyday lives are the people from that world. The people who subscribe to hyper masculinity ideals, who believe that they are better because they have a certain job or degree or car—the people who are not living their most authentic lives, while our queer and trans characters on the show are living theirs. I think that one of the greatest scenes was in episode two, where Stan, played by Evan Peters, and Angel, played by Indya Moore, are sitting down at a diner and they are talking about the ways in which they identify themselves. Stan has a line that says, "Is it wrong that I would want to have the one thing in my life that feels real?" Which is her.
What was it like for you, as a trans woman, to revisit this time in history?
For me, it's a great reminder of how far we have come, but also of how much we still need to do. As I am revisiting those things, it does not feel foreign. My sisters and my siblings in my community are still dealing with those same problems, with all of the isms and phobias that we as a society are sickened with. For me, I wanted to show through this that you are not alone and you are not the first to go through this. Right now I look back at that time and it teaches us about who we were and the work that we have to do and we have to continue to build and build and build. I hope it feels like a love letter where my people in my community can see each other and be themselves, and that they don't need to feel so alone in the world. That they have something that encompasses their own reality and their own struggles
Ballroom culture is really having a moment.
What I love right now is that "Pose" is not on the air by itself. We also have a documentary series on Viceland called "My House," which shows today's New York City ballroom culture. I also think that what's so great about the series is that we employ more than 150 LGBTQ people in front and behind the camera. So we are giving people their first shot as actors, choreographers, producers, etcetera and a chance to build on their resumes. I am just so happy that we can have these two shows that people can access to learn more about the people of ballroom. The show isn't limited to the fantasy and the glitz and glamour of the performing of the ball scene. Most of the show is not on the ballroom floor, it's out in the world, showing what it looks like for these people to have to navigate this city and this culture that's really not created for them to survive, and the creative and loving ways that they build communities and support systems. The family concept is what is most powerful to me.
Why do you think that the mainstream culture now is now more receptive to hearing these stories? What were the cultural milestones that led to this?
I think it was a slow building. On one end we can look at Laverne Cox's groundbreaking role in "Orange Is The New Black," but she wasn't centered on that show. The show wasn't necessarily about her and her story. Then you have the building up to "Transparent" where it seems like a trans woman was centered, but she really wasn't on that show either. So, I think there was a craving to make sure that those people who were trans were actually centered for once. I think viewers demanded it and wanted a more diverse writers room. I am the first trans woman of color to write and direct an episode for television and the first to be hired to write in a writers room. I think that all of these milestones happen because of all the hard work of all of the pioneers that come before. I think these cultural milestones were already there, but also there's the audience's demand for more accurate storytelling, where we are center stage and are no longer the sidekick, we are the actual star. I think it's deeply revolutionary.
Catch "Pose" on Sundays at 9pm on FX.
Photography: Richard Phibbs for PAPER