Well, it's here! The long-awaited cover debut of Edward Enninful's revamped British Vogue dropped yesterday and the fashion world is nothing short of smitten. The cover features British Ghanaian model and activist Adwoa Aboah in a Marc Jacobs Spring/Summer 2018 head wrap and dress (funnily enough, not the look she wore when she walked the Marc runway barely a month ago), lensed by Steven Meisel with aquamarine glitter eyes and red gloss lip by the inimitable Pat McGrath.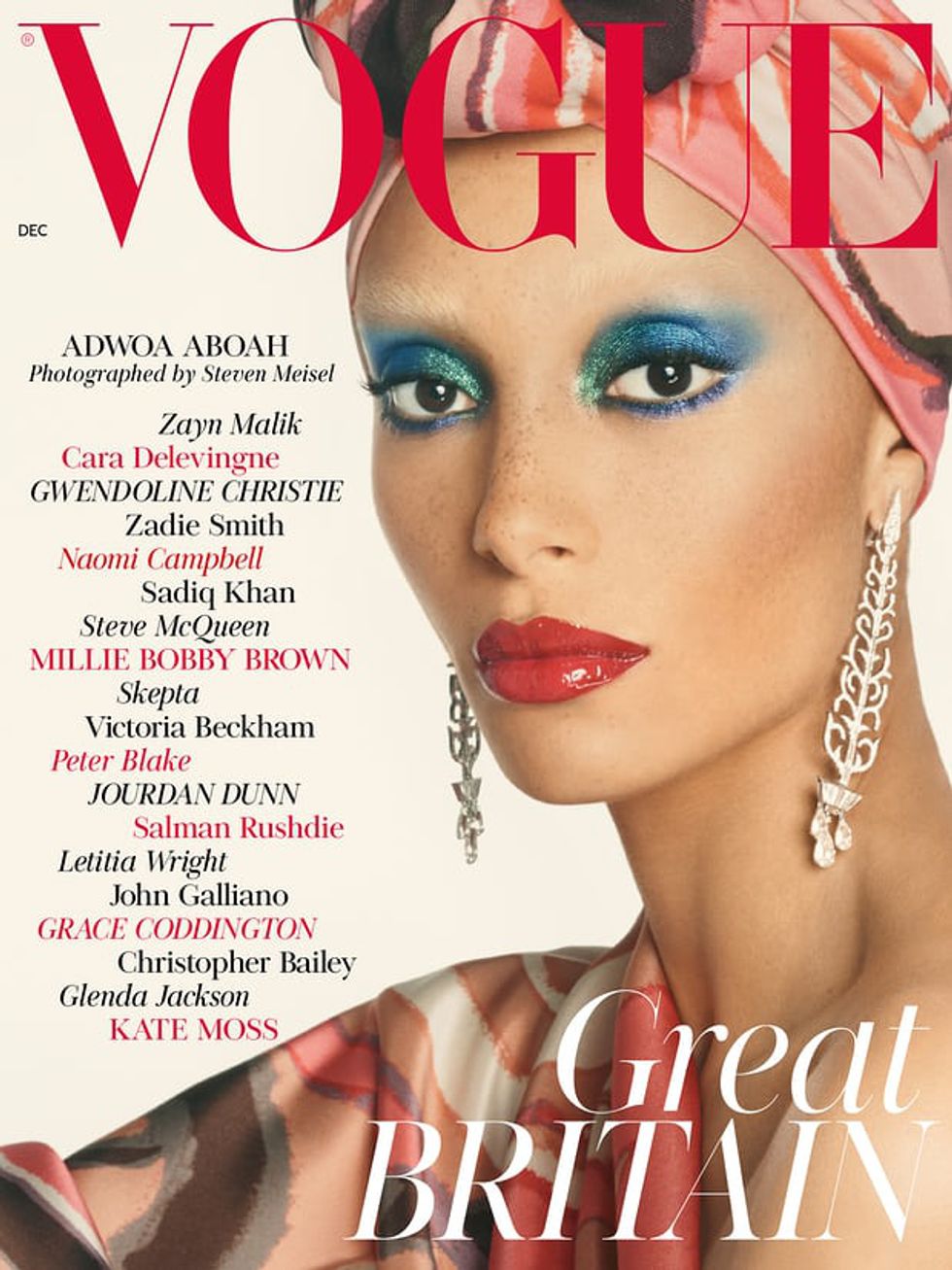 Steven Meisel/Vogue UK
Enninful's appointment as Editor in Chief of the UK title this past spring, on the heels of 25-year veteran EIC Alexandra Shulman's exit, brought with it a couple of firsts: One, Enninful is the first non-white editor of British Vogue. Two, he's the first man at the helm of any major Vogue franchise. Enninful, an outspoken advocate for diversity and equal representation in fashion, arrived at a magazine in dire need of a dust up, as Naomi Campbell pointed out this past August. Though the actual circulation of British Vogue is just over 220,000 (relatively small, considering its American counterpoint is about 1.2 million) its potential for creative impact on the industry should not be underestimated, in just the same way the Vogue Italia under Franca Sozzani, also with a smallish circulation of 212,000, was a bellwether for the industry.
And in a way, if anyone could fill the vacuum left with Sozzani's death last winter, it would be Enninful. The two worked often together at Vogue Italia, Enninful famously spearheading and styling the cover of Vogue Italia's 2008 landmark Black Issue (also shot by Meisel). Known for clear-eyed daring and visual wit—he gave us both the Makeover Madness and Hollywood Style Meisel stories in Vogue Italia—it will be thrilling to see what he does on a big Vogue platform.
The cover itself also calls to mind early shots that David Bailey did for the title of Twiggy or Ursula Andress, dewy in headwraps, or a hint of his groundbreaking 1966 cover with Donyale Luna (the first black model to cover British Vogue). A comforting, if nostalgic, throwback, but a reminder that British Vogue has a visual history that, every few decades or so, has shaped fashion.
There were those heady days of Bailey and his favorites in the '60s, then fast forward to Kate Moss and Corrine Day in the '90s with other Brit Packers, and perhaps more recently the ascendance of Brit It girls a la Alexa Chung. Is another such British Vogue moment upon us? Enninful has assembled a crack team of friends and collaborators—Naomi Campbell, Kate Moss, and Steve McQueen among them as contributors—so who knows what he has in store (I predict a lot of humor, candor, and Meisel), but the fashion world is watching and it appears, so far, swooning.
Splash photo by Matteo Pradoni and Joe Schildhorn/BFA.com

Sign Up For The Morning PAPER