Now that Taylor Swift's trial over whether she was non-consensually groped by a DJ has concluded and she has been awarded her victory (and $1 judgment), it's time to talk about the really important issues. No, not persistent unwanted sexual harassment and groping of women. No, not the difficulty and challenges faced by women asked to testify about their violations. Let's discuss the fun but trifling matter of "weird courtroom sketches."
During her trial, Swift was depicted in the courtroom sketches as a soberly-dressed blond bun-wearing woman who...looked nothing like the very famous, infinitely photographed Taylor the world has known. Fans online (where else) have derided the sketches, going so far as to declare the artist a Katy Perry stan (or just Katy Perry).
this is a courtroom sketch of taylor swift
i think the artist's name is katheryn hudson pic.twitter.com/AarwDGK99V
— Christian Zamora (@Christian_Zamo) August 8, 2017
But as Jeff Kandyba, the man who was behind the drawings, told a local Denver TV station, "A person like Taylor Swift, who is very pretty — has perfectly proportioned dimensions on the face — is actually much harder [to sketch]."
Frankly, maybe Kandyba's right. There's a wealth of evidence, from courtroom sketches to statuary to mass-merchandise dolls, of celebrities mangled in the translation from life to art. Are the world's most genetically gifted really harder to capture? PAPER's crack team of celebrity art historians conducted a brief, unscientific, and definitely non-exhaustive survey of beautiful famouses as recreated by professional artistes. Peep the evidence below, and see if you're also convinced that the most gorgeous among us generate an uncanny-valley-field for artists.
Naomi Campbell's Wax Figure

When you Naomi Campbell and you see your wax figure at Madame Tussauds pic.twitter.com/M38UYjJPds
— Ashley C. Ford (@iSmashFizzle) July 25, 2017
Look: Naomi Campbell is a goddess. She's one of the first supermodels. She's a perennial PAPER cover girl. She's a queen who slays basically every look she puts on. So, all we ask is, what were you thinking Musee Grevin? Our girl doesn't deserve this.
This Statue of Cristiano Ronaldo

I defy you not to feel better after viewing this picture of Cristiano Ronaldo alongside his portrait bust. pic.twitter.com/kBCc7RtoUC
— Tom Sutcliffe (@tds153) March 29, 2017
Earlier this year, Portugal honored its favorite son, arguably the greatest soccer player alive (don't @ me, Argentina), by naming an airport in the Madeira Islands after him and gracing it with a bronze bust of his head. A lovely gesture, except the bust itself twists Ronaldo's improbably symmetrical, handsome face into a rictus of horror. This is what Lionel Messi see's chasing him in his nightmares. This is the ghost that haunts Gareth Bale's house. Artist Emanuel Santos' explanation for the gap between reality and art? "It is impossible to please the Greeks and Trojans. Neither did Jesus please everyone." Fair enough.
And Also This Statue of Cristiano Ronaldo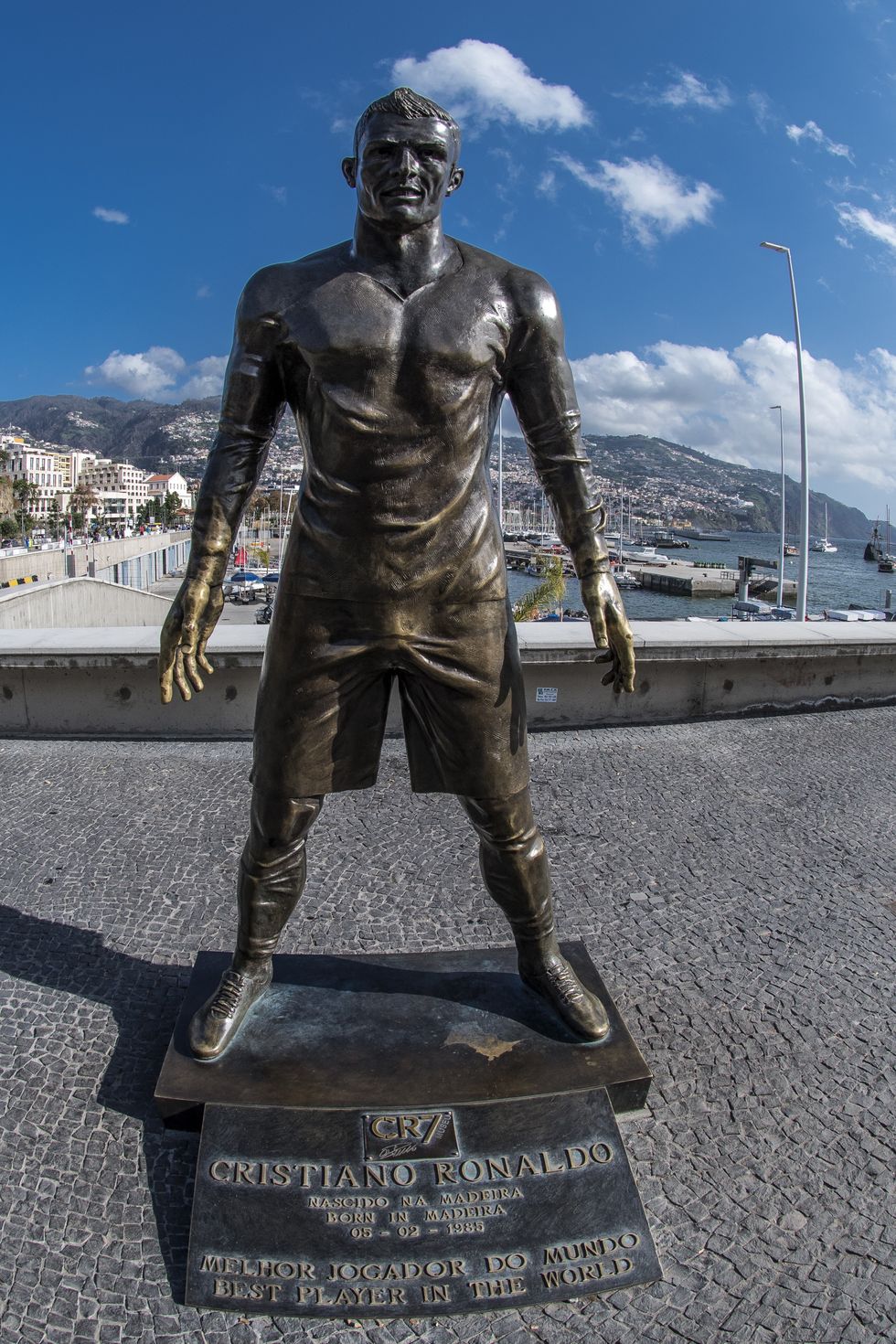 Octavio Passos/Getty
Okay, maybe we just stop making sculptures of Cristiano Ronaldo? This bronze Frankenstein resides in his hometown of Funchal, Portugal.
Courtroom Sketch of Tom Brady

Tom Brady's courtroom sketch perfectly captures the, um, well... pic.twitter.com/04KyTfdCxD
— HuffPost Sports (@HuffPostSports) August 12, 2015
Court room sketches really deserve a category of their own, even a whole wing in the Bad Celebrity Art Museum. This classic of the genre comes from Pats quarterback Tom Brady's trial over whether he attempted to cheat his way into winning football games. Artist Jane Rosenberg turned the paragon of bland handsome American sportsman/model-husband/ fruit-avoider into instant meme fodder.
Tom Brady Court Room Sketch-0 The Internet -4😂 pic.twitter.com/LckXQtUtCG
— Stadium (@WatchStadium) August 12, 2015
She did another portrait of Brady, from a photo, that was a little closer to reality but still stretched her artistically. The problem? "I still found him very hard to draw — from a photo as well," Rosenberg told the New York Daily NewsNew York Daily News. "Something subtle goes on with his eyes. He has a big chin with a cleft in it."
Emma Watson's Belle Barbie Doll

THIS IS HORRIFYING! Disney WYD?! pic.twitter.com/XS1eSaL118
— Niquenerys Targaryen (@D0MXNXQUE) January 7, 2017
There's no one artist to blame for this offense to Emma Watson, merely the plastic-molding elves of Mattel Inc. However, the reveal of Watson's official Belle Barbie doll creation caused vapors online, with most of the Internet agreeing that the Beauty and the Beast toy actually most resembled...Justin Bieber? (Artist Mark Jonathan went in after the fact and gave the doll a make-over that brought it closer in line to Emma Watson's face.)
Beyoncé's Wax Figures
Beyonce's wax figure at @MadameTussauds looks like Kate Gosselin from 'Kate Plus 8' wearing a purple ensemble. Um, can we get a re-do? 🤔 pic.twitter.com/GmW7ysBWsE
— Ricky Davila (@TheRickyDavila) July 19, 2017
Naomi Campbell's wax doppelganger was truly terrifying, but there might be no celebrity more hard-done-by in the wax replica world than one Beyoncé Knowles. Madame Tussaud's attempt to memorialize Queen B was immediately dragged to hell for whitewashing (and poor fashion choices). They hurried to fix the issue--officially deemed a "lighting" problem. But this does not solve the broader problem.
Theory: Beyoncé wax figure makers have never seen Beyoncé pic.twitter.com/bZ2PWCUzUs
— Michelle Lee (@heymichellelee) July 19, 2017
Like this unnamed wax museum in Canada which just...maybe has never seen a picture of Beyoncé?
Yall... I went to a wax museum in Canada and they thought this was Beyoncé. I'm hurt pic.twitter.com/eaSND49XtK
— chippy (@Winklahh) January 3, 2017
Or this one in Berlin, which looks like the creator based it off a picture of Maya Rudolph as Beyoncé.
Speaking of Beyoncé wax figures, this is the one I saw at Berlin's Madame Tussauds 😓🤥 pic.twitter.com/ZZwcjIat3f
— ㅤ ㅤ ㅤ ㅤㅤ ㅤ ㅤㅤㅤ ㅤ ㅤ. (@TutuAdamsUK) July 19, 2017
The Ecce Homo Fresco
Today's task: coding up a design mockup, feeling like @CeciliaGiménez #eccehomo #ecceohno pic.twitter.com/Ejn3JaojwN
— Sarah Ing (@Sarah_Ing) August 10, 2017
Maybe the OG celebrity, Jesus has been recreated and represented thousands upon thousands of times, from his ugly baby stage to his "looks like a Williamsburg bartender" stage. But the most recent famous attempt to show the true, handsome face of the Son of God ended in disaster. In little Borja, Spain, Cecilia Gimenez attempted to restore a fresco by 19th-century painter Elias Garcia Martinez. It did not go well. When the botched restoration was finally discovered, it instantly became an internet sensation, turning into memes like loaves into fishes. Despite much handwringing about the painting, it's actually turned out to be a boon to tourism, bringing in over 150,000 visitors at last count.