Gracie Abrams, the esteemed indie-pop little sister of Taylor Swift and Phoebe Bridgers, dropped her highly anticipated debut album Good Riddance last week, nearly three years after her EP, minor, stole the hearts of Gen Z bedroom-pop fans across the globe.
Born to heavy-hitter parents, renowned director J.J. Abrams and Time's Up co-founder Katie McGrath, Abrams burst into the scene over the pandemic. She solidified her sun-soaked spot in Hollywood's limelight with angelic vocals, tender artist-to-fan confessionals and high-profile friendships with industry sweethearts Olivia Rodrigo and Taylor Swift. Soon, she was touring with Olivia Rodrigo on the Sour Tour, tapped for select dates for Taylor Swift's The Eras Tour and headlining (and selling out) shows of her own.
The 23-year-old Los Angeles singer-songwriter is gearing up for a huge year of touring, both for Good Riddance and to open for Taylor Swift. The 12-track album was crafted with producer and mentor Aaron Dessner (who worked on Swift's Folklore album and whose sonic presence can definitely be felt in Abram's album). The two spent months laying down folksy tracks at Dessner's Long Pond Studios in upstate New York, creating close-to-the-heart testimonials about fading romance, hitting the road and the mystery of imperfect relationships.
To support the release of Good Riddance, Spotify collaborated with Abrams to help share the story of the album with her devoted fans at LA's The Grove on February 24. The 2011 French romantic comedy Amelie, an obvious influence in the lead single track "Amelie," made a thematic appearance in black-and-white photo booths where fans could live out their own Amelie fantasies with bespoke photo strips.
Read on for exclusive photo booth strips and PAPER's behind-the-scenes look at the making of Good Riddance.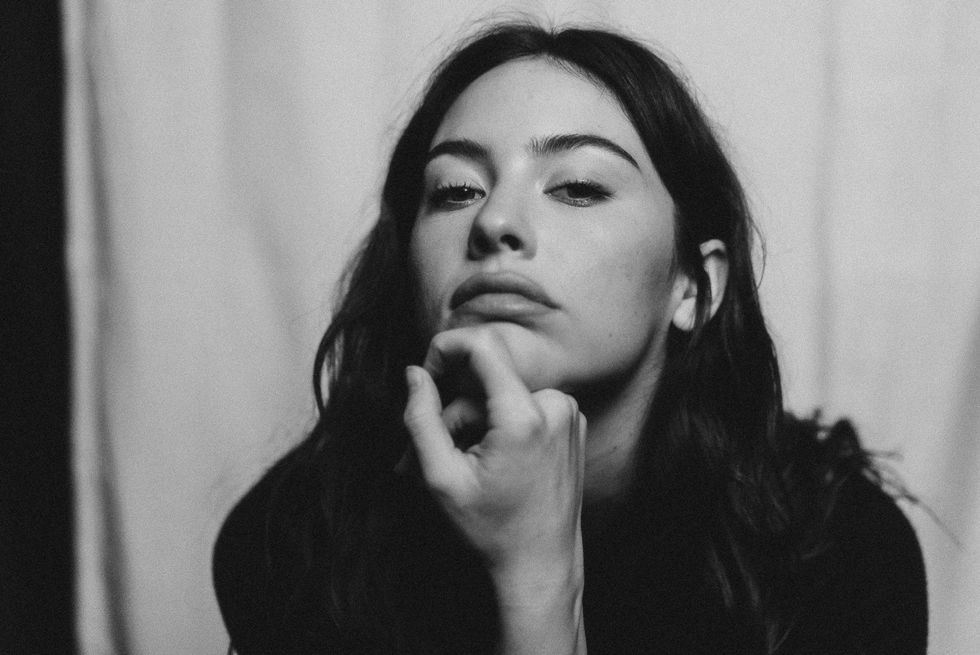 Congratulations on your debut album.
Oh my god. Thank you. I have an Amoeba performance in like an hour. So I'm currently in glam, which is why I'm sparing you my camera.
I feel like it's almost too easy to say that Good Riddance is about saying goodbye to a past relationship. Is there a breakup that influenced the making of this album?
I wouldn't say it's just a breakup album. It's about a past life and evolving and growing up. Being in my early 20s, I have become hyper-aware of how quickly things can shift. So surrendering to that change is more so the thesis.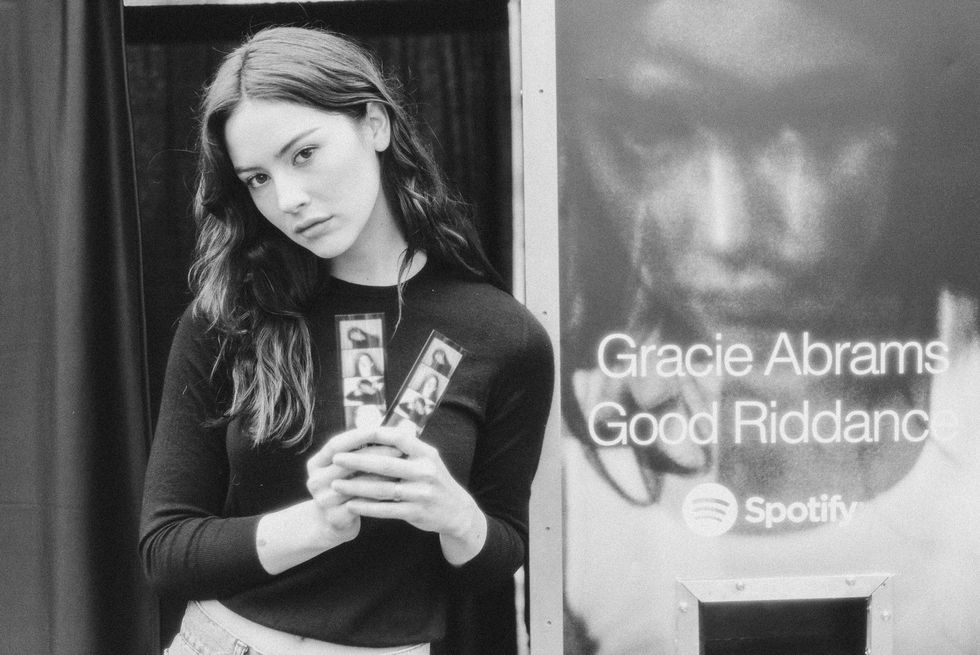 What was it like to experience the release of your album at the Spotify pop-up activation in LA?

It was just really touching that people showed up and felt connected immediately to the record. That's sort of the dream for me — to be able to find community through music. So to be able to spend the day with a bunch of people who just immediately felt like friends was just a really sweet experience. And I'm very grateful that they showed up. It was pouring rain.
Speaking of your fans, can you explain the significance of baking cakes? I have never seen so many fans bake cakes for someone in my life.

Isn't it funny? During quarantine, I baked a lot of cakes. I went through a large chunk of writer's block and I replaced writing for a while with baking. I'd post about it, so it was a little thing that we shared. When my song "Mess It Up" came out a couple years ago, the music video was also baking-related, because that was significant to my life. At this point, [my fans and I] know each other very well.
So, an inside joke. A chance to connect with you and say like, I've been here the whole time. And I see you and your journey.
Literally. It's just so sweet and endearing. But also like painful, because I can't eat any of these cakes.
Yeah, you can't eat a Twitter post. When you were making the transition from your past producers to Aaron Dessner, were there any growing pains, or was it a very natural partnership?
It was the most natural partnership. It became so immediately obvious to both myself and Aaron that we wanted to spend real, thoughtful time diving into the world that ended up being Good Riddance. I never met someone and instantly told them all of my deepest darkest secrets. And so much of that has to do with how he creates these environments that allow for the artists to show up in their most raw and vulnerable state. I think that's why made the record as quickly as we did. The process challenged me in such a beneficial way to explore and push myself in directions that were not only sonically helpful but also deeply cathartic. The whole thing was the best experience, even when we were writing about kind of really brutal shit.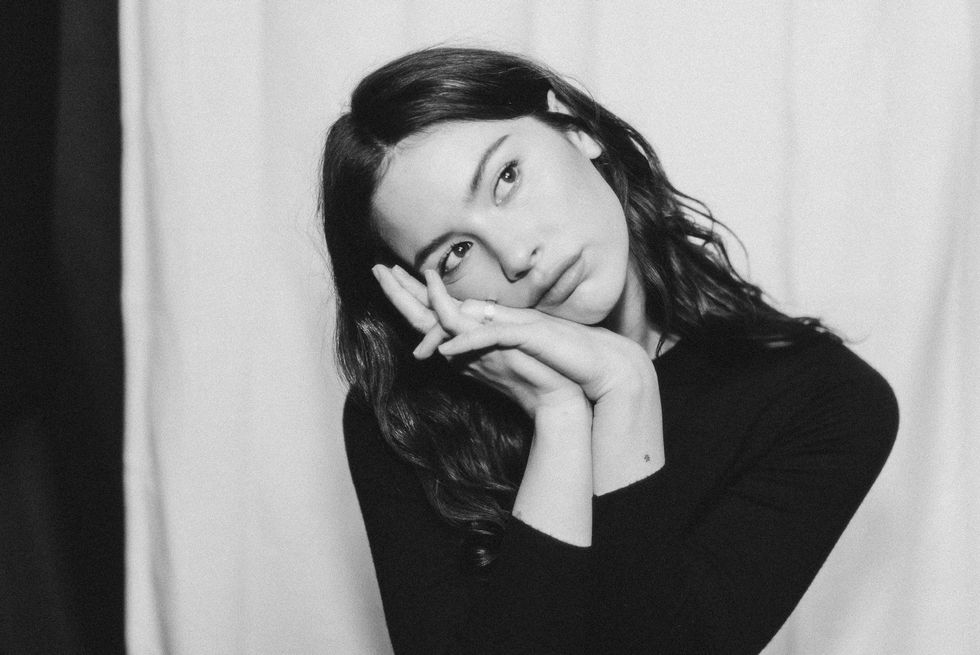 Can you talk about the process of getting into that place of vulnerability?
A lot has to do with being in therapy for a couple of years and getting more familiar with myself. I grew up using songwriting as the place where I would go to explore feelings that I didn't feel like talking about with anyone else. I could place blame and complain about shit, even if maybe I was the common denominator. So songwriting is important because I think it's led me to a evolve, reflect and come to a more fair perspective.
The album's last track, "Right Now," explores the feelings of being away from your family and friends while you're on the road. Are you excited to be back on the road or do these anxieties that you've voiced hamper that?
I've definitely never been more excited for a year of touring. This is only the second year I've done it, so I still feel very new here. But the process of making this album feels so true to who I genuinely am, and this show is an extension of that. It's already been such a hands-on experience in every capacity. So even though it's just about to start, I feel very proud of it. Touring is definitely a specific kind of exhaustion, but I've also never been more energized by anything before. I think last year, if any friend was like, "I want to come to your show," I'd be like, "No, you don't have to... maybe don't." But now I am genuinely so stoked for people to see it. When Aaron and I were making the album, there were so many live elements involved and we kept saying "the songs need, need a band." And with building this relationship with my audience, there's going to be little inside jokes throughout the show and I know it's going to feel very special. I don't take it for granted.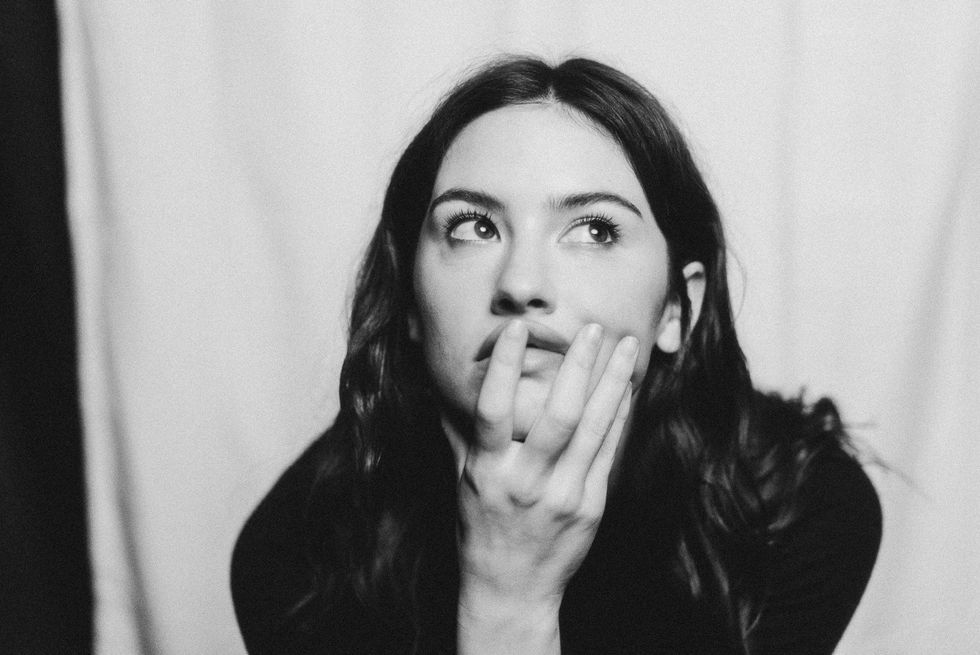 Your fans are obviously going deep into the subtexts on TikTok. There seems to be a lot of speculation around the "Amelie" track and if it's about someone in particular.
The song is about a really haunting feeling that I had been journaling about for a while. Most of the lyrics come directly from journal entries and conversations that I had with Aaron. The process of making that song was as delicate as the feeling was. We tracked it one time through — Aaron played guitar while I sang and we finished doing it once. We were both like, "Yeah, let's just leave it there." It's an unexpected single in terms of pace and it's not an obvious starting point, per se, but as soon as Aaron and I finished it and before even introducing it to my label, we were like, "This is going to be a single for sure." It means so much to me. I'm so grateful that even one person can tie it to their life in whatever way makes sense for them. But yeah, this is my story.
I'm so curious about what outside stimulus — music, books or visual art — helped create this album.
When I made this record, I was also touring, so it was chaos. When we made it to upstate New York, in what feels like the middle of nowhere, I finally found the quiet that I had missed desperately. To sit in that, instead of listening to a bunch of music, felt so much more appropriate. I do bring this poetry anthology with me anytime I travel called Risking Everything with so many of my favorite poets. Mary Oliver has been one of my favorite poets for a very long time. I grew up with my mom loving her. She writes often about how fragile nature is and I was very inspired by that.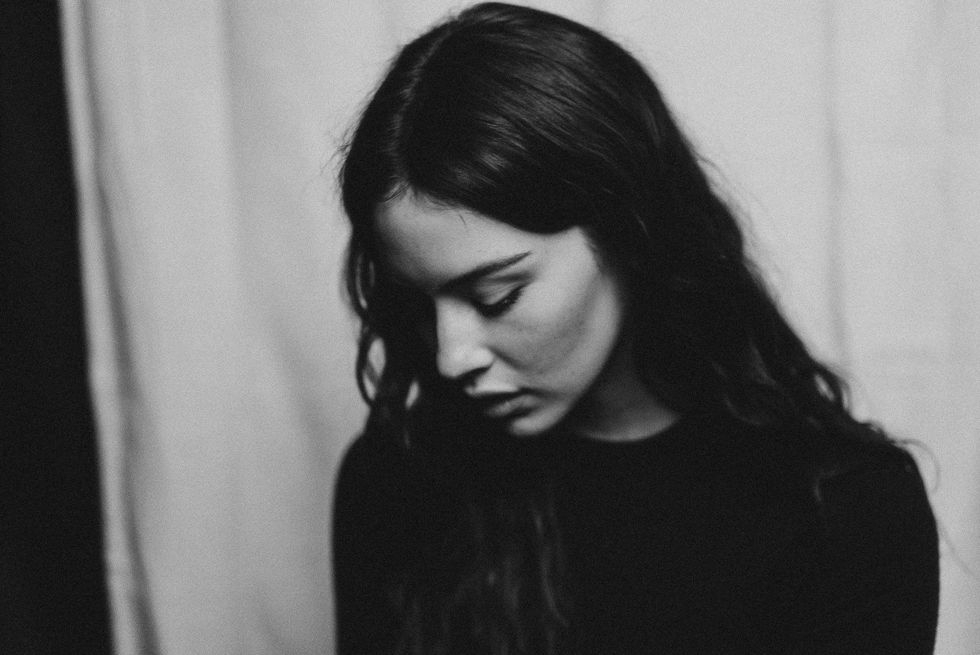 Photos courtesy of Spotify
From Your Site Articles
Related Articles Around the Web
Sign Up for the Morning PAPER