For more than 50 years, Genesis Breyer P-Orridge has built a legacy on creating singular art and music that both shocks and stimulates. P-Orridge's upcoming gallery exhibition, Pandrogeny I & II, pulls from the many facets of h/er influence in progressive conversations about gender identity and expression. It is done in collaboration with Tom of Finland Foundation and Los Angeles' Lethal Amounts Gallery, which is hosting the show.
Viewers will be able to see this up close at Lethal Amounts come October 23, via a retrospective art exhibition encompassing a selection of P-Orridge's original paintings, photos, sculptures, and installations. The show, which includes works spanning from 1986 to 2016, will be P-Orridge's first on the west coast, having previously shown Pandrogeny I & II in 2017 at New York's Rubin Museum of Art to record attendance. (View a selection of what you can expect to see, below.)
For context, P-Orridge first launched h/er exploratory Pandrogeny project with h/er other half, Lady Jaye Breyer P-Orridge, a registered nurse, dominatrix, performer, and musician who died in 2007. Together, Breyer P-Orridge, as they are known collectively, got a number of matching surgeries so as to fuse souls and bodies (they began identifying with "we" pronouns), beginning with identical breast implants on Valentine's Day in 2003.
Some surgical procedures were performed in tandem with shamanic and other spiritual rituals, solidifying Breyer P-Orridge's love for one another, while sending a message to the world about what's possible not only for bodily autonomy, but for shifting perceptions of gender binary.
The mission of Pandrogeny has always been an altruistic one, P-Orridge told PAPER in an interview published in March. Elsewhere in the interview, s/he spoke candidly about h/er battle with leukemia, the spiritual significance of the number 23, and why trans bodies are the "stormtroopers of the future."
"It's not male or female, not either/or — just complete," P-Orridge says. "We thought it was important to remind people of that idea, and as artists, we figured the best way to do so was visually. The body has always been the subject in art, from the get-go. If we are going to survive as a species, we have to stop the endless cycle where someone must be scapegoated, then attacked and destroyed — whether it's within groups, in society or in a war for land. How do we start to change human behavior, so that it's not being governed by being trained to hate what's different, when we are all unified, and already complete? Hating what's different, what we don't understand, over and over again, and thus not being unified — that is perhaps the original sin."
Opening night previews with tours and talks from P-Orridge and a performance piece from Christeene on October 23 and 24. Tickets are $40. TIckets are $23 from October 25 to November 24. Show hours will be Thursdays and Sundays from 12 - 6 PM, and Fridays and Saturdays from 12 - 7 PM. Tickets can be purchased through the Tom of Finland Foundation, here.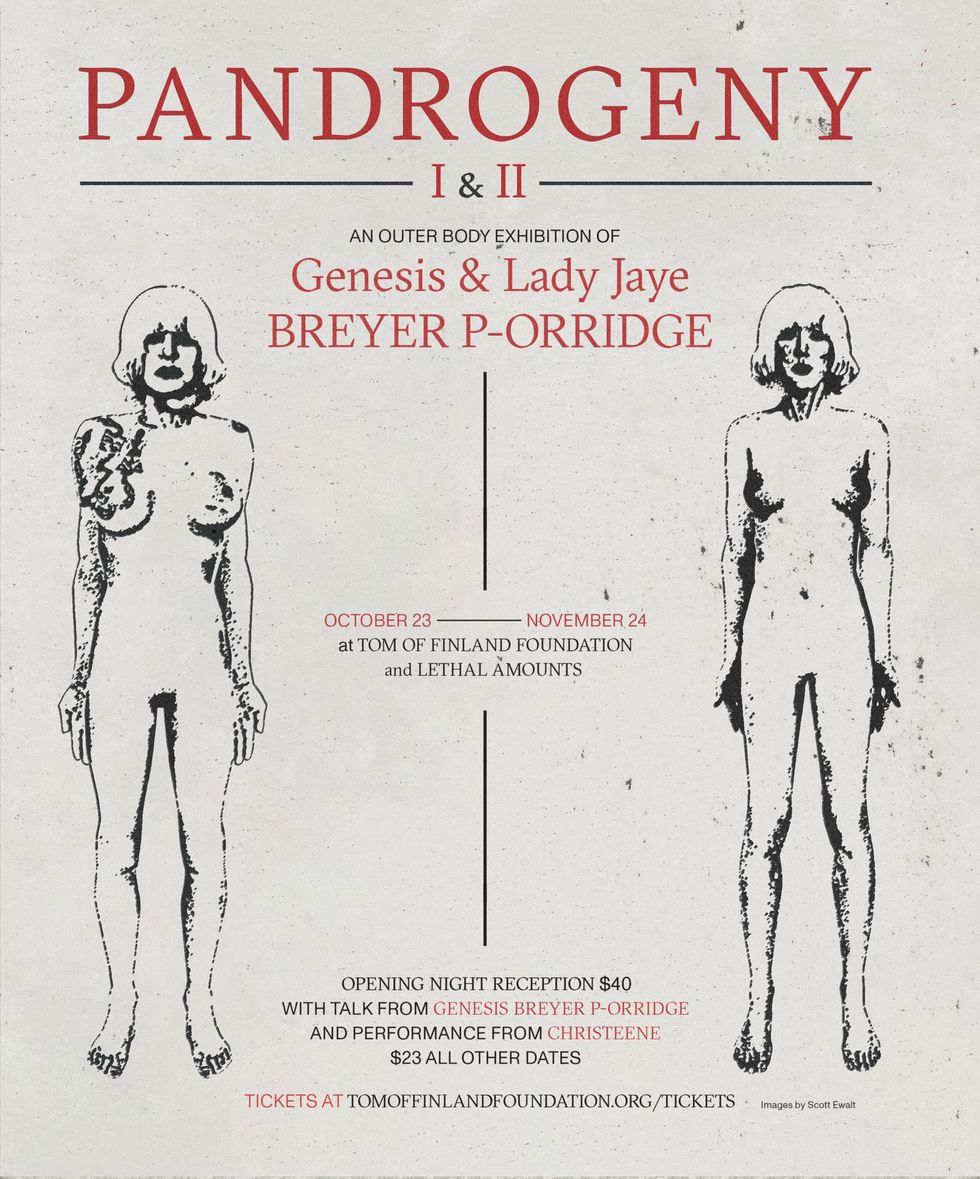 Photos courtesy of Genesis P-Orridge