A personable nightclub impresario in the 1970s and '80s, the Brooklyn-born John Contini helped bring to life hotspots like the dance club the Underground and the smaller Cat Club, which was known for its dance-filled stage shows. Before I get to our new conversation, let me repeat what Contini told me by way of background for a PAPER blog about legendary club owners/promoters:
"I started promoting for Steve Rubell and Ian Schrager at the Enchanted Garden in Queens. I reopened Le Jardin as Jouissance in September 1976. I kept it open for a year and then made a deal with Maurice Brahms to take over the promotion of Infinity, in return for a 10% stake in the club. It was a huge success until it burned down on 2/14/79. It took three of my partners at Infinity and two others a year to build and open the Underground. I gave John Blair his start there, among others.
In October of '80, we were hit with a tax evasion lawsuit for Infinity….Maurice and another partner from Infinity went to jail for several years and I sold my interest at Underground and filed back taxes. I went to work on Wall Street, promoted a few parties—including the Pretty Preppy Party at the Peppermint Lounge—and laid low until I had a chance to open the Cat Club in '83. It opened two weeks after Area, but we were able to get an amazing crowd that loved to dance because of our wonderful dance show. Andy Warhol loved it there and had a private Halloween party there for his entire Factory staff and a few friends. Don Hill was the manager.
I remained there for almost three years and at the same time started teaching at risk and homeless kids. In '86, after Maurice came out of jail and took over Underground again, he threw out his partners there and asked me to return to help him run it, which I did. I also went to law school at the same time. Maurice also opened Red Zone, which I worked the door at with Kenny Kenny and Aphrodite and turned Underground into La Palace de Beaute, which I had a hand in (but that was Steve Lewis's work). Maurice and I opened Peace, where Life opened a few years later. I also worked the VIP doors for the Palladium and Life when they opened. My last nightclub was Magnum in Soho, 1996. It was an A-list lounge. Mark Ronson was the DJ on Wednesday nights and Dominic Chianese on the weekend. I stayed for a year, until I decided that my other work with homeless kids was more important."
For more juice, I just reconnected with Contini, who lives in Honolulu and is a financial adviser at Merrill Lynch.
Hi, John. How did you start in nightlife?
I did a huge party at a place called Ripples on the Water (in Whitestone, Queens) in 1975. Dallas Boesendahl was doing the party there Wednesdays, and they were duds. I said, "Dallas, you're doing this and this wrong." He said, "John, how about if you do a party?" I said "OK." I was doing a few things in Manhattan—inviting friends to a club and getting a dollar a head—but it wasn't going to be a business. I did the party with Dallas and that got the attention of Steve, Ian, Maurice, and John Addison.
What was the best thing about the Underground for you?
For me, the best time was the first year. We opened in February '80, and until mid October, that's when Underground was the A club and amazing. But then Maurice Brahms went to jail for tax evasion because of Infinity. In all the clubs, I was the front person promoter, the face of the club, what you called the reason to come. Disco was on the wane. I wanted Underground to be more like the [Tribeca new wave hangout] Mudd Club, like a big, commercial version of it. I hired David Azarc to be the DJ—he was the DJ at Mudd. Maurice and the other investors wanted it to be more like the old dance clubs. So we kind of compromised, which worked OK. We created it with an underground feeling, but then they put that stupid fucking light show I hated, with neon on brick, like Infinity's old light show. But from the opening, it was the A club. Steve and Ian were in jail, and 54 had died--there was no liquor there--and we were the hot club. Steve Cohn started Sunday Boys night and I brought in John Blair. I gave him his start.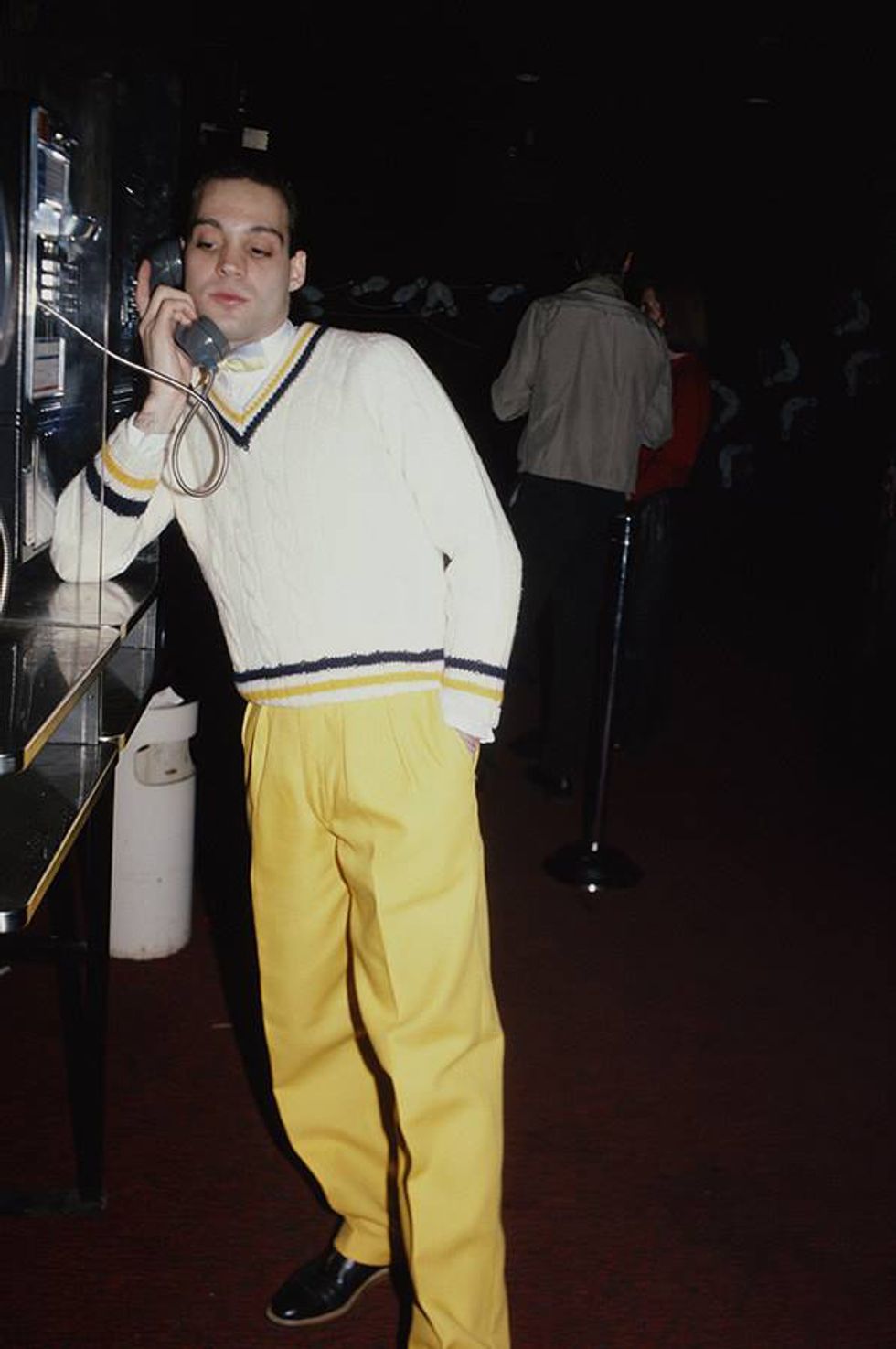 John at his Pretty Peppy Preppy Party at Peppermint Lounge, 1982
What celebs were regulars at Underground?

They all were, but the person who was a regular that I loved hanging out with the most was Susan Sarandon. She would dance and hang out with everyone. She particularly liked Sunday night. She had a couple of gay friends and loved to come down. Do you remember the illustrator Antonio Lopez? When we opened Underground, I didn't know him. During the day once, he came in. I brought him into the office and he said, "All my friends tell me this is the hot new club. I understand you have to get a membership." It was only $35. He told me, "I never paid to get into a club." I made him pay the $35. We were doing it for everybody. I didn't know who he was. Well, that Friday, he walked in with 10 or 12 of the most fabulous people in New York at the time. They were top models and celebrities. They were all prepared to pay. I comped them all. Antonio and I became good friends after that. I don't think I ever charged him for anything else—maybe he bought his drink.
Before I left, I brought in [promoter/host] Nikki Haskell, and she became the face for a while. The club continued to be a huge success. It was different, though. There were some of the A-listers, but also the Upper East Side side crowd, and it lost its celebrity cache. It lost its old 54 modelish/celebrity thing. We knew the idea was to have a great mix—not just the celebs, but the A list and Mudd Club crowd and the models and gay crowd. And put the best of them all together, that's what made a fun party. Nikki's crowd was a little more homogeneous. And I wasn't there. I had left. I opened the Cat Club.
During this time, you were very popular on the scene. Were people coming at you with drugs and sex?
I've been drug and alcohol free all my life. They knew not to offer me drugs…but I was a big whore. I don't know how else to put it. I loved sex. I used my position all throughout the years to bed some of the most amazing women. No men. Remember the scene in 54 that Mike Myers did, where he was showing how he seduced boys? They really nailed that. Steve and I and others had a night on the town. This was in the Enchanted Garden days, before 54. We were at Flamingo, then Nicky Siano's place the Gallery, and then David Mancuso's Loft. Afterwards, I crashed at Steve's place, and he tried to seduce me. He was so high.
How did you fend him off?
I think he just fell asleep. He was on top of me. I said, "I love you, but you know this is not me." I think I cuddled him till he fell asleep. It was like eight in the morning.
You commented on Facebook regarding my Paper piece about Aleph Ashline, who was a popular club doorman at that time.
Aleph was my dance partner. Very few people could keep up with me on the dance floor. When he and I got on the dance floor together, forget it. Before that, it was me and [scenemaker] Sterling St. Jacques, and we danced with Liza and Diana and whoever, whether at Studio, Infinity, or Underground. Aleph came on the scene and he was my fun person to dance with.
As a straight guy, did you not care what people thought?
I was hanging out with Steve Rubell at Flamingo and 12 West. Does that answer your question? [laughs] It was a joy dancing. It was never an issue. I was comfortable with my sexuality. I was a big part of the gay community, even though I wasn't gay. It was pre-AIDS. Everything was free. Once, I ran into Ed Rosenberg, the Vice President of the Islanders Club, and I went to give him a bear hug because he was a bear of a guy. He put his hand up and said, "No hugs." For me, that was the beginning of the AIDS era. [Ed was seeing a doctor at the time.] Obviously, that changed once people got a handle on what it was. But the nightclub business changed after that. I had hung out in all the gay clubs and so did the top female models. They loved not having to deal with all the straight guys. We'd all be dancing together. It was never one on one—it was a whole big group dance orgy. At some point, I'd tell the hot model I was dancing with, "You do know I'm not gay, right?" They'd put a big shit eating grin on their face. They'd be turned on by it. I bedded a lot of women that way. I told you I was a whore!
That would be a great sitcom: Hot women go to a gay club to avoid guys hitting on them and end up getting hit on by the one straight guy, and loving it.
Yes. But after AIDS came, there was a separation. The women models wouldn't go near gay men partying. Or they would think, "He's probably bisexual, not safe to sleep with."
As someone who doesn't do drugs and only lightly drank [stopping a long time ago], I find it weird to make a life in nightclubs, but that's partly why we've survived, and also, I always found clubs so stimulating that other stimuli weren't necessary.
Tell me about it! Everyone assumed that I was high as a kite, especially if you saw me everywhere, dancing in G-strings and loincloths on a speaker. Most of the people's attitude was, "I wish I had what he's on." Usually, my good friends would say, "No, he's sober." They'd look at them and say, "You're shitting me." My friends would bring them over to talk to me and they'd see I was sober, and it would blow their minds. I was the wild guy in the clubs, so to do that sober was unfathomable. For me, it was the only way to do it. I had a day life. I was the father of twin daughters after 1980. I worked in the day on Wall Street and starting in '84 was teaching kids in Harlem and homeless kids, and I went to law school.
You really juggled a lot, including the Cat Club, which opened in 1983. Andy Warhol loved the place, right?
Andy was pissed that I opened the Underground in his building. It was always known as his building, the Factory building. So he never came to the Underground [even though we had advertised it a lot in Interview]. He even moved out of the building, eventually, but I think it was for other reasons. But with Cat Club, he came on opening night and fell in love with it. I wasn't going for the big A list. I wanted some of the A-Listers, but I wasn't going for what Area was. Andy fell in love with it and loved the Cat Club dancers and the vibe. To me, it was a dance club--for people to have fun and dance. He was hanging out at Area every night, but when it came to giving his private party, he did it at Cat Club. It was a further affirmation that he liked me and supported all that I did. I left the Cat Club and worked with Maurice back at the Underground, but not as an owner. That wasn't where my interest was. I left the nightclub business in '96. Magnum Lounge was my last hurrah. I started performing comedy and satire for a while. I left New York in '03. I moved to L.A. and performed at Laugh Factory until deciding I didn't want to do that anymore. I moved to Hawaii in January '09.
And today you work for Merrill Lynch?
Yeah. I also keep my hand involved in education. I'm on the board of the school here—teaching junior high school kids how to be more sustainable in taking care of the planet, teaching a couple of money management classes. Education has always been my passion. Finance and nightclubs helped support me so I could do that.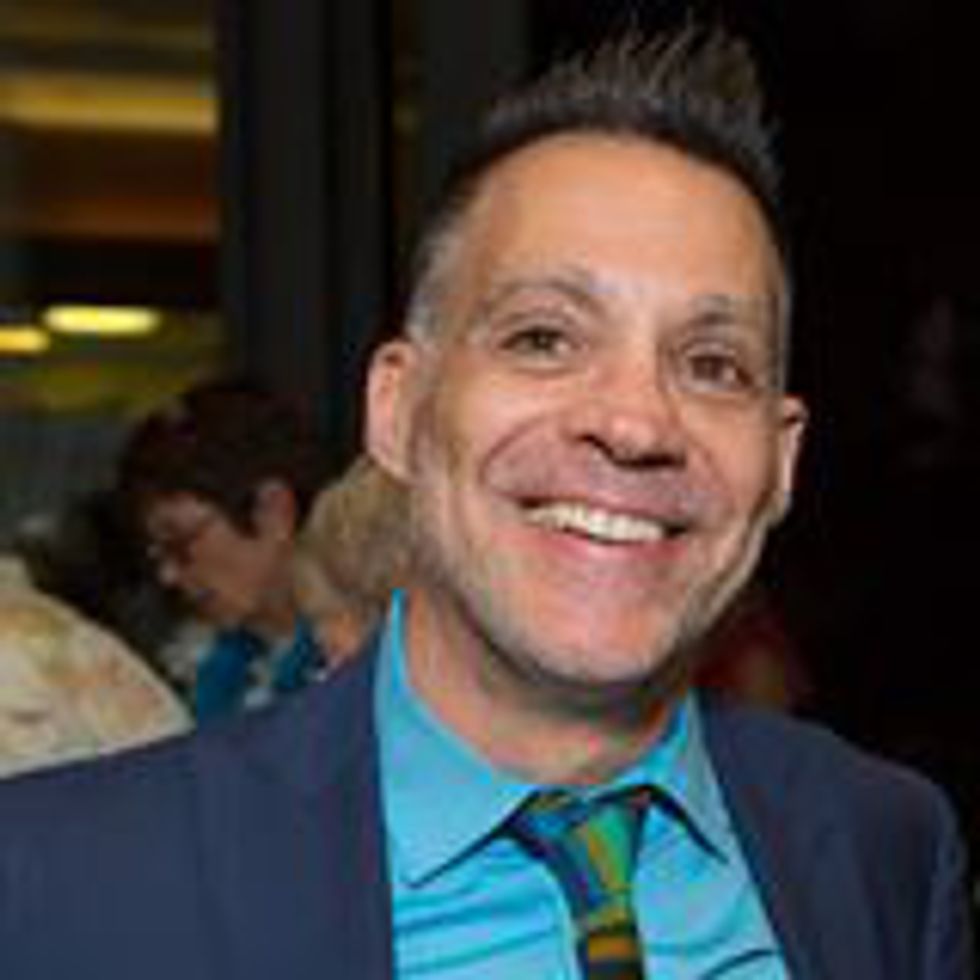 John Contini today
Looking back on your club days, does it seem like a mirage or something unreal?

I think of it as a running extension of my life. There was a time where I wanted to disown it, but you don't disown something that's such a big part of your life. Some of my friends I made in those years…I realize how it's a significant part of my life. I wanted to become a math teacher and principal and get involved in local politics. Nightclubs were not part of the plan.
Was it hard to walk away from the fun factor?
If I didn't become a father of twins at a young age—I was only 23—I think maybe then my life might have taken a different path, staying involved in nightclubs, maybe getting involved in the Hollywood scene, which a lot of my friends were—Bruce Willis and I were hanging out, and some others. Because I became the father of twins and wanted to teach inner city and homeless kids, I had a calling to do that. I went to law school in order to make a change. When I finally walked away from it, I was happy to do what it was always my passion to do. I didn't look back because I had such a fulfilling life.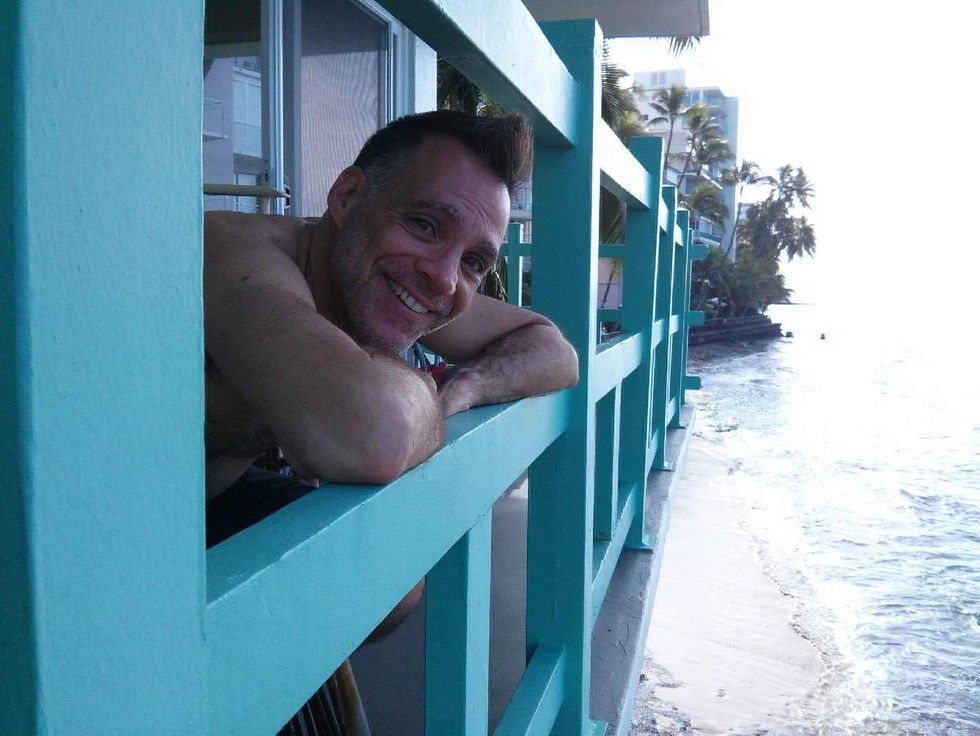 John today on Lanai