While Studio 54 reigned as the glitziest disco in the world, the Mudd Club opened in 1978 (and ran till 1983) as a sort of anti-54. On a side street in then-desolate Tribeca, the bare-bones club--founded by Steve Mass, Diego Cortez, and Anya Phillips—was a haven for skinny-tied, attitude-y punks, avant-garde filmmakers, and celebrity drop-ins who came to schmooze, dance, snort, enjoy bracing music and be sexy. Richard Boch was the doorman there, and he gave me an advance glimpse at the insider info he serves on the place in his new book, TheMudd Club. Today, Richard lives upstate, paints and is promoting the book, which has an official pub date of September 12th (with Feral House), but is already available for pre-order on Amazon, Barnes & Noble, and elsewhere.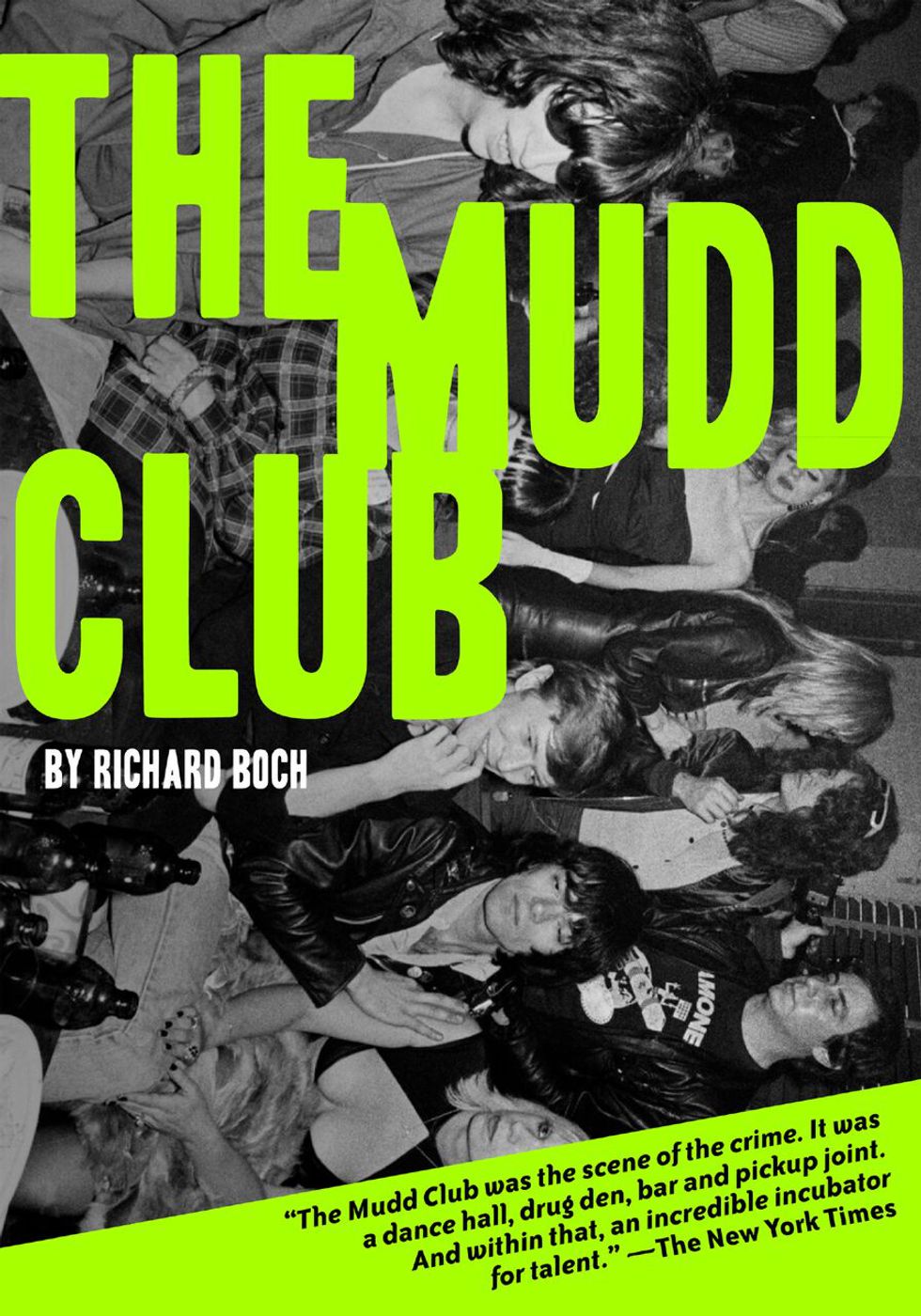 Hello, Richard. When did you start working at the Mudd Club?
On Halloween '78, it opened officially, after a few private gatherings and events. I started four months after it opened.
How did you get the job?
In March '79, I was hired by a phone call from Steve Mass telling me someone had suggested me to him after he was lamenting that people were not able to get in. There had been a Soho Weekly News article about the club, and Bill Cunningham photos of the crowd outside. Steve didn't really know me except by sight. I was going to Mudd as a customer--I lived a few blocks away. He asked, could I see him tomorrow? I had a job, but something told me I should go. I got someone to fill in for me at my bartending job in Soho. I showed up, and he was at the bar talking to Bob Williamson. I stood there a couple of minutes, then said, "Steve, it's Richard." He looked at me and said, "Oh, hi. Be here tomorrow at 12." That was the entire conversation. I showed up the next night and I was not even sure if he'd told anyone else I was working. I stood outside. There were other guys at the door and a woman, Gretchen, who was nice, and Joey Kelly, who talked to me. No one knew what I was doing there. I didn't even open the chain—I was frightened to. The next Saturday afternoon, Steve calls me and says, "Can you work tonight?" I said, "Yeah." I knew this place was gonna explode—it was exploding already. I left a note on the bar of my job, saying, "Thanks. Goodbye."
How much did you get paid?
That was tricky at the beginning. For a while, he was paying me by the hour. Twenty an hour. Then maybe 25. Then a per diem of maybe 100 or 120, which I guess in 1979 was decent money, but I worked my ass off for that 120. That's not to say there weren't a lot of off-the-books bonuses to go with that—tips at the door, freebies all over town. When I learned how to deal with those tips, I learned which were the good tips and the ones I didn't have to bother myself with.
Based on what?
Based on the size of the tip. You could easily turn down a 20 because there'd be a 50 with a half gram of coke wrapped inside of it in 15 minutes.
Who were the most obnoxious people you had to deal with at the door?
There were two camps of those. There were people who'd ask a lot of questions. There's a big crowd and they'd say, "Is this the line?" or "How long do we have to wait?" Or the ones who'd say, "Studio 54 lets us in." That was a total killer. That ended their chances immediately--not because of 54 (I was occasionally going to 54), but because they thought they had to play that card. Then there was "I'm a friend of Steve's," which usually meant they were not. If they were a friend, I would have known them.
Did you ever turn away a celebrity?
Yes. Paul Simon, who was a total asshole. A heroic songwriter, but an awful human being. He gave me the other classic line. "Do you know who I am?"
Didn't you?
I did know who he was. Then he wanted to know my name because he was going to report me. This is not an isolated incident because the scuttlebutt was he'd go to CBGB's and not be cool there either.
Who were the celebs you loved? Debbie Harry? Bowie?
She was a semi regular because Blondie was touring a lot, but when she came, she was a doll. No drama, no attitude. Bowie was like one of us. You could chat him up outside. He'd be oblivious to people going "Bowie." He didn't need to be sequestered or get special attention.
The celebrities were accessible and there weren't always photographers hounding them at these clubs back then.
It was pre-paparazzi. Absolutely. They never showed. We had our hometown people, like Allan Tannenbaum and a few people who were regulars with cameras. But it wasn't a big thing. Taking pictures wasn't invasive, and if it became invasive, it would be over. Steve would end it. This was a pre-tech era. I didn't even have call waiting on my phone at that time. There was a dial-up phone in the foyer. Steve would call me and say someone was coming. Maybe a more behind the scenes person, like an SNL producer, just to alert me.
Well, thank you for always letting me in and being nice.
You were one of those people who were sort of a hometown guy. We knew you and your Soho News affiliation, you always came on the arm of, or someone came on your arm, who was interesting, whether it be Sylvia Miles or someone else. Or even solo coming out of a cab, you posed no attitude. If there was, it was a fun attitude rather than an aggressive or passive aggressive attitude.
I'm a pro. How did you get to enjoy the inside?
I took full advantage. I'd do that thing—"I'll be back in five minutes." The five would turn into 10 and whether I'd end up in the basement or the bathroom with someone or on the dance floor….Someone would say, "Come inside and dance." If someone came I hadn't seen in years and I'd gone to high school or college with them, I'd escort them in. I'd escort people, whether a Robert Rauschenberg or Bill Murray, Mick Jagger and Iggy Pop. I'd bring them into the bar or take them directly upstairs. I'd make sure they got their drinks.
What was your craziest, most memorable night there?
The craziest night to work the door was Marianne Faithfull's concert in the winter of '80, for the launch of her Broken English album. Everybody south of 14th Street who was going out on a Sunday was out that night. She crashed and burned that night. She only made it to the third song. Cocaine frozen! Her mature voice has a beautiful rasp to it, but this was beyond beauty and raspy. Soul night was great. The Joan Crawford Mother's Day party and the Rock and Roll Funeral party were great. And the Nyquil party on the second floor.
Did you have a love of your life back then?
That's a tough one. I had a boyfriend at the time. We were so not faithful to one another. It's hard for me to talk about that. Were there people I was falling in love with semi regularly? Sure. Did I have a love of my life? I don't know. I think I was too consumed with making bad habits the love of my life, whether it be sex or drugs or just crazy late night, early morning adventures.
So you partook of the hedonism a lot?
I certainly did. Sex and drugs live large in this book. We like to think of the Mudd Club as an incubator for talent, which is certainly true, but at the same time it was a wild time and people behaved recklessly. Not to be a downer, but just to be matter of fact, it was still a pre-AIDS world and the drinking age was still 18. Those aspects factored into the 'anything goes' aspect of nightlife. The Mudd Club was a step beyond nightlife into its own niche.
Did you ever go to rehab?
This is no way any kind of memoir as firing a warning shot, "you'd better keep your head on tight because there's trouble afoot." Did I go to rehab? No. Did a time come later in '80s when I had to clean up my act? Yes.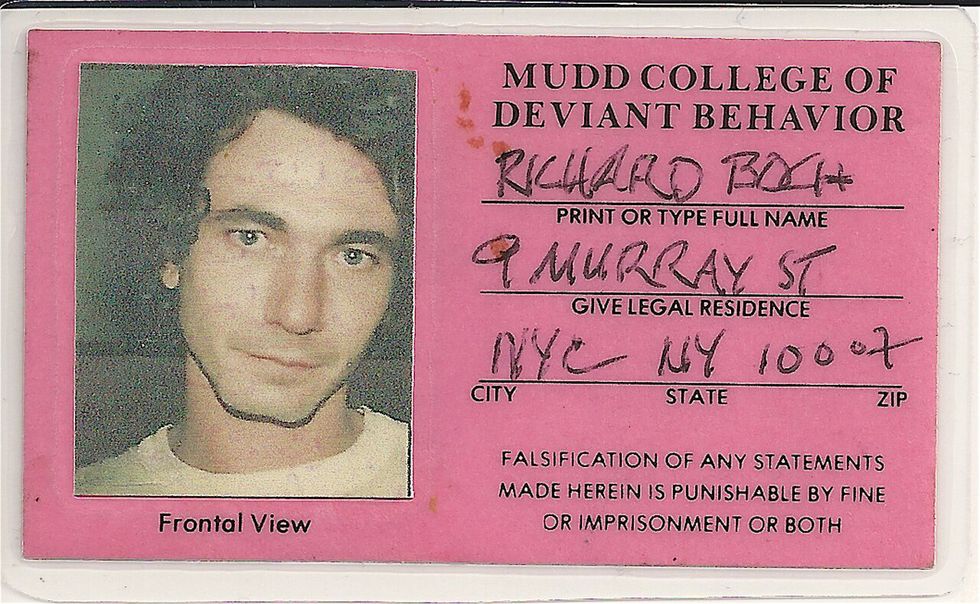 How did you leave the Mudd Club after almost two years?

David Azarc, the number one DJ there, took a job for the opening of the Peppermint Lounge with Jim Fouratt and Rudolf--they were going to reopen on 45th Street. It was a mobbed up joint and they were fronting it. David and I were very close. I was getting burnt around the edges and David said, "Why don't you talk to Jim and Rudolf?" I thought I could never leave, and then I went and talked to them and it wasn't even about the money. The next thing I knew, I was figuring out how I was gonna tell Steve I was going to leave. I left on my own terms. It took a long time for Steve and I to come to an understanding and a friendship after I left. Was it the right move to make? Maybe not, I don't know. Was the Peppermint Lounge the right move? Absolutely not. I don't want to offend anyone, but I went from working at a club that was sort of underground and iconic to basically a rock joint. The Mudd had aspects of being a rock joint, but it was so much more than that. With the Peppermint, that was the whole pie. They fired me after six months.
Then what?
I worked a couple of months as a colorist for a fine art print maker in Little Italy. Then Mickey Ruskin hired me as dining room manager at One University Place. He had me scoping his next place. He talked about boutique hotels when no one was talking about that. He died a few months later. After that, the Peppermint Lounge hired me back when they reopened on 15th Street and 5th Avenue. I didn't last long. Jerry Brandt hired me to do the VIP room at the Ritz. By then, I was ready to do something else and get out of that existence, that club life. I wanted to go out a few nights a week, but I didn't want to live at those clubs, which is what I'd been doing for five years. I didn't see this great celebrity doorman trajectory for me, the way [Danceteria and then Palladium doorman] Haoui Montaug worked it. He really had it down as an art form. The Mudd happened for me and somehow worked, and Steve trusted me to get it right, and for the most part I did.
Photo by Kate Simon