Eckhaus Latta designers Mike Eckhaus and Zoe Latta held their Fall 2020 show, their 17th, in the former Abercrombie & Fitch store in the South Street seaport. The shop, which closed last year alongside 39 other A&F locations, is a ruined temple of a certain kind of now-unfashionable Americana: plaid rugs, burnished mahogany, the echoes of Bruce Weber campaigns featuring white, muscled models running on the beach.
Maybe, like most people on deadline during fashion week, I'm reading into things too much, but the choice of setting is really very clever. A&F and other mall brands are struggling, and labels like Eckhaus Latta, which make a point of rejecting their values, are rising out of the ashes of an increasingly demolished retail landscape. The label is known for cleverly undone art clothes, for inclusive casting, for molding a downtown fashion community that values a curated kind of distinctiveness over bland conformity (everybody downtown or in an equivalent Instagram scene may dress the same, but they're proud of dressing differently from the Average). And they do make logo t-shirts. Some denizen of Dimes Square has surely paired vintage Abercrombie & Fitch tees with an Eckhaus Latta knit, like, ironically. As Natasha Stagg wrote in her essay "Forevercrombie," recently republished in her book Sleeveless, as Abercrombie & Fitch fell out of fashion wearing it became cool again, "as punk as wearing Sharpie-written anti-Abercrombie shirts was in the 2000s."
I love the A&F thing; Eckhaus Latta, which used to collaborate with UGG on shoes, has a great deal of affection for a 2000s hot girl uniform. But there were two big non-nostalgic stories that emerged from the fall show. After years of making a few menswear pieces per collection, the designers showed a full mens' collection — as they told GQ, they wanted to be more inclusive by targeting male customers who want to buy their clothing, but can't physically fit into it. And for footwear, they partnered with The RealReal, selecting polished vintage styles from the likes of Prada and Bruno Magli that are now available to purchase. As Latta told Vogue, the designers were interested in starting "a conversation about reducing waste and extending the life cycle of fashion."
"We focused heavily on the clothing for this collection and saw an opportunity to reuse existing footwear in place of footwear that is produced largely for the purpose of a 15-minute runway show," she added.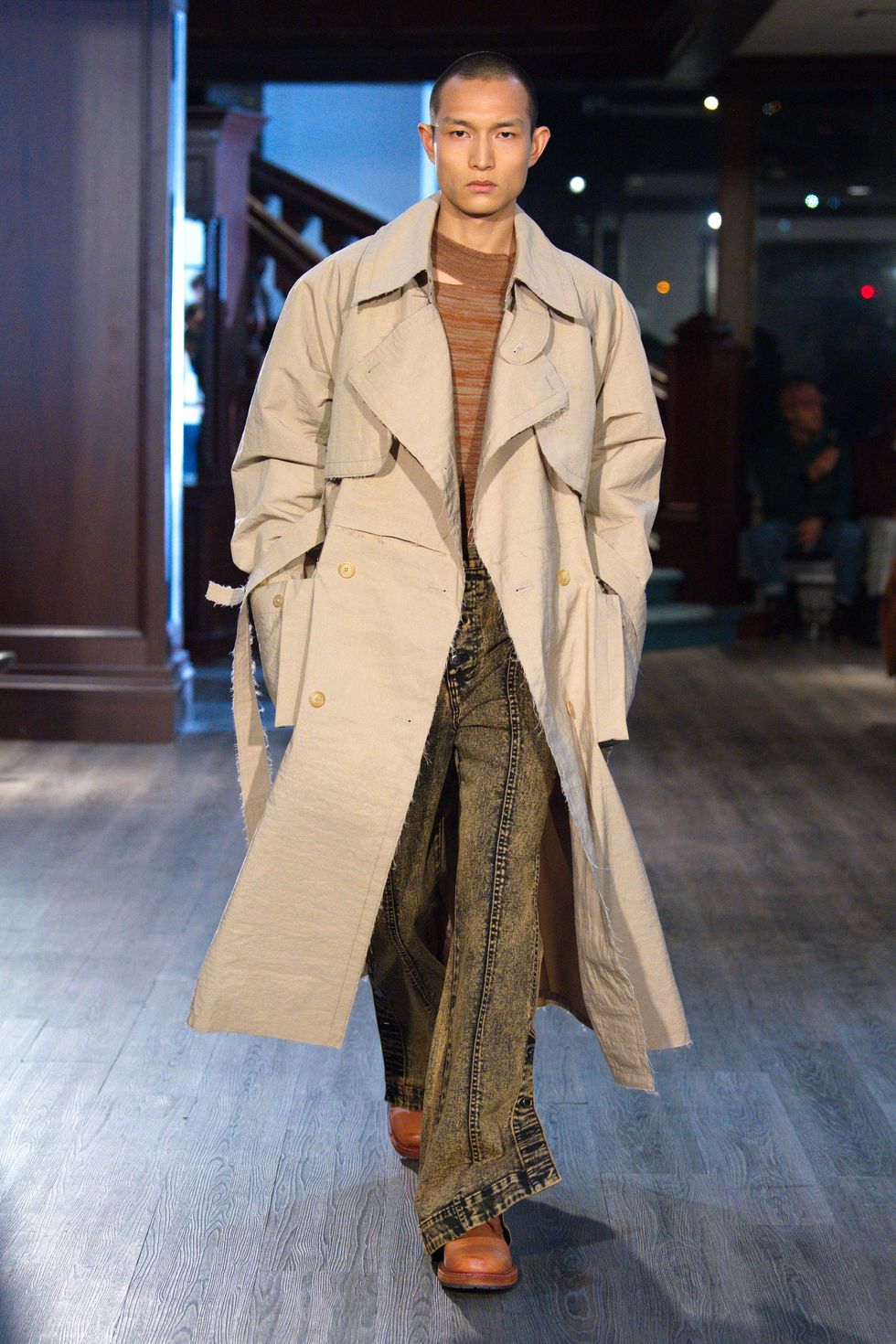 That focus was clear. The clothes were presented to gasps (audible over a pounding soundtrack). Someone says this every season, but this was their most polished collection ever. It was still identifiably Eckhaus Latta, including brand signatures like painted jeans and color-blocked asymmetrical knits, but also went to a new place. The colors were brighter than usual — descriptions in the show notes include "acid yellow," "tomato," "limon," and "scuba" — and the designers experimented with glittering tinsel and jeans and outerwear rendered in a gleaming pink "gloss" fabric. There were A-line miniskirts paired with crisp, broad-shouldered cropped jackets and double-layered cardigans, touchable corduroy pants, a stunning nylon trench. The trousers and blazers were just so beautiful. I want to go corporate now, and not just for the health insurance.
The entire collection stayed true to the brand's DNA, despite the clear sense of evolution. "We're not a new brand anymore," Eckhaus told GQ. "How do we expand in a way that doesn't feel regurgitative of ideas that have been popular?" The DNA is strong. As with every season, their show notes featured a poem — this season's included lines about "ANCIENT IDEAS OF BEING IN THE OCEAN ON A RINSE CYCLE," "A KNEE THAT CRACKS," "PLAGIARIZED SPIRITUALITY," and "DANDRUFF." At the afterparty, I saw someone casually pull out a copy of Infinite Jest. A friend and I took some pictures, but no one else blinked an eye.
Photography (backstage): Jack Maffucci
Photography (runway): Mitchell Sams courtesy of Eckhaus Latta