Doja Cat (real name: Amala Zandile Dlamini) may seem like she's popped up out of nowhere with the release of her debut studio album, Amala, through RCA Records. But it's actually the result of a quiet five-year grind, put together through endless nights and days in the studio in her native L.A., and begun with her first upload to Soundcloud in 2013 at just 16 years old.
Born into an artistic family (her father is the South African composer, actor and film producer Dumisani Dlamini and her mother is a painter), Doja taught herself how to use Logic and compose music with a midi controller after exercises in "crate digging" on YouTube, and developing a taste for a wide range of musical influences that include Busta Rhymes, Erykah Badu, Nicki Minaj and Drake.
Related | Bops Only: 10 Songs You Need to Start Your Weekend Right
When she dropped her acclaimed EP Purrr! in 2014 at the age of 18, her single "So High" went viral, and fans have been awaiting her full length album ever since. The result is an eclectic mix of modern sounds with an undeniably gritty SoCal undertone throughout.
We chatted with Doja Caton the day of her album drop to learn more about her and find out what's next:
Where do you draw inspiration from?

I draw inspiration from pop culture, love, fashion, and my friends, but it usually begins with the production. If a beat has enough unpredictability and energy in it I can write in the blink of an eye.
What are you listening to these days?
Just myself at the moment. They say babies are like sponges but I definitely soak up what I hear and it comes out in my music. Inspiration with a cost is what I call that.
There's been a big build up to your debut album Amala — what's it like to have that kind of anticipation? Do you feel pressure, or just excitement?
I've never felt more special. This project took so long so to see it take off and receive the love it is is a huge relief. Less pressure for me if my fans are enjoying everything.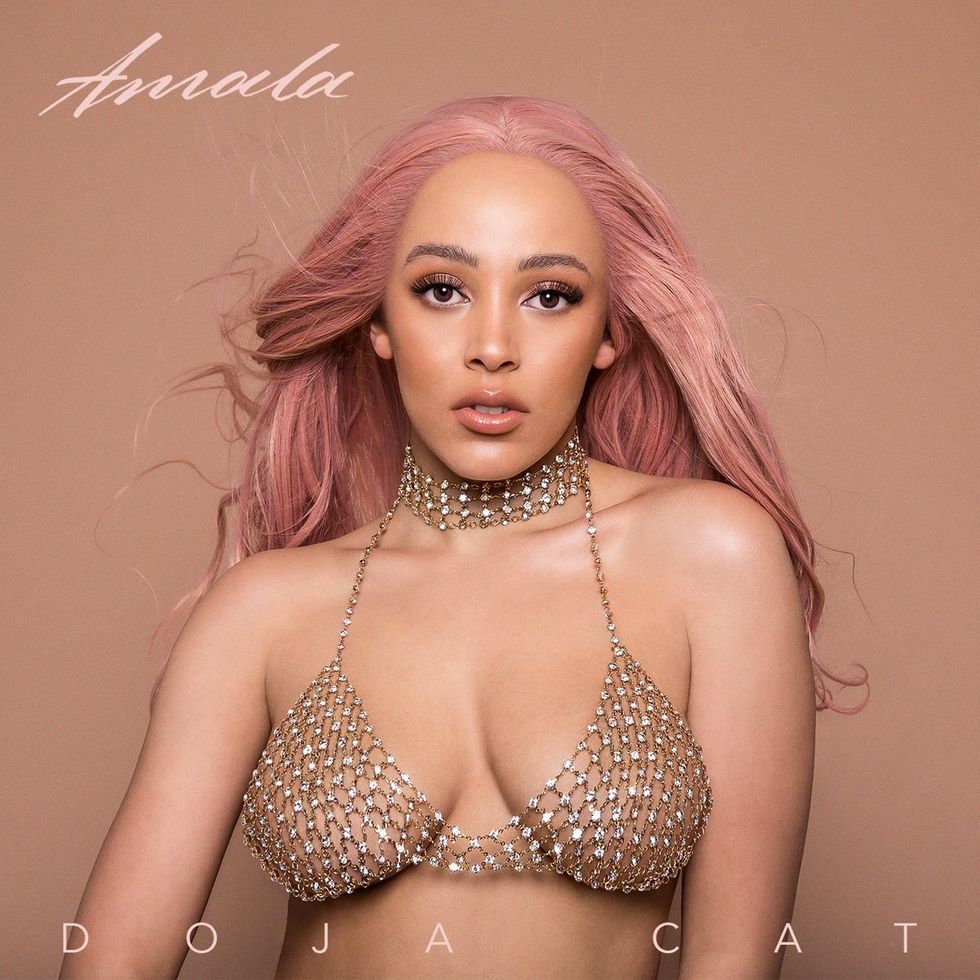 Who would be your dream collaboration?
Pharrell, Tyler the Creator, Timbaland, and Ski Mask the Slump God can do no wrong in my book so I pick them. Timbaland has this flare in his production that I really love and respect and same with Pharrell and Tyler. Ski Mask is just untouchable and we have similar taste in music I believe.
What's coming up next for you? A tour?
Tis a secret.
What's the message behind your music?
As a whole my music represents joy and freedom. My message is of triumph and pain and embracing yourself as a creature and creating the best journey for you not just other people.
All I've ever dreamt of evoking was confidence and self-realization with my music. I want you to move to it wether you're in your room with a hair brush microphone or at the club with your friends or in the car on your way to work, I want to evoke movement and rich, positive, emotions.
Stream Amala, below:
Photo Courtesy RCA