Two strong shows kicked off the Paris collections this week by names you might have heard of. The one-two punch of Dior and Saint Laurent opening the final lap of fashion month sets a tempo that one hopes the rest of the week can rise to.
Related | Go Behind-the-Scenes at Dior
At Dior it was a transfiguration of the storied protests of 1968, and at Saint Laurent it was a sleek nod to the founder's 1976 Ballets Russes collection — both drawing on crucial moments in the houses' past, but successfully placing them very much in the present. It is fitting too that these shows essentially open Paris given their inextricable relationship to each other and the city as a cradle of modern fashion.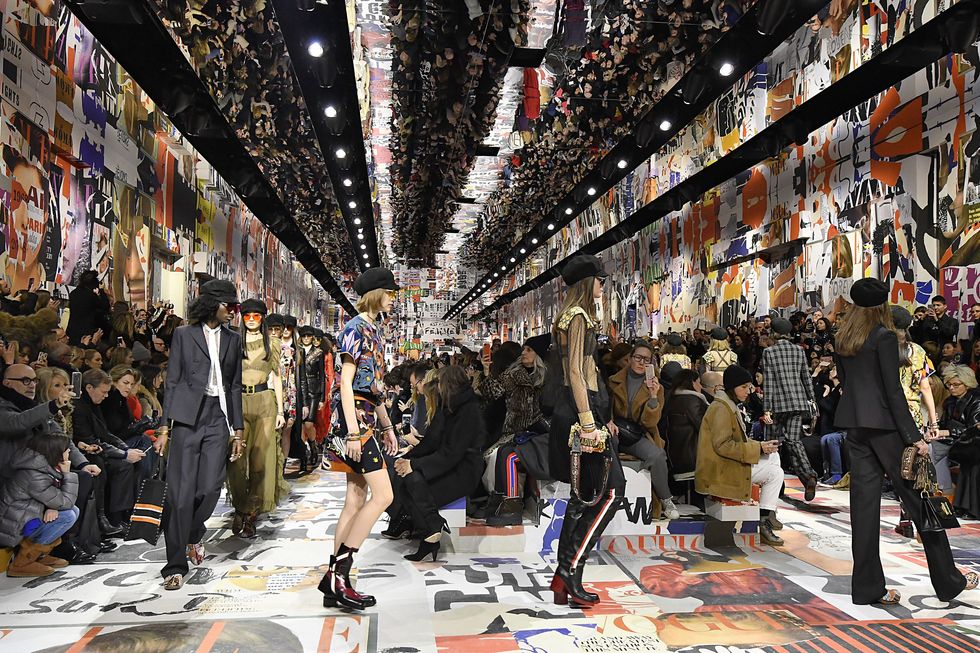 Saint Laurent was famously the boy wonder who took over from Mr. Dior after his untimely death in 1957, then shortly thereafter left to create his own label and essentially upended the entire fashion system in one season with his white hot pret-a-porter. The existential back and forth between the houses since has been a reflection of the very essence of what is possible and desirable in fashion; is it the refined, unattainable swans of Dior or the zeitgeisty vixens of Saint Laurent. Granted, fashion has accommodated many more points of view since, but this dialogue is still as heated as ever and the designers for both have moved the conversation into timely new territory.

Maria Grazia Chiuri took the May 1968 student uprisings in Paris as the jumping off point for her Fall Dior collection — a canny move if a designer is looking to reflect the state of play in the real world (particularly protest-heavy atm), even if the notion of protest chic is sure to elicit eye rolls in some quarters. But her conjuring of that pivotal moment in her adopted country's history was earnest, assured and, in the end, deftly carried off. The late '60s as a fashion moment in general play to her artisanal strengths of embroidery, crochet and inspired quilting.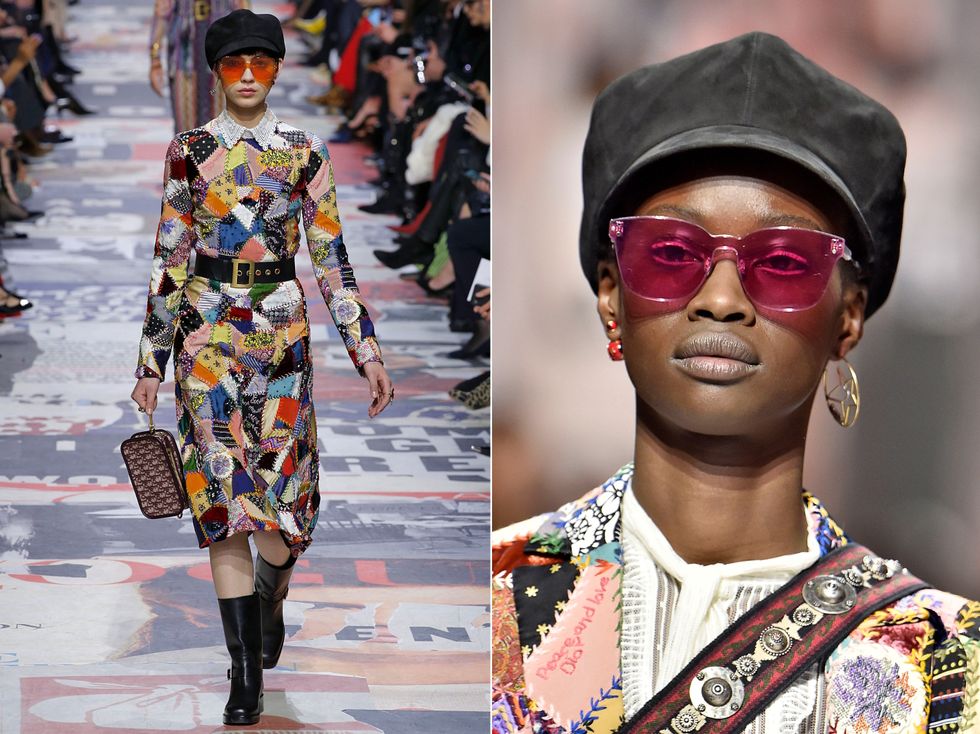 For the house of Dior at that moment, it was in the infancy of its pret-a-porter offering (Miss Dior) in response to the youthquake of the decade, and spurned in no small part I'm sure by cross-Seine upstart, Yves Saint Laurent — a moment in Dior's history that is superseded psychologically by mid-century romance and New Look reverence. An adroit piece of branding on Chiuri's part in 2018 was perhaps the "D" logo belts cinching nearly every look. Her success with previous branded motifs like the ingenius Dior-printed bralettes and kitten heels have maybe not rewritten Dior's history just yet, but added some new pages.

Whereas her immediate predecessor dealt largely in abstractions, Chiuri brings a sense of a real, fully formed woman to Dior — one she says inspired very much by her 20-year-old daughter, Rachele. And this season was no different, giving life, if with a vintage cast, to the women of all ages taking to the streets and demanding change — all the more important too when the notion of (finally) having a women at the head of a major French house is still revolutionary.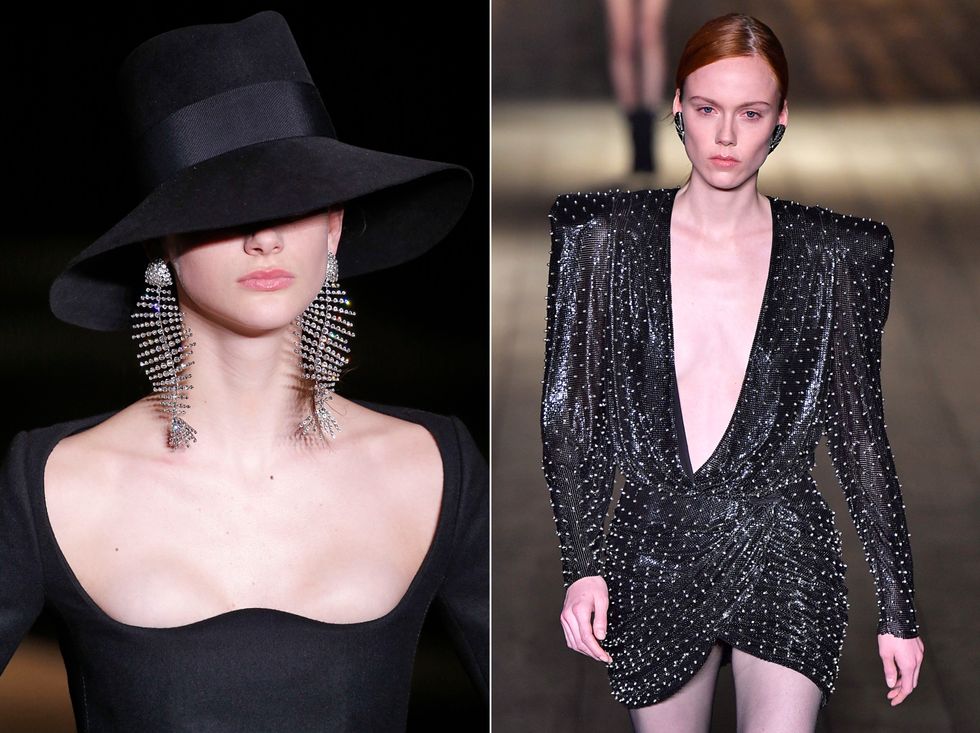 At Saint Laurent, Anthony Vaccarello dipped into one of the founder's most famous collections, the 1976 haute couture based on the iconic Ballets Russes. But Vaccarello, known for his wickedly sexy cut-to-there leather minis and hot pants, naturally put his signature vampy spin on it. The flowy peasant tops and boho turbans of Yves' Russian beauties were rethought in black lace and crushed velvet, the spirit of '76 swathed in billows of smoke and leather. He also took thrilling liberties with the flower prints in (of course) mini-dresses that recalled YSL's louche left bank glamour, but were also thoroughly Vaccarello in their cut and energy. The success of the collection was two-fold: One, the sexy gotta-have-it clothes that will please the Saint Laurent customer. And two, it proves that Vaccarello can carefully plumb the rich archives of Saint Laurent and not get buried in the anxiety of influence.

And what an anxious time it is! We're in a globally political moment arguably more turbulent than the eras of these two legendary founders experienced, and one that their respective successors are navigating and interpreting with great elan. Here's to more this week.
Photo via Getty