Fashion is in a state of emergency and, like with many major conflicts throughout history, there's a radical whistleblower demanding the industry right its wrongs.
Diet Prada, Instagram's unofficial authority on "ppl knocking each other off," has recently risen to the forefront of fashion as a relentless watchdog calling out copycat culture — something they argue is needed now more than ever. "I think the industry has been lacking in a voice that doesn't fear speaking the truth," DP says. To that end, the anonymous founders (there are thought to be two of them) use their account to call out imitations or appropriations in order to push fashion through this bleak era they describe as "peak sameness."
Before creating DP, the handle's co-creators had worked together for 5 years in the business. During this time, they began to take notice of striking similarities between new collections they'd see on the catwalks and older collections they recalled from previous seasons or more recent lines made by younger, more obscure designers who did not have the same platforms. "We started making side-by-side collages to see how accurate we really were with the 'inspirations' we remembered," DP says via Google Hangouts, their preferred channel for communicating and maintaining anonymity. The earliest iteration of their "pet project" was on a private Pinterest, where the two would chronicle various fashion copycats and circulate the boards throughout their office at work. "Some of them were so spot-on that we shared them around. The reaction was always really positive, so we decided to put it on Insta."
When their Instagram account launched in late 2014, the format was critical to its success. By being anonymous, the Instagram had no relationships to maintain, regardless of how powerful the person being targeted was. "Anonymity can definitely help for those who fear repercussions," DP says. "Because a lot of what we post is based on visual evidence, we don't have too much fear in tackling most of the subjects we post about." No one's safe. Not Alexander Wang. Not Dior. Not even Gucci, who's become seemingly untouchable under creative director Alessandro Michele. Despite their ferocity, DP's still managed to garner a serious industry audience, from The Business of Fashion founder Imran Amed to Instagram's head of fashion partnerships Eva Chen and even Michele himself. Celebrities like Gigi Hadid, Dua Lipa and Pharrell Williams are also among DP's followers.
An increasing emphasis on transparency online, DP's own continued anonymity notwithstanding, has made it easier to hold industry gatekeepers accountable. Though as of late, the pair has been accepting fashion show invites, but attending completely undercover and documenting — or policing — the catwalk for their hundreds of thousands of followers. While this risks their anonymity (and, potentially when they're accepting invitations from the fashion brands directly, their impartiality), it's vital to being involved in the fashion conversation real time. "Fashion has its merits," DP says, "but it's also an extremely self-protective industry that's built on exploitation of all sorts, not just design and IP theft, but also unfair labor, model abuse, [and] environmental impacts."
Many of these types of exploitation can be found at fast-fashion companies, which have experienced a massive surge within the last decade, including a 21 percent growth in the past three years alone. This shift has coincided with the spread of social media, which trains users to think in shorter cycles. Social media has also had a big effect on the fashion media industry, previously the gatekeepers of trendcasting and telling readers what to wear. Nowadays, the world of magazines photographing runway looks and publishing them for their readers to see six months later has basically become irrelevant, replaced first by digital fashion show photo hubs like style.com and Vogue Runway to now, of course, Instagram. With more and more people able to go on social media and see collections as soon as models walk off the catwalk, the demand to buy these runway looks immediately has only grown. While certain luxury labels have been playing with the 'see now, buy now' model, where their collections become instantly available, there is a far bigger market for affordable knock-offs that hit stores weeks after the fashion shows end (if not sooner). With less time to create original outfits, fast fashion must seek inspiration from the source, and oftentimes lift full outfits from designer runways. "Everyone has to ramp up the pace to try [and] keep up," DP says. "It's causing a huge toll to the environment, to the people who make the clothes, to the consumer who feels like they have to keep up."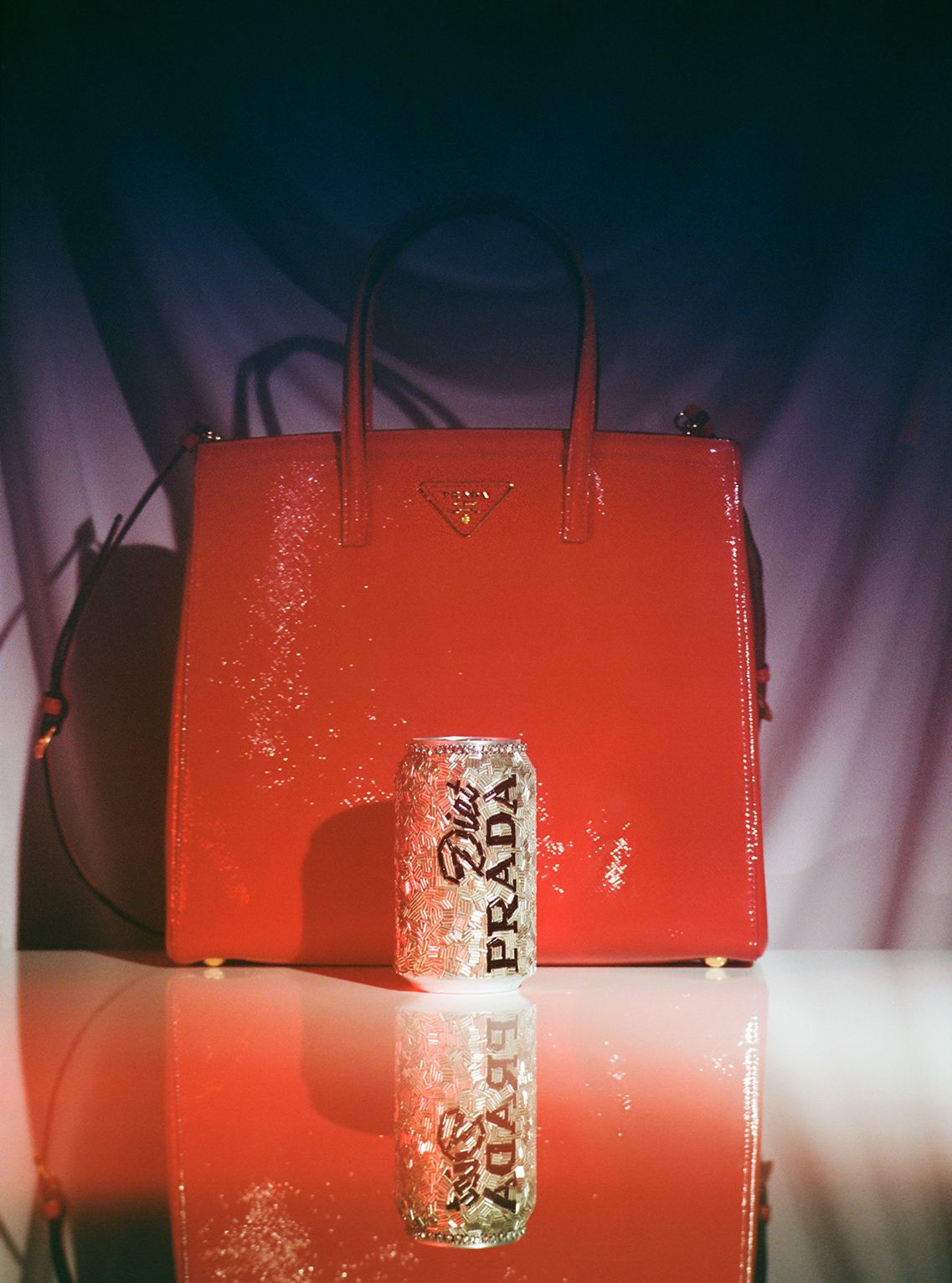 Vintage Prada bag courtesy of Rebag
"Fashion has its merits but it's also an extremely self-protective industry that's built on exploitation of all sorts."

It's often difficult to differentiate between two racks of fast-fashion retailers, because they're both pulling from the same ideas and ultimately feeding the same customer. Today's restless fashion clock has destroyed personal style and eradicated subcultures, according to DP. "I've heard theories that emo was the last true subculture before most styles got pretty homogenized," they say. "You see the same images of Kim, Kendall and Bella circulating to everyone around the world, and that affects retail in a huge way. Before you know it, you're seeing all the same things in the stores and on your friends' Instas."
But the problem doesn't stop at fast fashion. DP argues the contemporary market has also fallen victim to a similar cycle. "Now the runway looks at the street, fast fashion and contemporary look at the runway, and everything just churns," they say, citing LPA's version of a designer Gucci jacket as a prime example. "I saw a group of friends in the city yesterday and two of them had it on," DP says, making sure to clarify that they were not DP's friends, but a group of NYC tourists. They also reference Tibi, "and other 'tribute brands'" that completely overhaul their look each season, as copycat criminals. "Tibi was literally Céline for a few years, and is now suddenly Balenciaga." And even luxury brands can occasionally find themselves in Diet Prada's crosshairs, especially when they're accused of ripping off younger, less-established designers.
The decision to call anything out on DP's page is a careful, educated process. The two admit there's a line line between a blatant copy and a tactful reference, which they consider long before posting anything onto Instagram. "A lot of it has to do with intent," DP says, referencing when Jacquemus name-checked Christian Lacroix as chief inspiration behind the shawl collars and raised-waist matador pants throughout his Fall 2017 collection. "But when you see someone that has identified a design or a formula that works, and they're trying to ride that success for commercial gain, that deserves to be called out."
Fashion has always been referential, but it's where the references are taken "that make or break it as a new original interpretation," DP says. Marc Jacobs has notably been a designer that leans into his references, and yet he's rarely criticized for making a direct copy of something else. "You can tell he loves fashion history, and finding new context for and reinterpreting historical styles," DP says. For his last collection, Jacobs brought together an exaggerated mix of inspiration, from '80s haute couture houses like Mugler and Ungaro to Vidal Sassoon's architectural cropped hairstyles of the '60s. While Jacobs' allusions were clear, they were also balanced and redefined for a new generation.
"There's a difference between being inspired and trying to pass something off as your own," Jacobs says, recognizing that he's been "very unapologetic" about his own inspirations. Still, the designer says it's tricky in today's industry, where "everyone is crying appropriation and culture vulture," to fully understand the intentions behind a brand's work before labeling it a blatant copy. Jacobs says he always returns to a Chanel quote — "He who insists on his own creativity has no memory" — and uses that motto to create referential fashion without it being counterfeit. "I'm inspired by Elsa Schiaparelli and Perry Ellis," he says. "Saint Laurent has been the biggest influence to me, but it's never a life-for-life copy — it's the designers' codes, characteristics or hallmarks inspiring me in the moment."
For every Jacobs, who uses his position of power to breathe new life into fashion, there's an industry gatekeeper keeping things stagnant, feeding today's cycle and ultimately taking up space. DP says if more young designers were given proper support to elevate their original ideas, this could help alleviate the pervasiveness of copycat culture. "The industry needs to figure out how to support better new talent," DP says. "A lot of the resistance probably stems from the risks again. They want someone they know is marketable and commercial, and so you end up with a lot of the same design references year after year." They cite the industry's extreme barriers to entry and the significant funds required to successfully launch a brand. "The powers that be with the money to help make these new designers viable sometimes look too hard at whether they think the merch would sell."
Matty Bovan, a rising British designer, has managed to captivate industry attention while still thrusting new ideas onto the catwalk — a rarity DP says is supported by him having "that desirable element, but with a fresh vision behind it." However, not all young designers have Bovan's same creativity. DP has frequently gone after CFDA/Vogue Fashion Fund-nominated Vaquera and the ways the New York collective lifts from vintage looks. They've accused the underground darlings of stealing Yohji Yamamoto's 2003 houndstooth suit, as well as the Japanese designer's iconic purse dress. After calling Vaquera out on Instagram and sparking a debate in the comments, DP says they've seen a shift in their design approach. "I think this most recent season, they did break away from the replicas," DP says, before adding a bit of inevitable criticism. "The homage portion was a little on the nose with the designer portraits. Hopefully they will nd a way that works for them because they obviously have a lot of enthusiasm, which is more than a lot of people can say."
DP reiterates that "no one is safe" in their tireless quest to call out the fakes — but it's not to be a bully, it's simply because they love fashion and "want to be able to love it without feeling guilty," they say. "We're giving a voice to a lot of people who don't have the platform or fear speaking up about important issues."
Photography: Michael James Fox
Prop Styling: Megan Kiantos
Styling: Ella Cepeda and Tasmin Meyer
Location: Dune Studios

Sign Up for the Morning PAPER