Every now and then a designer comes around that seems to speak directly to the youth of the time. With his futuristic knitwear, fairly recent Central Saint Martins graduate Matty Bovan is occupying that space right now. His designs manage to bridge the gap between avant-garde and wearable, which is to say they are so far ahead of their time that they seem right at home when worn by the hip people known for pushing fashion's boundaries. Though his stint honing his design skills working under Nicolas Ghesquiere at Louis Vuitton as an LVMH Graduate Prize winner has certainly played a role in the excitement around his shows now, it could just as easily be his vision for beauty in other realms—like illustration and makeup, which he has done for brands like Marc Jacobs and Miu Miu. Or, you know, the fact that he can recruit model heavyweights like Charlotte Free, Grace Bol, and Edie Campbell to walk for him while LOVE Magazine's Katie Grand styles. No big deal.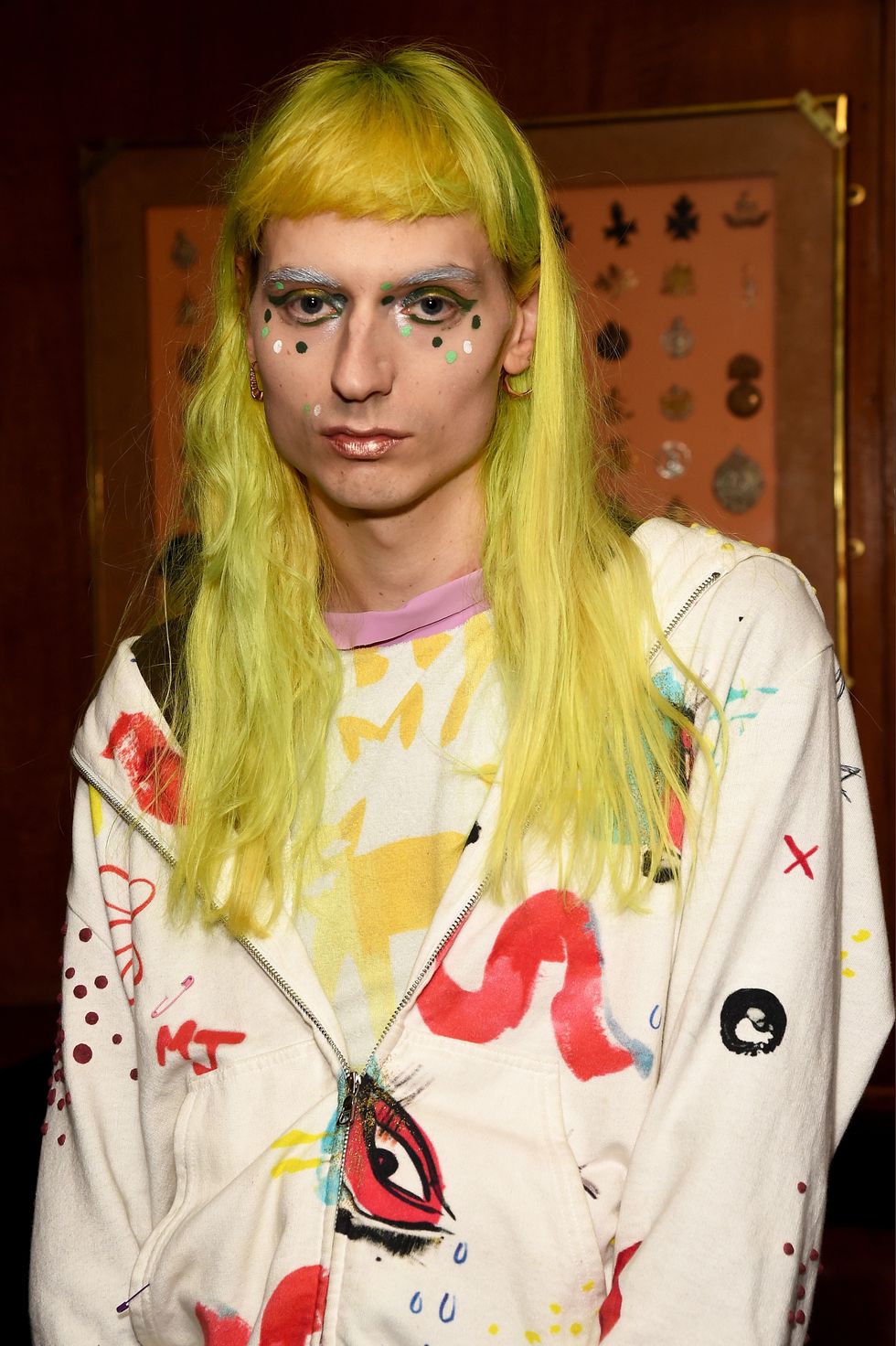 When (and where) are you most creative?
Mostly in my studio when I can really push my ideas and develop. I also carry work with me and I'm always on the look out for techniques and ideas.

How did you get your start?
I guess age 16 when I started fashion national diploma at York College, which opened up my eyes.

What are you working on right now?
Currently working on production for AW17 and SS17 show. It's super busy, but all very exciting.

What is success to you?
Keeping myself inspired and developing my work and my label. I feel very lucky to be able to do what I'm doing right now.

Do critics matter?

I'm not going to agree with everything written about my work, but I will always respect the person who has written it. These are the people who have seen it all, and if I can learn anything about myself via their critique, I would always be grateful.

Obviously you've seen success in your career but can you tell us about a time you failed?

I'm very much following a path I choose to be on, and trial by error is an occupational hazzard I kind of relish, as you are learning as you go along. I can't say there's been any major fails - so far! - but it all adds to the scary excitement!

Do you think about legacy?

I feel way too young as a designer to even approach the idea of 'legacy,' but I appreciate the sentiment!

What advice do you have for someone looking to break into your industry?

Stick to your own ideas and don't put pressure on yourself by comparing yourself to other creative people.

Did you ever give up (or want to give up)? What were the circumstances?
No, I feel very lucky to be able to do this, but I do put a lot of pressure on myself and I really wish I didn't all the time.

What trends in your field do you find most exciting / are you most optimistic about? What about your field is frustrating? What would you like to see change?

I don't really notice things like that. I get excited about a fabric or a technique for example, so if someone did something similar, I'd probably want to develop it and push it further, rather than become part of a group who've picked up on something.

How do you plan to build on your success so far? Is there anything you fear will set you back?

I'm very focused on the now. I really enjoy being in the moment and being able to indulge in creating. A setback would only create challenges that creativity is there to solve, so obstacles are there to challenge and stretch me.

What was the first moment you knew you were going to be able to do this as a job – not necessarily your first big break or success, but the first time you thought, "This is it, this is my career"?

To be honest, it's all I ever wanted and I just really stuck to my goals. As a child, it's all I ever wanted and I started by making dresses for dolls.

What's been the biggest choice you've had to make in your career so far?
To do my own label.

What is your morning routine like?

I get up early and drink around 3 cups of tea, and also throughout the day - no coffee for me, just tea.

What are you most excited about for the future?

Making myself and my family proud.

What are you most worried about for the future?

As long as my family are in good health, there's no point in worrying about stuff that doesn't yet exist
Are you good at receiving advice? What is the best advice you've ever received?
To document how I dress and what I wear through photos, from Lousie Wilson, when I was on the MA at Central Saint Martins.
What makes a person beautiful? What makes you beautiful?
Confidence.
What are you most proud of?
Usually my latest project, as that's what I'm most excited about, but opening the MA show when I was at Central Saint Martins was amazing.
Photograph by David M. Benett/Getty