The biggest night in music feels like it gets smaller every year. Maybe this shrinking is just a matter of perspective. I grew up with a suburban reverence for the outrageous spectacle of the Grammys, which ranked in importance to my family above most of the minor Jewish holidays. Throughout the post-bedtime Sunday nights of my childhood, the Grammys felt bursting with genuinely creative showmanship and vision: The Fame-era Lady Gaga sprawled jazz-singer style on Elton John's piano covered in clawing mannequin arms, Nicki Minaj performing an exorcism, Pink dangling from silky trapeze ropes. The packed crowds and bawling speeches signaled a mutual consensus that, politics and drama aside, this night mattered.
So maybe it's just a matter of age. As an adult living her life on the Internet, maybe it's inevitable that the dresses sparkle less brightly, and the stunts seem so much tamer. Maybe I've just become too familiar with the speech clichés — and tuned into the industry politics, technical snafus, and awkward monologue moments that have always been there.
Or maybe the Grammys, as they are often eulogized, truly are a sinking ship that slip a little more below the surface each year. Only a handful of A-listers bothered to show up last night, and execs managed to piss off the most famous pop star in the world, who would've otherwise attended. Their relationship to the most popular and vibrant genre of music is somewhere between antagonistic and ambivalent (hip-hip doesn't care, the Grammys attempt to lure it closer by offering wins and nominations to its most palatable or effete corners). The Academy's desperation to be seen as progressive, while brushing any uncomfortable issue (like a slated performer being held in custody by ICE) under the rug was palpable in every aspect of the night: from the writing, to the increasingly diverse but often random nominations — not to mention the moments when they literally cut the mics of any artists who tried to address these issues.
Of course, there's the argument that the Grammys implosion is a good thing for music. With Spotify, Bandcamp, and the democratization of music, we don't need some stodgy, white, male institution taking down its inaccurate version of history. Let it burn.
There's a lot to be said for this argument. But I don't know, guys... I like a good show. Luckily for the Grammys and their viewers (many of whom would be perfectly content with the Twitter recap), a few heroes came through and brought the magic that I remember from those Sunday nights staying up late as a kid. Namely: Cardi B, country music as a genre, and queer women. These folks picked up the buck passed on by the producers — and filled the night with moments of energy, excellence, spectacle, representation breakthroughs, and genuine enthusiasm for their craft.
Cardi B's Enthusiasm Was the Grammys Best Argument for Itself
Last night, Cardi B was to the Grammys, as Atlas is to the world. From the moment she stepped on the red carpet dressed like the Venus de Milo in vintage couture, to the moment she got played offstage during her moving speech about discovering that she was pregnant while recording Invasion of Privacy, Cardi simply seemed more excited, and to care more than just about anyone else in the audience or at home.
On red carpet where nearly everyone played it safe, Cardi went big. She slaughtered a performance that shone with the light of a thousand Post Malones and perfectly captured her own brand, blending Hollywood, Vegas and the Bronx. Her visible, genuine excitement at wining her first Grammy — becoming the first solo female rapper to win Best Rap album — was the Academy's best defense of itself. Seeing her that happy and affirmed reminded me, at least, of the power of collectively celebrating art, and publicly broadcasting the moments where it really matters.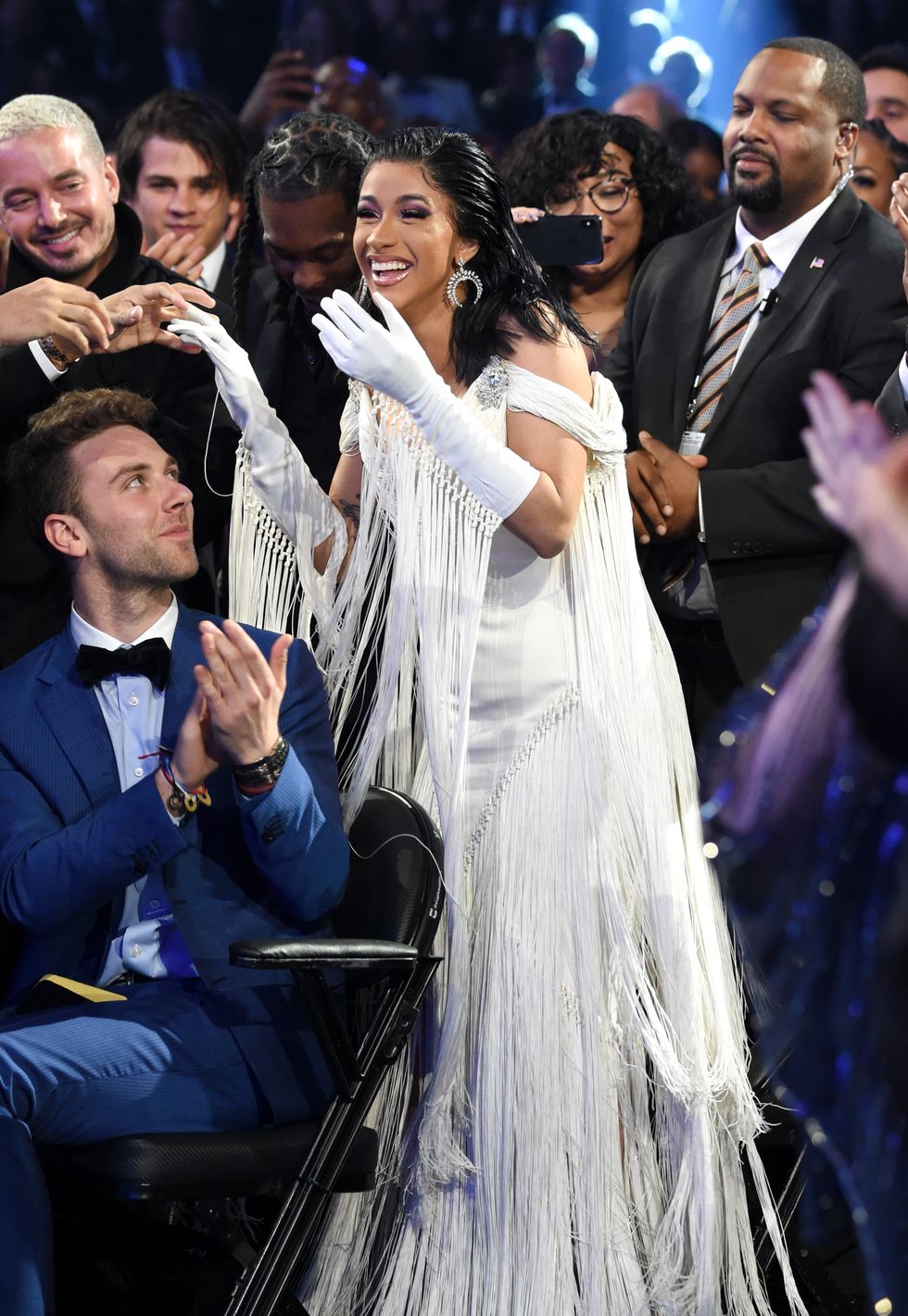 I mean... just look at this picture and tell me you aren't watching next year.
Country Music Broke Through
While it's maybe predictable that country would be among the Grammys most loyal allies, last night was a truly glorious celebration of the genre and its women. When Alicia Keys announced album of the year: "Golden Hour, Kacey Musgraves!," for a moment, we were in shock. Like Kacey, the Internet collectively mouthed: "what!? what!?"
Kacey Musgraves saying 'what what what what' and i was like 'same sis' #GRAMMYs https://t.co/epkHHOnJQT

— 红莲华 (@红莲华)1549861062.0
And then the Internet thought on it for a second, and collectively said "hell yeah!" Because Golden Hour is a masterpiece, and because, as cool as it would have been for Cardi or Janelle or Black Panther to win, the choice felt like a savvy recognition of at least one in-tune impulse: the end of the snooty reign of "anything but country."
Because Kacey's win was the cherry on top of a night that reminded everyone watching just how much country music has to offer, especially its queens. From the style (the fringe! the red pumps!) to the singing, Dolly Parton's MusiCares Person Of The Year tribute performance was one of the most captivating portions of the night.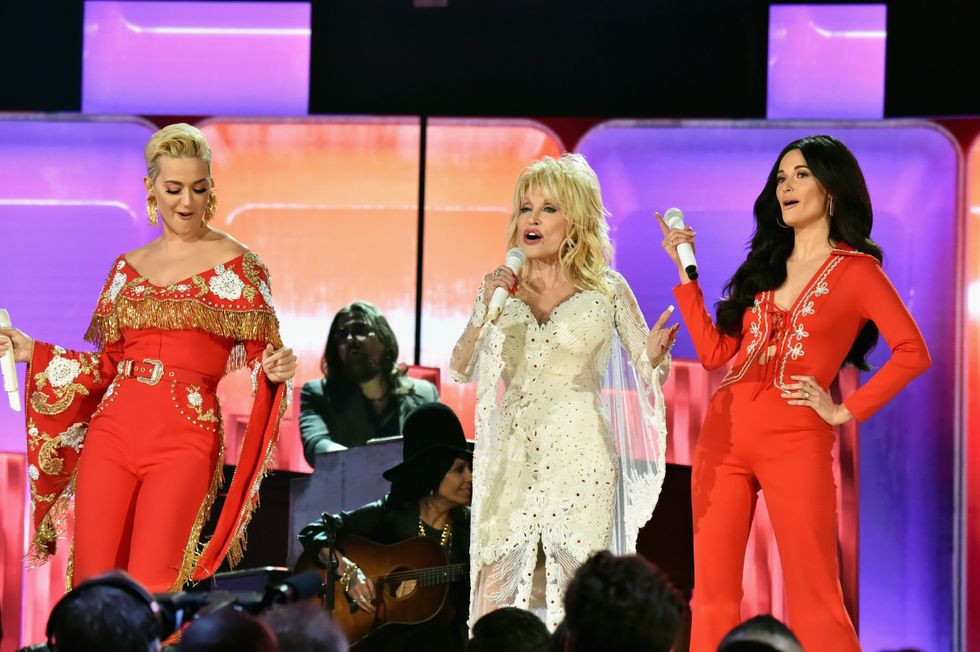 Kacey Musgraves and Katy Perry (why was she in the country tribute you ask? no one knows, but somehow we weren't mad about it) came out for a killer rendition of "Here You Come Again." Dolly and Miley melted me, as always, with their iconic duet of "Jolene" and Little Big Town and Maren Morris joined in at the end for "Red Shoes" and "9 to 5." It was a poignant reminder that country women can sing circles round your fave, and an absolute delight to see Dolly surrounded by her disciples, as she should be.
Country girls can be trusted with a note. Not the vote, but definitely notes

— Chile. I don't even know (@Chile. I don't even know)1549850543.0
Queer Woman Unleashed Excellence
The celebration of queer women was among last night's redeeming themes. The aforementioned rapper and genre aside, the best and most exciting moments were when queer women were given stage, and free reign to be weird, freaky, sexual, emotional, and simply legendary.
Janelle Monáe gave a magnificent, Prince-possessed tribute to the pussy, that left queer ladies' tongues wagging as she moonwalked, shredded on guitar, nearly fingered herself, and flirted with an army of latexed lady storm troopers, labia-adorned ballerinas and an all-Black girl marching band. In the middle of her act, she called out the "Django Jane" lyric, "Let the vagina have a monologue!" and Jesus Christ, it did.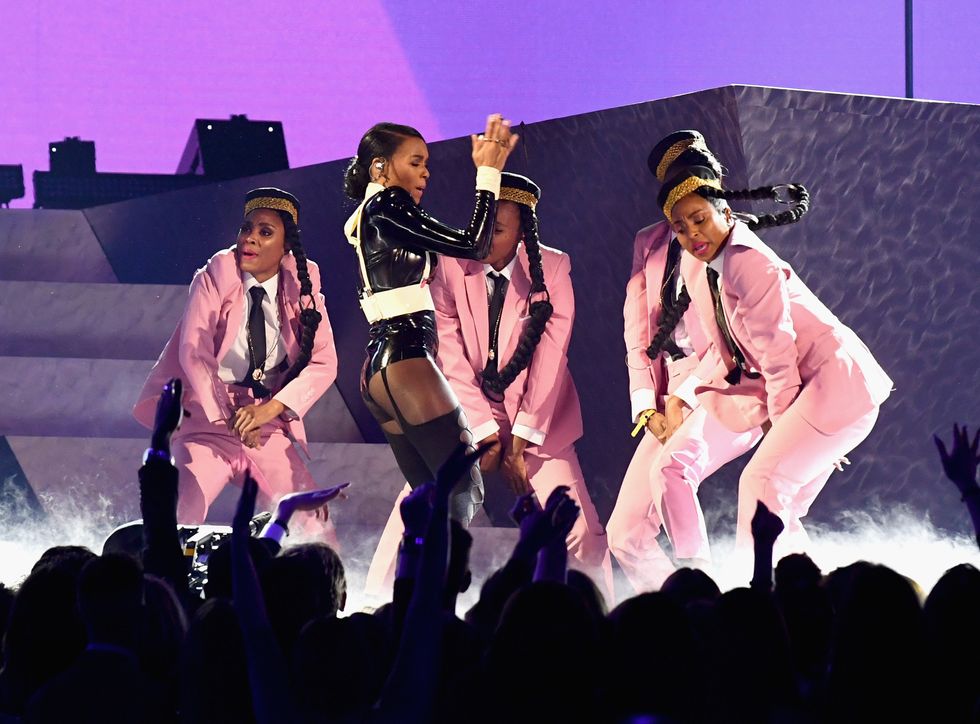 Lesbian folk singer Brandi Carlile performed a heartbreaking rendition of "The Joke" in a chainmail leather jacket (like the country Joan of Arc) taking took home Best Americana Album and Best American Roots Song: "Being a 38-year-old mom, with two kids, who's gay and lives on a farm, and is nominated alongside Janelle Monáe and Cardi B, it's kind of unbelievable" she said.
"This is all of our honor," she said later in a GLAAD interview. "On nights like these, I'm reminded of the way that's been paved for me by Ellen DeGeneres, the Indigo Girls, Elton John, Freddie Mercury, Joan Armatrading and George Michael."
Lady Gaga could have gone stripped-down and elegant for her Grammys performance following the biggest year of her career. But instead, she went (to some people's dismay) full BDE glam rock for "Shallow" — singing both parts of the iconic duet herself, leaning into the aesthetics of her brand that connect her most to her LGBTQ fan-base, and giving not a fuck about the freaky, meme-able faces that she happily angled towards the camera.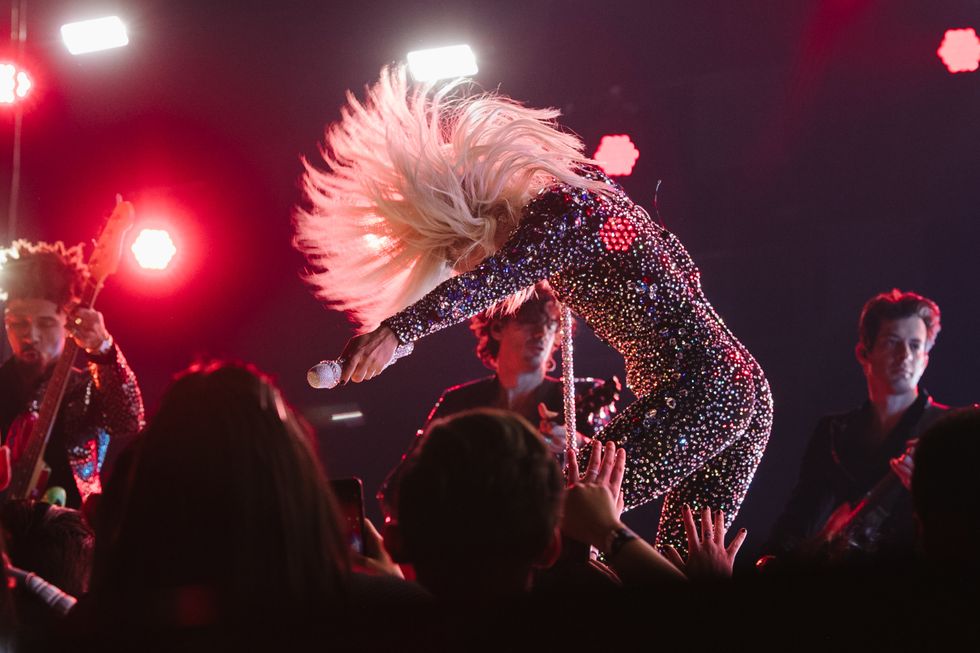 Finally, there was St. Vincent and Dua Lipa's surprise seduction. While Dua Lipa is an outspoken LGBTQ ally and Annie Clark (notable ex-girlfriend of Kirsten Stewart and Cara Delevingne) has been out for most of her career, when the Grammys announced that the unlikely pair would be performing together, nobody expected this: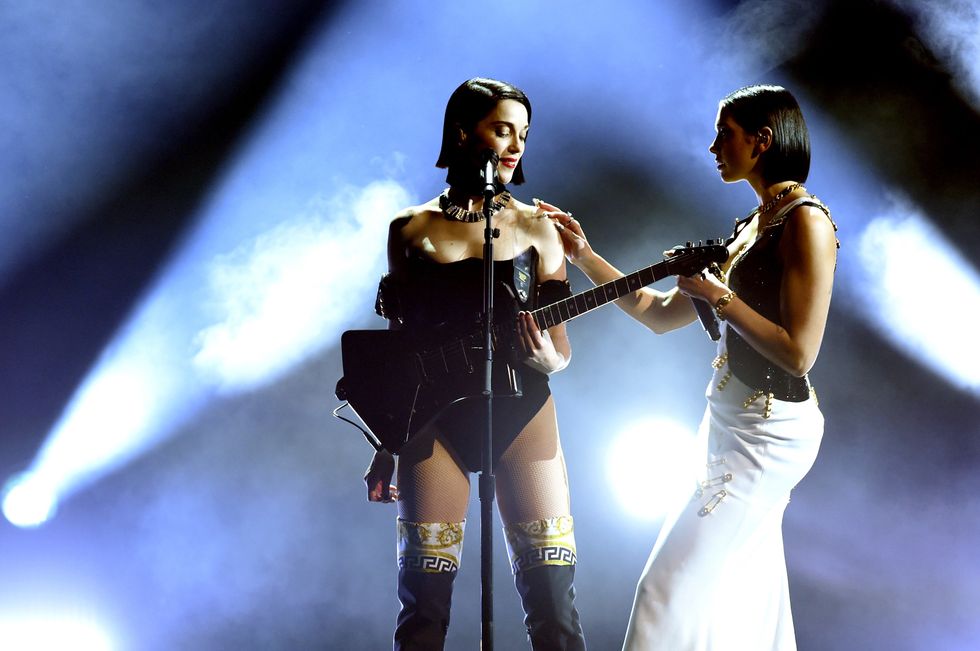 Or this: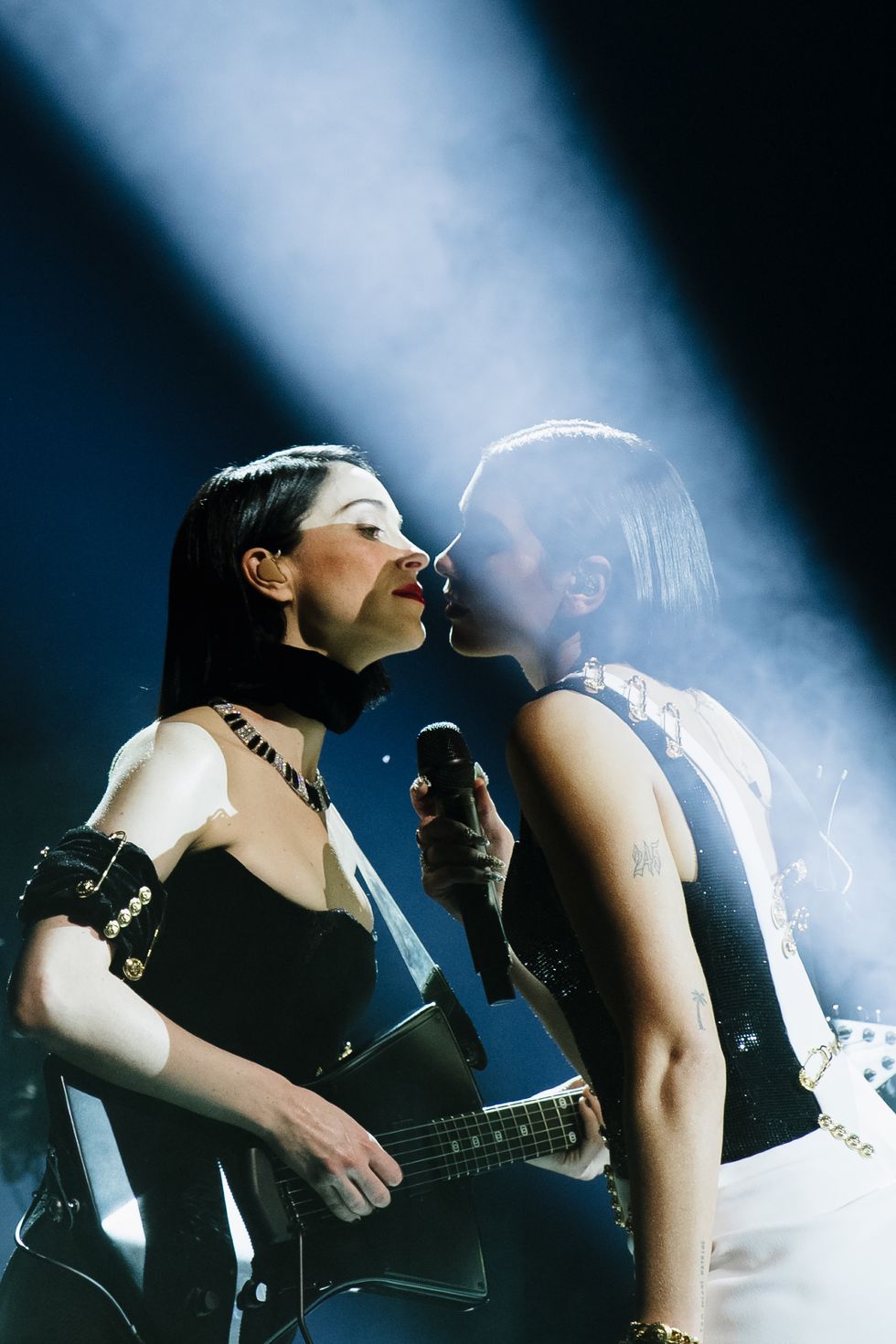 The pair came out looking like sister femme fatales who'd shoot their husbands in a noir film and run away together, while Clark shredded and Dua sang a medley of "Masseduction" and "One Kiss." The sexual tension was truly... explosive. Some have called it queer-baiting, but the performance gave St. Vincent a chance to lean into her queerness in front of millions, and us a chance to live an extremely unpredictable gay pop fantasy.
Basically, the Grammys did the bare minimum they had to in order to be a success: get out the way and let the artists have the stage. But in the moments they did, it was exhilarating to watch the folks who rose to the top, did so much more than the bare minimum, and gave us a real reason to get excited about music.