What is it you wear when you're feeling yourself? Whether you're zipping into LBDs, catwalk-ready catsuits or B-Girl booty shorts, the impact of women in hip-hop is inescapable in fashion, inspiring styles that encourage wearers to be themselves and feel themselves unapologetically.
To celebrate the contributions of women in hip-hop to the fashion industry and to present Lil' Kim with the Women in Hip-Hop Fashion Icon award, Spotify hosted its first-ever runway featuring designs from LIONNE by Latoia Fitzgerald . The emerging Philadelphia-raised designer is behind celebrity styles worn by the likes of Jhené Aiko and Karrueche Tran, blending class and sex appeal to pay homage to the history of fashion in hip-hop with a modern edge.
Working the runway in sexy cut-outs, symmetrical silhouettes and skin-baring ensembles, Spotify's models included industry innovators, pack leaders and up-and-comers from Doechii to Rubi Rose to Baby Tate . With an apt opening with "Whole Lotta Money" and other hits from BIA and a surprise runway performance of "Hey, Mickey!" and "I Am" by Baby Tate, the runway came to life, celebrating the crossover between fashion and music, and, of course, Lil' Kim, who has seamlessly blended the two throughout her career.
​ In the show's culminating act, PAPER covergirl Coi Leray took to the stage, performing "Players" and "Blick Blick." As someone who's undergone many evolutions since her skyrocket to success in 2019, Coi Leray's style still shakes up (and shakes ass). Embracing playful colors and silhouettes she can physically play in, Leray's style serves as an extension of her innate confidence and sex appeal. Popularizing little-booty booty shorts and performing in sneakers over heels, Leray proves herself a beacon of authenticity to new generations without ever skipping out on the opportunity for good glam.
PAPER caught up with the viral sensation before the show to discuss her own icons and inspirations.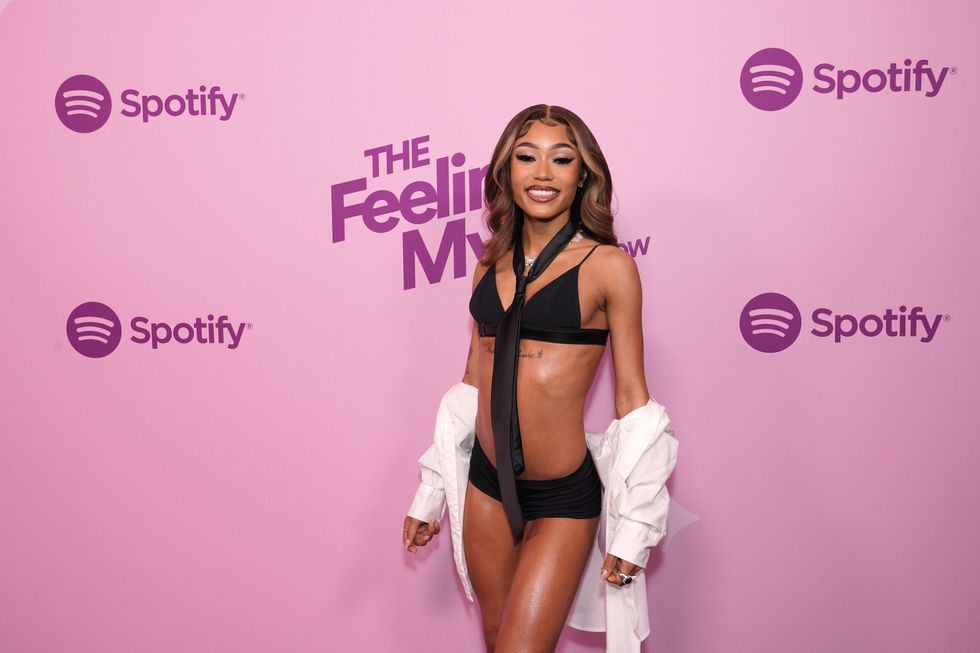 Who are some style influences of yours?
We definitely have Lil' Kim. We have Janet Jackson. We have Teyona Taylor's amazing style. RIhanna, of course. And there's also girls like Paris Hilton back in the day. Even now she kills it with all the glam and the glitter. I love that. Lady Gaga was one of my favorites. There's so many freaking icons, I'm falling in love. Now that I'm more in the fashion industry, and I did YSL, I'm more intrigued and passionate about what goes on behind the scenes.
What have you learned behind the scenes of the industry that you didn't know before?
I didn't know behind the scenes is so much pressure. It's so much competition. It's a lot of competition. So you really have to do what you can and have the best team. Sometimes the shoes don't fit or you have to fix something right before you go on and it's like everybody is losing their minds. I even realized how hard it is to get the models in a line sometimes because it's so chaotic backstage. When you see the runway you only know half of the shit that's going on. People have to have tough skin and cannot fold under pressure. I really learned that, looking behind the scenes.
You've probably had to have tough skin in the music industry, too. What has motivated you through it?
I love to motivate and be an influence to all of the young girls, especially when it comes to my body. I feel like I get a million DMs with girls telling me, from all over the world, like, "You inspire me so much," or "I've never worn booty shorts, but after you I'm wearing my booty shorts." It's so funny. It just feels good when you can actually come together on a positive note. Anything that's negative or weird, I just move away from it. As women, we need to just big each other up with support and appreciation — if we're big enough we could change the world.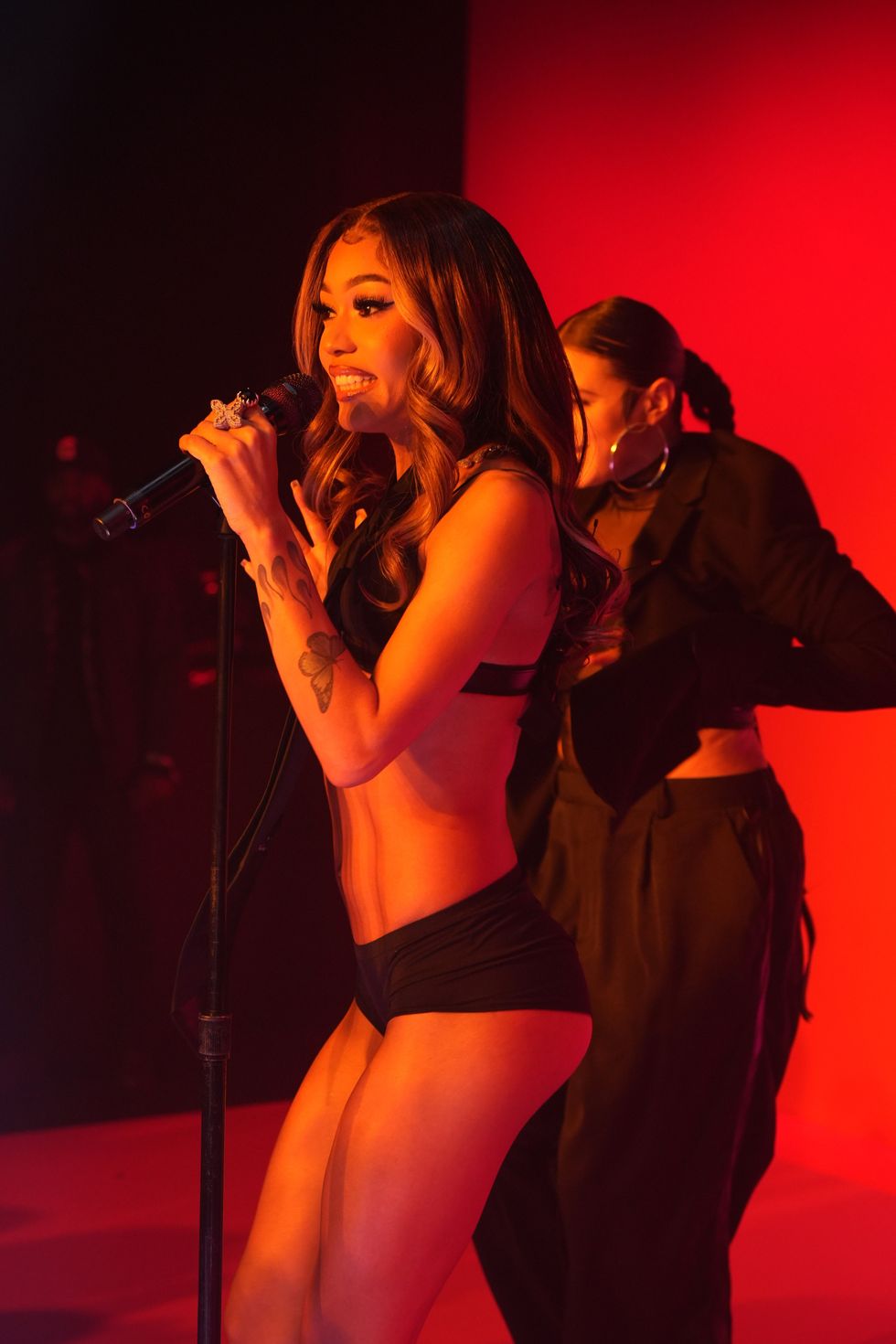 What's giving you positive energy right now? What are you excited to see in the industry?
I love the fact that Caresha from the City Girls is acting. I love the City Girls. I think that they're so open. She's on BMF now. I think that's so dope. I'm excited to see people do things that are unpredictable because you never know what's next. I love to sit back and watch people progress and show their capabilities. It's a competition always, but it's a friendly competition. It's like track. At the end of the day, if we were to race, we'd still be on the same team. Whoever wins or gets the number one spot, we're still on the same team and support each other.​
What are you looking forward to for your Spotify "Feelin' Myself" performance?
I look forward to just giving a great show. I saw the stage and it's amazing. I look forward to the outfit. Spotify's Feelin' Myself [playlist] has been a big part of my career. I've been on a couple of [the playlist's] covers. So this is so fulfilling.
What songs of yours have been on the playlist?
"Players," "No More Parties," "Slide," — shit, "Wasted," too, they supported all my records.
With the "Players" remixes, you really tapped into your Jersey roots. Are you loving Jersey club being on the rise?
It's amazing. I'm super excited for DJ Smallz and DJ Saige. I think that they paved the way for DJs in general with mixing songs together and using their platform on TikTok to get people really engaging in it, so shout out to them and all the DJs that supported "Players." David Guetta and I did a collab on "Players." That dropped on March 13, and then we also have another super surprise I'll give PAPER the exclusive for.
We got David Guetta on the EDM party techno, crazy remix and then we got Busta Rhymes on a DJ Saige version [coming soon] — so just know that's gonna be major. He snapped. Like this is also going to teach a lot of people in the younger generation, remind them who they are — who he is — to encourage people to go back and do some research, because a lot of people got their inspiration from Busta — even Grandmaster Flash, everybody, shoutout to the OGs that contribute to the music today. We are inspired. They don't get enough credit.
D o you try to connect those dots for people? So even if you're a "viral artist" there's more of a history to it?
I feel like I have eyes on me all the time. I don't try to make it good or bad — as long as I got your attention, I can utilize my platform to educate, and a lot of people deserve their flowers. I'm one of the people who didn't get a lot of my flowers coming in, so I'll give people flowers who also felt like that. It's very important and that's how we're gonna change the world. Support! Support! Support! Come together and support.
W hat is your message to the new girls?
For the new girls, honestly, just stay focused. Don't get wrapped in drama. Don't get wrapped into bullshit, give credit when it's due. And you know, I felt like you also have to do your own shit. Have your own style, have your own swag and just like run with that.
Three words to describe your style?
Versatile, sexy — I'm a whole sex symbol — and badass. Just ready for whatever.