Reebok has an eye for both old and new. The brand is known for timeless silhouettes as well as futuristic tech, and taps cultural and sporting icons as well as just-discovered up-and-comers for its campaigns. Reebok Classic's Alter the Icons collection, which just launched a bunch of new "Transparency" styles for fall, takes iconic sneaker shapes and remixes the colorways, adding clear plastic uppers that reveal layers of accent and texture.
Atlanta-based rapper and producer Childish Major joins Tayla Parx and Amira & Kayla in partnering with Alter the Icons, and it's a perfect match. Childish grew up wearing Reebok Classics, and as a musician he's all about remixing past while looking to the future.
We asked Childish to get, uh, transparent with us about the new campaign and his upcoming projects.
What does 'Alter the Icons' mean to you?
It's a new take on the classics. As far as what I do with music, it's very similar. Hip-hop itself is nothing but sampling, so I feel like what they do with the shoes is a lot of the same things. Taking it, enhancing it, improving it, or maybe just switching it up for the sake of it.
It's nice that you can still see the classic lines — like it's definitely a Reebok sneaker.
The Reebok Classic that we always used to wear, and it's just another take of it. I mean it's transparent, but it's the same rap.
Do you have early sneaker memories from childhood?
Reebok Classics, for sure. But my mom wouldn't get them for me. But my step pops, he ended up surprisingly me one day and I was super happy just because everybody had them and I didn't have my pair, but then I eventually got them.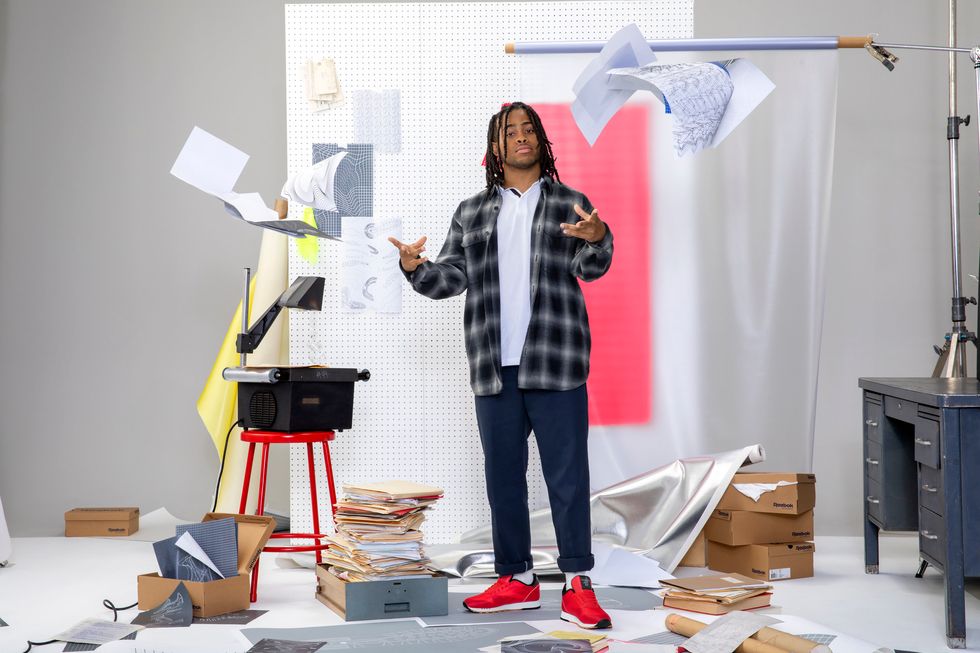 And now you're here! Tell us about these office photos.
Okay, so it's like an office space, they've got an office space set up. It's pretty cool. I feel like the look that they gave me is like I've been... trying to figure it out. I think I'm designing these. But yeah, it's a very office space look. There's papers everywhere, there's a projector up, I'm really focused. Locked in. It's a dope set up.
I feel like the design process of sneakers is overlooked. A show is surely one of the most difficult items of clothing to design in terms of balancing looks with functionality.
It's what I'm realizing, because at first just as a consumer I'm looking at how it looks. I'm not looking at how — I mean you want it to be comfortable, the technology for sports players and stuff like that. How much pressure is on your shoe when you pivot, all that stuff. All the things that go into the ideas of a shoe is crazy.
If you could design a dream sneaker, what would it look like?
It would have a gum bottom. It would be black leather. Maybe like a hint of suede somewhere, just like a small bit of suede. And then like a bright shoestring, maybe a yellow.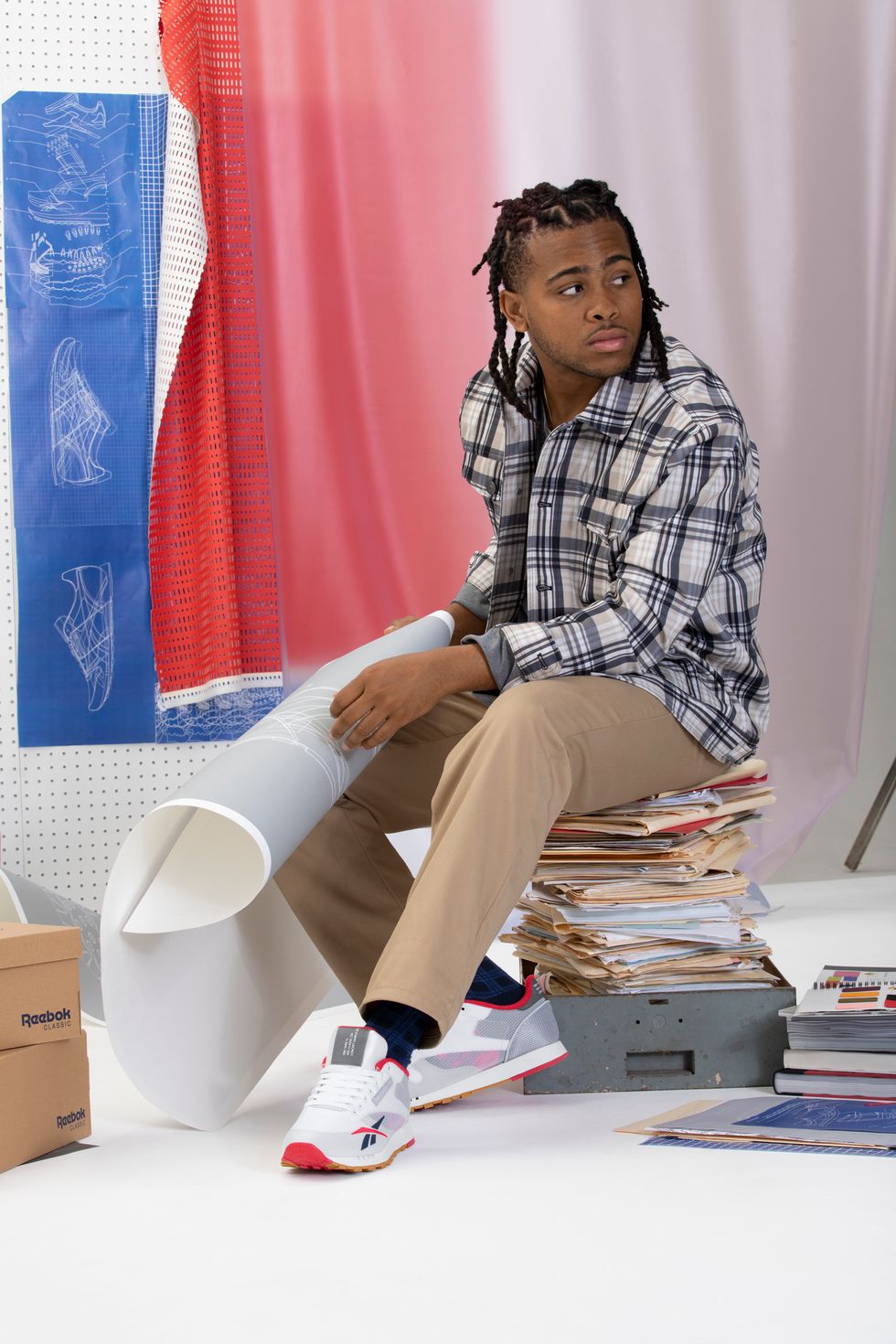 You said your music merges with the Alter the Icons ethos. Tell us more about that.
Well, transparent is the word, right? I feel like that's my music in a sense. I mean, sometimes it might be poetic or something like that but it's still done in a way where the fans are able to see me, who I am, and connect with who I am as a person. I think it's the same thing with these. It's like, it could be as souped up as it wants, but it's still a classic. You definitely want people to feel you. That's my whole thing, I tell stories. Where I come from. Shout out to South Carolina. Raised in the South. You know? And then as far as personal life and stuff like that, making sure they know what I'm going through so that way they can listen to it and feel healed by seeing how I got through it.
Who are your musical icons who you would regard as classics?
Marvin Gaye, Stevie Wonder. The newer ones? Jay-Z and Pharrell. Those are my tops. I think they're the classics. That's as classics as you can get in hip-hop. Of course, you know, Biggie, Tupac. But Jay-Z and Pharrell are, those are my goals.
Can we expect new music from you soon?
I'm gearing up to drop a project called Dirt Road Diamond — it's the next chapter. Like I said I'm from South Carolina, but a small, small town in South Carolina. Basically it's like a rose that grew from the concrete type of story. Like you can be from these small places, places that nobody knows. You can be from places that don't have many resources and still shine as bright as people who come from these major cities. Create opportunities for yourself.
Dropping sneakers, dropping tracks.
Take over the world next. It's going to be good.
Photos courtesy of Reebok