Draya Michele makes multitasking look easy. In addition to modeling, acting, and taking care of her newborn son, she also designs and runs her swimwear line, Mint Swim. This season's line features daring asymmetrical cuts, shiny fabric, and playful pastel hues, pulling inspiration from 2003 high fashion runway looks. She recently did a photo shoot with us, and we caught up with her to talk about the impact of social media on her upcoming swimsuit line, her personal style, and her future acting projects.
Could you tell me a little bit about your swimwear line?
I have a swimwear line that I started 6 years ago and it's called Mint Swim. It has been a great success due to it's popularity on Instagram. I really really love designing for it. I'm the owner of the company and it gives me great purpose to design swimsuits. It's the ultimate dream job.
In other interviews, I've heard you talk about using social media as part of your business. Could you tell me about how Instagram influences Mint Swim?
Nowadays we have social media and because we have these great followers and because the reach is so big, you don't need to market so much through commercials and billboards. New non-traditional ways of marketing are excellent. I often think, "Wow! I'm so blessed to have such a big following" and I cannot believe that social media is free because I couldn't ask for a better marketing tool. That's where people are no matter where they are- if they're at work, if they're in the car, if they're on a plane, they're still on social media. It's something that can be with you everywhere. You don't have to be at home watching TV to see a commercial.
What's your current inspiration in terms of the clothes you design as well as your own personal style?
I'm inspired by social media, and I ask my core customers what they like. I do a lot of Q&As with them to see what their requests are, and I try to fulfill them. My summer collection is inspired by 2003 high-end designers. I watched some old fashion shows of 2003 swimwear collections from really high end brands and became inspired by that. That's where the design process comes from.
In terms of my personal style, I feel like I live in gym clothes. If I'm not in gym clothes, I'm really dressed up. I enjoy fashion, and I enjoy piece that make my heart stop. Sometimes I find these pieces in very normal stores, some I find in high-end boutiques, and some I find in thrift shops. It just all depends. I buy what makes me happy.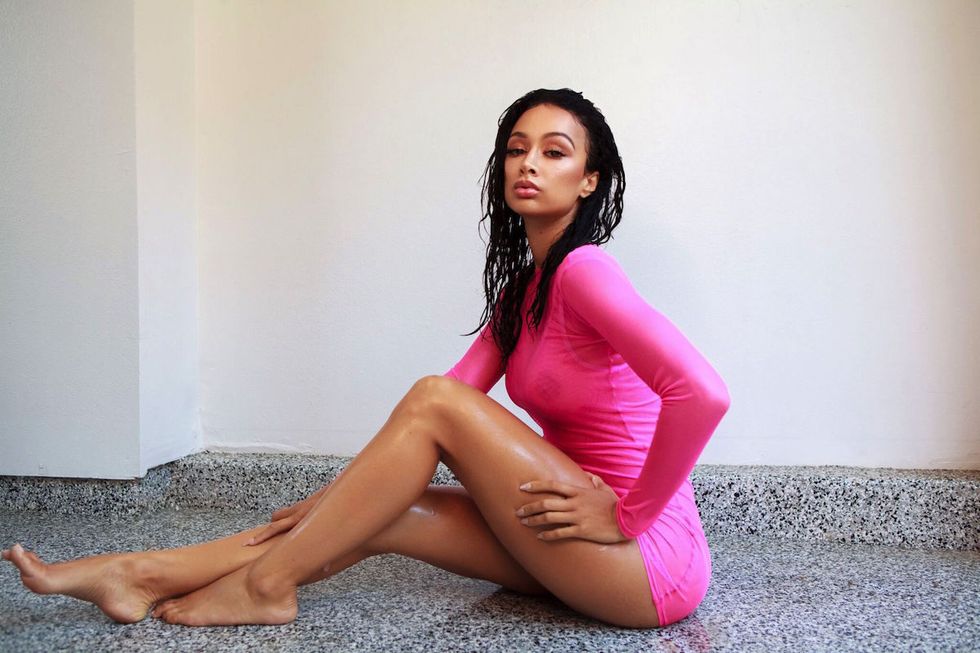 I saw a picture of you in an amazing gold and black suit recently.
Oh yes! That was the Vanity Fair x David Yurman event. And that was really inexpensive- that was from ASOS. It's still there! It was like $29 a piece.
What are some of your favorite designs that you've made for your upcoming line?
This collection is my favorite so far. Of course everyone is excited about their new collection, but I really think that I set trends, and I'm using clear PVC, like what was used on Yeezy shoes. I'm using that in my swim suits and I think it's going to create a trend for bikinis with this clear plastic on it. Also, I decided to go with a shinier fabric as opposed to the normal matte fabric that everyone uses, and I think I'm going to bring that trend back. I used more of a shinier, almost disco pant material, and I think people are going to like it.
I saw that you filmed a movie that takes place in Philly.
True to The Game. Yes, I shot that last year and it's coming out in theaters in August. It's a movie that's based on a book that took place in Philadelphia. I'm originally from right outside there, so it's important to me to be a part of the movie in general because it's such a staple for Philly. Everyone's read the book, not just Philadelphians. Everyone everywhere has read this book and because it took place in Philly and I happen to be from there I was happy to be part of the project.
Are you looking forward to doing more acting?
I just shot a movie last week where I play a waitress in a diner, and I'm excited about that. That's coming out in theaters in October. That's called Till Death Do Us Part, and it's a thriller with a psycho man in it. It's something different for me, and I'm excited about that too. Any acting that I can get into, I'm into it, because it's something new and it's challenging for me, and I love that it's challenging. It makes me feel like I'm doing work and I love that.
What kind of roles are you looking forward to playing?
Eventually I'd love to play a police officer. I'd love to play an attorney; I'd love to play a therapist. Anything that's a college-educated profession that would really require me to speak the language of the character and maybe spit out some legal terms or some medical terms. Something where I can sound really professional and be believable.
What else is on the horizon that you're excited about?
I'm excited about the summer. The new Mint Swim collection is dropping. I'm excited to have a nice Memorial Day, and amazing 4th of July, and then go out with a bang for Labor Day. The summers are only getting better. The events are getting better and more creative, there are more fun things to do now.
Photo by Dametreus Ward
Hair by Jihan Lewis
Makeup by Mattie Wagner
Styling by Wayman + Micah