I'm mad! I'm so mad! Here's why: Cardi B had the incredible Grammys night that she deserved — winning Best Rap Album, performing "Money" wearing feathers, ruling the red carpet in vintage Thierry Mugler — and yet chose to share it with Offset. He even helped her accept her statue. The first ever solo woman artist to win in her category, and her rumored-to-be-cheating estranged husband shares the limelight? Then announces the new release date of his solo album the next morning? Using a video of Kulture's birth as promo? It's not right.
Cardi B is a PR genius as well as a musical one, so we can safely assume this all occurred with her blessing. She likely masterminded the whole thing, in fact. The actual takeaway, I guess, is that she and Offset are definitely still together, despite last year's extremely well-publicized break up.
If you'll recall, Offset maybe/definitely cheated or contemplated cheating on Cardi with a number of different women, two of which she is now facing criminal charges for attempting to assault. An impending divorce was announced on social media, then Offset crashed Cardi's concert in an attempt to win her back that may or may not have been staged. Over the past few months, Cardi has made a fair few social media posts about wanting to have sex with her ex.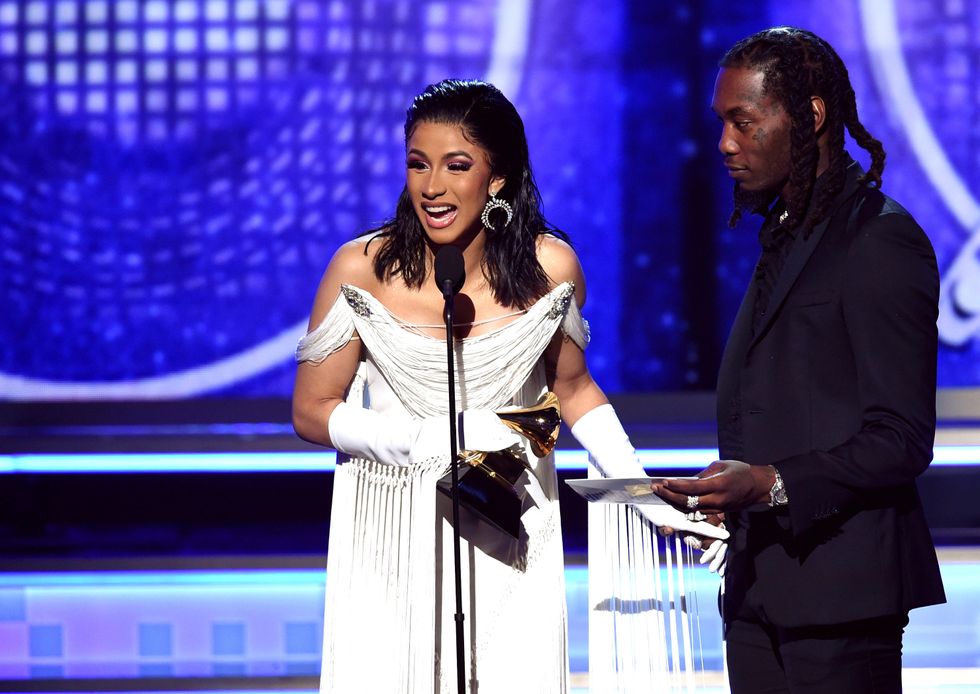 The evidence that she and Offset are back together — or never really broke up in the first place — was overwhelming last night. They walked the red carpet hand in hand, at one point touching tongues and posing for photos. Tongues became an ongoing theme: Offset was caught sticking his out and panting on camera during Cardi B's performance. Then came Cardi's big win, and an emotional speech during which she clung to her husband's arm the entire time.
Ugh. Okay. Fine. Cardi, if this troubled relationship truly makes you happy, then I give my blessing. Offset, don't screw this up.