For months, fans and the media have speculated on Britney Spears' well-being and the circumstances surrounding her ongoing conservatorship. The heightened interest has prompted an online movement of its own, #FreeBritney.
Adding to the #FreeBritney discussion is a new letter obtained by Daily Mail, which was reportedly written by Spears and shared within her circle during a time many consider the peak of her personal troubles, between 2008 and 2010. It was the post-divorce period from Kevin Federline, culminating in psychiatric hospitalization, the enacting of Spears' still-active conservatorship, and unrelenting media scrutiny.
The Daily Mail claims the letter, in which Spears accuses her team of lying to her, setting her up, "controlling her" and "constantly threatening" her, was furnished by a Spears insider. It also comes as details have emerged of Spears' father committing her to a mental health facility in April and allegedly forcing her to take her medication against her will.
The letter is hand-written by Spears in third person, which is quite possibly a choice the singer made to protect herself, as well as set the record straight in 2008. It could also be that Spears never wanted the letter to be unearthed to the public. And yet, here we are. Daily Mail reports that the Spears insider who supplied the letter claimed that she usually doesn't have a chance to be heard.
Spears opens the letter by writing about the dissolution of her marriage to Federline back in 2006. She writes: "After reading Kevin's article in People I was amazed at how a lot of the focus was on Britney their mother to sell a story for People magazine, instead of the focus being on Kevin."
She continues: "What happened to Britney was a year ago and people need to get with the times. And as far as Kevin saying Britney divorced him, she was forced to by her lawyers b/c she went to visit him in NY and he wouldn't see her and the children and her lawyers said if she doesn't divorce him he's going to do it himself. So Kevin trying to play the innocent victim is hardly irelavent [sic]. He left her and the babies. Her going on the mend partying two years ago has nothing to do w/ the situation now. She is a completely different person and most of their fighting was done back then b/c of his problem waking and baking to marujuna [sic] at 5 in the morning. No one talks about these things b/c no one knows the truth."
Spears goes on to address the events that led to her being placed on psychiatric hold in January 2008. Federline was at her house, as part of their custody arrangement, to pick up their sons Preston and Jayden, who at the time were two and one. When Federline arrived, Spears reportedly locked herself and Jayden in a bathroom, and police were called. When police came to the scene, they reportedly noticed Spears was under the influence. Spears was 26 at the time, and was rolled into an ambulance on a gurney, which took her to a nearby hospital.
Spears writes, in defense of herself, "She was lied to and set up. Her children were taken away and she did spin out of control which any mother would in those circumstances."
Spears also accused her family and team of using her for money. "Now this year Britney has been silenced to speak about anything that's really going on," she writes. "The people controlling her life have made 3 million dollars this year."
She continues: "She would love for new eyes to see her situation, but if she brings it up she's constantly threatened that the conservators will take her kids away... So how long does this go on. As long as the people are getting paid and she has no rights it could go on for a while, but it doesn't make it right at all."
Perhaps one of the most personally revealing bits of info in addition to the obvious details about her family life is Spears' plea for respect. "Everyone is very quick to put a gloomy eye on Britney... she's a very giving person and would love to get the respect she deserves."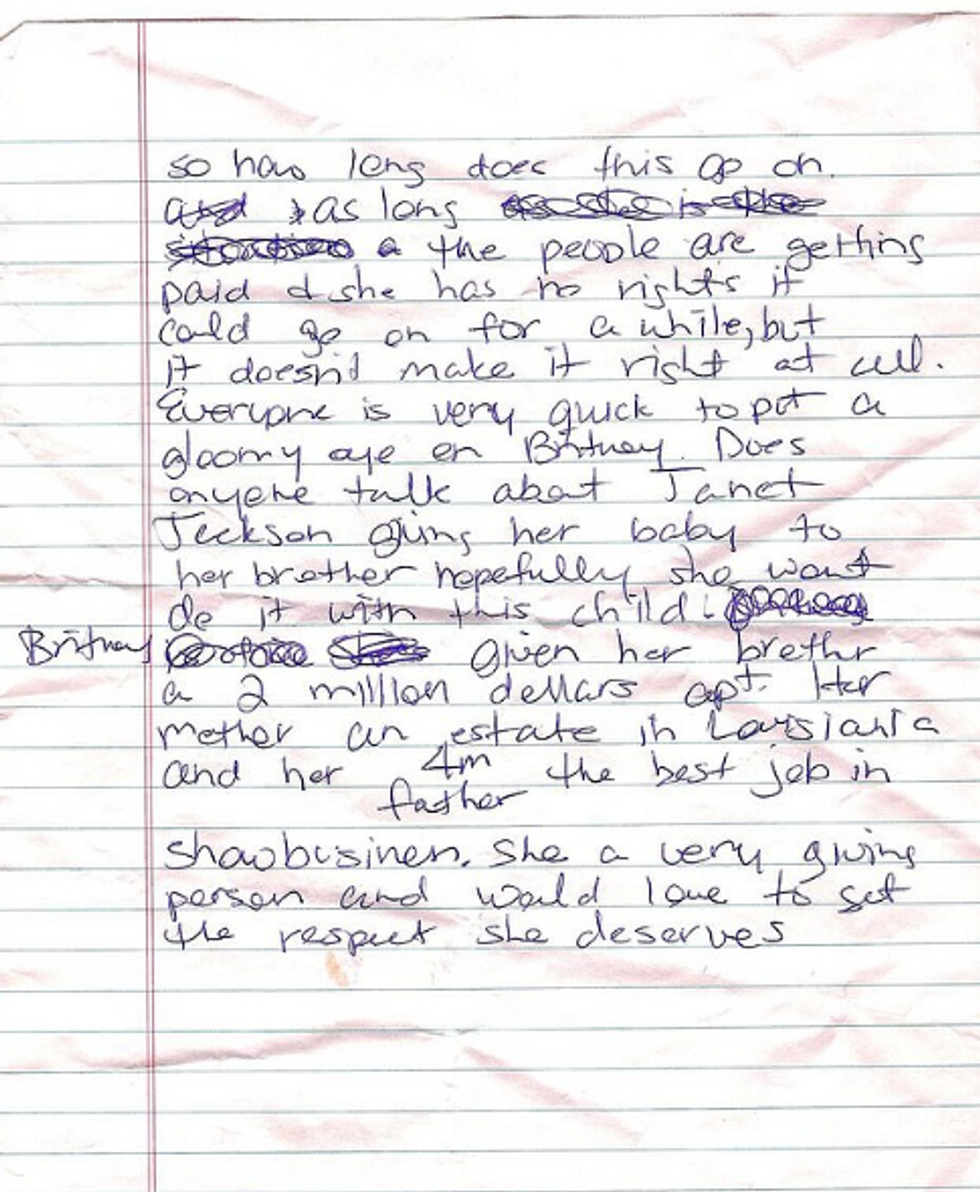 Screenshot via DailyMail
In recent weeks, Spears' longtime manager Larry Rudolph has spoken out, telling TMZ, that, in light of her father's reported illness and her own mental health issues, he didn't foresee Spears working again. "I don't want her to work again 'till she's ready, physically, mentally and passionately," Rudolph said. "If that time never comes again it will never come again. I have no desire or ability to make her work again. I am only here for her when she wants to work. And, if she ever does want to work again, I'm here to tell her if it's a good idea or a bad idea."
Spears' former manager Sam Lufti currently has a restraining order against him for reportedly harassing Spears and her family; he has been critical of Spears' conservatorship online, joining the chorus of fans and supporters who feel Spears should be "freed" from her current arrangement. Spears' mother Lynne reportedly filed a motion to "have a voice" in her daughter's affairs. But to Spears' credit, amid all the happenings, she has broken her silence on Instagram — at least minimally. They are moments of Spears, a 37-year-old woman, speaking for herself.
In one video, she insists that "all is well," but she's "under a lot of stress and anxiety." In another, she affirms that, contrary to popular belief, she does make all her own videos. In that clip, Spears tells people who infer that she has little control of her own life, "you're wrong."
What we do and don't know about Spears and what control she has of her own life can't possibly be totally accurately assessed — at least, not by the public. As long as others speak for Spears, her true freedom remains hanging in the balance. Whether Spears wanted this letter out or not, it's worth considering how her situation would be different now if only she were always heard, rather than silenced. Read the entire letter here.